There are a great number of email clients for Mac users to choose from. But which ones are the best? More importantly, which ones are the best for you?
Spike might be best for some users, while Apple Mail might be best for others.
That is why, in this guide, we will show a list of email clients for Mac and what they do the best, so you can choose the one that fulfills your requirements.
Table of contents
1. Spike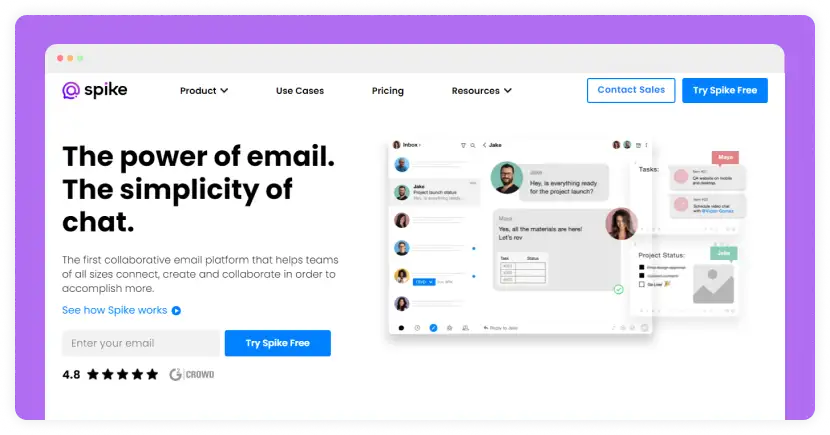 If you think emails are boring, you need to try Spike. This app has turned traditional email communication into a modern chat-like experience. Instead of unintuitive email threads, you can now interact in a simple chat-like environment.
Features
Focus on your important messages with the priority inbox.

Chatting with multiple people is made easy with the built-in team chat.

Built-in video meeting feature to quickly create and run video meetings.

Essential tools such as Notes, Tasks, Calendars, and more are integrated to get things done without leaving the app.

Accessible on all platforms, including iOS, Android, Mac, Windows, and Web browsers.
Pricing
Free for personal accounts.

Spike provides three monthly business plans:

Solo: $12/account.

Business: $8/account.

Enterprise: Custom pricing based on your needs.
If you desire a new way of email communication while having powerful collaboration tools, Spike is definitely worth a try.
Get the State of Email 2023 Report
150+ email experts share their email tips and secrets
2. Mailbird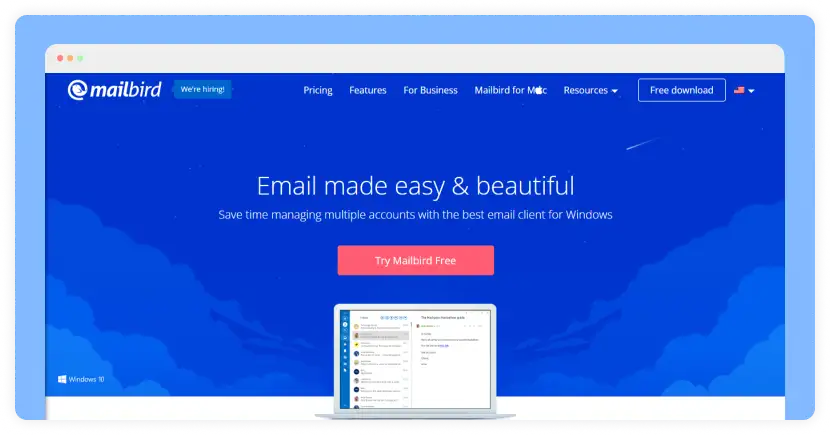 Mailbird is a customizable email client that you can modify according to your needs. It works well with popular services in the business world and will streamline your workflow.
Features
Add and manage all your accounts within one unified inbox.

Personalize the look of the app with tons of themes to choose from.

Streamline your workflow by integrating Mailbird to other business apps such as Google Calendar, Dropbox, Whatsap, Microsoft To Do, Facebook, and more.

Quickly move through a large number of emails with the built-in speed reader.

Translate to your language with multi-language support.
Pricing
Personal: $2.24/month or $53.89 one-time payment.

Business: $3.92/month.
If you want your email client to integrate well with popular business apps and make you more productive, Mailbird is a great option.
3. Spark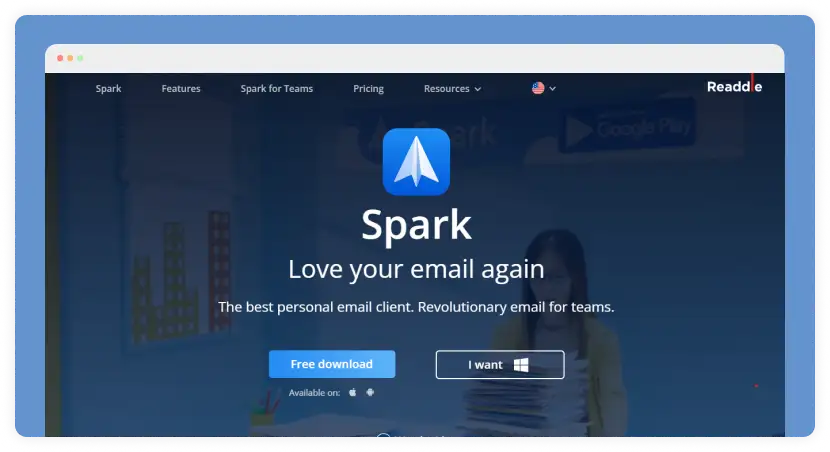 If you receive hundreds of emails every day, you need to try Spark. It has many great features that let you focus on your important emails and achieve repetitive tasks quickly.
Features
Find the exact email you are looking for with smart search.

Collaborate with your team to create emails together.

Clear the clutter with intelligent email prioritization.

Plan and organize your schedules with the built-in calendar.

Get notified for only important emails with smart notifications.
Pricing
Free plan with limited features.

Premium plan: $6.39 per user/month.

Enterprise: Custom pricing according to your needs.
Spark is a must-have for those who are overwhelmed with the number of emails they receive and want to manage those emails intelligently.
4. Mailspring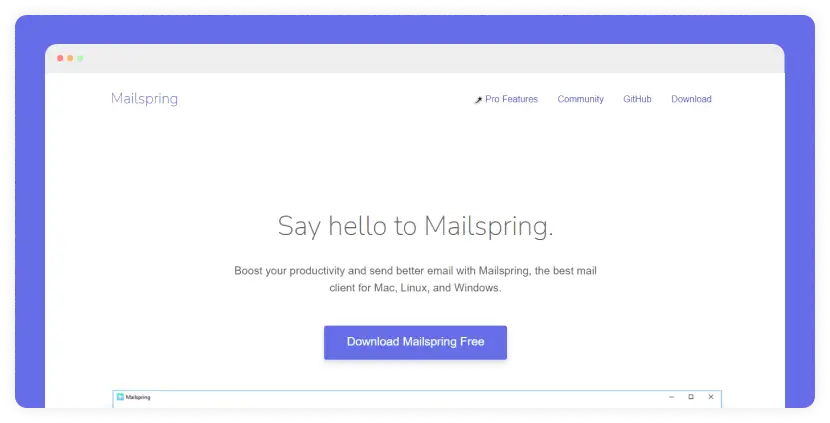 Mailspring is a productivity booster, and the first time I installed it on my device, I started to love emails once again. Its simple design makes it easy to navigate the app efficiently and browse through a large number of emails quickly.
Features
Browse through emails from all your accounts in no time with Unified Inbox.

Pinpoint the exact email you're looking for with complex search queries.

Customize the look and feel of the app with various themes to choose from.

Improve your productivity even more with easy-to-learn keyboard shortcuts.

Improve your productivity with pro-business features like link tracking, full sender information, quick reply templates, and more.
Pricing
Free with limited features.

Mailspring Pro for an $8/month subscription.
Mailspring is a great option if you need a simple yet feature-rich email client to improve productivity.
5. Boxy for Gmail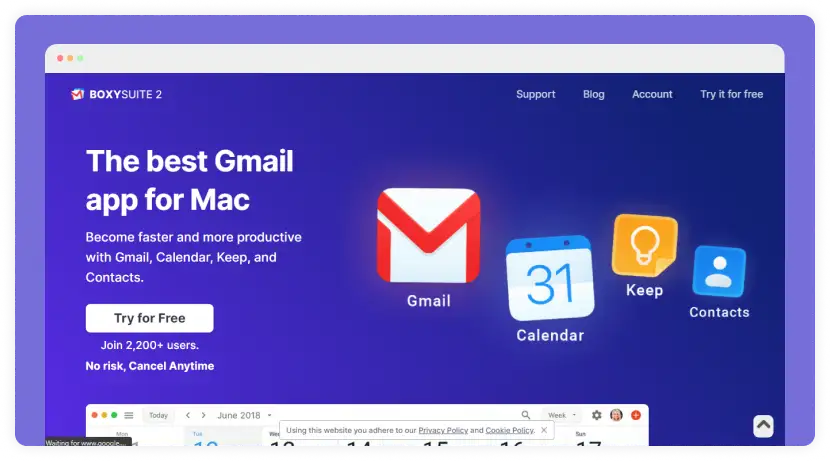 Boxy brings the amazing Gmail experience out of the browser and makes it even better and more beautiful. Boxy for Gmail comes as a part of Boxy Suite that lets you integrate Gmail, Google Calendar, Keep, and Contacts to use them in a browser-free environment.
Features
Achieve a minimalistic look with Minimal Mode or a complete dark look with Dark Mode.

Switch between multiple accounts and quickly perform common tasks with Quick Launcher.

See if you are being tracked with the Email Tracking Detector.

Organize your schedules and meetings with the integrated Google Calendar.

Bring focus and clarity while reading your emails with the Reader Mode.
Pricing
$40.59/year after a two-week free trial.
If you want an aesthetic solution well integrated with Google's other software, you should definitely try Boxy for Gmail.
Get a sample AMP email in your inbox
Experience the power of interactivity right now
6. Outlook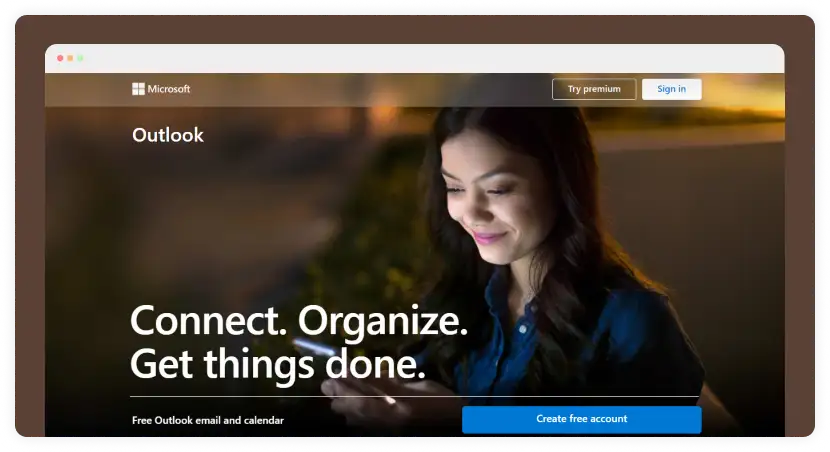 Developed by the tech giant Microsoft, Outlook is one of the most popular clients in the world. It is a popular option for business users for its business-friendly features and enterprise-grade security.
Features
Schedule your tasks and appointments with seamless calendar integration.

Add and organize your tasks with the Microsoft To-Do integration.

Enterprise-grade security to keep you safe from viruses and malware.

Complimentary access to Office apps, including Excel, Power Point, and Word.

Recall your emails in case you have made a mistake.
Pricing
Free for the Basic plan.

Outlook comes with three monthly Microsoft 365 Business plans:

Basic: $1.69/user.

Standard: $8.90/user.

Premium: $19.43/user.
If you already use the Office apps at work and need an email client that integrates Office apps well, there is no better option than Outlook.
7. Postbox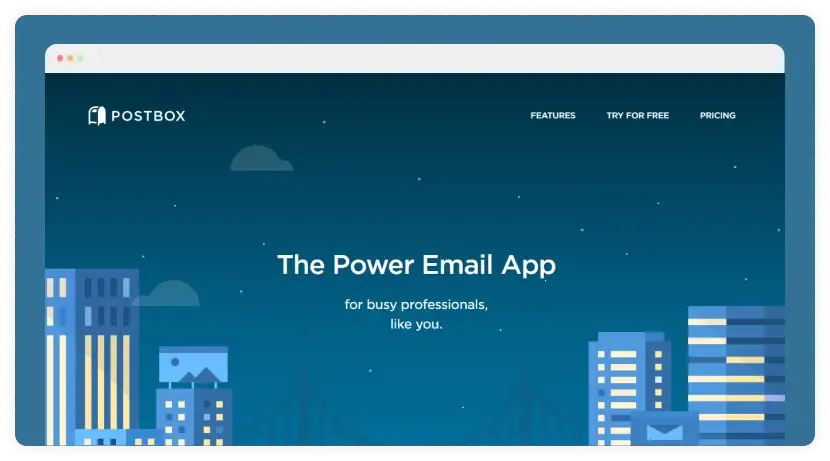 Postbox is an easy-to-use and lightning-fast email client. It works with any IMAP or POP account so that you can add and manage all your accounts in a single place.
Features
Keep things organized by keeping your personal and work accounts separately.

See the emails you want with One-click Quick Filters.

Locate the exact email you are searching with advanced search filters.

Redirect emails to your desired folders with custom rules and filters.

Make it look beautiful with a variety of themes to choose from.
Pricing
$29/user lifetime license.
Give Postbox a try if you need a modern, easy-to-use, and overall email client.
Wrapping up
As mentioned earlier in this guide, the best email client is the one that solves your problems the best.
For example, if you are bored with the traditional email format, you need to try Spike. However, if you care about security and well-integrated Office apps experience, Outlook is clearly a better choice.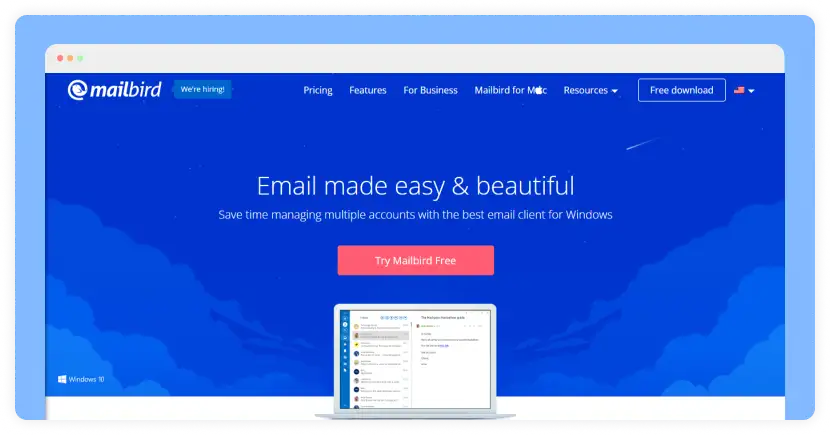 What you should do next
Hey there, thanks for reading till the end. Here are 3 ways we can help you grow your business:
Talk to an email expert. Need someone to take your email marketing to the next level? Mailmodo's experts are here for you. Schedule a 30-minute email consultation. Don't worry, it's on the house. Book a meet here.

Send emails that bring higher conversions. Mailmodo is an ESP that helps you to create and send app-like interactive emails with forms, carts, calendars, games, and other widgets for higher conversions. Get started for free.

Get smarter with our email resources. Explore all our knowledge base here and learn about email marketing, marketing strategies, best practices, growth hacks, case studies, templates, and more. Access guides here.