If you're a Windows user looking for the best email clients on the market—you're in the right place. However, the definition of "best" email client for Windows 10 differs from person to person according to their needs.
That's why, in this guide, we will discuss some of the best email clients and what they do the best, so you can choose "your best" email client that'll work best for you.
Table of contents
7 Best email clients for Windows
We have a curated a list that talks about the features and pricing of some of the best email clients for Windows. Have your pick.
1. Kiwi for Gmail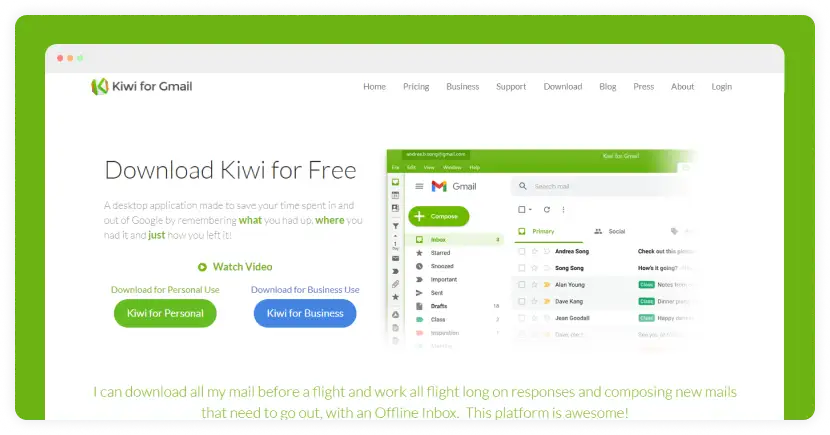 If you're among the 1.8 billion Gmail users and searching for a Windows email client, you must check out Kiwi for Gmail.
Kiwi for Gmail is an email client specifically designed for Gmail users. It is designed to make you more productive if you extensively use the Google ecosystem to get your work done.
Features
Kiwi claims to provide the most secure way to access Gmail on Windows.

Use Google Workspace in a browser-free environment.

Adding multiple accounts with up to six Gmail and Workspace accounts.

Quickly access recent docs by going to File > Recently Closed Docs.

Variety of keyboard shortcuts to quickly complete common tasks.

Ability to quickly restore where you left off without opening every window from scratch.
Pricing
Free for the Basic plan.

Kiwi for Gmail offers two yearly paid plans:

Premium: $34.99/user.

Business: $58.99/user.
Kiwi for Gmail is an ideal choice if you're a Gmail user who wants to experience the Google Workspace in a browser-free environment.
2. Mailbird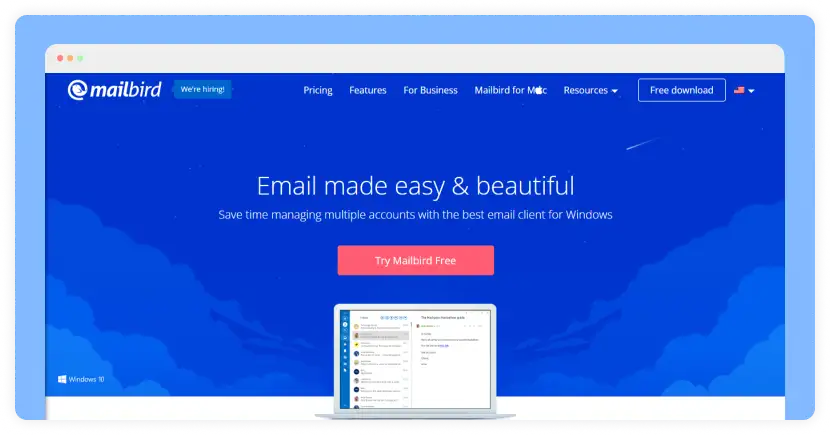 If you're looking for a modern, efficient, and lightweight email client, Mailbird might be the best option for you.
Features
Managing emails and contacts of multiple accounts in one inbox.

Customizing app layout and its color palette according to your likings.

Attachment search to quickly find even year-old attachments.

Available in 17 different languages from all over the world.

Integrations include Dropbox, Google Docs, Mailbird Calendar, Google Calendar, Evernote, Asana, and more.

Keyboard shortcuts to archive, compose, reply, and perform many more actions.
Pricing
Personal: $2.24/month or $53.89.00 one-time payment.

Business: $3.92/month.
Mailbird is an ideal choice if you need a modern, lightweight email client which can be customized according to your needs.
Get the State of Email 2023 Report
150+ email experts share their email tips and secrets
3. Thunderbird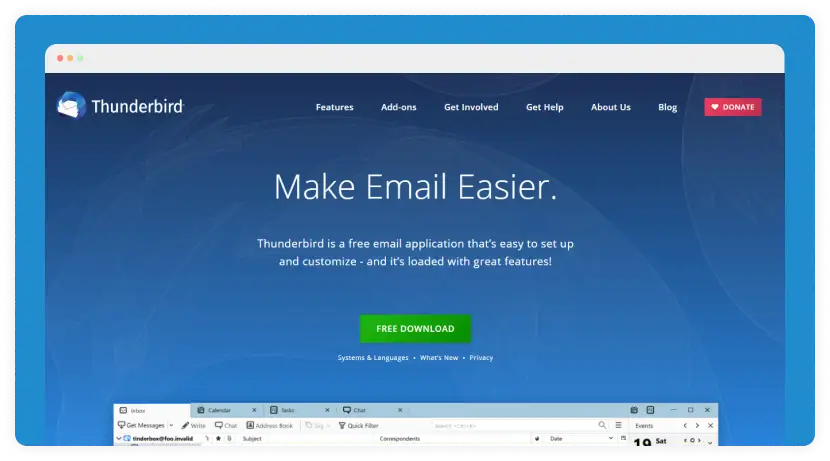 Thunderbird is a free, open-source email client owned by Mozilla. It is one of the most popular email clients for Windows 10 and is loved by many users.
Features
Integrated productivity tools such as a calendar, task management, and chat.

Tabbed email that lets you jump between tabs quickly.

Powerful filtering and timeline tools to locate the exact email you're looking for.

Easy setup process that works with most email providers.

Different add-ons to achieve various specific tasks.

Themes to customize the look according to your likings.
Pricing
Thunderbird is an ideal choice if you're a Firefox user looking for an alternative to paid email clients.
4. Outlook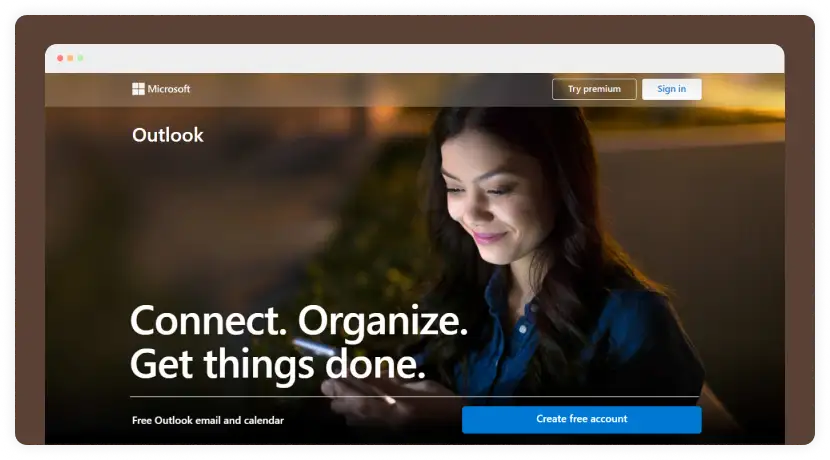 Microsoft Outlook is probably the most popular email client for Windows 10, and it comes in the Microsoft 365 package.
Features
Access to the Office apps such as Word, Excel, and Powerpoint.

Enterprise-grade security even for regular users.

Data encryption while storing and sending your emails.

Meetings and appointments management right from the inbox.

Integrated task management with Microsoft To-do.

Keyboard shortcuts to speed up your workflow.
Pricing
Free for the Basic plan.

Outlook comes with three monthly Microsoft 365 Business plans:

Basic: $1.69/user.

Standard: $8.90/user.

Premium: $19.43/user.
Outlook is an ideal choice if you want to experience the Microsoft suite of apps along with a powerful email client.
5. eM Client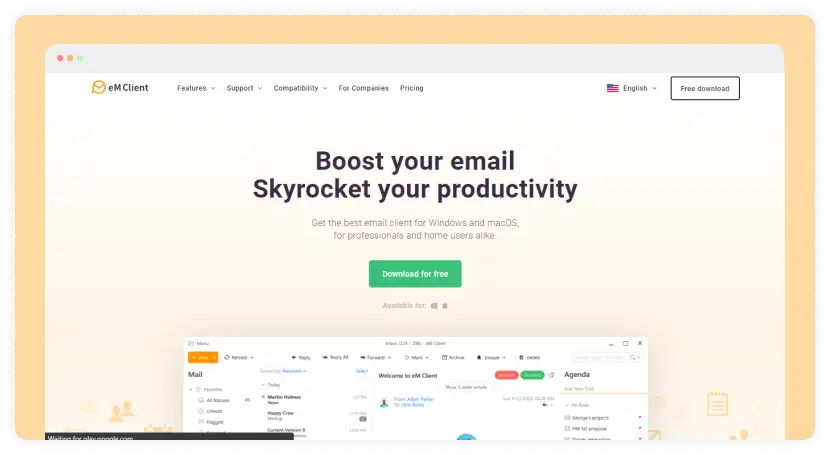 eM Client is a simple email client with a clean user interface.
Features
Message translation to translate messages containing foreign languages.

Automatic backup tool to not lose your data.

Ability to change the app language to 20 localized languages.

Integrated apps including Calendar, Tasks, Contacts, Notes, and Chat.

Dark mode to keep your eyes unstrained.
Pricing
Free for individuals.

eM Client provides two one-time-payment plans:

Pro for individuals: $29.67.

Pro for companies: $133.35.
eM Client is an ideal choice if you want a non-overwhelming email client with great features (even some unusual ones such as text translation).
6. Spike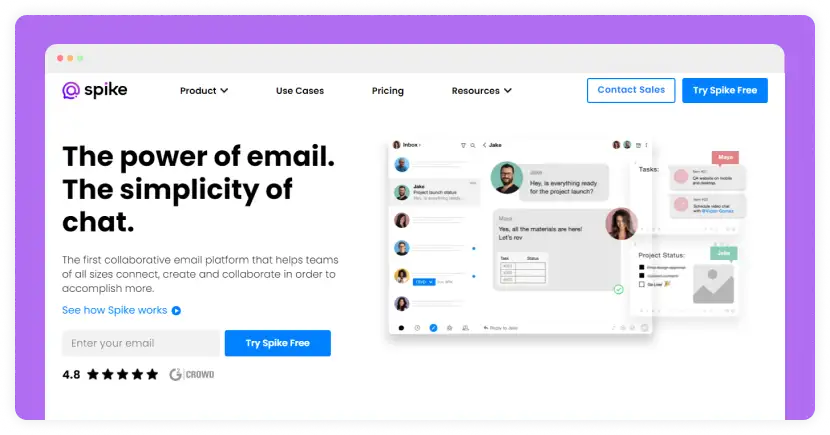 Spike has reimagined what email communications could look like. It has turned the traditional email thread conversations into a modern chat-like user experience that is more convenient to use.
Features
Intelligent priority inbox to remove distractions.

Powerful note-taking app to note down important information.

Collaboration features to collaborate with your team in real-time.

Add and track any tasks with an efficient task management system.

Data is encrypted using the AES-256 encryption.
Pricing
Free for personal accounts.

Spike provides three monthly business plans:

Solo: $12/account.

Business: $8/account.

Enterprise: Custom pricing based on your needs.
Spike is an ideal choice for you if you want to try a new way of email communication with powerful collaboration.
Get a sample AMP email in your inbox
Experience the power of interactivity right now
7. Mailspring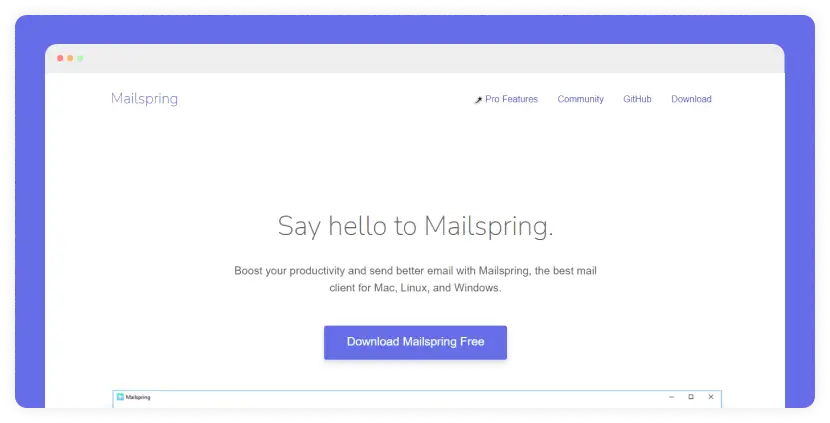 Mailspring has a simple and clean design that makes you hate emails a little less. It has the essential features you would expect from an email client along with an eye-pleasing design.
Features
Advanced search features to locate your emails quickly and easily.

Unified inbox to manage all your accounts in a single place.

Data is stored in your system and Mailspring does not store your data in its cloud.

Localized into nine different languages.

Custom signature feature to create your beautiful email signature.
Pricing
Free with limited features.

Mailspring Pro for an $8/month subscription.
If you receive hundreds of emails every day and need something that will make it easy to sort through all those emails, Mailspring is worth a try.
Wrapping up
As mentioned earlier in this guide, the best email client will completely depend on your needs.
If you need something simple and clean that gets the job done, Mailspring is a good option. However, if you are deep into the Google ecosystem, Kiwi for Gmail is a better option.
So you need to first figure out your requirements and choose an email client accordingly.