Mudrex is a crypto asset management platform. It offers crypto investment products modeled on automated crypto trading bots, mutual funds, and exchange-traded funds for long-term investors.
The problem statement
Crypto is the fastest-growing asset class in the world, but 24x7 markets, global access, a range of exchanges & assets, and inefficient markets make manual trading impossible. Automation of trading is the answer but 99.9% of users don't have access simple to tools and trading infra.
Mudrex built its platform to change this. Everyday investors could choose their risk appetite and diversify their capital in trading algorithms built by the best traders in crypto.
The platform cut most of the problems in the trading, but adoption was still a challenge as the users need to be educated. Crypto markets are volatile, have an air of regulatory uncertainty and general awareness of how blockchains work, is not democratized. So while the Mudrex team saw a lot of conversions through signups, adoption and retention needed work.
This is where Pranjal Agarwal came in. As the customer experience and success manager, it was his responsibility to smoothen the adoption process.
Pranjal and the team had a solution mapped for this. Once the leads signed up, the onboarding flow included webinars to get them up and running on the platform. This gave them a sense of community too. At this stage of lead nurturing, Pranjal and his team served as event managers and the approach to each webinar was that of a virtual event, which meant engagement of attendees was the primary KPI.
But there was a funnel bottleneck here. That is because Pranjal and team relied on email marketing as the primary event marketing tactic.
With traditional HTML and text emails, users had to open Mudrex's email, click the sign-up CTA, sign up for the webinar hosted on Airmeet and verify their email. This three-step process saw a lot of users dropping at each stage.
The solution
Pranjal found a better solution to the users dropping through Mailmodo.
Mailmodo is a complete email marketing solution that enables forms, carts, surveys, and payments from within the email. Powered by AMP email, it provides an interactive experience to the users.
The platform also allows easy integrations with several CRMs, social media, and marketing analytics platforms to name a few, including Zapier integrations, API access, and webhooks.
Using Mailmodo, Pranjal embedded the webinar sign-up form right within the email. This already reduced one step of the previous journey. He then created a Zap and integrated Mailmodo with Airmeet.
This also made the email verification step redundant.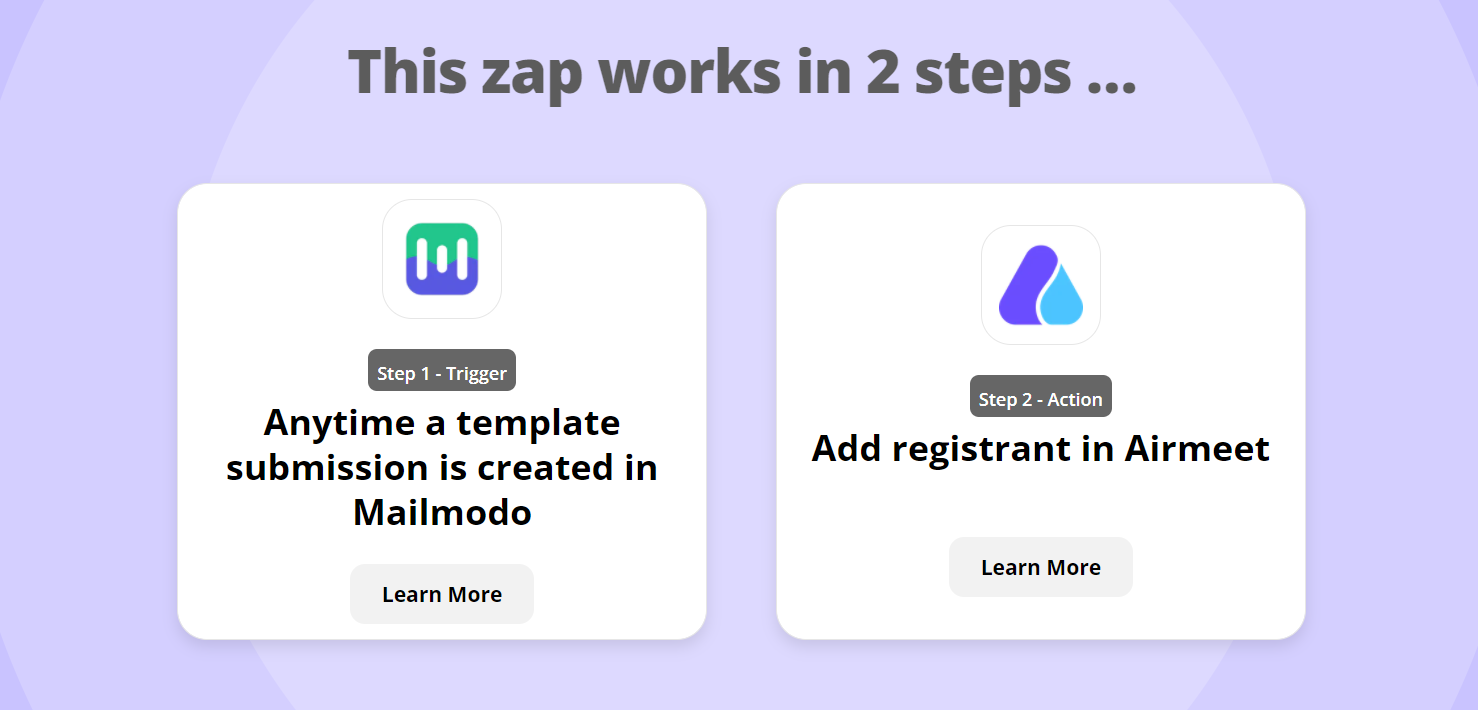 Mailmodo + Airmeet integration made our user experience better and our lives easy. With a few simple steps, I was able to connect the two and make a Zap which automated the entire process and removed the friction that previously cost us webinars and ultimately conversions.
- Pranjal Agarwal, Customer Experience Manager, Mudrex
It also made it easier for the team to automate follow-ups from the database.
The results
With the following email template, the Mudrex team simplified the customer journey while delivering a better user experience.
After switching to Mailmodo, the open rates increased from 15% to 19%, whereas the open to registration rate increased from 2% to 6%.
That translated to an impressive 2.8X increase in their webinar sign-ups.
As a customer experience manager I know I can't just work on ease of use or adoption. I'm responsible for delivering an experience that my audience wants to come back to. Mailmodo helped me achieve that. The numbers we saw were proof of what was otherwise abstract.
- Pranjal Agarwal, Customer Experience Manager, Mudrex
That's not all. 90% of the people who attended the webinar invested in the platform which meant that AMP emails are now directly impacting revenue for Mudrex by increasing their Assets Under Management (AUM).
What's next for Mudrex
In addition to Mudrex Algos, the platform recently launched a new offering. Mudrex Coin Sets are thematic cryptocurrency baskets built for long-term returns that are frequently rebalanced with the changing market conditions.
Mudrex is on a mission to make crypto investments easy to use and accessible to all. This has them exploring several strategies and avenues.
Actionable email alerts
The team is exploring the idea of email alerts that can allow for action from the alert itself. This can help their users take quick actions and change strategies based on the market movements and fluctuations.
Retention
Retention is a goal for any business, Mudrex is no exception. The team is looking to set up their lead nurture flows through Mailmodo.
Upsell, cross-sell
Upselling or cross-selling through email with Mailmodo comes with an increase in expected conversions and by extension revenue. Since the users are well acquainted with the brand at this point in their journey, they are more likely to take decisions and actions from the email itself with the right nudge.