Outline
The Company
Mudrex is an automated crypto asset management platform which offers products like automated crypto trading bots, mutual funds, and exchange-traded funds for long-term investors.
The Problem
Low webinar registrations due to drop offs in a 3-step registration process.
The Approach
Leveraged Mailmodo's AMP forms to insert registration form inside the inbox to enable users to register within email.
With the Mailmodo-Zapier-Airmeet integration, Mudrex combined the 3 step registration process into one. With this integration, everytime a user registered on the email, they were automatically registered on Airmeet.
Utilized Mailmodo's automation feature to trigger timely follow-ups, nurture leads, and increase webinar sign-ups.
The Outcome(s)
Mudrex witnessed a 280% increase in webinar sign-up.
The open rate increased by 3% and the registration rate by 4%.
Around 90% of those who attended the webinar invested in cryptocurrency through the Mudrex platform leading to a substantial increase in revenue.
---
The Company
Crypto is the fastest-growing asset class in the world, but due to 24x7 markets, a global network and a range of exchanges & assets, manual trading becomes challenging and almost impossible. To solve this, Mudrex launched an automated crypto asset management platform. It offers crypto investment products modeled on automated crypto trading bots, mutual funds, and exchange-traded funds for long-term investors. With Mudrex, regular investors can choose their risk appetite and diversify their capital in trading algorithms built by the best traders in crypto.
The Problem
Despite the high customer interest leading to signups, Mudrex team witnessed low platform adoption and retention. On deep-diving into the problem, they identified that this was due to a lack of knowledge about blockchain functioning and regulations. To improve adoption, usage and retention, the Mudrex team devised strategies to educate the investors and alleviate concerns.
As the customer experience and success manager, Pranjal chose to host webinars to educate their onboarded investors and smoothen the adoption process. Pranjal and the team approached these webinars as large-scale virtual events where investors could learn about Mudrex and crypto best practices and network with like-minded individuals.
Kicking into action, investors were sent webinar invites right after they signed up. But soon they found that there were very low webinar registrations. So, the team investigated the reasons behind the low webinar registrations and explored ways to increase them.
The Approach
Identify the root cause: Mudrex narrowed down the problem of low webinar signups to customer disengagement on email and decided to reevaluate its webinar marketing campaigns and registration flow. In the existing, HTML-based, webinar emails there was a static CTA, that redirected the investors to Airmeet (the event management platform) to register. Once the user registers, they have to verify their email ID for confirmation. The 3-step process was cumbersome and resulted in drop-offs and low webinar registrations. Thus, Pranjal decided to find ways to reduce friction and the steps in the registration process to help users register easily.
Embrace AMP emails: As Pranjal and the team put their heads together to improve their email experience, they found AMP emails that were interactive, enabled user action within an inbox, and drastically increased the use-cases of emails in general. That's when they discovered Mailmodo. A no-code platform, Mailmodo empowers marketers with an interactive email automation software for higher in-email engagement & conversions. Using Mailmodo, the Mudrex team decided to insert the webinar registration form inside the email and let customers register for the webinar right inside the email eliminating the redirect to the Airmeet registration page.
Leverage the right integrations: Having removed the first hurdle, Pranjal then utilized the Mailmodo-Zapier-Airmeet integration to add the registrants on Airmeet automatically and eliminate the email verification step. Through this integration, when a user registers for the webinar on email, they are automatically signed up on the Airmeet platform and receive a confirmation email of the same.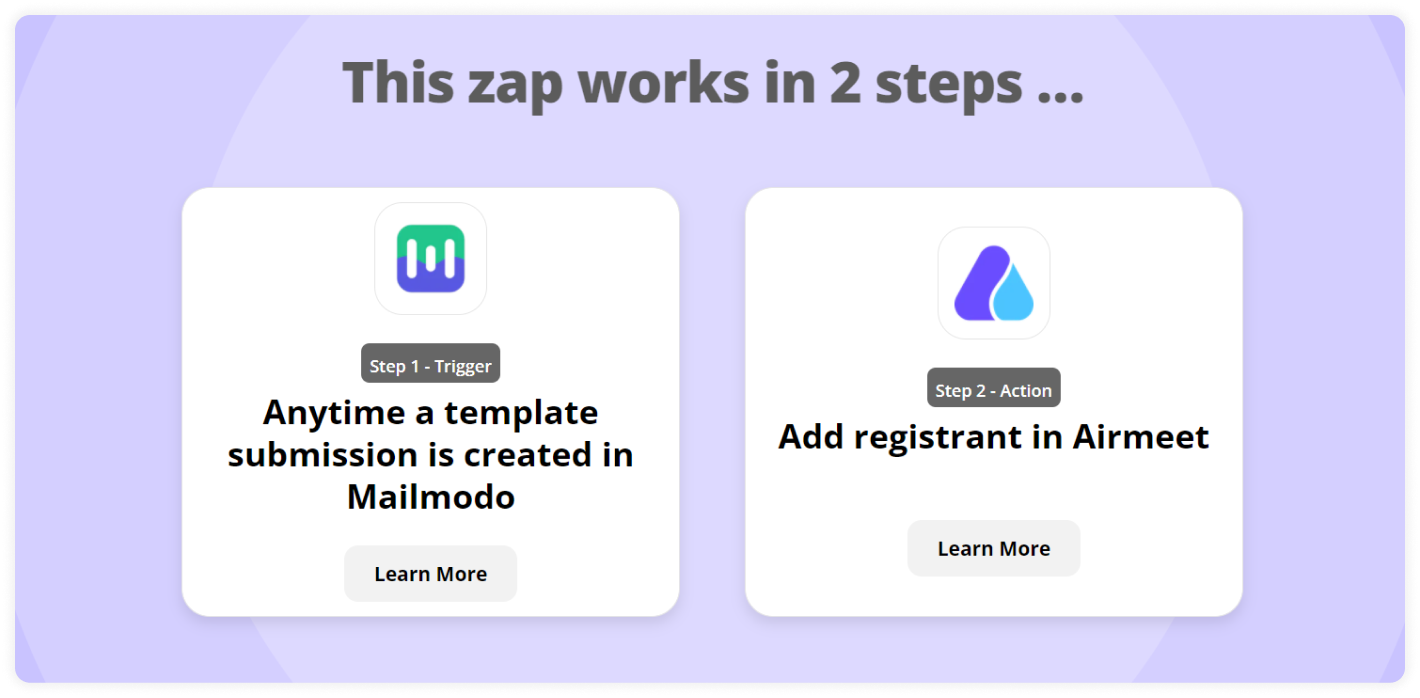 Mailmodo + Airmeet integration made our user experience better and our lives easy. With a few simple steps, I was able to connect the two and make a Zap which automated the entire process and removed the friction that previously cost us webinars and ultimately conversions.
- Pranjal Agarwal, Customer Experience Manager, Mudrex
The Outcome
Improved customer journey: By utilizing AMP emails with Mailmodo and integrating it with Airmeet, Mudrex successfully combined 3 steps into one step in the registration process and made the customer journey seamless.
As a customer experience manager, I know I can't just work on ease of use or adoption. I'm responsible for delivering an experience that my audience wants to come back to. Mailmodo helped me achieve that. The numbers we saw were proof of what was otherwise abstract.
- Pranjal Agarwal, Customer Experience Manager, Mudrex
Increased registration and open rates: After switching to Mailmodo, the open rates increased from 15% to 19%, whereas the open to registration rate increased from 2% to 6%. That translated to an impressive 2.8X increase in their webinar sign-ups.
Better revenue: That's not all. 90% of the people who attended the webinar invested through the platform, which meant that AMP emails are now directly impacting revenue for Mudrex by increasing their Assets Under Management (AUM).
Journey Forward
In addition to Mudrex Algos, the platform recently launched a new offering - Mudrex Coin Sets, thematic cryptocurrency baskets built for long-term returns. To promote this product, they explored several strategies and avenues.
Actionable email alerts The team is exploring the idea of email alerts that can allow for action from the email itself. This can help their users take quick actions and change strategies based on the market movements and fluctuations.
Retention The Mudrex team is looking to set up their lead nurture flows through Mailmodo.
Upsell and cross-sell Since actionable email with Mailmodo is optimized for higher conversions, it can be used for upselling or cross-selling as well. The Mudrex team is exploring Mailmodo for such campaigns since they are well acquainted with the brand at this point in their journey.