Explore the Marketing Tools of Tomorrow
Get access to all the software and tools and choose from our handpicked selection of game-changing marketing tools that will skyrocket your business growth.
Top Marketing Tools Categories
Check out all categories here.
Ultimate resource for informed decision-making
Mailmodo helps you discover your software needs and preferences. Make informed decisions based on functionality, features, compatibilisty, and budget.
For Users
Simplify your search, compare, and make informed choices
Explore a vast selection of software and tools by seamlessly searching through intuitive categories.
For Businesses and Developers
Showcase your tools
and boost traffic
Increase the visibility of your tools by listing them on our site. Take advantage of the traffic and expand your reach in the market.
For Customers and Users
Share your insights and empower others
Help fellow users make informed decisions based on your feedback. Write about your experience on using the software.
Powered by Mailmodo ⚡️
Mailmodo is an all-in-one email marketing solution that boosts email conversions with interactive emails.
With Mailmodo, you can
Book meetings
Collect feedback and reviews
Add events to calendars
Conduct surveys, quizzes, and polls
All inside emails!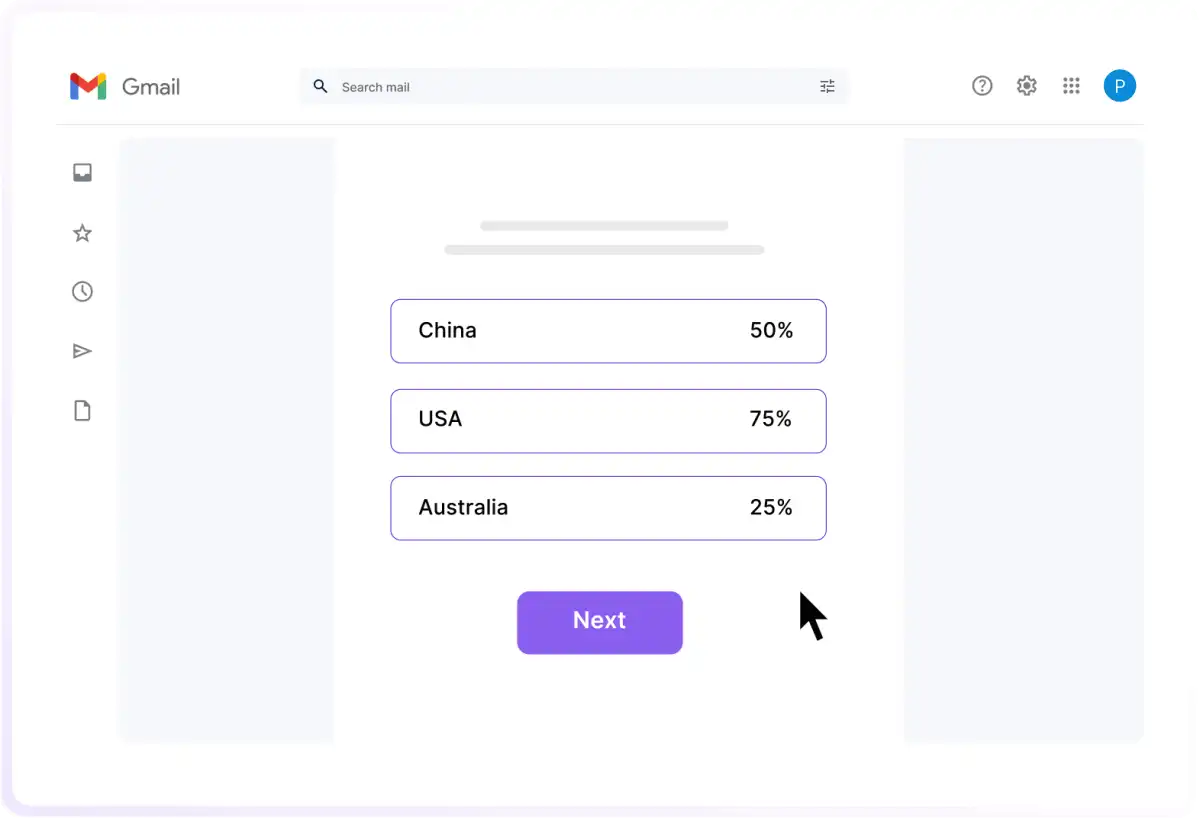 What is marketing tools?
Marketing Tools is an online resource and listing page that serves as a comprehensive directory of marketing tools. It aims to assist marketers by providing a curated collection of various software and services that can be used in their day-to-day activities.
How to use marketing tools?
Following these steps, you can effectively utilize Marketing Tools to explore and select the best marketing tools based on your needs and requirements.
After identifying your needs and requirements, Select the category that suits you from the Marketing Tools website.
On the website, you'll find a collection of marketing tools listed under the category.
Marketing Tools allows you to compare best of the industry tools based on their functionality, pros and cons, and pricing details.
Additionally, you can check out the official websites of the listed tools, to gather more detailed information directly.
What details can I get from the marketing tools?
From Marketing Tools, you can get the following details about marketing tools:
An overview description of the tool.
Feedback from users to gauge tool satisfaction in the form of ratings.
The advantages and disadvantages of the tool.
Information about the cost of using the tool.
Direct links to the official websites and social handles of tools.
How does Mailmodo list the software and tools?
We conducted extensive research to identify a wide range of software options within each category. This involved exploring online resources, industry publications, software directories, and user reviews.
Is it required to check the product's website?
The pricing details and features are generally subject to change. But in most cases, the details are up to date. So it is recommended to visit the product website for the latest information before deciding.
Get Access to Marketing and Growth Hacks
Still not sure about your decision?
Join our community of experts to help you with your decision.
Frequently asked
questions
Everything you need to know about
the product and billing
Marketing tools are various software, platforms, and technologies marketers use to facilitate and enhance their marketing efforts.
Some of the main marketing tools that marketers use these days are Hubspot, Mailmodo, and Zapier. All the popular marketing tools for every business and every budget are listed here.
We've gathered the best marketing tools on the internet to help you out with your business and growth. These tools are listed into various categories providing up-to-date information for better comparison
Given the abundance of available tools, it can be challenging to determine which ones will effectively measure, test, and evaluate the impact of your marketing efforts. You need to identify your needs and requirement, and then check out the Marketing Stash for a better comparison of tools based on your needs.
Yes, you can find free and paid marketing tools on the marketing stash page.
How to get started
with Mailmodo
Save 80% of ideation time, produce better campaigns, and scale your email marketing effortlessly with Mailmodo.
01
Sign up for a Mailmodo account
Fill out the registration form by providing your email address, password, and other required information.
02
Create a new campaign
Choose a template or build one from scratch.
03
Add your recipient list
Manually type in the contacts or import them from a CSV file and set up any personalized fields or segmentation criteria.
04
Edit, polish, and publish
Set up any automated triggers or A/B tests before sending AMP emails built for conversion with Mailmodo.