Is SendGrid really worth it?
SendGrid provides businesses with the possibility to send and track transactions and marketing messages via its email delivery and management platform. Sendgrid is becoming a favorite choice for businesses of any size, thanks to the features such as email automation, realtime analysis and email validation.
While the platform offers a range of affordable plans for businesses of all sizes, more sophisticated features and higher email volume can rapidly become expensive. In addition, some users have claimed that the costs of other features like email verification or Dedicated IP addresses can quickly add up to an increasing total cost.
Its user interface is another potential drawback of SendGrid. As the platform offers a wide range of features and customizations options, some users have reported that its interface is confusing and difficult to use. Users with no experience in email marketing or who lack technical expertise may find this particularly difficult.
"Not really. Sendgrid's pricing is good imo but their feature sets are not super updated and UI is crappy"
SendGrid's features are a mixed bag. The email deliverability capabilities, its analytics and reporting functionality, and the email editor are excellent, but the contact management, segmentation, and autoresponder features are limited.
Updates on SendGrid pricing
This tool offers four pricing plans. The price of each of these plans depends on the number of emails you want to send and the number of people you want to send it to. Depending on the number the price of every SendGrid plan will differ. Also, the features of every pricing plan are different too.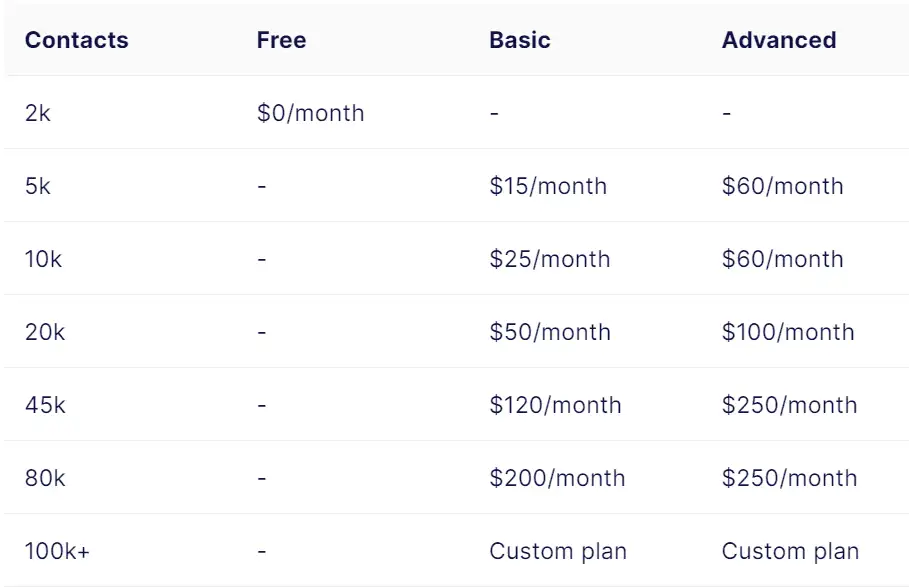 Under Marketing Campaigns, you can choose from three pricing categories – Free, Basic 100K, and Custom Pricing.
The Free Plan provides up to 2,000 contacts and sends a maximum of 6,000 emails per month. Here are the features that are offered in the free plan: Design and code editors, Contact segmentation, A/B testing, Automation,Ticket support and Up to 3 email testing credits. For a free model, the plan provides all the essential tools needed to build email marketing campaigns. However, you cannot access dedicated IP addresses or other security features under this plan.
Under the basic plan, you can get up to 100,000 contacts and send up to 300,000 emails per month. It costs $200 per month and has the following features:10 email testing credits, 5 signup forms, Ticket and chat support, Content personalization, Email scheduling and Expert services.
One of the advantages of the Basic Plan is that the pricing remains the same whether you want to send 15,000 emails or 300,000 emails every month. But it does not include email automation tools or dedicated IP access. To avail of such tools, you need to upgrade to the Custom Pricing Plan.
Advanced plan includes all "Basic" features + marketing automation + dedicated IP + customer support via phone. The plan starts at $60 per month
Email API pricing is based on the number of emails you send monthly.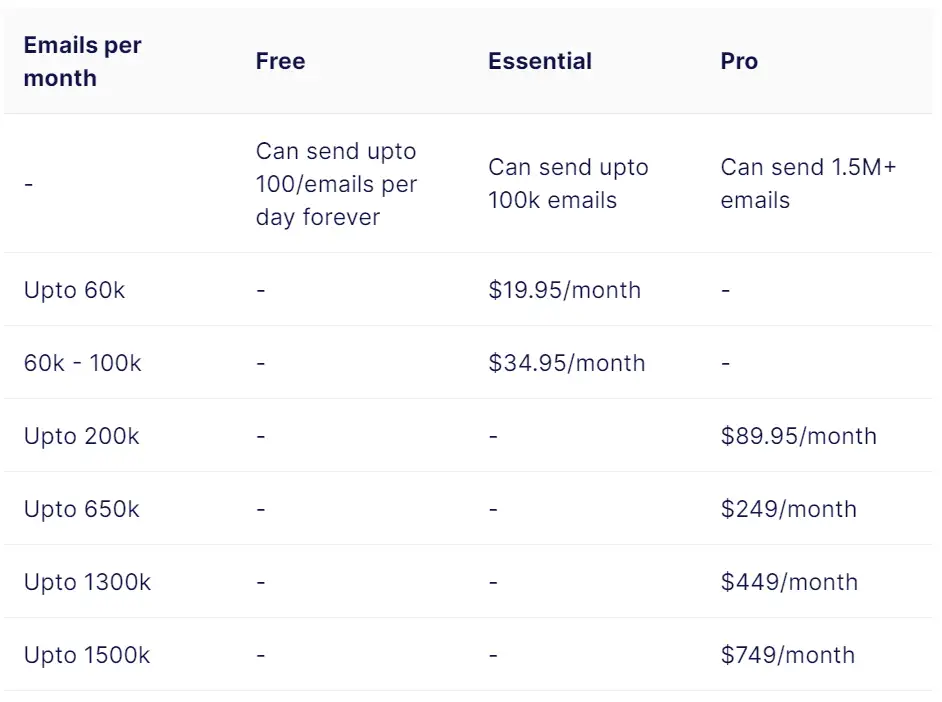 The Free Plan allows you to send up to 100 emails daily and has key features such as Delivery optimization tools, Dynamic template editor, Deliverability insights, and Ticket support. The Free Plan is ideal for individuals and those who are new to the SendGrid platform and have limited requirements. However, it lacks security features, such as dedicated IP addresses, email validation, and SSO.
Under the Essentials Plan, there is a monthly sending limit of 50,000 emails and costs $19.95 per month. Once you exceed the 50,000 sending limit, the plan will cost you $34.95 per month.Some of the features which users will get in essential plans are Insightful email analytics, Guaranteed response times on ticket and chat support and all features of free plan. When compared to the forever-free plan, the Essentials Plan does not offer much in terms of additional tools. You can only avail of faster customer service and a higher email-sending limit. If you are looking for enhanced security features, it is best to upgrade to the Pro Plan.
The Pro Plan starts from $89.95 per month and allows you to send up to 1.5 million emails monthly. However, if your sending limit exceeds 1.5 million, you can avail of a customized plan. Some of its main features are Up to 2,500 email validations, Subuser management, Single sign-on (SSO), and Single dedicated IP address. This plan provides a wide range of tools that ensure high deliverability of your emails as well as increased security of your emails. But if you want to seek expert advice on your email marketing campaigns, you will need to purchase the Premier Plan.
Verdict
In a nutshell, SendGrid is a bit behind in terms of advanced features compared to other ESPs in the market. One key feature that every email marketer looks at in any ESP is the quality of email automation, and this is where SendGrid fails spectacularly. The trigger and segmentation options are next to nothing, making creating advanced and targeted email automation sequences hard.
The limited email design templates, reporting features, and deliverability issues are some of the disadvantages of SendGrid. If you are a small business or startup looking for an affordable email marketing and delivery service with comprehensive features, you may want to consider other options.