SendGrid is email API-centric software created by developers for developers. Besides APIs, the software also offers drag-and-drop editors, email automation builders, and reporting dashboards for email marketing.
In 2018, SendGrid was acquired by Twilio, an omnichannel communication and marketing platform. This acquisition further strengthened SendGrid's capabilities as part of the Twilio family. It allows developers to integrate the SendGrid API with Twilio's services, such as SMS messaging, voice, video, and authentication. This integration creates powerful, automated customer communication experiences.
So, did it make SendGrid a go-to ESP for all your email marketing needs? I reviewed the tool, tried its features, and considered its customers' feedback to write this review. Now let's get into it.
Table of contents
What is SendGrid?
SendGrid is an email API provider that facilitates faster and smoother customer communication. The tool is designed to help businesses manage customer communication more efficiently by allowing the developer to work with its API and create marketing and transactional emails at scale. SendGrid offers a drag-and-drop email builder, a basic email automation builder, and analytics tools to track customer engagement and measure the success rate of campaigns.
What are SendGrid's core features?
SendGrid stands out among its competitors due to its wide range of features not limited to email marketing. Let's look at some of its core features:
Email template builder
SendGrid offers two types of email editors: Drag and drop email builder and an HTML email code builder. It means you can code an email from scratch within SendGrid.
If you want to design and code your emails, you can upload HTML code and include their Drag and Drop Markup.
Pros of SendGrid's email template builder:
The flexibility to design emails with a no-code editor or create a new one from scratch.
Creative and beautiful 60 customizable templates are available even if you're on a free plan.
Option to add multiple personalization tags.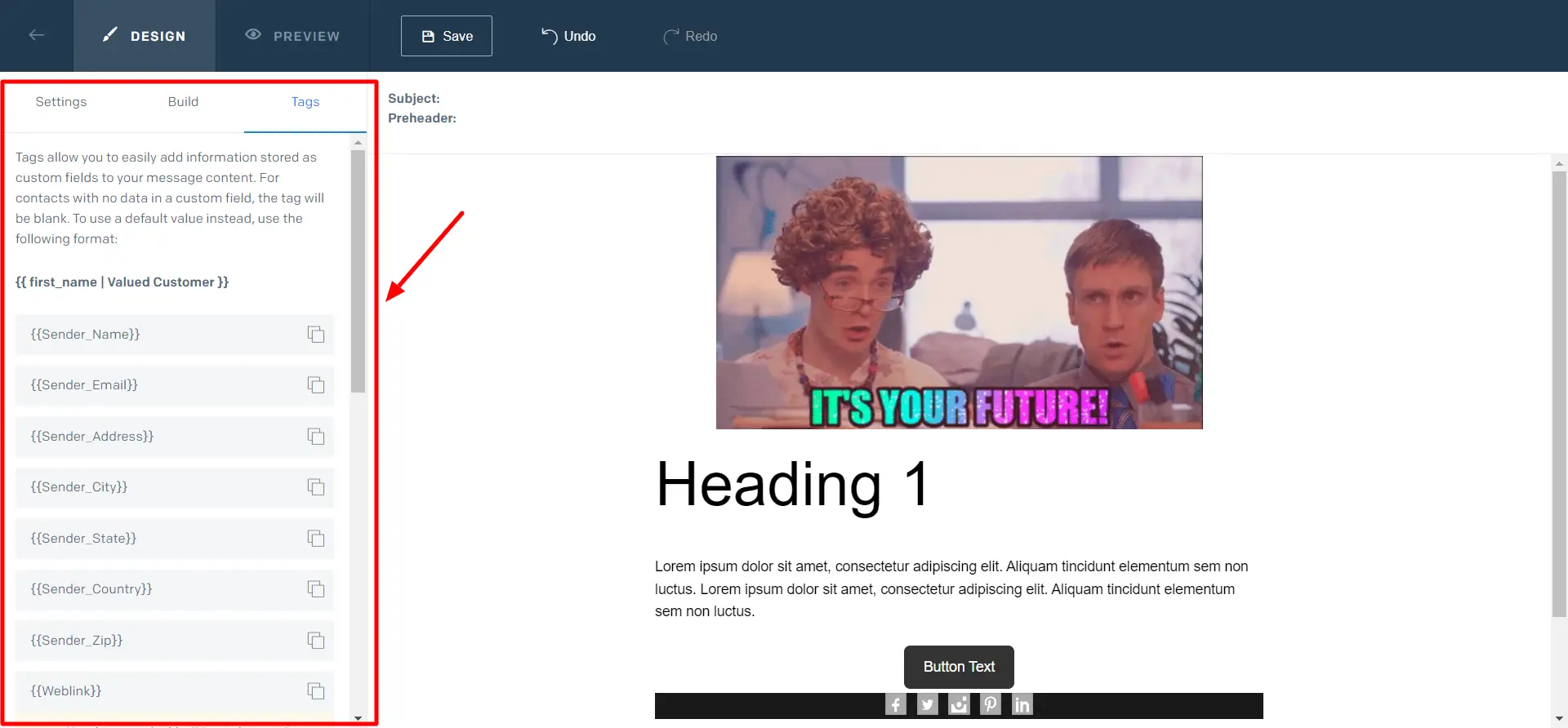 Cons of SendGrid's email template builder:
No pre-made content block layouts to customize.

The UI seems confusing and outdated.

The editor navigation is also clunky, as the previous dropdown doesn't close when you open a new one. This means a long scroll.

No option to adjust padding between social icons.
Marketing email automation builder
SendGrid's email automation builder is available to all SendGrid's users and is quite straightforward. The UI looks odd as it's not very intuitive.
Pros of SendGrid's email automation
Pre-built welcome automation series.
The step-by-step process is quite easy to use, even for beginners.
All the features are available even if you're a free plan user. Many ESPs don't offer the same feature.
Pros of SendGrid's email automation
Only a single trigger point: When someone joins a specific email list. This limits the potential of email automation.
Only one condition is available: Wait for a specific time.
Quite a confusing automation builder. It's hard to understand how the automation flow looks as the design lacks good color contrast and seems annoying.
Signup form builder
SendGrid also has a signup form builder, but it's quite basic and lacks many features to help you create compelling forms.
Pros of SendGrid's signup form builder
Creating simple and basic signup forms and integrating them into your email marketing campaigns is a good feature.
Pros of SendGrid's signup form builder
The question fields are restricted to basic details such as name, phone number, email address, etc. There Is no option available to add custom questions for segmentation later on.

There are no pre-made forms or blocks you can customize.

Adding custom fields is available, but it didn't work for me.
Dynamic email templates
With its email API feature, you can easily send dynamic transactional emails. The feature is easy to use as you can add multiple versions of the same emails with dynamic content.
Apart from test email sending, SendGrid offers in-app spam testing, email rendering previews, and link validation to all its users. This is a unique feature, as many ESPs still don't offer this or charge extra.
SendGrid pricing details
SendGrid has two types of pricing plans: one for marketing emails and the other for transactional emails.
SendGrid's email marketing services pricing
| Contacts | Free | Basic | Advanced |
| --- | --- | --- | --- |
| 2k | $0/month | - | - |
| 5k | - | $15/month | $60/month |
| 10k | - | $25/month | $60/month |
| 20k | - | $50/month | $100/month |
| 45k | - | $120/month | $250/month |
| 80k | - | $200/month | $250/month |
| 100k+ | - | Custom plan | Custom plan |
SendGrid charges you based on the number of contacts and emails you send monthly. The above table shows pricing based on the number of contacts. To get a more comprehensive analysis of pricing, checkout SendGrid's email marketing pricing
SendGrid email API services pricing
Email API pricing is based on the number of emails you send monthly. Here's the breakdown:
| Emails per month | Free | Essential | Pro |
| --- | --- | --- | --- |
| - | Can send upto 100/emails per day forever | Can send upto 100k emails | Can send 1.5M+ emails |
| Upto 60k | - | $19.95/month | - |
| 60k - 100k | - | $34.95/month | - |
| Upto 200k | - | - | $89.95/month |
| Upto 650k | - | - | $249/month |
| Upto 1300k | - | - | $449/month |
| Upto 1500k | - | - | $749/month |
SendGrid's key strengths and weaknesses
Based on SendGrid's customer review, we have highlighted the pros and cons of the tool:
SendGrid pros
Extensive email performance reporting: Email analytics is one of the strongest suites of SendGrid. It also gives you a holistic view of email metrics, client usage, and geographical breakdown.

Ease of integrations: SendGrid's integrations cover a variety of CRM, APIs, and automation software, making it easy for businesses to connect their martech tools. Currently, it supports 320 integrations, including Zapier, Shopify, Oracle, Litmus, and Drift.
What I like most about SendGrid is that most of the tools out there offer easy integration with SendGrid. Some apps can directly integrate with SendGrid without using automation software like Zapier. - Rahul R., CTO, Reviewer on Capterra
SendGrid cons
Bad marketing automation: The automation feature isn't much advanced, as only a single trigger (joined the list) and condition (time delay) are available. No, if/then, yes/no conditions, and multiple triggers are available.
Campaign automation and segmentation of contact lists are severe drawbacks of this application. There is hardly anything you can do to automate your campaigns or when to send emails on certain action points. - Pranjal K., Co founder
Bad customer support: Customer service is bad, and the team takes time to resolve queries and get back to you. Also, the tool doesn't have any email support.
Is SendGrid the right tool for you?
Now, the biggest question. Should you use SendGrid as your email service provider? We've jotted down key pointers to help you decide:
When it's recommended
If you're a complete beginner: For a beginner, SendGrid is an affordable tool that gives you access to all email marketing features. You'll be able to learn how to design/code emails, create automation, and send transactional emails.

If you send a huge number of transactional emails: SendGrid is known for its transactional email API as the pricing is reasonable, and the process of setting up is quite easy.
Super easy to implement through their API. Use it extensively in our day-to-day notifications. - Jeffrey F., CEO.
When it's not
You want to use advanced automation: The automation sequences aren't very useful and come with a single trigger and condition option. ActiveCampaign or MailerLite are much better alternatives in terms of automation.

You want a clean and design-rich UI: Per my experience, the UI of the entire software looked outdated and faded as the text color was very hard to read at once. The automation builder seems clunky and not as per my expectation. So, if a clean and simple UI is something you want, SendGrid is not the right choice.
SendGrid alternatives
Check out these SendGrid alternatives that are much more affordable and might be the right choice.
Mailmodo
Mailmodo is one of the emerging email marketing platforms that help you create and send interactive AMP emails, build advanced automated journeys, set up transactional email campaigns, and get a holistic view of your campaign performance.
SendGrid vs. Mailmodo: Which one should you use?
Criterion
Mailmodo
Sendgrid
Transactional emails
Available on all plans
Only on paid plans
Dedicated support
Email, chat & phone support 24/7 for all users
Ticket, chat, and phone support (varies based on the plan)
No-code email builder
For both AMP and HTML emails with 200+ pre-made templates.
Drag-and-drop for only HTML emails with 60 pre-made templates.
AMP email support
✅
❌
Email automation
12 triggers available:
1. Manual trigger: Specific Contacts.
2. Contacts:
- Contacts added to a list,
- Change in the property of a contact,
- Contact enters or leaves a segment,
- Occurrence of date.
3. AMP activities: Form Submission.
4. Custom events: Occurrence of an event.
5. External Platform: API/Webhook, Zapier, Make, Integromat, Influencer Bit.

- Single trigger: Contact joins the list
- Single condition: Wait for a specific duration.
Dynamic email & personalization
✅
✅
List Management
✅
✅
Reports and Analysis
✅
✅
A/B testing
Subject line A/B testing for all users.
Subject line A/B testing only on single send email, not automated journeys.
Supported integrations
20+ integrations
320 integrations
Pricing
For marketing and transactional emails:
40k contacts: $199/month
100k contacts: $459/month
For marketing emails:
- 40k contacts:
Basic: $50/month
Advanced: $100/month
- 100k contacts:
Basic: $200/month
Advanced: $450/month
When should you choose Mailmodo over SendGrid?
There are various reasons for choosing Mailmodo over SendGrid:
If you want excellent 24/7 customer support
Mailmodo won over SendGrid with its reliable and excellent customer support. The CS team readily resolves customers' queries and leads them in the right direction, even if you're on the free plan.
If you want to send interactive AMP emails
AMP emails are the future of email marketing as they allow you to reduce friction and let your recipient take action inside the email. Mailmodo is the only ESP that helps you create and send responsive and engaging AMP emails with its no-code email template builder. So, if you want to use both AMP and HTML email, go for Mailmodo.
You want to create targeted email automation.
Email automation is one of the biggest drawbacks of SendGrid, but Mailmodo stands out with its 10+ trigger options, webhook/API integration, and multiple conditions. Additionally, the email automation UI is very intuitive and helps you visualize the flow of each series.
Other Sendgrid alternatives
Check out these SendGrid alternatives that are much more affordable and might be the right choice.
Mailchimp
Mailchimp is the closest alternative with its top-notch brand experience and cost-to-performance ratio. It offers a lifetime free plan for up to 500 subscribers giving you access to almost all of Mailchimp's features. To help you out, here's a complete review of Mailchimp.
MailerLite
MailerLite wins over SendGrid regarding top-notch customer service and advanced automation and list management features. Read our MailerLite's unbiased review to make a wise decision.
Active Campaign
Active Campaign takes over SendGrid with its powerful automation and segmentation feature. Besides, the tool is much more affordable than SendGrid.
SendGrid's rating overview
Feature
Ratings
Comments
Ease of use
⭐⭐⭐⭐
The software is easy-to-use, but the UI can seem a bit boring, and even the color used can seem too difficult to read sometimes due to bad color contrast compared to other ESPs.
Email template editor
⭐⭐⭐
The template has all the essential features, with many personalized feeds to include. However, the UI is pale and can seem confusing for a first-time user.
Pre-made templates
⭐⭐⭐⭐
The tool has 60 pre-made templates, a good starting point to customize. The templates are divided based on different use cases, such as newsletters, welcome emails, or transactional.
Personalization
⭐⭐⭐⭐
There are two types of personalization fields available: Reserve and custom fields. Each field has various variables you can personalize. You can add personalization parameters while designing the email template or separately under the marketing>contact dropdown menu.
Signup forms
⭐⭐
The form builder is way too basic, with limited design customization. Also, there is no option to check if the form is mobile-responsive.
Email automation
⭐⭐
SendGrid has a single trigger and condition in its automation builder, which limits the type of journeys you can create. Besides, the UI of the builder isn't very intuitive.
Authentications
⭐⭐⭐⭐⭐
SPF, DKIM, and DMARC
Own domain
❌
Spam and design testing
⭐⭐⭐
SendGrid offers inbox rendering tests, spam tests, and link validation tests. The number of Email Testing credits available depends on your Marketing Campaigns or Email API plan.
Bounce management
⭐⭐⭐⭐⭐
After two hard bounces, the email is added to a suppression list, and you need to tell SendGrid's team if you want to send emails to such addresses again. You can turn on Bounce Forwarding in your Mail Settings if you want to receive a notification for each bounce message.
Reporting and analytics
⭐⭐⭐⭐
The reporting and analytics dashboard give a holistic view of your email campaign's performance. You get insights into all your email metrics, popular links, spam reports, and email activity feed. The dashboard also deep dives into geographical statistics and mailbox provider comparison.
A/B testing
⭐⭐⭐⭐
A/B testing is available on a single email to send only as it is available for all users.
Interactive elements
❌
Integrations
⭐⭐⭐⭐
The integration is one of SendGrid's strongest features, as it offers 320 integrations with multiple tools such as Zapier, Drift, Litmus, etc.
List management
⭐⭐⭐
Importing and exporting contact data is easy as the tools support various formats. Additionally, you can easily create manual lists or dynamic segments for better targeting.
Customer support
⭐⭐
There is ticket, chat, and phone support available, which varies based on the plan you're using. For free users, only ticket support is available, which can cause delays in response time.
Overall rating
- 4.0/5 stars (G2)
- 4.2/5 stars (Capterra)
SendGrid is affordable and allows users on all plans to access all its features. It's a good tool for beginners who want limited features and an easy-to-use dashboard.
The verdict
In a nutshell, SendGrid is a bit behind in terms of advanced features compared to other ESPs in the market. One key feature that every email marketer looks at in any ESP is the quality of email automation, and this is where SendGrid fails spectacularly. The trigger and segmentation options are next to nothing, making creating advanced and targeted email automation sequences hard.
But, on the plus side, it's best known for its email API services which are one of the strongest suites. Additionally, it's easy to use and wins in terms of deliverability and integrations.
FAQs
How many free emails can I send with SendGrid?
You can send up to 6000 free marketing emails free to up to 2000 contacts monthly and 100 transactional emails per day forever.
Which is a better ESP - SendGrid or Mailchimp?
Mailchimp wins over SendGrid with its top-notch brand experience, pleasing UI, and advanced automation and segmentation features. But, Mailchimp is quite expensive even though it offers more advanced features (landing page builder, newsletter creation, etc.). So, if you have a low budget and want to email marketing campaigns, SenGrid might be a good choice.
Does SendGrid limit emails per day?
Yes, if you're on SendGrid's free plan, you can send only 10 emails daily. You must upgrade to one of its paid plans to send emails more than that daily.
SendGrid deliverability - is it any good?
SendGrids often come across as an ESP with an excellent deliverability rate, with the majority of its users citing this as one of the liked features of the tool. But, the deliverability can tank if you don't follow best practices and periodically review the email database and your email's content.