Your customers are more than just names in your database - they are human and expect you to treat them more than some transactions or sales.
How do you build that connection? You can personalize your emails and use a more customer-oriented approach.
You don't want to ignore this email marketing strategy, trust me!
So, we have written this informative guide to get you started with email personalization. We will cover how you can collect and use data to create highly personalized email campaigns.
Table of contents
What is email personalization?
Email personalization is a strategy to add a personal touch to emails based on the recipient's behavior and interaction history. By segmenting your audience based on different traits, you can design emails specific to a group of people.
For example, if a set of people checked out similar items during a holiday, using AI tools, you can use this data to send emails highlighting those items. Besides, you can also add recommendations based on those items to nudge them to buy.
Why should you make your emails personalized?
Here are some of the reasons why you should be prioritizing email personalization:
• Audience demands personalization
60% of consumers say they will likely become repeat buyers after a personalized shopping experience with a retailer. - Segment, The State of Personalization 2021

When an email lacks personalization, 52% of customers say they will choose a different place to shop. - Activetrail

70% of millennials are frustrated with brands sending irrelevant emails. - SmarterHQ
• Generates higher engagements
Personalized emails are tailored to users' behavior, preferences, and other aspects, offering more relevant and valuable content than mass emails. Due to increased relevancy, 57% of marketers say they have achieved better visitor engagement due to email personalization.
For example, you would probably read an email if it has your name and it seems like the sender has specially created it for you.
Get a sample AMP email in your inbox
Experience the power of interactivity right now
• Reduces unsubscribe rate and enhances users retention
Users feel happy and content when they get relevant emails they like and want to receive. They do not feel like you are bombarding them with unnecessary sales-y emails. Such understanding creates mutual trust and loyalty, which leads to longer user retention. As a result, users tend to unsubscribe less.
• Build stronger relationships with your customers
If you want to build brand loyalty and a stronger relationship with your subscribers, you must treat them as humans, satisfy their wants and make them feel like they matter.
Developing an email personalization strategy helps you achieve that by bridging the communication gap between you and the subscribers.
For example, Sending a weekly summary of their activity on your site or app can help them track their progress and give them a better experience within their inbox.
• Sets your brand apart from your competitors
If you are personalizing your emails, then Congrats! You are among 55% of marketers who prioritize the personalization of their email program.
But, to stand out, you need to look beyond the user's name, as every brand knows.
So, you need to ask yourself what you know about your customers that no other brand does.
For instance, Airbnb knows when and where you visited during summer vacation because you booked a hotel with them. This information is unique to Airbnb and using that; they send personalized emails to connect and communicate with their users. No other brand can know about this, which sets your brand apart from others.
How to create personalized emails?
The users' data drive personalization. So, the first step is to collect the data. After collecting the data, you must analyze it and create various segments.
Step 1: Collect user's data
Data is that pillar without which personalization can't exist. But how do you gather this data? There are many ways you can use such as:
Ask users about their preferences, interests, and pain points via feedback forms, surveys, polls

Set up a preference center to let users tell you what kind of content they prefer.

Use your ESP's analytics to track users' interaction with your email campaigns.

Track users' interactions on your website using third-party tools like Google analytics.
What kinds of data can you use for personalizing emails?
You can use the four kinds of customer data for personalizing email content:
1. User attributes
User attributes define who your customers are. It includes basic details that shape their identities, such as their
contact information

geographic location

preferred communication channels

how and when they joined your website or app

devices they use
Attributes give you a holistic view of your customers and serve as a great starting point for dynamic personalization and segmentation.
2. Event data
Event data is activity-based information about your customers. Events tell a story about how your users interact and engage with your brand, giving you a greater understanding of their changing interests and preferences over time.
Event data gives you a multidimensional view of your customers' behavior throughout their journey.
3. Data feeds
A data feed is a way of sending structured and up-to-date information from one source to another. It's a form of data exchange that imports external data into your messaging templates.
4. Metadata
Metadata is data about data. It's descriptive data about products and services that make your brand stand out from competitors. With metadata, you can gain customer-specific insights and create individualized experiences that deliver even more value to your audience.
This data will be the foundational pillar for making rational and intelligent decisions about which content will serve them and the action you ask them to take.
But, before making that decision, you need to do one other thing - Segmentation.
Step 2: Segment users based on data you've collected
Segmentation is the next step on the ladder, which leads to personalization. It helps you shift from - telling your whole email list, Hey! We launched a new product 🎉to tell those interested and need to hear about the launch.
This way, you can ensure that interested users get more personalized one-to-one communication valuable to them.
You can segment your email list and send more personalized and relevant email campaigns using the collected data.
Step 3: Creating the personalized emails
It's time to make personalized emails. So, what are you going to personalize?
There is no limit to how and what you can personalize. From the subject line to the CTA buttons, you can personalize many variables.
With the right data and tools, you can develop email personalization strategies to generate higher ROI and maintain long-lasting customer relationships.
Personalized email marketing examples
Here are 8 examples to inspire your next personalized email marketing campaign. Learn more about them in our related guide below.
Use dynamic content
Show appreciation with thank you emails
Send personalized offers on birthdays
Recover sales via personalized abandoned cart emails
Send product recommendations
Summary or wrap-up emails
Reach out to inactive users with re-engagement emails
Add physical location to boost in-store sales
Email personalization tools: Using Mailmodo to create dynamic emails
Email personalization is crucial and becoming a necessity rather than merely a trend. So, if you want to hop on this bandwagon, you need the right tool.
Enter Mailmodo
Mailmodo is an all-around ESP that helps you design personalized emails by adding the user's first name in the subject line, email copy, or making images dynamic.
1. Making the email greeting personalized
You can choose from different personalized parameters we offer, including Name, customer ID, contact number, location, etc., as shown in the image: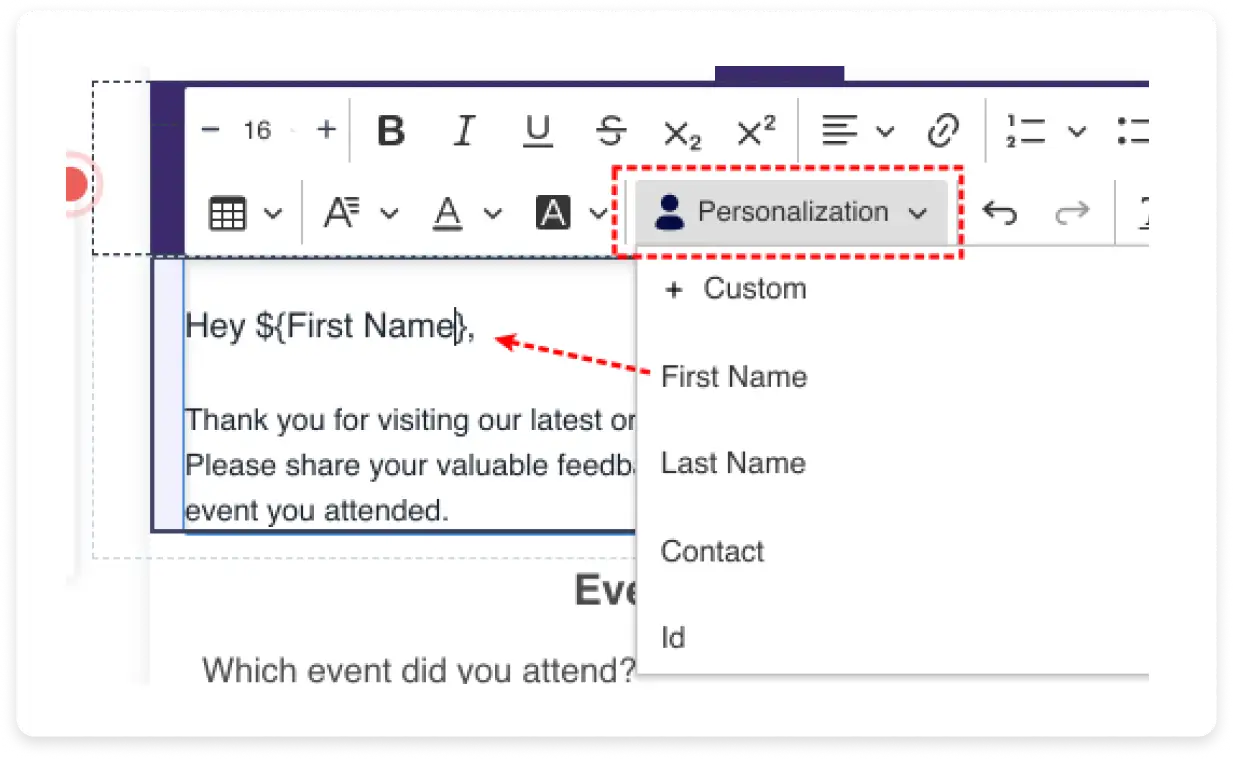 Learn more about personalizing the email copy using Mailmodo
2. Making the images dynamic
When you add an image to an email template, choose the dynamic image option instead of static. You'll see the personalized parameter where you can choose from all data points.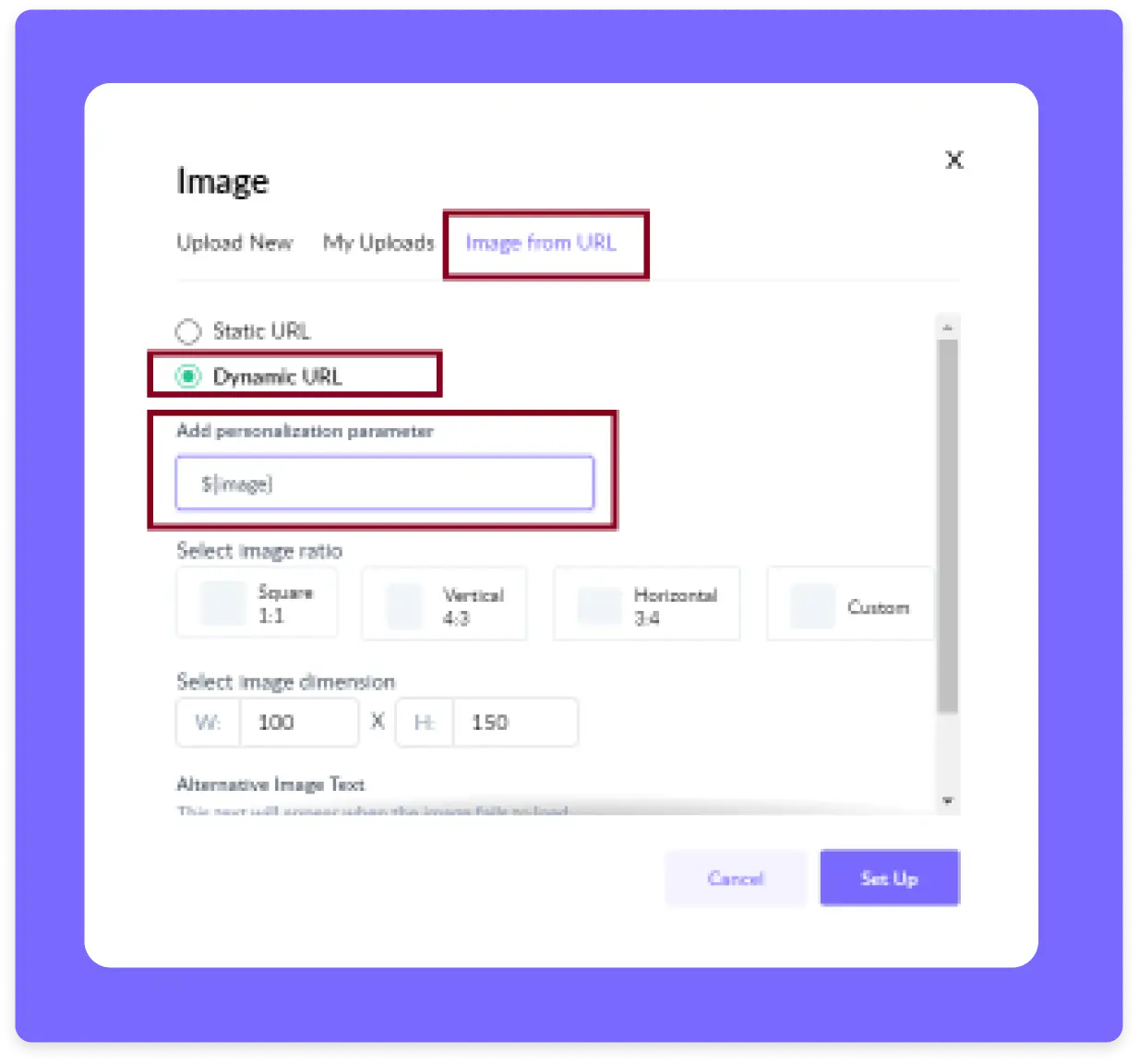 Learn more about how to add dynamic images in Mailmodo
3. Create repeatable dynamic blocks
A repeatable block contains placeholders for different personalized elements. It will repeatedly display different information using the same content block.
To learn how to create such a block, read our help guide
Apart from these features, if you want to use on-site data to add personalization parameters, you need to understand the role AI and Machine learning play and how you can use AI tools to power up your personalization.
Role of Artificial intelligence (AI) and Machine Learning (ML) in creating personalized emails
Machine learning is an algorithm that analyzes customer data from various sources (CRM tools, website data, email metrics), develops actionable insights, and decides what resonates best with a specific customer.
Besides, ML and AI also help assess your audience's behavior, create common behavioral patterns and offer recommendations and content that will resonate with them.
For example, Netflix uses behavioral analysis to assess the user's past viewing history and send them movie recommendations based on that. If you have subscribed to Netflix's newsletter, you'll see how personalized and persuasive they are.
AI software to send personalized emails
Here are some of the best-known tools to help you analyze customer data and create personalized emails to capture your audience:
Kick Dynamics
Kickdyanmic offers email marketing tools, including AI-based recommendations. Based on your on-site activity, it makes recommendations based on similar items previously brought together, browsing history, shopping cart items, most frequently brought, etc.
Persado
Persado is a cognitive content platform that can generate personalized email copy using machine learning. It considers the different customer groups, and its neutral language generator writes a copy that seems personalized to the individual recipient.
Phrasee
Phrasee is another AI writing tool that understands customer behavior and wants and personalizes copy that will evoke an emotional response. Their Natural Language Generation (NLG) replicates the language you used and shows it in a way that keeps your brand voice intact.
Email personalization best practices
Here are some tips that we have curated for your personalized email marketing journey:
Avoid using first names in the subject line or email copy. To do that, use tools that help you collect on-site data to go more granular with your personalization efforts.

Use preference centers to collect first-party data and insights into recipient preferences.

If you're using dynamic images, always add a fallback version if the recipient's email client doesn't support the images.

Be transparent with your customers about the information you collect about them. Tell them when and why you will need that information. It will make the decision-making process easier for them.

Preview and test your emails to ensure that you target the right customer with the right content.
Start personalizing with Mailmodo
Email marketing personalization is a journey, not a destination.
Therefore, you must consistently develop ways of offering value to your audience that align with your business goals.
And if you want to level up your email marketing performance, you should check out AMP emails by Mailmodo.
A personalized website-like experience in your user's inbox 😃 Woahh! That's something they might not expect.