Communication with customers is the core of any organization. One way to do repeat business is by sending timely transactional emails.
When you inform your users about the action they took, such as confirmations and password resets, it reinforces trust and credibility, making these emails successful. Read our in-depth guide on transactional emails to learn how these emails improve user experience and revive your sales channels.
Table of contents
What are transactional emails?
Transactional emails are automated emails triggered when a user takes a specific action on your website or app. For example, when a user makes a transaction, an invoice email is sent.
Two major elements of transactional emails are:
Sent in response to the user's action or request: Transactional emails are related to how and what business the customer did with your brand. They often wait to hear from you about the information, such as an update on an order they made or a link to reset their password

Specific to individual customers: The email content is specific to individual customers, such as account alerts if someone tried to log in to their account or shipping update on the product they ordered.
Get the State of Email 2023 Report
150+ email experts share their email tips and secrets
How do transactional emails work?
Transactional email uses an API or SMTP integration to trigger emails. This developer set up a system that sends coded templates to specific recipients based on their specific actions.
If you don't have a developer in your team, Mialmodo can help you create engaging transactional emails in no time. Besides, we offer 30+ integrations to trigger emails including APIs integration such as Zapier, Pabbly, and Integromat; CRM tool integrations including HubSpot, Salesforce, Zendesk, etc., to trigger emails
Why are transactional emails important?
Transactional emails are important for the following reasons:
Keep users updated about their actions, like sending an order confirmation email.

Authenticate the email address via double opt-in email to maintain the email list quality.

Keep users in the loop about any security breach by alerting them about the same.

Build credibility and trust among your customers.
Transactional emails vs. marketing emails
| Transactional email | Marketing emails |
| --- | --- |
| These emails are triggered by the recipient's actions, such as confirmation email post-event registration. | Marketing emails are promotional and aim to encourage recipients to purchase, such as discount offer emails. |
| The information is highly specific to the action taken by the user. | The content is similar to a segment of users and has the same goal - to get more sales. |
| Transactional emails are time-sensitive and should be sent within 60 seconds of action taken by the user. | The marketing emails don't involve any time sensitivity as these are sent when the user is likely to be active. |
| Everyone receives these emails regardless of whether they opted-in or not. | These emails are sent to those who opted-in to the email list. |
| These emails don't need to contain an unsubscribe link. | These emails must have an unsubscribe link per email regulations like GDPR. |
What qualifies as a transactional email?
Whether an email is transactional or commercial is one of the most common questions in an email marketer's life. You can add marketing content in your transactional email only if that content comes under the legal requirements.
To answer this, we will be considering the US and Canadian email regulations - CAN-SPAM Act, and CASL.
While sending emails to US audiences, you need to check the CAN-SPAM guidelines. The text offered by Federal Trade Commission states the conditions for a transactional email:
If it facilitates, completes, or confirms a commercial transaction done by the recipient.

Warranty, product recall, or security information about a product/service used or purchased by the recipient.

Is related to subscription, membership, account, loan, or comparable ongoing commercial relationship involving the ongoing purchase or use by the recipient of products or services offered by the sender to provide:

Notification about a change in the terms or features;

Notification of a change in the recipient's standing or status; or

Account balance or other account-related information at regular intervals.

Information related to an employment relationship or related benefit plan in which the recipient is currently involved, or

Delivery of goods or services, including product updates or upgrades.
The FTC also warns against using marketing-oriented subject lines and adding marketing-related content above the fold in a transactional email. Not following both these conditions can get you in trouble.
Save and refer to these guidelines by FTC for future reference.
When sending to a Canadian recipient, Canada's anti-spam law (CASL) applies. CASL guidance is more straightforward than CAN-SPAM. It specifies that if an email contains even a drop of commercial intent, it will be considered a commercial email.
Learn more about CASL guidelines for transactional email.
8 transactional email examples
Transactional emails can be of the following types:
1. Double-opt-in emails
To verify an email address of a new signee, you can send them to double opt-in emails to ensure that they're legit. These emails ask users to verify their email addresses.
By verifying the email, you can keep the quality of your email list intact. You can also avoid landing in spam due to fake or fraudulent email addresses.
These emails contain a link to verify the address and nothing much, like this email by Mailmodo. You can also add a timeline to verify the address to give recipients time if they didn't check their inbox immediately.
Customize this email verification template
2. Confirmation emails
Confirmation emails are the most common transactional emails that update the recipient about the success of their action. These emails create brand trust and credibility as you acknowledge your customers' actions.
If they made a purchase, send them an order confirmation email.

Sign-up for your upcoming webinar, and send them a webinar or event confirmation email.
Here is an example of transactional emails sent after users register for the webinar. The email clarifies that the seat has been reserved and gives a glimpse into what users can expect from the event.
Check out this event confirmation email template
3. Receipt or invoice emails
This is an important transactional email informing customers about the payment they made. The email contains a receipt for the transaction, including details like invoice number, the amount paid, date of order, etc.
This invoice email by Mailmodo gives clear information about the order made by the customer. Make sure you understand the key differences between an invoice and a purchase order.
Customize this invoice email template.
4. Shipment details
Apart from the order confirmation, you can send them shipment emails. These are a sequence of emails that keep them updated about the order shipping date, delivery date, tracking ID, etc.
By allowing them to track their order, you can create a better customer experience and keep them excited about the upcoming delivery of products. Furthermore, once you deliver the order, send a shipment delivered email to ensure they got the order.
Sometimes marketplace brands like Amazon and Flipkart ship different products at different times. In that case, these emails can be beneficial to the recipient to keep track of which item will get delivered.
This email by Paddywax shows the items shipped along with the quantity. It's simple and serves the purpose.
Source: Paddymax via Really Good Emails
5. Password reset emails
Password reset emails ensure that customers can access their accounts without any problem. It says a lot about your customer support team and how easy you made it for them to get back to their account.
These emails don't need much creativity as the focus should be on the link to reset the password.
This email by Mailmodo is a perfect example of how you should design and write your password reset email. It also provides contact details in case the recipient needs any further help.
Customize this password reset email template
6. Support and feedback requests
When a recipient raises a query, you must send them confirmation emails to let them know that you received their request.
You can keep your customer updated about all the developments made in their request so far and ensure that they don't get annoyed or frustrated while you work on solving.
Furthermore, once an issue is resolved, you can ask for their feedback about your services. Such emails signal that you value their opinion and want to improve.
Source: Squarespace
7. Summaries and digests
Most brands send weekly summaries to users who used and interacted with their app or website. Often these emails are sent weekly containing the log of all the events and actions users took during the past week. You can showcase your creativity by using charts, visuals, etc., to display the information in an easy-to-understand manner.
This weekly digest email template summarises the week's lowlights, highlights, and best-performing campaigns.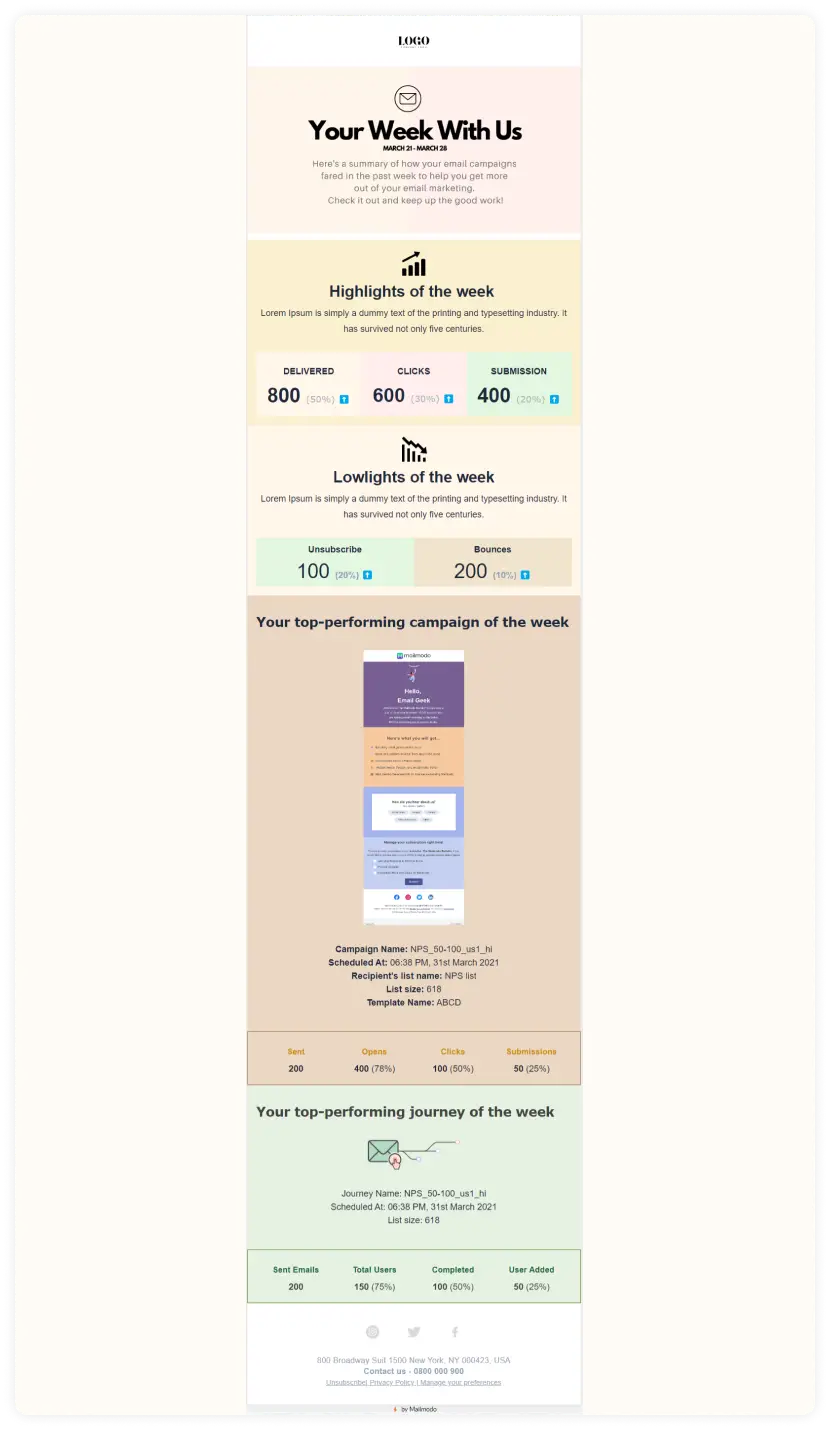 Customize this weekly digest email template
8. Security and account alerts
Keeping your user's account safe and secure is a must. With security alerts, you can ensure that the account is protected from potential security breaches.
Account-related alerts include
log-in attempts from an unrecognized device,

password reset requests made,

trial end emails, etc.
Here is an example of an account alert email by Mailmodo. This email is simple and to the point.
Customize this account alert email template
Best practices to optimize your transactional emails
Here are a few best practices you should follow to optimize the transactional email: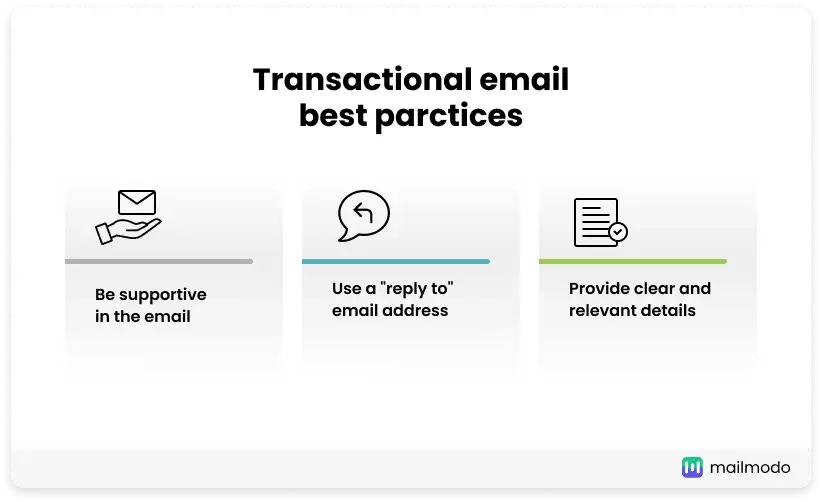 • Be supportive in the email
People open a transactional email more often than marketing emails, and it presents an opportunity for you to confirm the success of a transaction and ask for feedback or queries.
This reflects your values as a brand and how willing you are to listen to your customers.
• Use a 'reply to' email address
As a customer, it is frustrating to have a question in your mind and not know where to get it answered. You limit your customers' interactions by using a no-reply email address.
So, consider using a 'reply-to email address' as it offers these two benefits:
It shows customers you welcome communication and are all ears for what they say.

If your customers reply, that email is automatically added to your subscriber list.
• Provide clear and relevant details
Ensure everything related to the customer's action is in the email.
Here are some of the things you should do to ensure transactional emails offer value to the user:
Include a clear 'from' address. This gives your recipient an idea about the email and helps with inbox management. For example, support@domain.com is used to reply to any queries (technical advice, instructions, etc.) users might have.

Add the information of the person of contact in case of a query.

Show the name, description, price, and image of all items bought.

List the customer's address, shipping method, and estimated arrival date.

Include the shipment tracking number if one exists.

If the customer bought sale or clearance items, remind them how much money they saved. You can do this item by item, relate it to the purchase total, or both.
Learn more about transactional email best practices here
Transactional email service providers
Transactional emails are untapped opportunities to strengthen customer relationships and build brand loyalty. But, you can reap the benefits of these emails only when you choose the right service.
We've shortlisted 5 best transactional email software providers to help you assess features, pricing, and customer support.
Why should you use Mailmodo to send transactional emails?
Key features that make Mailmodo your go-to transactional emails solution:
We offer better deliverability and fraud protection protocols to trigger password reset emails.

Integrate your CMS tool to trigger emails based on user's actions on your website

Integrate with API endpoints such as Zapier, Pabbly, and Integromat in a few easy clicks.

No-code email template editor with pre-made transactional emails template

An extensive and easy-to-navigate email analytics dashboard to measure your campaign's performance

Flexibility to add interactive widgets such as feedback forms, emoji ratings, NPS ratings, etc. that users can submit within the email.
Check out all the features of Mailmodo's transactional email services
How to send transactional email using Mailmodo?
Transactional emails with Mailmodo is the same as sending any other email campaign. Here is a step-by-step process:
Create a transactional email campaign by choosing a template. After creating the campaign, choose the sender's domain and select the trigger API. The dashboard looks like this:
Once you choose the trigger API, enable the campaign, and the summary window will appear. From here, you need to copy the highlighted information.
Paste the copied information in your desired app to establish the connection.
Once all this is set up, the emails will get triggered based on the recipient's action.
To know the process in detail, check out our guide on how to create a trigger campaign.
Get a sample AMP email in your inbox
Experience the power of interactivity right now
Wrapping up
Transactional emails are important to build a loyal customer base, but it won't be possible if your emails are not serving the intent. Even after they bought from you, these emails can help retain them. You need to have the right email design and content to achieve this.
To get started, check out Mailmodo's transactional email template library. You will find all types of emails you can send to your audience. Each template is 100% customizable and will be ready in a few clicks. So, hop on!
What you should do next
Hey there, thanks for reading till the end. Here are 3 ways we can help you grow your business:
Talk to an email expert. Need someone to take your email marketing to the next level? Mailmodo's experts are here for you. Schedule a 30-minute email consultation. Don't worry, it's on the house. Book a meet here.

Send emails that bring higher conversions. Mailmodo is an ESP that helps you to create and send app-like interactive emails with forms, carts, calendars, games, and other widgets for higher conversions. Get started for free.

Get smarter with our email resources. Explore all our knowledge base here and learn about email marketing, marketing strategies, best practices, growth hacks, case studies, templates, and more. Access guides here.