Integromat has made it easier to connect various apps and build an automated workflow. And we have also put all our efforts into making it easier to connect Integromat with Mailmodo, so you can add automated triggered AMP emails for your business and see the conversions rolling.
Table of contents
Benefits of Integromat integration with Mailmodo
Here are some benefits of integrating your Integromat account with Mailmodo to send AMP emails:
Integrations like Integromat combined with AMP emails have allowed Razorpay and Murdex to increase conversions by 257% and 280%.

We have kept a low number of steps from our end so that you can set up your workflow within minutes.

We have also designed beautiful templates for you to use and set up your triggered email campaign quickly.

But designing your own templates is also easy with our drag-and-drop builder that doesn't require a programmer.
It's a no-brainer to use Mailmodo when such amazing benefits are available. And to make things even easier, we tried to keep the setup process simple, and here's the step-by-step breakdown.
How to send AMP emails from Integromat using Mailmodo
We can integrate Integromat with Mailmodo for the following use cases:
Export Submissions to other apps – Refer to this guide.

Trigger transactional campaign.

Add contacts to a list (in Mailmodo)
In this article, we will see how to trigger campaigns in Mailmodo via Integromat.
And here, we will use Google Sheets as the trigger app. Whenever a row is added to a Google sheet, an email will be sent to the corresponding contact. Let's see the exact steps involved.
Go to templates from the vertical menu on the left side. Click on 'Create new template.'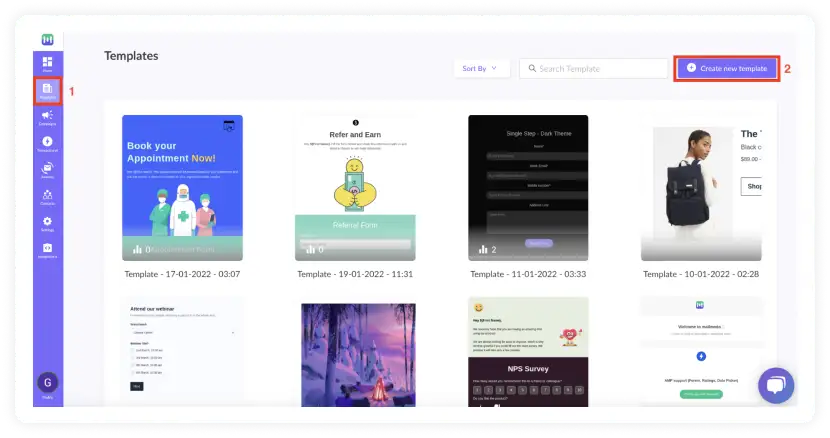 Either select a blank or a pre-made template.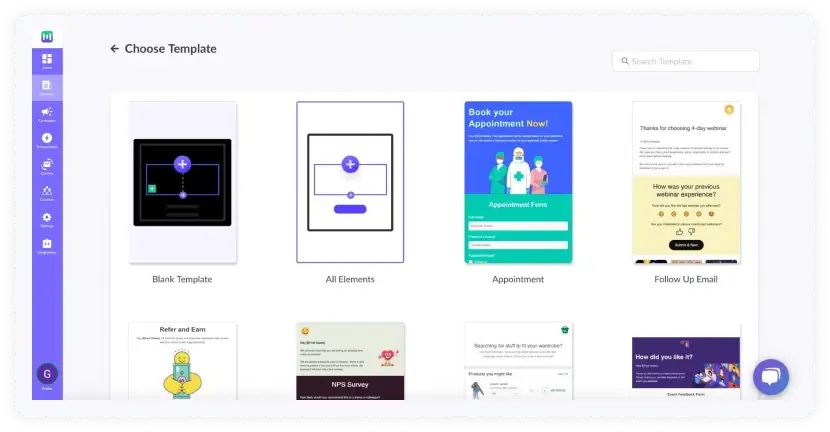 Use the editor to edit the template. Save and rename the template upon completion. After saving, click on the back arrow.

You will be redirected to the template library. The saved template should be visible here.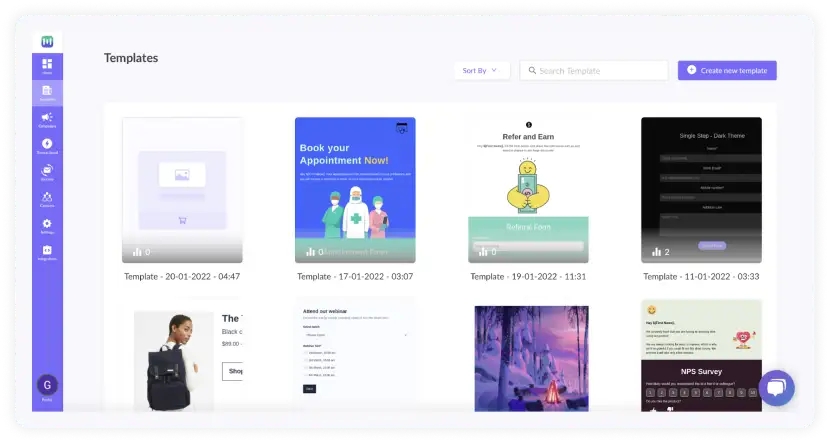 Go to Transactional from the vertical menu on the left. Click on New Transactional Campaign.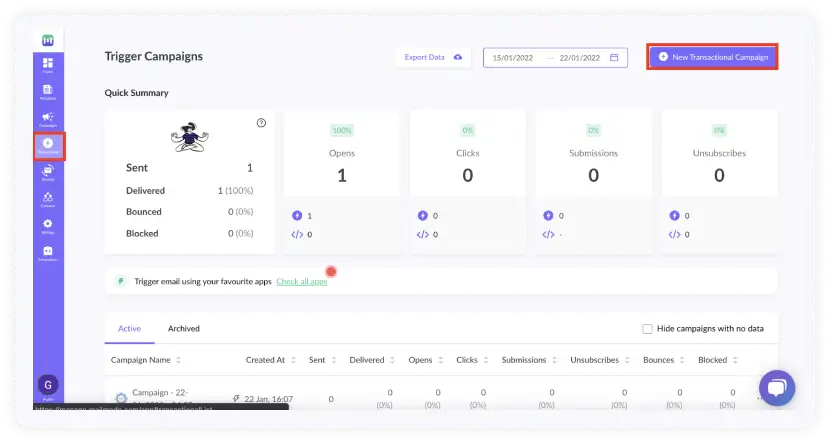 Select the template you saved before. Click on Next.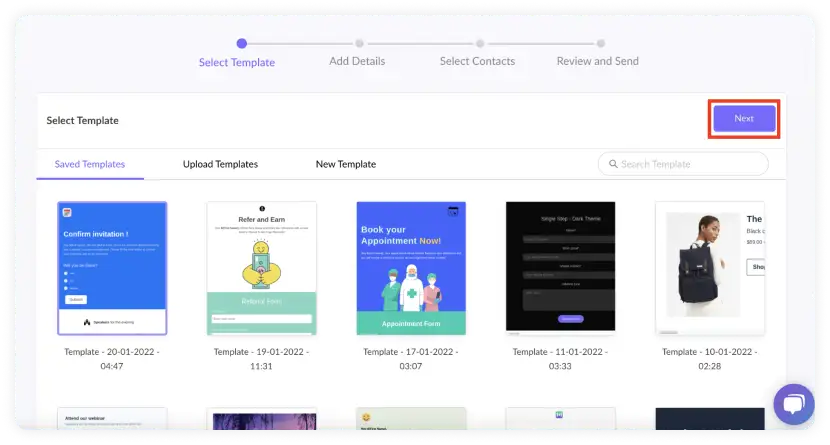 Add a Subject line, Pre header Text, From Name, and Reply to Email. Select sender email. Click on Next.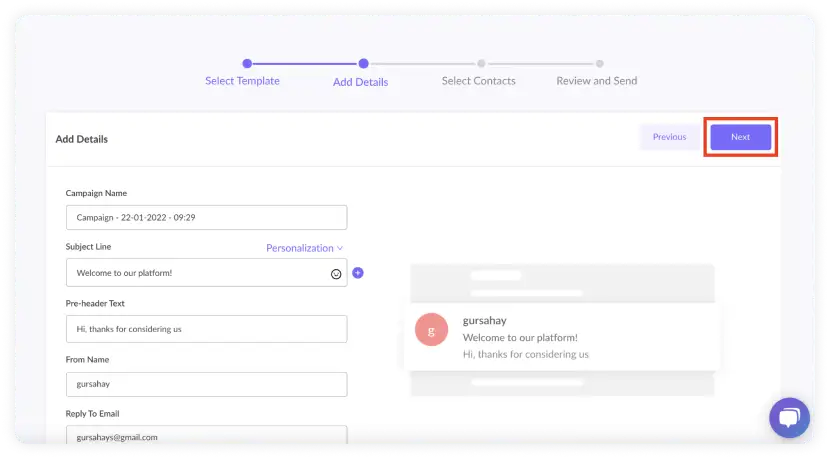 You will be redirected to trigger on events. Select Integromat from the list of platforms. Click on Next.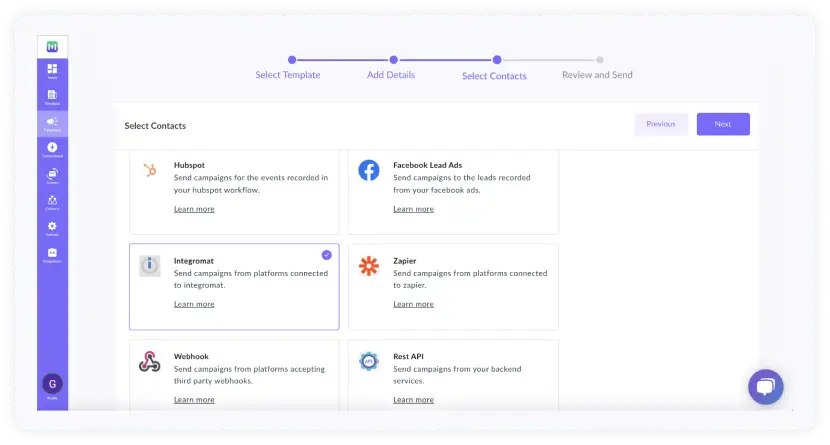 Review and test your campaign. To test, click on send test campaign > enter email ID > send test email.
Once tested and reviewed, click on enable campaign.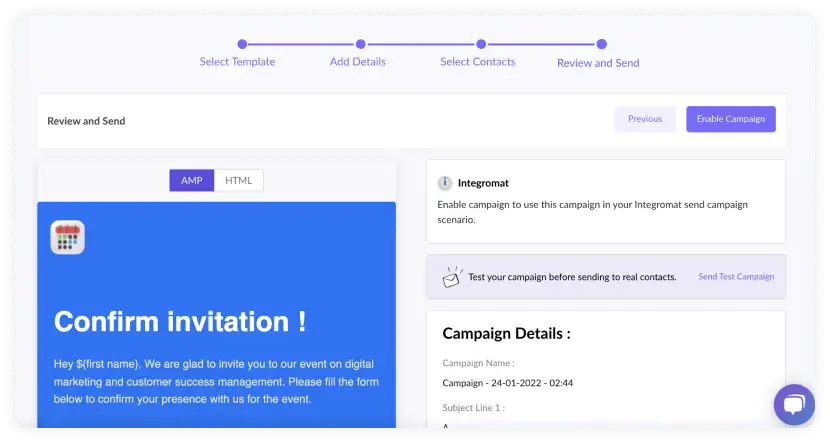 You would be able to see the Show API Key button. Click on Show API. Copy the key. We will use this in the Integromat setup.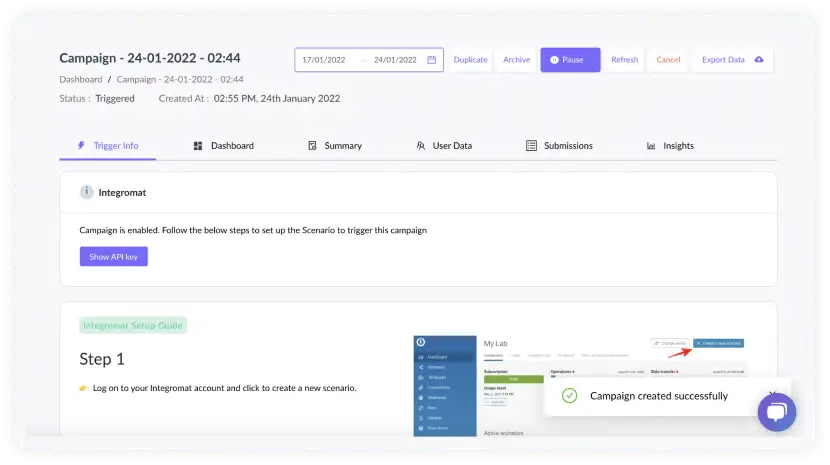 To access this key in the future, go to Transactional > Select Trigger Campaign > Trigger Info > Show API key.
The following steps show how to set up the Integromat:
Visit the Integromat dashboard, click on Create New Scenario.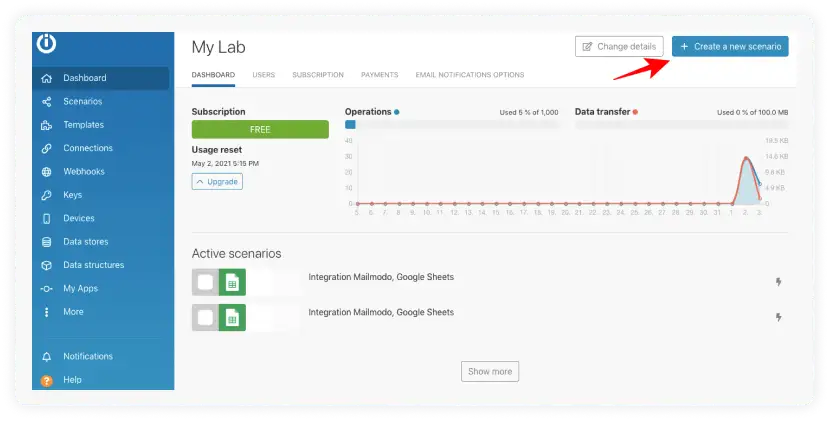 A new scenario screen will open. Click on the + icon. Search for Google Sheets. Add Watch Rows as a trigger.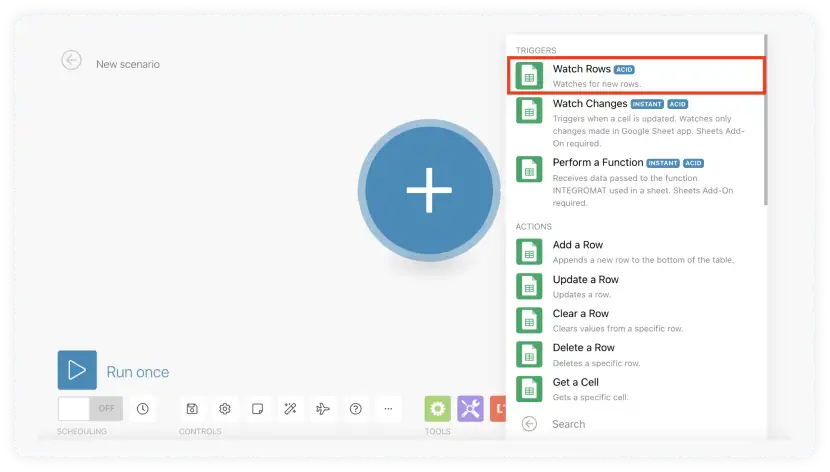 Click on the app to configure it. Connect your Google account. Select the spreadsheet from which you want to push data. If there are headers, click on Next. Enter the maximum number of rows worked in one execution cycle.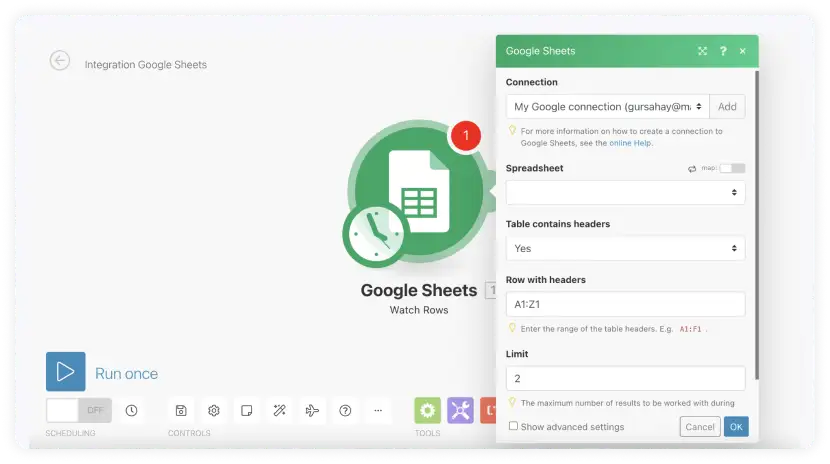 In 'Choose where to start,' you can select the options based on your data set in the google sheet.
If you want to start the cycle from a particular data element, you can select it by using its ID or choosing manually from the list.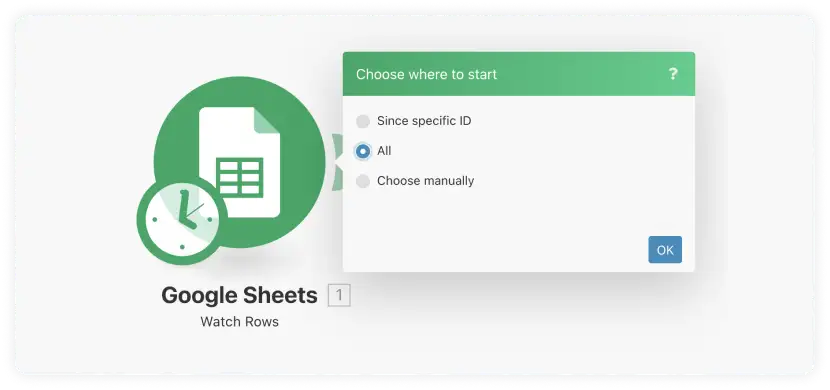 Click on the clock icon to configure the frequency of the scenario.
Now, you need to add a module by clicking on the 'semi-circle' on the right side of Google sheets.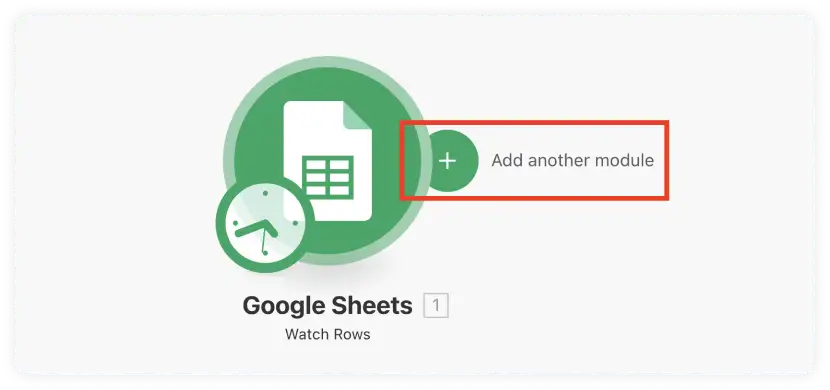 Search for 'Mailmodo' to add it as the module.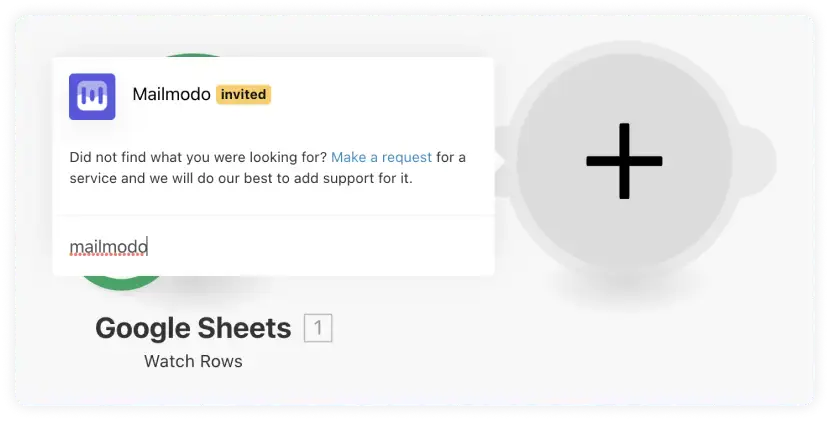 Select the action as Send Campaign.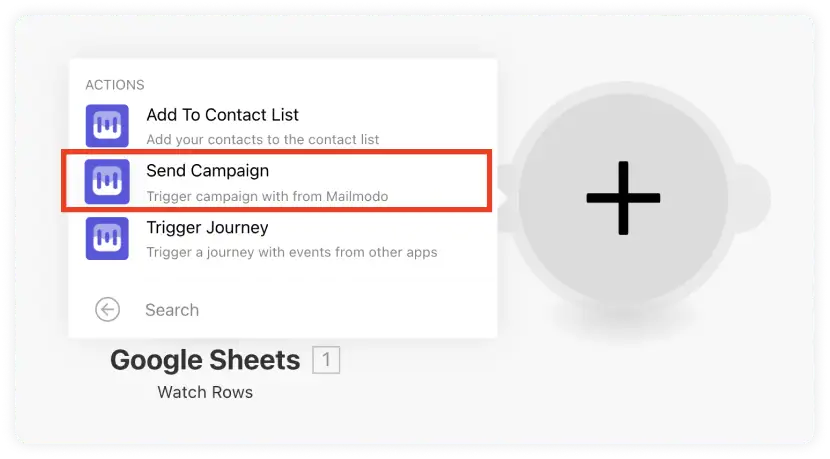 Click on the Mailmodo module to configure it. Click on Add (in connections) and paste the API key copied from Mailmodo.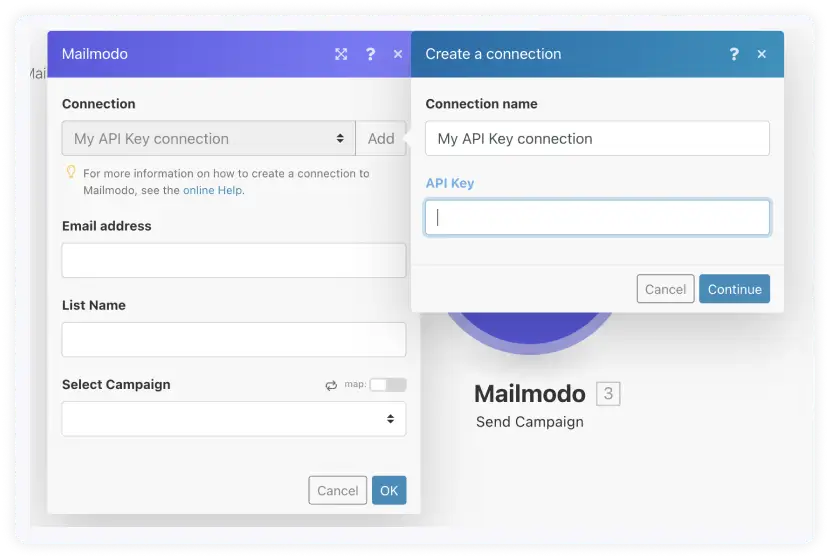 Map the Email field to the column in your spreadsheet containing Email ID.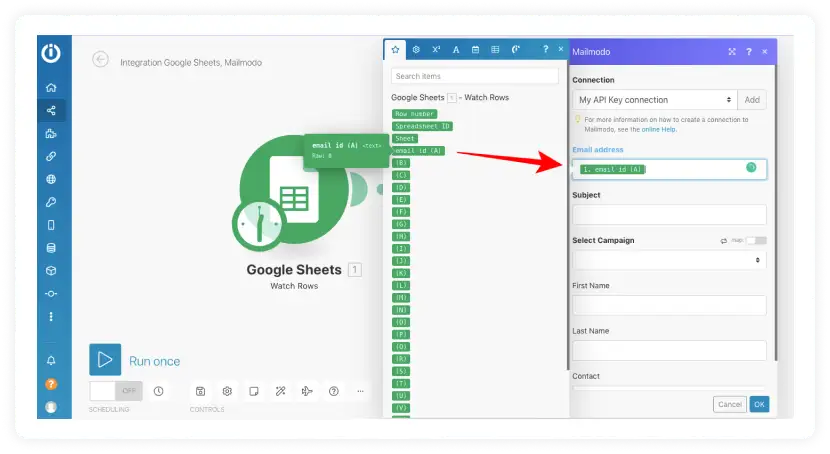 To add the subject, you can directly write it down, or if the subject is present in a row of the google sheet, you can add that column name in the field.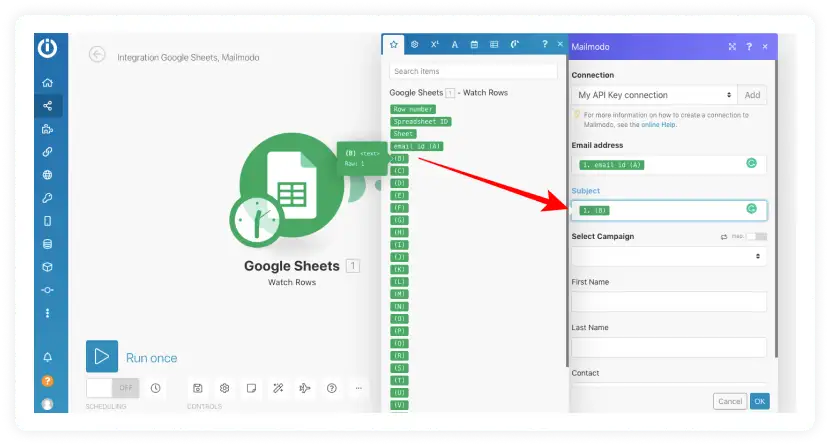 Next, you have to select the campaign as listed in the drop-down list; also, you can add personalization parameters such as first name, last name, or contact by adding the respective column name in the field.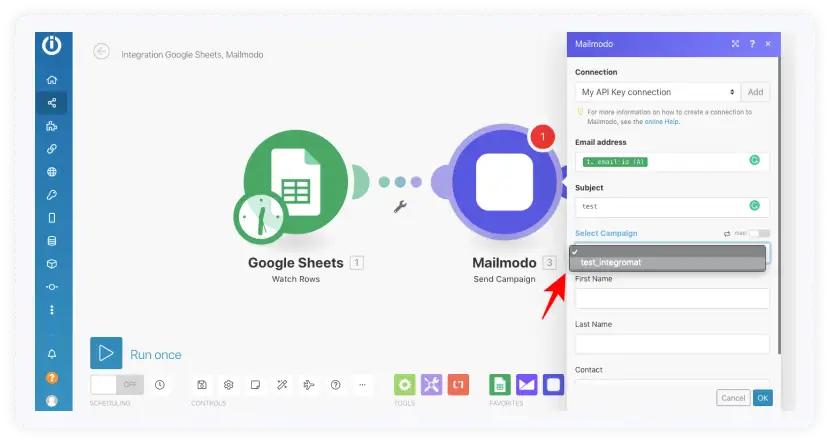 Lastly, Click on Run Once to do the test run of the integration.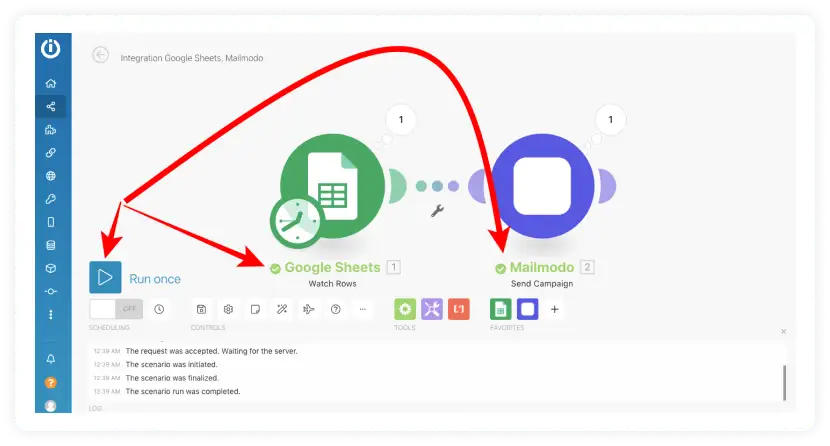 Now you have the integration up and ready. Every time a row is added in the google sheet, an email will be sent to the respective contact.
Wrap up
No matter where you are in your email marketing journey, AMP emails can help you increase your conversions by a lot. And Mailmodo, a complete email marketing solution, is the product you should look for if you want to explore the full potential of AMP emails.
Check out our definitive guide on AMP emails if you want to have an in-depth understanding of all things AMP. One of the best ways to know if something works is by trying it out. So sign up for Mailmodo today to take full advantage of AMP emails!
What you should do next
Hey there, thanks for reading till the end. Here are 3 ways we can help you grow your business:
Talk to an email expert. Need someone to take your email marketing to the next level? Mailmodo's experts are here for you. Schedule a 30-minute email consultation. Don't worry, it's on the house. Book a meet here.

Send emails that bring higher conversions. Mailmodo is an ESP that helps you to create and send app-like interactive emails with forms, carts, calendars, games, and other widgets for higher conversions. Get started for free.

Get smarter with our email resources. Explore all our knowledge base here and learn about email marketing, marketing strategies, best practices, growth hacks, case studies, templates, and more. Access guides here.