Email marketing has one of the highest ROI among all marketing channels. However, the secret of converting leads through emails lies in engaging content and user experience. AMP for email helps bring a dynamic element to an otherwise static email. This can take the email marketing game to a highly interactive level altogether. This guide discusses the benefits of AMP emails and how you can use these to help your business grow.
Table of contents
What is AMP email?
Business communication forms the crux of a successful professional network. In the era of digitization, this communication has become more competitive and sales-driven. At present, there are many methods for online business communication like social media, text messages, and video ads.
Despite their presence, emails rule the market. The introduction of AMP for emails in March 2019 has only strengthened its position. It has brought new avenues for marketers to experiment with.
So what's AMP Email?
AMP for email is a framework that utilizes HTML, CSS, and JavaScript to build interactive emails. They also enable a shorter loading time by creating lightweight emails. You can add a carousel, retrieve real-time content from endpoints and make your content more dynamic. This technology helps in providing a webpage-like feel in an email message. AMP for email can let you do the following things inside an email: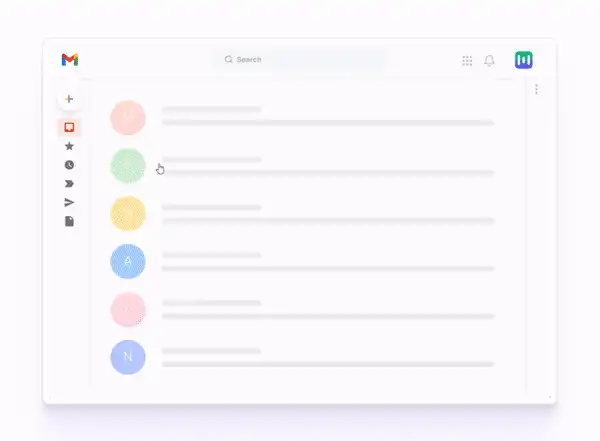 5 Benefits of interactive AMP emails to boost conversions & engagement
This technology creates multiple opportunities for email marketers. Let us discuss how beneficial it is for business and marketing.
1. Keeps content dynamically updated
Email marketing may be successful, but it can get repetitive. When there is a new update, you need to run a fresh campaign to convey it. AMP enables the email to get automatically updated with new information. In addition, it has a functionality that allows email to get updated in real-time. It means that the email content gets populated with live updates when the subscriber opens the mail.
This is especially useful for e-commerce. You can send a weekly newsletter that can get updated with new styles. This simple feature can simplify and optimize email marketing campaigns in the following ways -
Lesser number of unread messages in the recipient's folder

Crisp and target-oriented approach for email marketing

Option to give your users a breathing space between emails.
2. Provides the experience of a web browser within an email
Before AMP for emails, email marketers were restricted to sending emails with static content. You could play around with the pictures, fonts, and text placement. But, providing an interactive experience was not possible.
Some organizations have already imbibed AMP in their campaigns to introduce innovative features. For example, Pinterest allows users to add pins to their boards from within the mail. As a result, they do not have to open a new tab and explore Pinterest separately. Instead, they can experience the web page right from their inbox.
3. Helps in curating better marketing strategies
As discussed before, AMP for email has widened digital marketing horizons. For example, email marketing will no longer involve designing static newsletters and driving traffic to a separate webpage. But now newsletters can be more engaging with the help of AMP emails.
A marketer has the option of including live surveys, sending an event calendar, or enabling the browsing of products in an email. An email is no longer an electronic form of a letter or a pamphlet. It contains the virtual elements that bring interaction inside an inbox. A subscriber will spend more time exploring an interactive email than a static one. An email marketer can convert leads by including check-out options, flight details, and even event schedules for the entire day.
4. Helps in increasing sales
The core objective of any email marketing campaign is to nuture leads and make sales. In addition, email marketing helps keep old customers connected and entices potential customers. AMP for email can enhance this process immensely, especially for e-commerce businesses.
Instead of sending pictures of a new collection, you could include a check-out option in the email. Then, the subscriber doesn't have to explore and complete the order in a new tab. Instead, they have the option of buying it right through their inbox; this quick functionality can compel customers to hit the "buy now" button.
The success of a sales strategy depends upon how quickly one can convert a lead. The longer a potential customer contemplates, the lesser are the chances of conversion. With AMP for email, you can reduce this time by providing a quick and hassle-free transactional process.
5. Secure technology
AMP for email restricts the use of data from 3rd party providers. This makes them more secure from any email cyber threats. They also do not allow any ads, making them even more secure and enabling break-free viewing of your content.
Conclusion
AMP for email has paved the way for functionalities that were earlier restricted to a web page. It elevates the use and scope of emails. There are many sectors like travel, hospitality, retail, and even finance where AMP for email can be useful.
Oyo rooms use this technology to include the option of browsing through accommodation and flight alternatives within the email. Similarly, Doodle has already started using the scheduling option wherein the email recipients can select the day and respond to an invitation within an email.
This is the age of automation and dynamic elements. It was high time that we upgraded emails to become more nuanced. AMP for email is a big step toward bringing innovation to the traditional HTML emails, and we are excited to experiment with the same. You can try the superpowers of AMP email for yourselves by signing up at Mailmodo.
But, if you are a realist and want to know about the limitations of AMP email, check out our guide AMP Email limitations and How to Tackle them.
What you should do next
Hey there, thanks for reading till the end. Here are 3 ways we can help you grow your business:
Talk to an email expert. Need someone to take your email marketing to the next level? Mailmodo's experts are here for you. Schedule a 30-minute email consultation. Don't worry, it's on the house. Book a meet here.

Send emails that bring higher conversions. Mailmodo is an ESP that helps you to create and send app-like interactive emails with forms, carts, calendars, games, and other widgets for higher conversions. Get started for free.

Get smarter with our email resources. Explore all our knowledge base here and learn about email marketing, marketing strategies, best practices, growth hacks, case studies, templates, and more. Access guides here.