Email marketing is effective at generating leads and driving sales. According to a DMA 2021 report, email gives an ROI of 51.52 USD for every dollar invested.
But, in reality, not all email campaigns can boast of such a staggering result. The outcome can be only as good as the campaign itself. So, if you haven't been experiencing such high success rates with email marketing, you have landed on the right page.
This guide will discuss creating and sending email campaigns to grow your business.
Table of contents
What is an email marketing campaign?
An email campaign is one or more pre-planned emails sent from an organization to clients, potential prospects, customers, or stakeholders to share information or invite calls to action. It helps the business connect with them in a more personal way.
How to construct a successful email marketing campaign in 5 steps?
An email campaign can get the email recipients to take action, engage with your business, and enable you to get more leads and increase sales. But, creating a promising email campaign can be very challenging.
Here are the steps to create a strong email campaign that doesn't sound spammy and has a clear purpose.
Step 1: The Why - your goal(s) for the email marketing campaign
Setting campaign goals will help you determine if your email marketing campaign is successful. You need to figure out your target audience and what they would gain from your content to set goals. Keep in mind the yearly goals of the company and the products or services of the year. Based on this, you can plan to send promotional emails after the products or services launch.
Step 2: The Who - your sender list for the campaign
You can do this in the following ways:
Identify your target persona
An ideal customer persona represents who your company's perfect client would be. Of course, not every prospect might fit that description. Hence, it is essential to identify your target audience when deciding on your goals. Identify who will benefit from your product. Take into account their habits, wants, and personal traits.
Know about your customer's pain points
Your business aims to solve the pain points of your prospective clients. These could be financial, productivity, or support-related. Showcase your company or product as a solution for your customer's problems and ensure their satisfaction.
Segment email subscribers based on their geographic locations, interests, purchase habits, and other data. Tailor and send targeted emails to each list and its unique interests, rather than creating a general message.
Here are the top 4 ways you can segment your list:
Based on their behaviors: browsing time, page visits, abandoned cart, impulsive shopping.

Based on their geographic location: cities, states, and countries.

Based on demography: age, gender, occupation.

Based on psychography: lifestyle, hobbies, values.
Learn how to carry out email list segmentation in detail.
Step 3: The What - creating the email
Create the email template
An email template is a one-page HTML file you use to structure email campaigns in email marketing. Templates help you to copy and paste the content into the file. They render well on desktop, mobile, and across different email services. So, using the same template many times with other content is possible. You can do all this with an email marketing service provider designed to send email marketing campaigns.
So you might want to find one that suits your needs. We would suggest Mailmodo as it will help you send interactive email campaigns.
The other way to create emails is to code them from scratch. For this, you will need a developer who knows how to bring your email ideas to life.
Write emails that sound friendly, professional, and personalized. Personalize the email content for your audience based on their behavior and engagement. Recipients show better engagement with personalized emails that are tailored to their interests.
Tailor emails correspond to recipients based on the data collected. Consider their preferences when choosing a language and tone.
Related guide: An Ultimate Guide to Creating Personalized Emails
Design for multiple devices
People use different devices like laptops, tablets, and mobile devices to read their emails. So consider how your target audience opens their emails and designs.
For example, most people use their mobile to check their emails. Therefore, make your emails responsive such that they open for all devices.
Minimal email design with images and short sentences can make an appealing layout. However, do not overlook the aspect of email design in email marketing because it will help you stand out from your competitors.
Craft an enticing email subject line
The subject line is essential in increasing the open rate, which is integral for a successful campaign. So, make sure the subject lines you use are concise and to the point.
For example, you can use CTA, humor, emojis, curiosity, or emotions in your subject line to grab the recipient's attention.
Test your email before sending
All aspects of your email should be tested, including design, text, and call-to-actions. Use A/B testing to try different combinations of the elements and determine which performs the best.
For example, send emails to a small group in your mailing list without sending them to the entire email list to see whether you can impress your audience.
Testing requires a certain number of recipients based on the size of your mailing list. Also, experiment with the timing of your email sends and the different segments you choose. Finally, you can figure out the best times by sending a few experimental emails to see the best time.
Step 4: The When - schedule and send the campaign
After testing and modifying the campaign, you have to schedule and send the campaign to the appropriate subscribers. Then, Double-check all the campaign details, add which lists you want to send it to, and finally, review everything and send it to your subscribers.
Step 5: The result - measure, iterate and improve
Keep track of your email marketing campaigns as it will help you figure out if the campaign was successful or not. It's essential to review the campaign's success rate and make adjustments.
Tracking helps you know how to move forward with your campaign.
Analyze the email deliverability rate, click-through rate, and email open rates to check your campaign's success.
You can read these guides to know how to measure your campaign's performance:
What Is Email Analytics and How Can You Use It to Optimize Your Campaigns
Email Tracking and Its Importance for Brands and Businesses
Email marketing campaign examples
The type of email to send depends on which stage of the campaign the prospects are on. For example, if they have just joined your email list, you have to send them an email welcoming them.
Similarly, if people want to know more about you or your organization, then you have to make sure that you provide them updates through email newsletters every month.
The most common campaigns that organizations send are as follows:
1. Newsletters from Headspace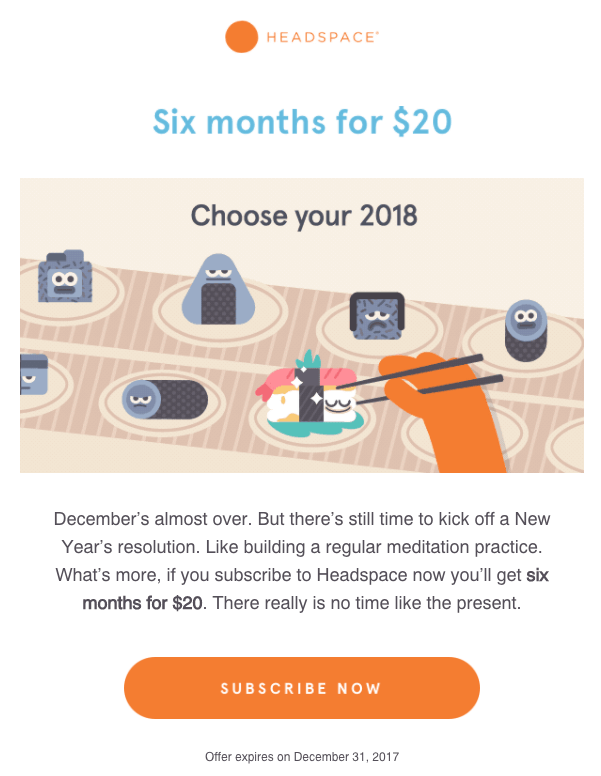 Headspace is an app for guided meditation. The images in their email newsletter design are thought out and tell a story in each of them. The newsletter itself is short and straightforward, and it's perfect for people who don't have the patience to scroll down.
2. Survey emails by Airbnb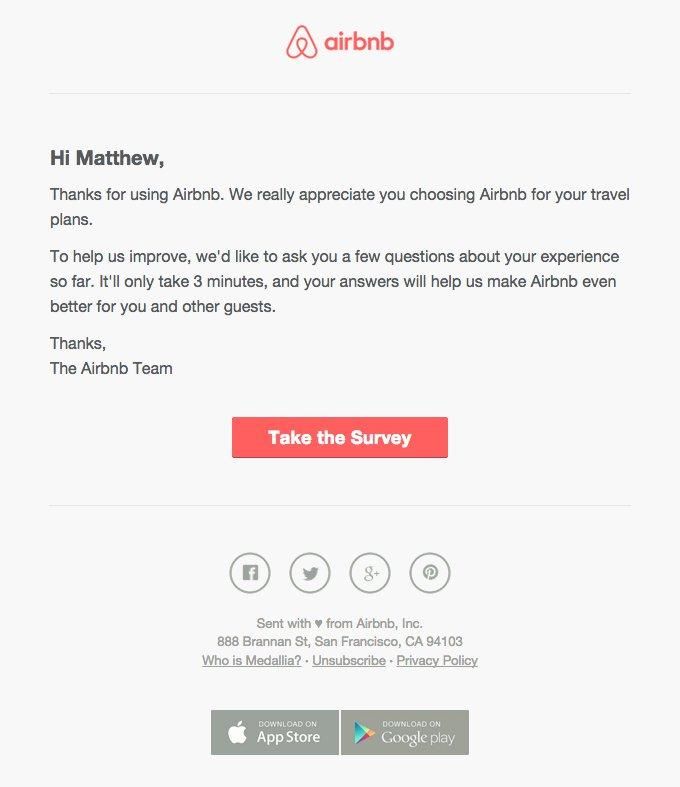 Airbnb has created a survey campaign that has a minimal design. The design makes the call to action button the essential feature of the email. In addition, it makes it clear to the user how they can take the survey without any other distracting elements in the email.
Also read: Conducting Surveys With Interactive AMP Emails
3. Welcome email from Starbucks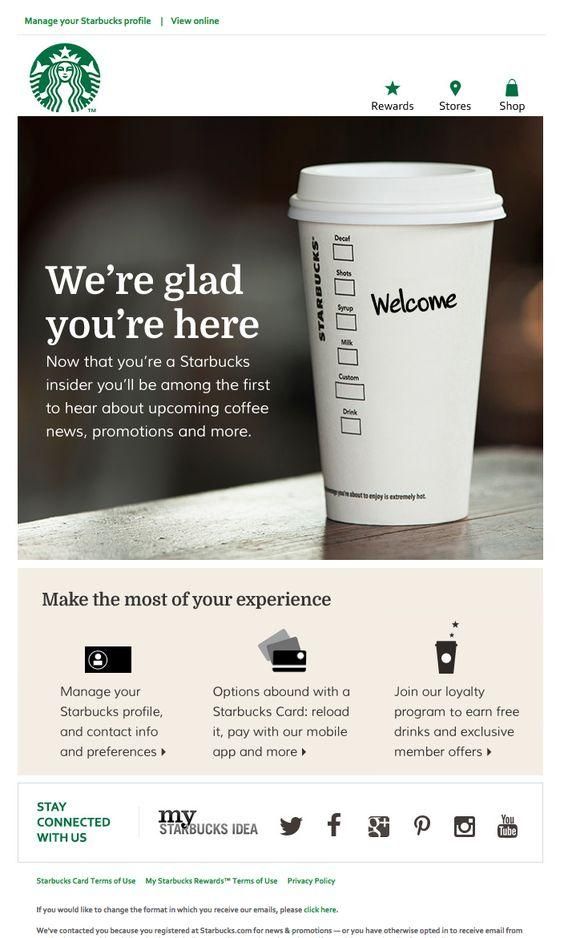 The welcome email from Starbucks shows a simple way to use an email call to action. It also entices the subscribers with complimentary coffee and other offers. These incentives give the users a reason to engage with the email.
When is the most promising time to send an email campaign?
Many factors contribute when deciding the best time to send your campaign. These include - the content of your emails, your audience habits, their geographical locations, and days of the week.
Studies say that the best hours are:
around 6 am when people wake up, and they're often checking their phones;

around 10 am when customers check emails at the beginning of their day;

around 2 pm when people take breaks;

around 8 pm to midnight, people are usually free and might read emails before bed.
Read these guides to know more about the best time to send email campaigns
A Guide to Finding the Right Email Cadence for Higher Engagements
Sales Cadence Guide - A Framework that Gets You Result with Examples
Send interactive campaigns with Mailmodo
The thought of manually creating campaigns or managing lists all by yourself can be alarming. Thus, using an email marketing platform like Mailmodo can be beneficial to make the most of your time.
Mailmodo provides you tools to create email marketing campaigns, manage email lists, track email metrics, and analyze your audience behavior. It also allows you to send and receive emails on any device.
So start your journey with us and create, spectate, and analyze your email campaigns.
What you should do next
Hey there, thanks for reading till the end. Here are 3 ways we can help you grow your business:
Talk to an email expert. Need someone to take your email marketing to the next level? Mailmodo's experts are here for you. Schedule a 30-minute email consultation. Don't worry, it's on the house. Book a meet here.

Send emails that bring higher conversions. Mailmodo is an ESP that helps you to create and send app-like interactive emails with forms, carts, calendars, games, and other widgets for higher conversions. Sign up now and send 10k free emails/month. Sign up here.

Get smarter with our email resources. Explore all our knowledge base here and learn about email marketing, marketing strategies, best practices, growth hacks, case studies, templates, and more. Access guides here.