There are many salient factors in making an event successful - budget, vision, location, timing, speakers, and the right attendees. While all other factors mentioned above may very well be within your circle of control, the attendees can only be within the circle of influence.
In this guide, we will focus on that one key factor that no one has complete control over. Attendees. Generate interest in your event with the event email marketing hacks mentioned in this guide to reach your target audience and generate results.
Table of contents
What is event email marketing?
Event email marketing is a strategy to promote and generate interest in an event through email campaigns. The goal is to use email to build excitement and anticipation, provide information, answer questions, and drive attendance at the event. The key is to stagger your emails strategically.
Why is event email marketing important?
To make your event successful, you want to reach a larger audience personally and repeatedly. For that, email marketing has to be your tool of choice. Using email marketing for your events will help you:
Reach the right audience

Build and maintain interest from registration up to the day of the event

Increase chances of returning attendees

Collect feedback

Engage and bring the inactive audience into the fold
More than 75% of event marketers picked email marketing as their most effective strategy, as they get 45% of event ticket sales coming from emails. Event-related emails saw a 28% open rate, but increasing the sense of urgency in the subject line or using the recipient's name can significantly drive that number up. These figures prove that event email marketing is significant.
Source: Eventbright
Key goals of event email marketing strategy
Create and execute a well-defined event marketing strategy to get the right audience to attend your event. It could be a business summit, seminar, workshop, virtual events, meet and greet, fundraiser, marathon, or social cause.
There are four essential goals of event marketing strategy:
1. Creating interest
Generating curiosity and interest in your event can be done in many ways. You could have a special guest or a unique venue or attach the event to a specific cause. You could even highlight the takeaways one could expect after attending your event. Many people do not refrain from using the lure of exciting prizes and lucky draws to be won to get their target audience to sign up for the event.
2. Land the right quality of participants
It is crucial that key people receive communication about the event, share their confirmation, and also show up on the day. For example, if an email marketing team conducts a webinar and decision-makers like product, growth, digital marketers, or marketing heads are not in the audience, it can spell trouble.
3. Secure attendees
There are two ways to work with this element.
One way is to create an exclusive event with a limited number of seats, higher fees, and stricter entry criteria. One needs help to get the required number of attendees of the advanced entry criteria, willing to pay higher for the event. Many advanced-level workshops or masterclass events are conducted in this manner.
Another way is where an event is a vehicle to market your idea directly to a large number of people. The more the number of people that attend your event (up to capacity), the better the chances that they find the intended takeaway. The more attendees feel this way, the greater your ROI and the more successful your event is.
4. Build meaningful networks
Your event can be a platform where you create terrific opportunities for people to connect with your brand and key message. Shared experiences and quality interaction helps create a meaningful, purposeful bond that goes on long-term between all participants.
Now that we are entering the pre-pandemic normalcy, the attendees enhancing their network through your event (which holds mostly for offline events) could also be an important takeaway. The more meaningful connections they make, the more valuable they will perceive your event.
Subscribe to the Mailmodo Bulletin
12k marketers get these growth tactics in their inbox
Steps to create an event email marketing strategy
An event email marketing strategy should work to create interest in your event to increase your target attendees and help create meaningful relationships with them. Here are the salient steps to creating and executing your event email marketing strategy.
1. Identify the goal of your event
Why are you conducting this event? What do you plan to achieve at the end of this event? Where does this event fit in the larger strategic marketing plan?
The event could introduce a new product, create brand awareness, create a quality network, or even establish yourself as an expert/specialist in a subject matter.
2. Identify the target audience
Who are you conducting this event for? Who will be the type of attendees? Are you focussing on the quality or quantity of the attendees? Identifying your target audience is pivotal in creating an email marketing strategy.
For example, at events like a charity auction, you would like to invite creme de la creme, known philanthropists, and CXO-level attendees. However, for online story-writing workshops, you may like your event to go far and wide across geographies and age groups.
3. Determine the messaging
Depending on what goal you want to achieve, you need to determine next what you want to communicate through this event. Highlight how this event aligns with the needs of your target audience.
The format of the messaging will also depend on your target audience. Do they respond better to text content, videos, or Instagram reels? Would images be more effective than words? Are they a LinkedIn crowd or Instagram followers? What kind of messaging and messaging format will elicit the elusive registrations? Answers to the above will help you create the right content package to deliver your key message to the right prospective attendees.
4. Create an event website, mobile app, and social media pages
Create an event website or a mobile app and make it easy to share the event information through a QR code. You may not have all the information right away to put on the website or the app, but these spaces grow organically as you come closer to the event.
The mobile app and website act as an important hub of updated information, attendee registrations, query management, sharing a map/how to get there, and sharing joining in details in case of online events. These platforms are a powerful way to connect with your attendees even after the events. Think about city marathons, pet adoptions, and how attendees use these mediums to remain connected post-event too!
5. Start your email campaign
It is time to spread the good word around. Ready?
Create comprehensive email lists ready for your target audience. Marketing automation tools like Mailmodo provide 360-degree integrations with CRMs that help import information-rich contact lists into your email marketing system.
For optimal performance of your campaigns, it is important to keep cleaning up the contact list, like archiving contacts who have not shown any activity over a period.
Let's get to the good part! Create a convincing email copy. Come up with attractive subject lines. Design the email template. Mature email automation tools like Mailmodo offer a wide variety of ready-to-use email templates that can be personalized and customized along with ready content blocks.
This helps to translate your creative ideas into reality in a fun and easy-to-implement manner. Using AMP, you can also include spin the wheel, quizzes, and other widgets within the email body.
Always, always test emails before you start the campaign itself. A test email saves you money and loss of credibility.No one can afford to send emails that were supposed to convert but ended up being marked as spam.
Send out the final campaign
Finally- it is time to send out that communication into the world. It is to be noted that the steps mentioned above stand true for every iteration of the email that you send. You can send many types of emails for different purposes. You can check some of those out in the cheat codes mentioned in the next segment.
After designing the strategy and putting in hard work, it is natural to want to see how you did. Track metrics like delivered emails, open rates, click rates, submissions, bounces, and unsubscribes. Measure undelivered emails because they bounced or the email id is blocked or invalid. Track metrics for each campaign, and fine-tune your messaging better in each iteration.
6. Create an automated workflow
Once a reader registers for the event, You should kick off an automated time-bound workflow. Here are the types of emails that you can include as part of your automated workflow:
Transactional emails: Successful registration, payment received/invoice/event details.

Emails to generate interest: Introduce special guests/attendees, sneak-peak of the activities in the event, pictures/memories from last year.

Reminders to join the event- Typically, 3 reminders can be sent within a week to go, 2 days to go, and a few hours before the event.

Post-event montage with memorable moments

Post-event-feedback form/NPS
Check out our resource on email flows to know what emails to send as a part of the event registration flow.
13 event email marketing strategies
You know the basics now; let's look at how you can enhance your event email marketing strategy to boost attendees.
Make the reader feel they would miss out if they pass on this opportunity now. Typically you can do that by sending tempting subject lines like- "Seats filling fast..", "It's now or never..", "Last few seats left…", "Missing out on this once-in-a-lifetime concert?".. and so on.
Pre-launch promotions like "watch out this space for more details" create a feeling of suspense and curiosity about something good. Creating a similar feeling about your event builds anticipation.
Source: Pinterest
Send out early bird offers
We have a natural bias towards early bird offers. It implies that the event will be highly sought after, and the same ticket/seat will cost much more later. It already sets the tone that offers a feeling of privilege to the reader, making them more inclined to take up the offer.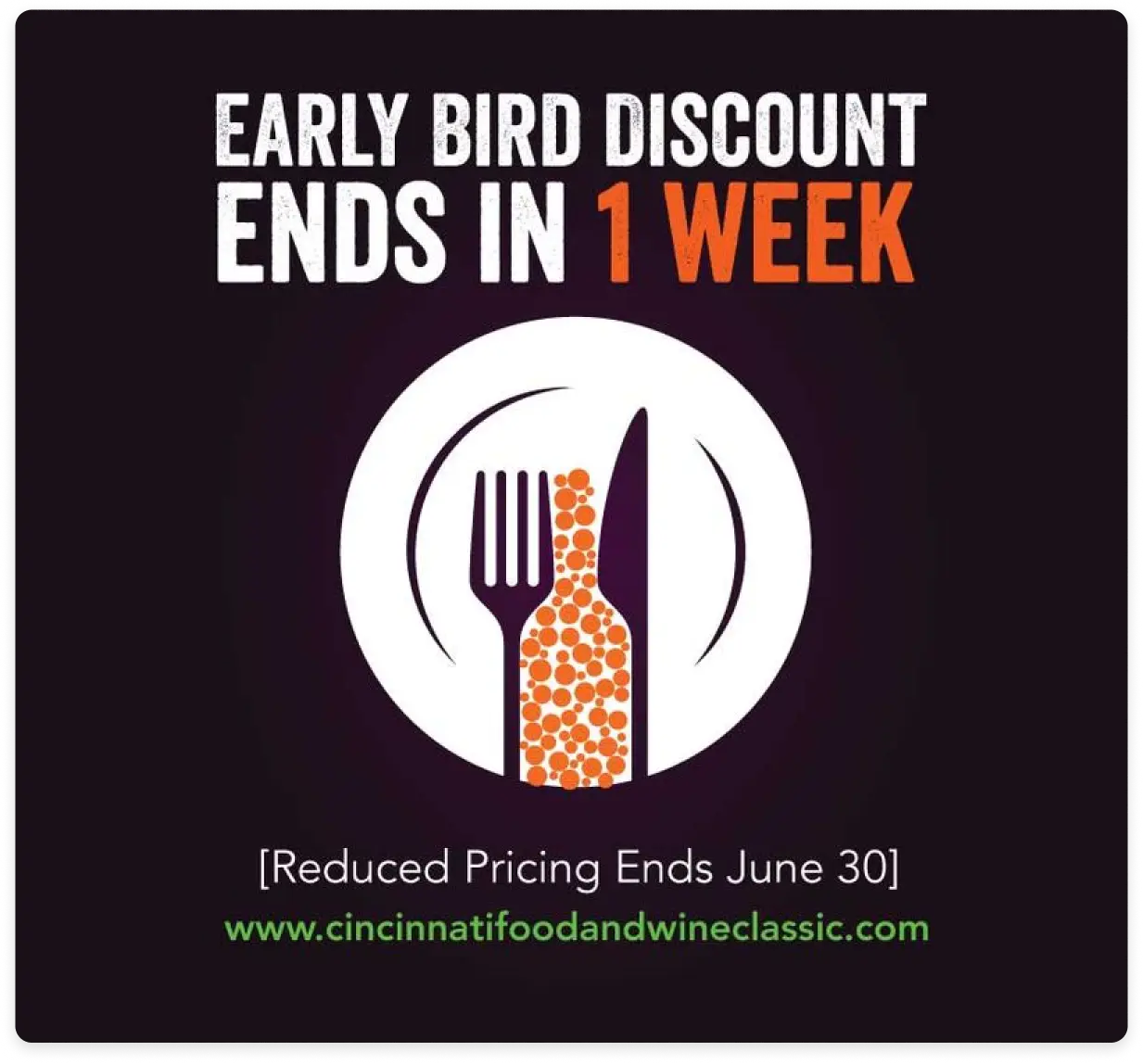 Source: Cinci Food and Wine
Create vibrant, catalytic content through dynamic images, short videos, anticipatory reactions, and success stories from past events to showcase what people can expect from the event. You can post this content on social media. The social media posts can be shared with attendees via email, with links to click on.
Check out this engaging example from the TCS New York City Marathon's social media handle in July, even though the event is in November.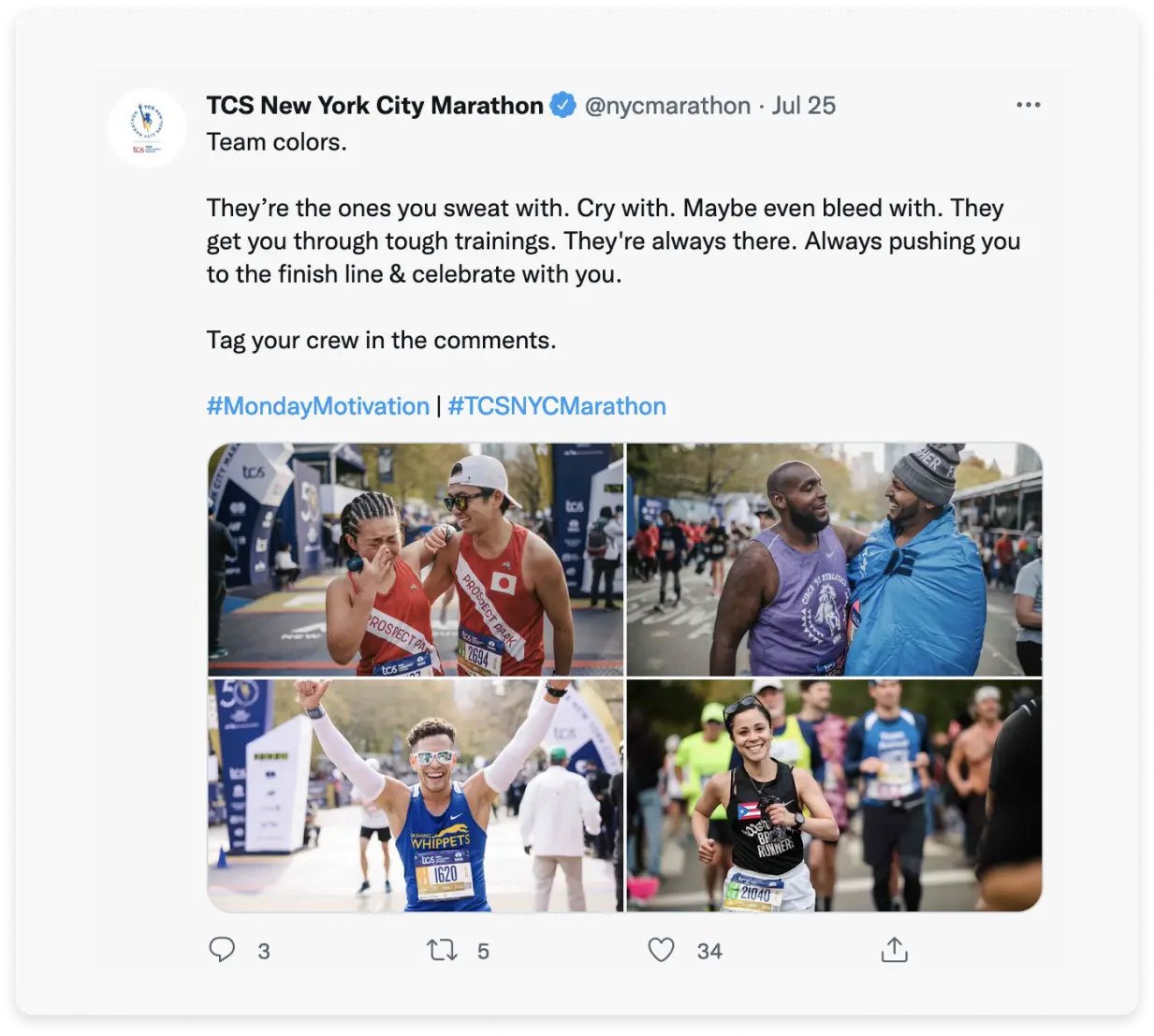 Source: TCS New York City Marathon
If you have speakers/special guests in your event- introduce and create a buzz about their presence at the event. Highlight what it would mean for other attendees and what kind of knowledge and skills they will be able to take away from this experience.
Check out this example of a promotional email from Mailmodo where we introduce the guest and the topics. The header summarizes all the vital details, like the date, timing, and guest speakers.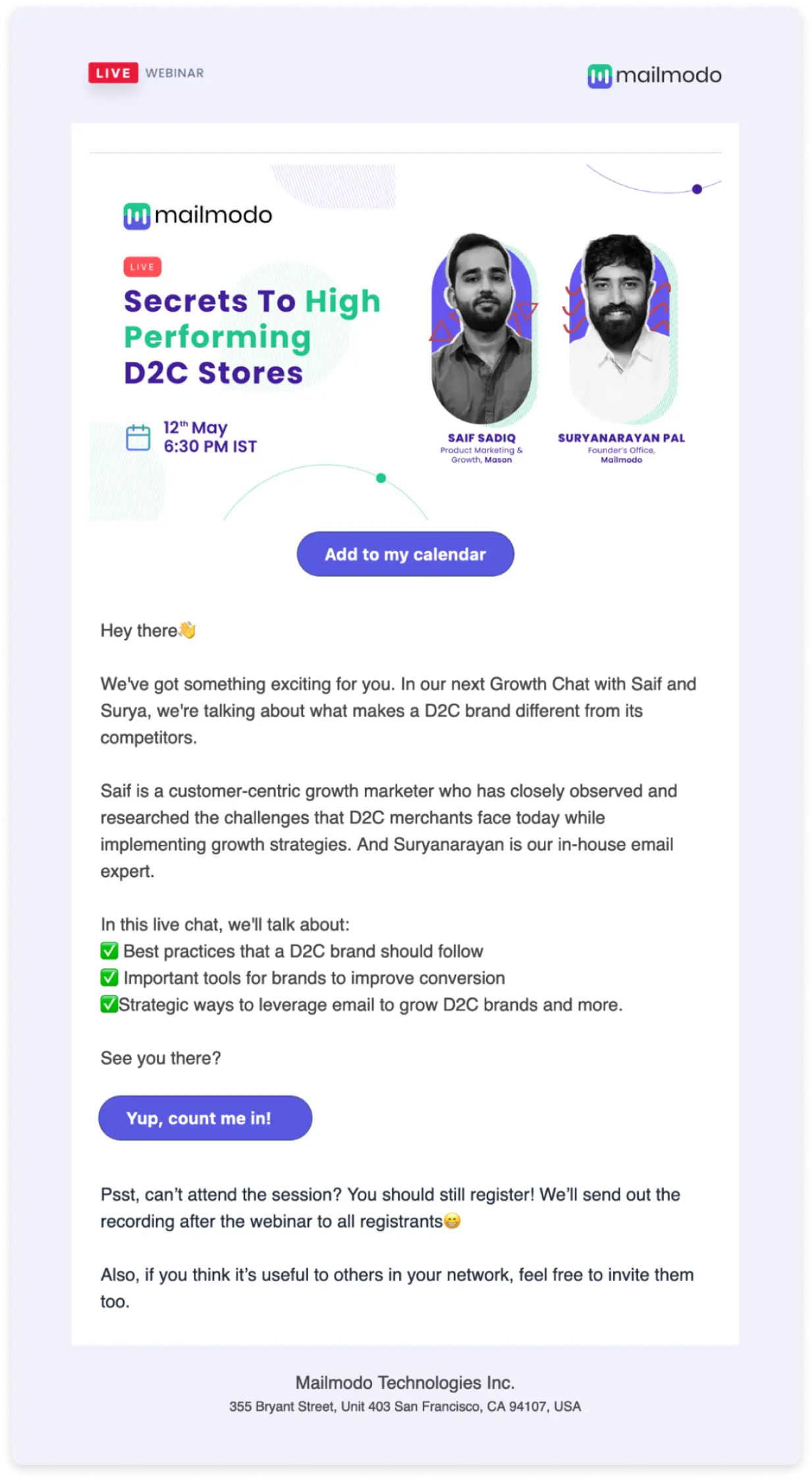 Check out more interactive email templates for events here.
One for all solution does not exist. You have to tailor your communication to different types of audiences to make them feel understood and valued. Based on the sort of event you are organizing, you can create different email campaigns for new attendees and returning attendees.
Using email automation tools like Mailmodo, you can create static and dynamic customer segments. Static segments are based on the property of the contact- like location, age, etc. You can create dynamic segments based on the activity performed by the contact, like subscribing to your newsletter or clicking on a specific button, etc.

Make it easy for people to ask questions
Make it a two-way conversation! One of the best ways to engage with your target audience. Guide them to your website or your social media handles for a faster response. If resources allow, use a multichannel support system like a cloud contact center for social media support and query resolution. A quality conversation often goes a long way in forming meaningful customer relationships.
Get a sample AMP email in your inbox
Experience the power of interactivity right now
Add event banners in email signatures
It's a common yet powerful practice to include your event banner as part of your email signature. That way, every email communication anyone in your organization sends also carries information about this massive and exciting event you're conducting.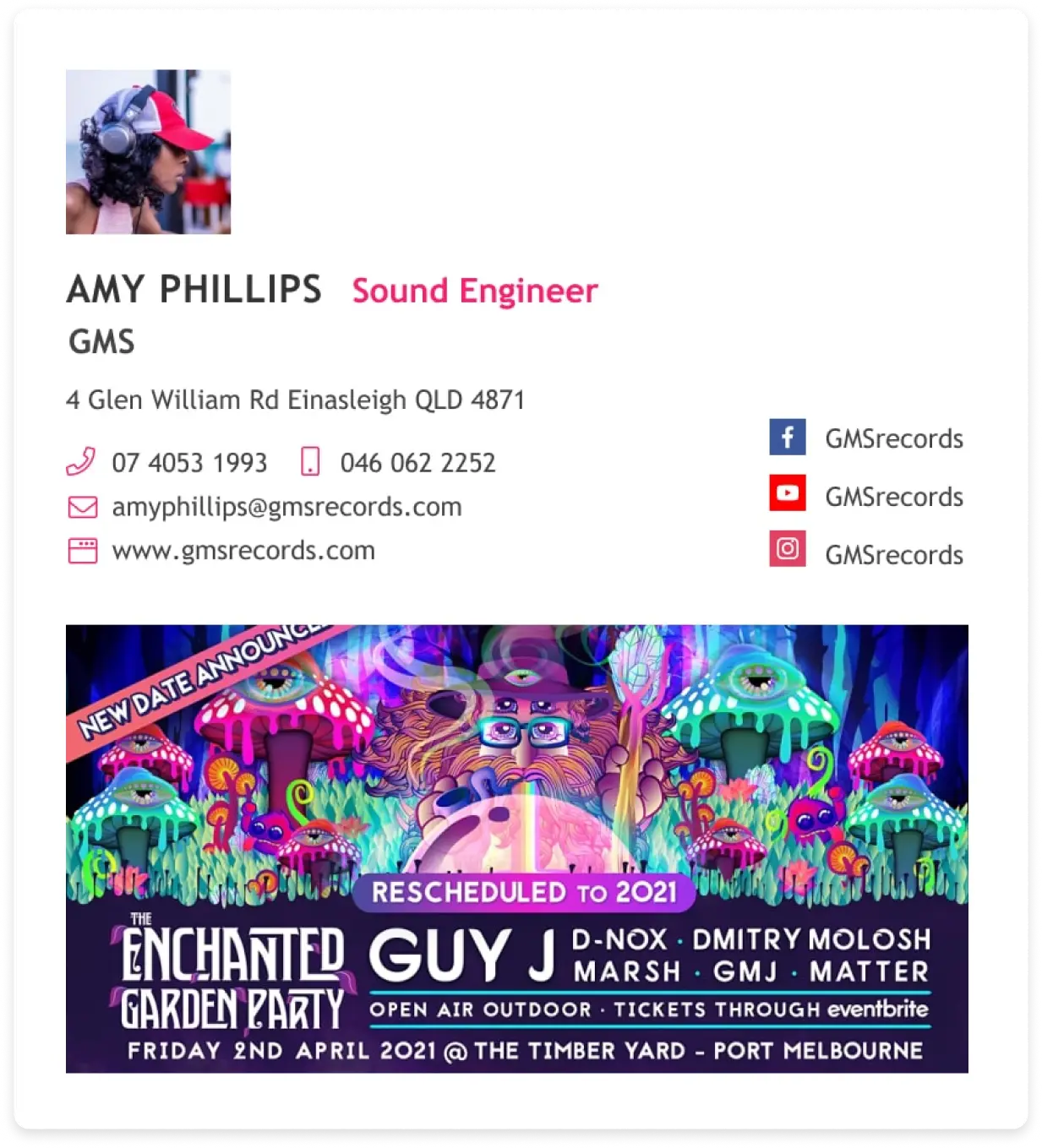 Source: WiseStamp
Include your social media handles and widgets within your email body. Email provides a fundamental spinal structure to your campaign. However, when the target audience receives the same key message from all popular channels, it has a multifold impact on the brand awareness of your event.
Source: Mailmodo
Whether writing to new invitees or revisiting attendees, sharing memories of past successes on social media is a great idea. You could do a newsletter, takeaway summary, Instagram reels, TikTok videos, etc. You can then share the images, and the landing pages to the website or social media handles over emails.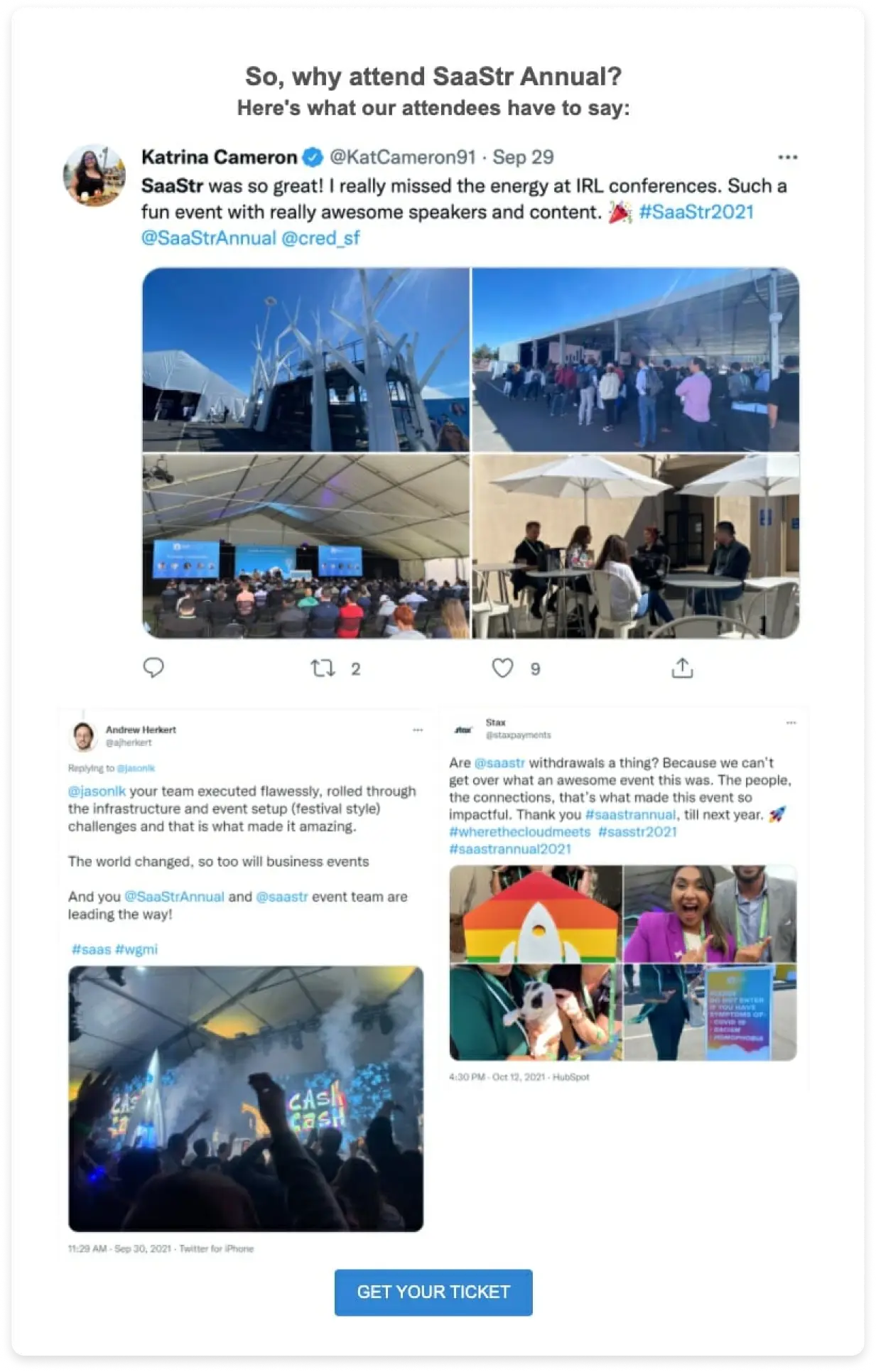 Source: SaaStr2022
Send registration reminders
People are often interested in an activity but unsure of committing to the same because it's way too far into the future. It could also be because they got distracted by some immediate items that needed priority attention. Reminders and follow-ups are powerful ways of bringing such readers back into the fold.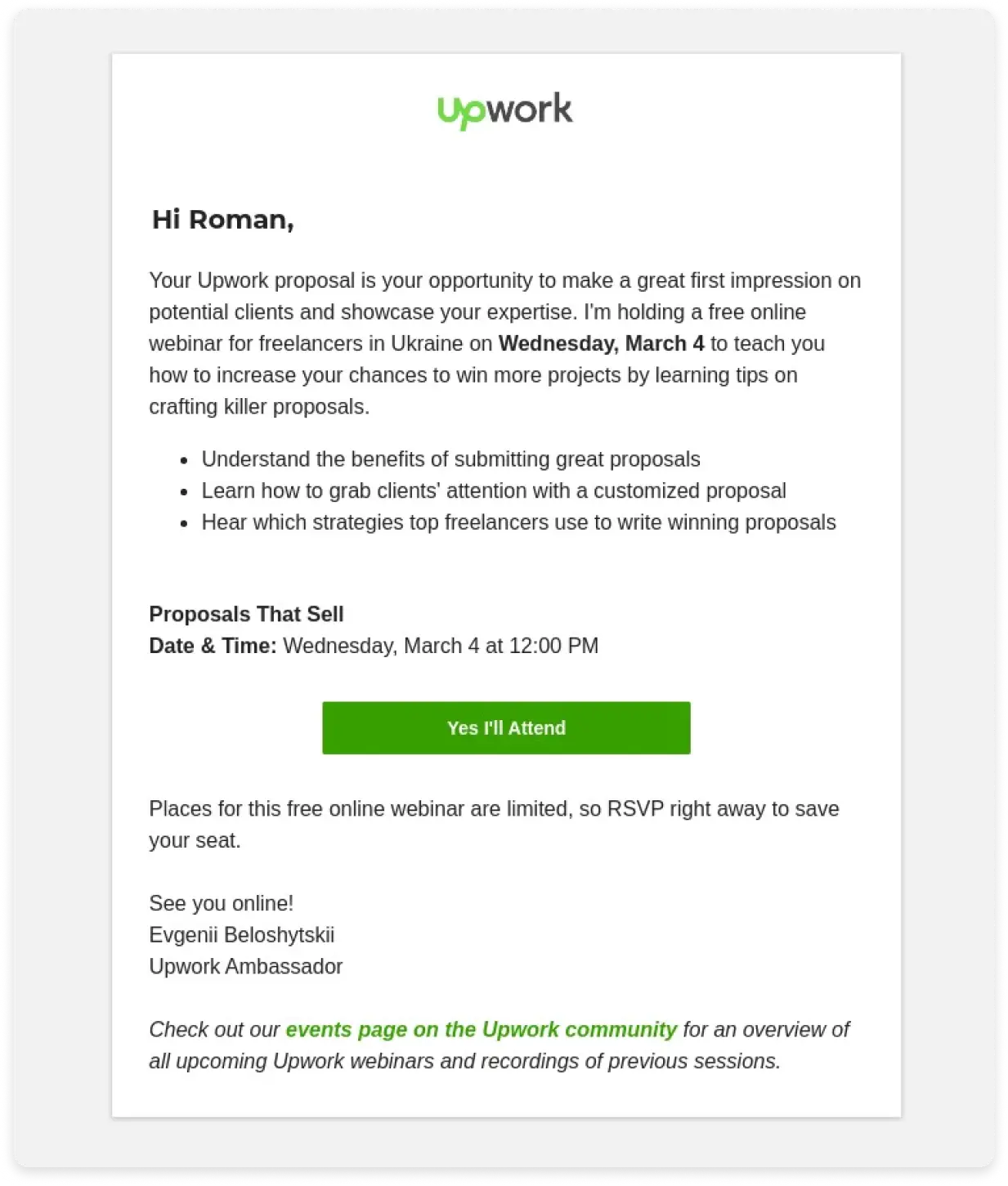 Source: Soapbox Support Center
It is a great motivation for people to know what kind of takeaways or exciting prizes have been planned. It helps create an anticipatory feeling toward your event and empowers attendees with more information. While suspense is great to start the campaign, no one wants to commit their time and money based on that. The more information they get, the better their chances of showing up.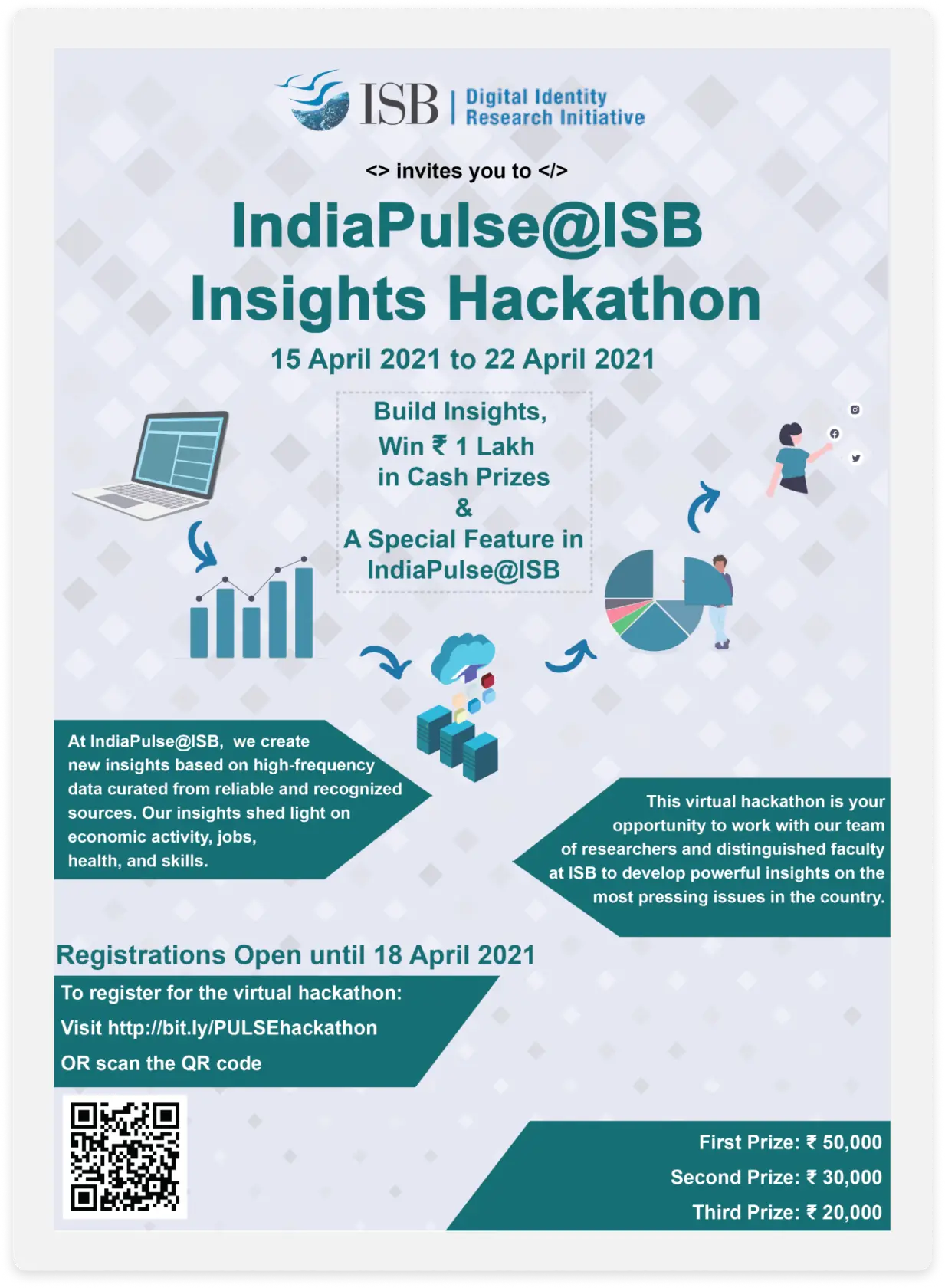 Source: ISB Hackathon
Reminder to join the event for registered attendees
As the adage goes- 'There's many a slip twixt the cup and the lip.' Even though people may have registered and paid for your event, there could be many other demands on their time and company. A well-timed reminder about the event may be the nudge they require to show up.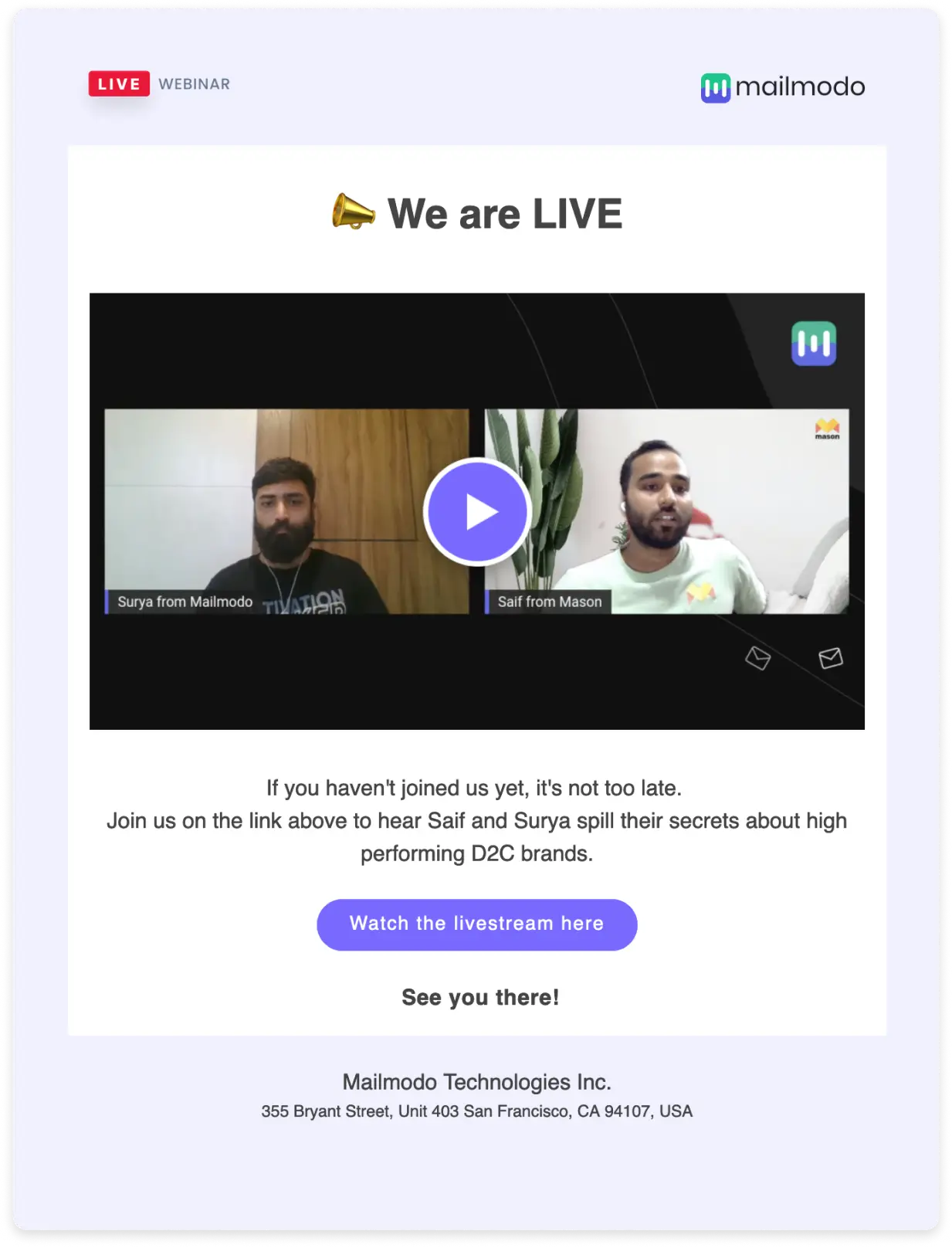 Source: Mailmodo
Wrap up
There are many things to fuss about when planning an event. However, you can knock off finding the right email marketing automation tool from your list. Fintech startup Kodo used Mailmodo for a tangible improvement in their event planning. Fuelled by that success, they also plan to continue using email marketing for their future events.
Armed with the easy-to-implement hacks, strategies, and examples mentioned in this guide, you never have to worry about reaching out to your target audience for your events. For further reading on creating better emails, check out our guide on writing high-converting promotional emails.
What you should do next
Hey there, thanks for reading till the end. Here are 3 ways we can help you grow your business:
Talk to an email expert. Need someone to take your email marketing to the next level? Mailmodo's experts are here for you. Schedule a 30-minute email consultation. Don't worry; it's on the house. Book a meet here.

Send emails that bring higher conversions. Mailmodo is an ESP that helps you to create and send app-like interactive emails with forms, carts, calendars, games, and other widgets for higher conversions. Get started for free.

Get smarter with our email resources. Explore all our knowledge here and learn about email marketing, strategies, best practices, growth hacks, case studies, templates, and more. Access guides here.