Product recommendation emails help lure customers back, drive more sales, and increase conversions. You need to analyze customers' behavior to understand their purchasing behavior. Then you can send them relevant and target product recommendations.
This guide will discuss best practices and templates you can use for product recommendation emails to drive sales.
Table of contents
What is a product recommendation email?
A Product recommendation email is a promotional strategy in e-commerce email marketing campaigns. By analyzing customer preferences, businesses can recommend products that customers are likely to be interested in, increasing the likelihood of conversion and driving sales.
Why should you send product recommendation emails?
The best e-commerce marketers use algorithms to track a customer's behavior. You can use this data to send personalized product recommendations. Such emails help users go through many options and entice them to purchase.
Strategy for crafting a product recommendation email
Here we discuss the strategies to write effective product recommendation emails:
When to send
You can send product recommendations at various times during the customer's life cycle. You may send them when you are:
Introducing a new line of products.

Trying to focus on a specific line of products/seasonal products.

Focusing on products for specific sales, discounts, or offers.

As a part of a monthly or bi-weekly newsletter subscription.
How to send
Product recommendation emails can be of 2 kinds – generic & specific.
Generic emails are sent in bulk to users who lack proper behavioral data. You could send recommendation emails such as best sellers, seasonal items, new arrivals, etc.
Specific product recommendation emails display specific products to users based on their shopping behavior or latest browsing history.
What to write
Here's what you can write in the recommendation email series:
Focus on specific products and add relevant visuals and product information. For example, focus on a single range, line, color of associated items.
Instead of selling a single item, you could sell an entire product line and accessories.
For example, if you are a fashion e-commerce brand, send products to make an entire outfit. If you sell furniture items, send products that make up an entire room. Such emails direct the consumer to make several purchases and encourage them to browse.
You can personalize the email header in the following ways:
People who viewed this also bought.

You may also like.

Recommended for you.

Price drop/back in stock.

Limited edition offers only for you.
Alternatively, the headers could be specific to a campaign.
You can add a promo code, discount, or exclusive coupon to the recommendation emails. These are useful when making a great first impression and getting users to browse your e-commerce store.
Ready-to-use product recommendation email template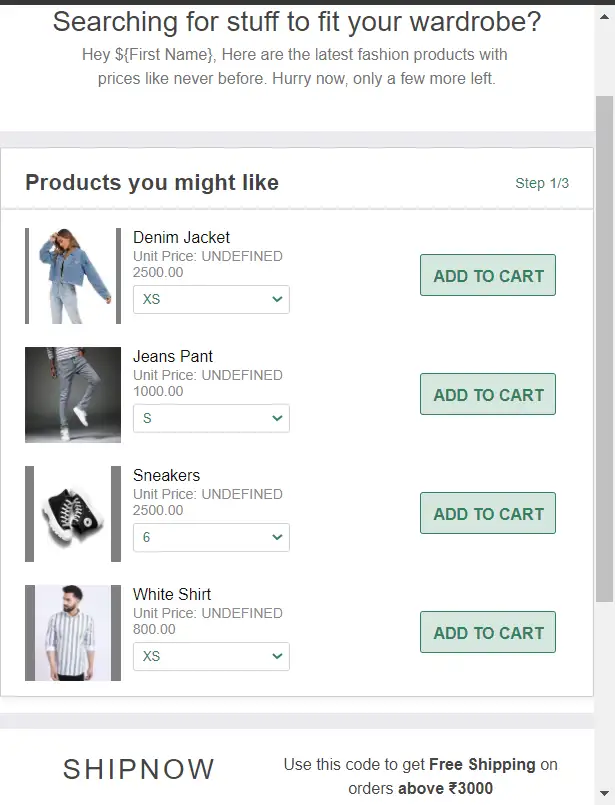 How to use this email giveaway series for your e-commerce brand?
These templates and series can help you achieve the maximum benefits of email marketing.
4 steps to lifecycle marketing for your e-commerce brand:
To access these templates, sign up with Mailmodo.

Customize the template quickly in under 120 seconds.

Add your sender email and domain.

Start sending AMP emails to your consumers and build brand loyalty and higher sales.
If you are a Shopify user, you can use Shopify store integration with Mailmodo to build on this email series.
Get the State of Email 2023 Report
150+ email experts share their email tips and secrets
Product recommendation email best practices
To ensure effective product recommendations, we suggest you be mindful of the following:
✅ Analyse buyer behavior
Different customers use different criteria to make purchases. So, it's essential that you understand each customer and why they make specific purchases.
For example, some may only buy eco-friendly products; others buy products specific to a single color.
✅ Test marketing campaigns & strategies
Use A/B testing to understand which products perform better than others. This will help you send relevant recommendations that can convert.
✅ Hit the right number
The number of recommendations you send is up to you. The recommendations need to be relevant, and you should not send too many or spammy emails.
✅ Use social proof
Most customers want social proof before they make purchases. You can add testimonials, reviews, and ratings from your customers in your emails. Including social proof will make your products and brand more credible.
Increase Sales with Product Recommendation Emails
Personalized product recommendations can help you increase conversions and generate more revenue. The better the recommendations, the more interested customers, become.
Moreover, you can send product recommendations using AMP emails if you want higher conversions. Mailmodo helps you send AMP emails that allow users to complete an action within their inbox. It reduces friction and leads to higher conversions. Check out our AMP email guide to know in detail.
What you should do next
Hey there, thanks for reading till the end. Here are 3 ways we can help you grow your business:
Talk to an email expert. Need someone to take your email marketing to the next level? Mailmodo's experts are here for you. Schedule a 30-minute email consultation. Don't worry, it's on the house. Book a meet here.

Send emails that bring higher conversions. Mailmodo is an ESP that helps you to create and send app-like interactive emails with forms, carts, calendars, games, and other widgets for higher conversions. Get started for free.

Get smarter with our email resources. Explore all our knowledge base here and learn about email marketing, marketing strategies, best practices, growth hacks, case studies, templates, and more. Access guides here.