Due to the pandemic in 2020, people expected that the number of sales during the holidays will be low because of the decline in the market. But, sales had nearly doubled in 2020 compared to 2019.
This shows us that no matter what happens, people still want to show their love and support to their loved ones, especially during these challenging times.
And we expect the same this year as well, so if you work smart, you can create a great holiday email marketing campaign that will boost your sales this year.
Table of contents
What is holiday email marketing?
Holiday email marketing is a promotional strategy used by businesses to advertise their products or services during holiday seasons such as Christmas, Halloween, Valentine's Day, Thanksgiving, etc.
The strategy involves sending emails to a list of subscribers or customers, with offers, discounts, and promotional messages tailored specifically to the holiday season.
Holiday email marketing is a great way to connect with customers and increase sales during peak shopping periods. By offering special deals and promotions, businesses can incentivize customers to make purchases, and by tailoring their messaging to the holiday season, businesses can make their emails more engaging and relevant to their audience.
Here's 12 tips and strategies you must try these holiday with email markeitng that will increase your sales.
12 Tips for holiday email marketing to boost sales
We'll tell you a few tips on what you can do this holiday season to improve your email campaign.
Note: Although we'll mainly focus on Christmas here, these tips can also apply to other holidays.
1. Start your holiday email marketing campaign early
First of all, start planning your holiday campaigns at least a month or two in advance for all the major holidays like Christmas, New Year, Diwali, etc. Early prep gives you more time to test and tweak your campaign to ensure it's perfect for the final launch.
According to Criteo, holiday shoppers start looking around for products online nearly 41 days before the holidays to see what they want to purchase.
So, start sending a few holiday emails with early bird offers for Black Friday, Thanksgiving, Cyber Monday, and Christmas, nearly 50 days in advance.
By providing offers early, you give shoppers time to figure out what they want to get and make them aware of all the offers they would get if they buy early.
2. Use motifs and design elements related to the holiday
You can use your creative imagination to incorporate motifs, colors, and other design elements specific to the holiday and make it work for your industry.
For example, here Myfoodandfamily has used a few ghost motifs and photography to create a spooky vibe to their emails. And they have also added a Halloween flair to their food items to customize their products for the holiday.
Source: Really good emails
Similarly, you can use design elements to customize your campaigns for the holidays.
For example, you can use a tri-color palette for Independence Day, diyas 🪔 or firecrackers 🎇motifs for Diwali, and Jingle bells 🔔 or snowman ☃️ motifs for Christmas.
3. Create pre buzz for your holiday campaign
If you are a bigger brand like Nykaa, Swiggy, you can send a pre buzz email to tell your audience what will be coming soon. The pre buzz will get them excited for the upcoming holiday offers and new releases.
But, if you are a small business, you don't need to create any buzz as it would only be a waste of resources. Instead, you can go ahead with your holiday campaign directly.
Brands can also create this pre buzz through social media and use those platforms to direct them to sign up for your emails to receive the updates and offers for the holiday season.
4. Create a sense of urgency through your emails
Some people just wait until the last moment to check different websites to see that they are getting the best deals on the items they will buy.
So, you can make the offer seem like the best deal they can get and something that will be available only for a short time. It will reduce their decision-making time and make them want to buy before they miss out on the offer.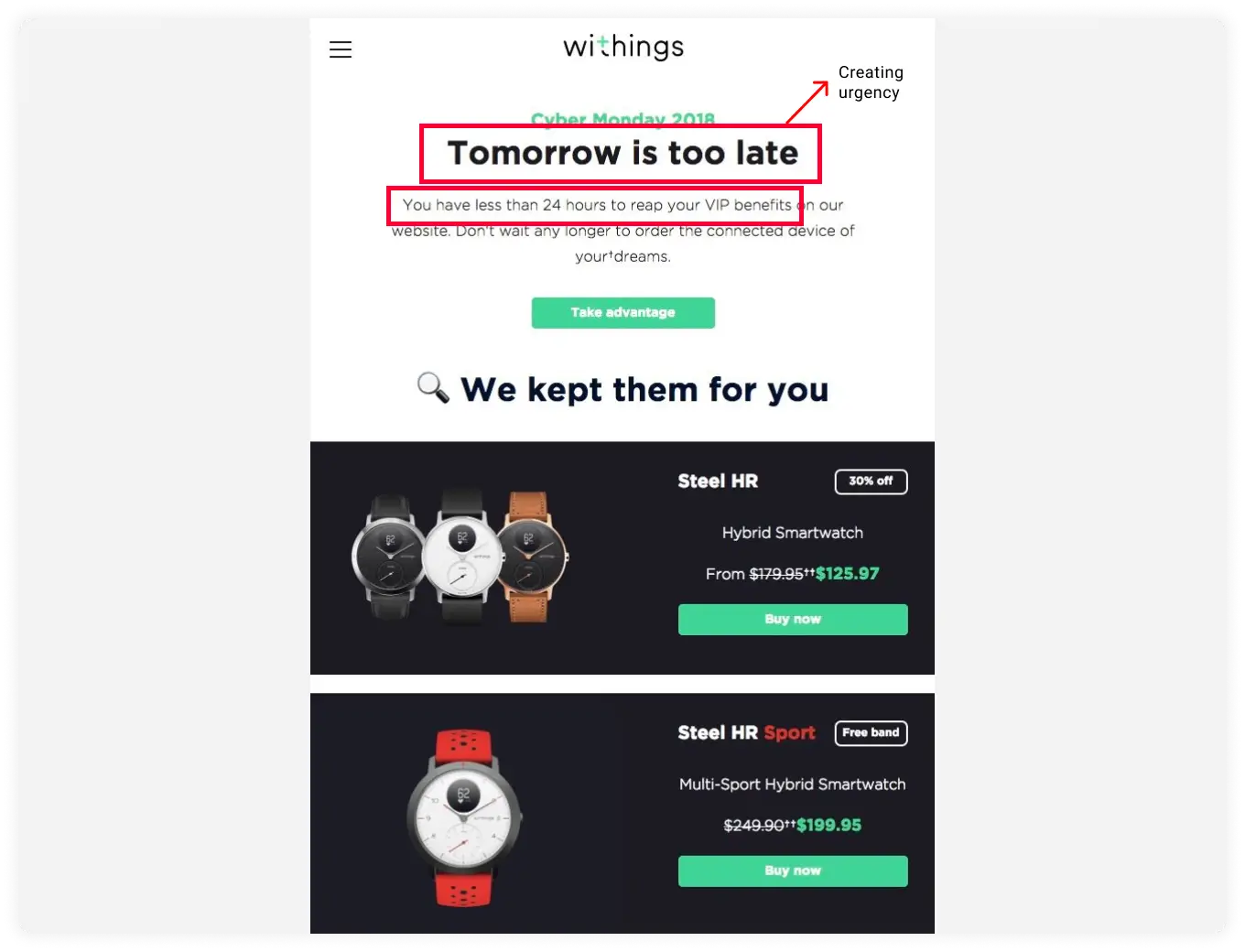 Source: Really good emails
Also, if you are not going to be stocking up on a particular product anymore, you can send an email saying that it's their last chance, and if they don't get it now, they won't get the chance again.
5. Make the design responsive for all devices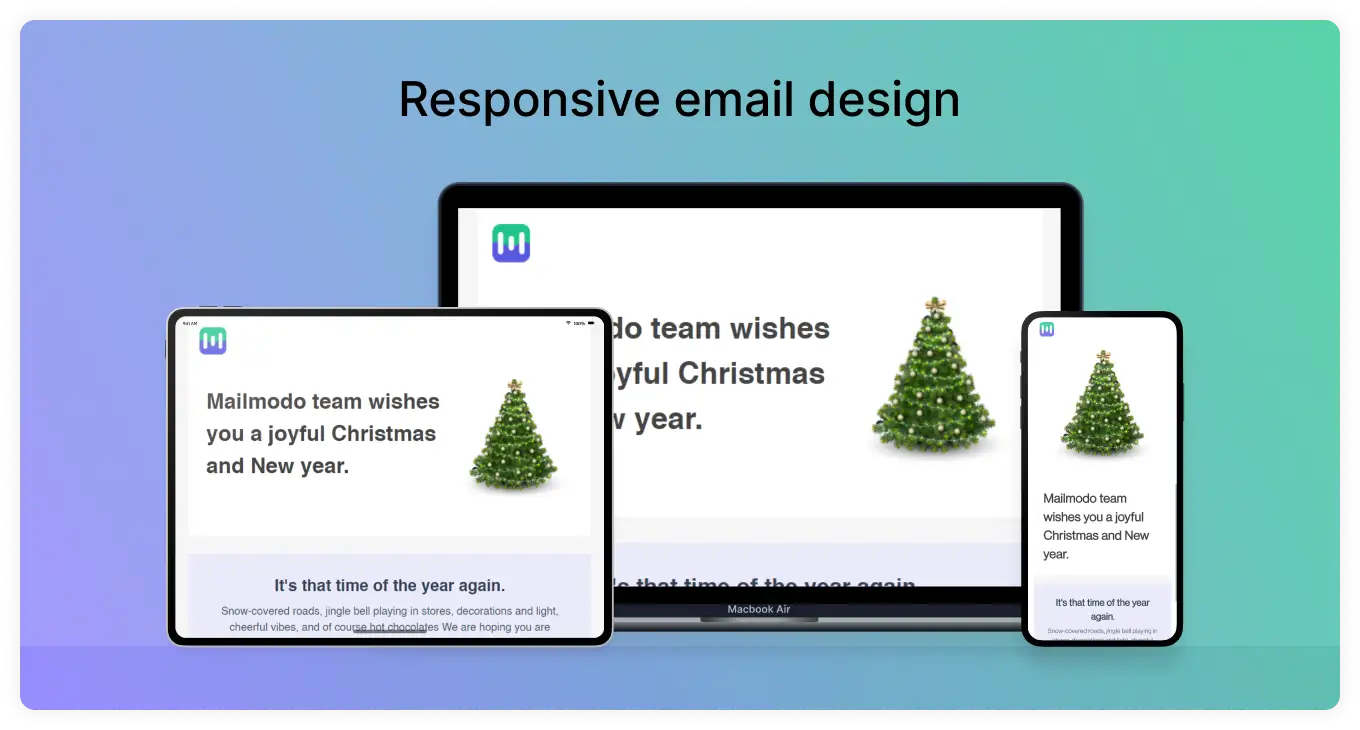 People are busy during the holiday season, so they might check their emails on their mobile phones when they are on the go or traveling.
So you need to ensure that all the design elements and layout of your holiday emails are optimized for all devices. This way, if someone opens it on their phone, they won't face any issues with the email rendering poorly.
Focus on keeping good quality images with small file sizes, creating an enticing email copy and CTA that makes people want to engage and click on your email.
Also, make sure that your website is optimized for mobile users because if there are any issues with the website, the whole campaign would be a waste.
6. Set up automation based on user activity
People have gone to your website from your holiday emails and added some to their cart but have failed to check out. In such cases, you can send people an email to remind them about their abandoned cart and encourage them to complete their order.
Using ESPs like Mailmodo you can send such emails automatically to people. Mailmodo even offers an AMP feature where the customers can complete their check-out process within the emails.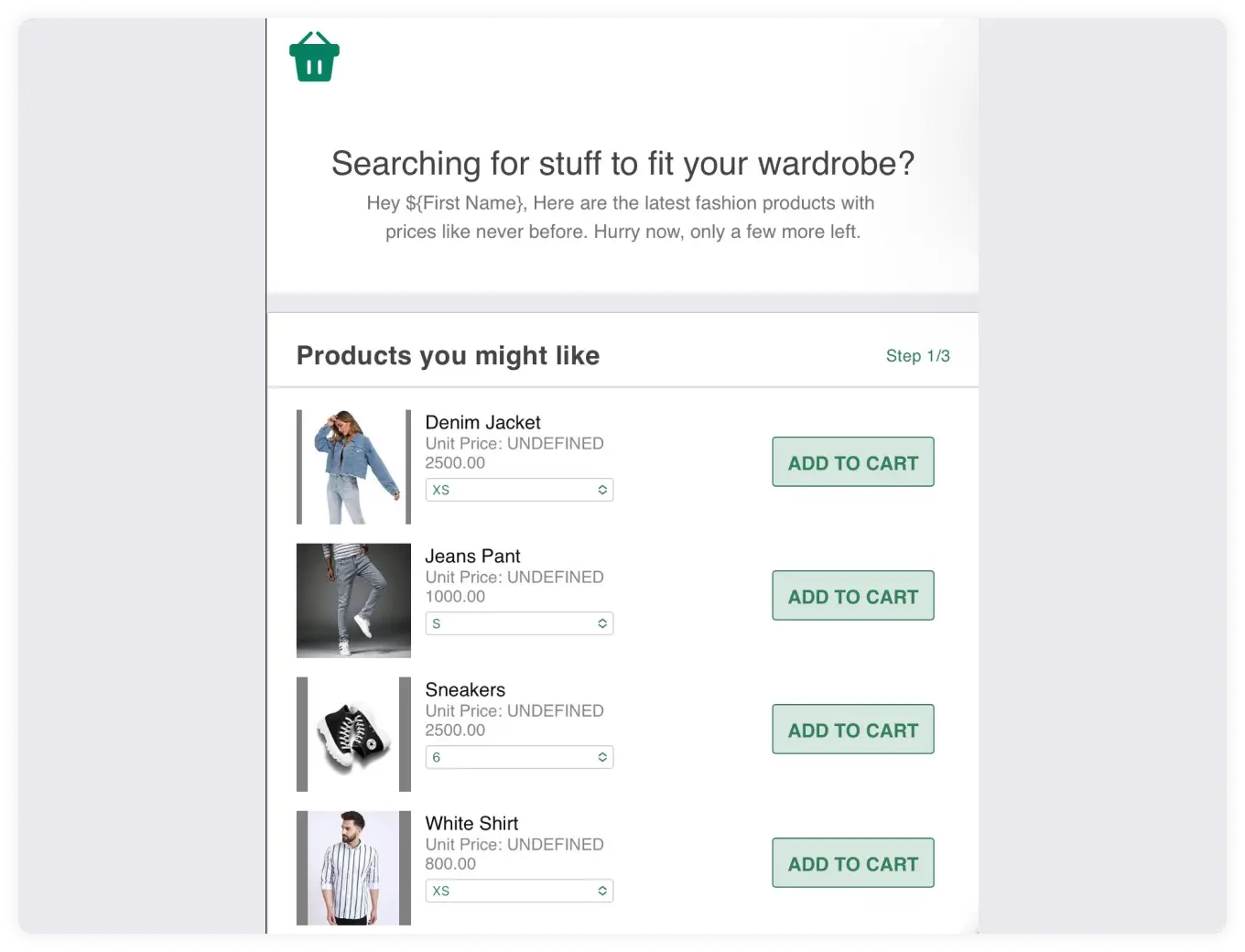 Source: Mailmodo
An abandoned cart email is just one example of how you can send automatic emails based on user activity. You can send people emails when their favorite items go on sale for the holidays or even send holiday-themed welcome emails if they sign up during the holidays.
7. Optimize the subject line to make people want to open the email
The subject line is a crucial element that can influence the reader's decision to open your email or not. So you need to create a solid copy to make them want to open the email to know more.
You can use words like sale, savings, free shipping, limited time, etc for the holiday sale season to make the deals sound irresistible.
You can also use holiday theme emojis to spice up your subject line and make you stand out from the crowd in the inbox, as shown in the example below.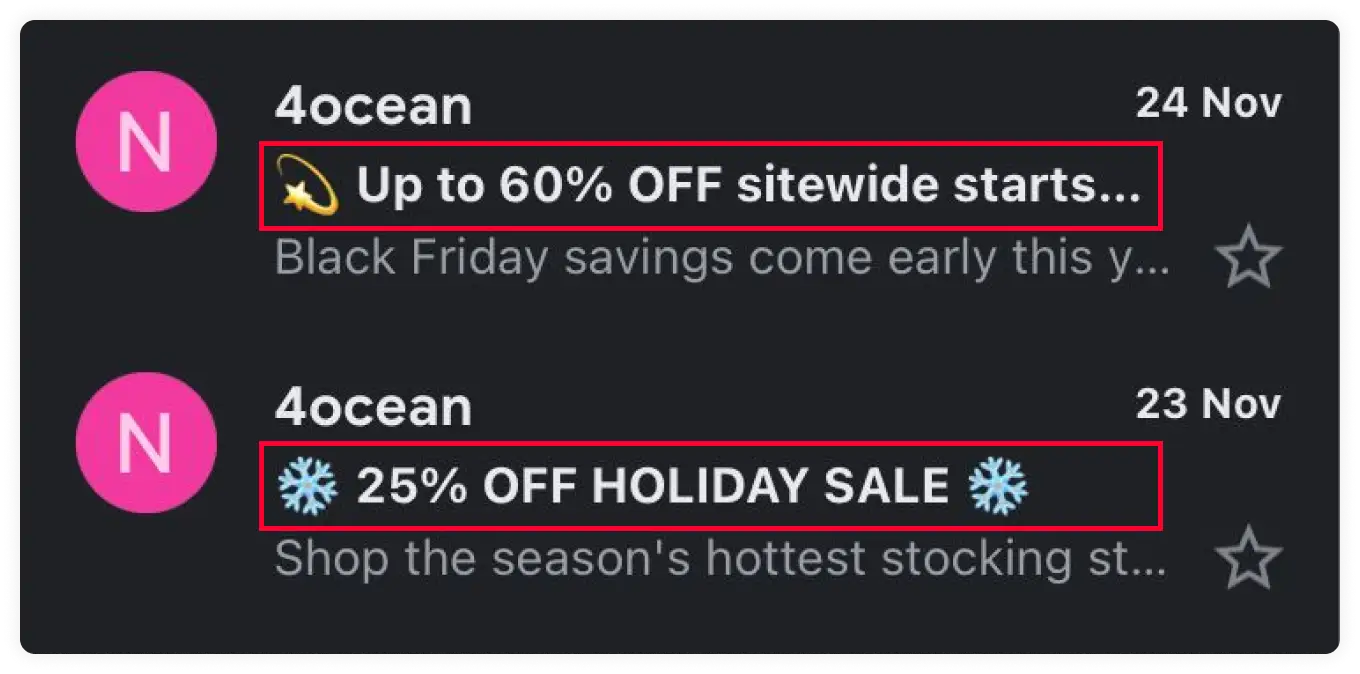 Personalizing the subject line is also a way to make the readers feel the email was special, making them more likely to open it. You can also creatively use the email preheader to complement and work with the subject line.
8. Send emails to a segmented audience
Your holiday emails may not be the right fit for all of your audience, so you can segment and send them holiday emails on aspects related to them.
You can segment your audience based on:
Their interests.

What level on the funnel they are on.

When they buy your products (seasonal or year-round).

What is their activity on your website (recent transaction, shopping frequency).

Their age.

What gender do they identify as?
For example, if you are a clothing brand and the person is interested in your women's clothing line, it would be irrelevant to send them an email containing men's wear.
9. Create a holiday gift guide with your products
Many people experience something called holiday gift anxiety around the holiday season when they don't know what gift to get for their loved ones.
You can help them by curating which of your products will be perfect for women, men, kids, coworkers, friends, etc. By creating this guide, you will help reduce their anxiety and help them make decisions easier.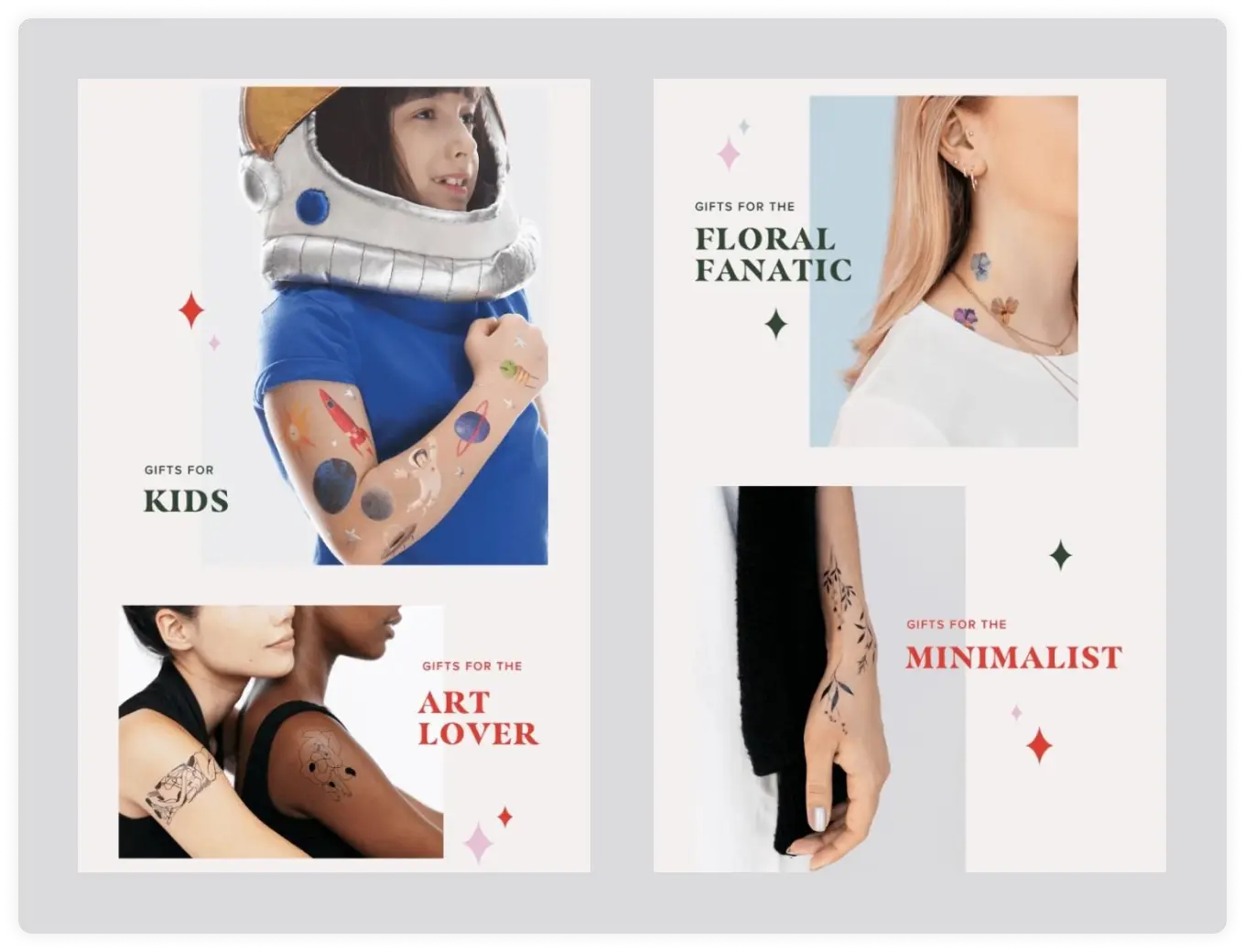 Source: Really good emails
In fact, rather than sticking to just one gift guide, you can create several for different types of shoppers and different people they want to gift to.
You can create gift guides based on price points, hobbies, age, type of product, relationship with the gift receiver (mother, friend, wife, child), etc.
10. Send people to a specific landing page
When people click on the CTA in your holiday email, link it to a specific sales page made for that offer or product rather than sending them to the main page on your website.
This way people won't have to search for that particular product or offer and it'll be easier for them to buy it.
Also, make sure the offers you provide in your holiday marketing emails are also available sitewide. Even if they don't buy immediately, they'll still be able to find the offer on your website.
11. Provide options for last-minute shoppers
While some people start holiday shopping super early, some procrastinators wait until nearly two weeks before Christmas to start shopping.
So as a brand, if it's possible, you can provide something for these late shoppers that is still a good deal and will be delivered on time.
The important thing to communicate in your emails when providing options for last-minute shoppers is guaranteed on-time delivery. It is the reason why most people would shop in-person rather than online for last-minute gifts.
So if you can provide the assurance, then it'll make them more likely to buy from you.
Alternatively, you can provide digital downloads or e-gift cards, as an option for your customers if you want something instantly like how Great Jones has done in the example below.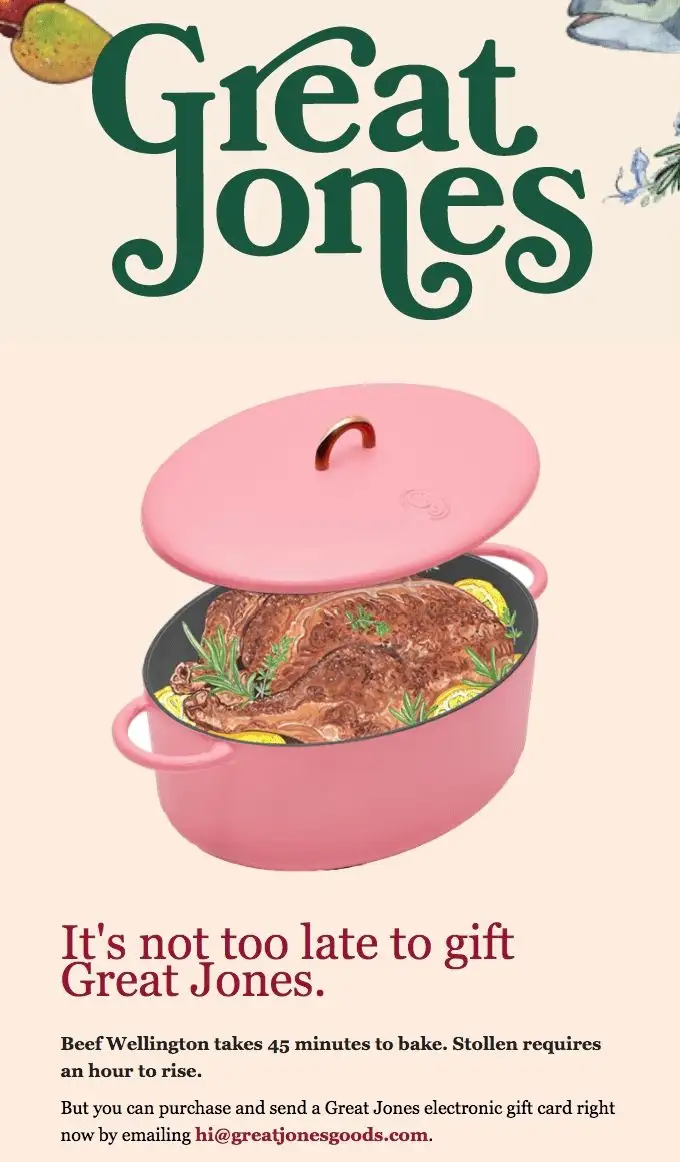 Source: Really good emails
12. Send people post-holiday emails
Post-holiday emails can be a great way to nurture leads who have joined you for great holiday deals and help to make them long-term repeat customers.
Holiday email marketing can help boost sales but the long-term goal is to have people stick around for longer become repeat customers and have a community of dedicated following.
It can also be a wait to indicate the end of the holiday emails for your long-term subscribers who are looking forward to your regular content.
Wrap up
It's not too late, start now and you can still catch the massive potential of the holiday season and get lots of sales. And if you follow even a few of the above-mentioned tips, you'll be able to create a successful email campaign for the holiday in no time.
So go on and start creating your campaign for the upcoming holidays.