The biggest challenge all small business owners like you face is the lack of time and budget to market your business. You might be managing all the product and marketing-related tasks without much help.
You might often wonder whether there is a more effective technique to collect leads to grow your business. Fortunately, there is email marketing. Marketers generate an ROI of 51.52 USD for every dollar spent on email marketing.
However, small business email marketing can be challenging as it involves many things like growing your email list, nurturing leads, setting up the strategy, finding the best ESP, and more.
Hence, here's a complete resource you need to get started and multiply your revenue using email marketing.
Table of contents
Importance of email marketing for your small business
Jay Abraham formulated the concept that companies can increase revenue by increasing either the number of customers (C ), the number of purchases per customer (F), or increasing the average order value (AOV).
With email marketing, you can influence all three growth multipliers at once.
The number of customers (C ) - Email outreach for brand-building and turning your subscribers into customers.
Example: Welcome or onboarding email campaigns, or newsletters.
The number of purchases per customer (F) - Email automation campaigns based on customer actions for promotion and sending valuable content to customers for building brand loyalty.
Example: Abandoned cart or browse abandonment campaigns, product or service update, newsletters, emails containing content like case studies or tips and tricks.
Average order value (AOV) - Upsell and cross-sells through promotional emails, product recommendations, win-back emails, offer emails.
Email can also increase lifetime value (LTV) and customer retention through win-back campaigns.
To understand why email marketing is effective for small businesses, let's take a deep dive into the benefits of using email marketing to promote and sell as an SMB/SME owner.
Benefits of email marketing for your small business
You might have this question, "Is email marketing good for small businesses?" and here's our answer.
Yes. Unlike other marketing channels, email marketing can help you engage with your customers throughout their journey.
Here are the few notable benefits of email marketing for your small business:
1. Low cost per customer
Most companies spend about $750 to $1,500 per month on SEO, while social media plans tend to range from around $4,000 to $7,000.
Email, on the other hand, has low to no setup costs, and while the price varies on the factors like the number of emails sent the size of the contact list and the email platform pricing. Small and mid-sized companies can get started with email marketing from anywhere between $9 to $1000.
Become an email marketing expert in 90 mins
On-demand certification to master email marketing
2. Build customer relationships
Email is the best channel to communicate and engage with your customers. Humanizing the brand helps in improving relationships with your customers.
You can send timely hyper-personalized emails so that people feel connected with the brand while reading them. Need an example? Here's one from Zapier.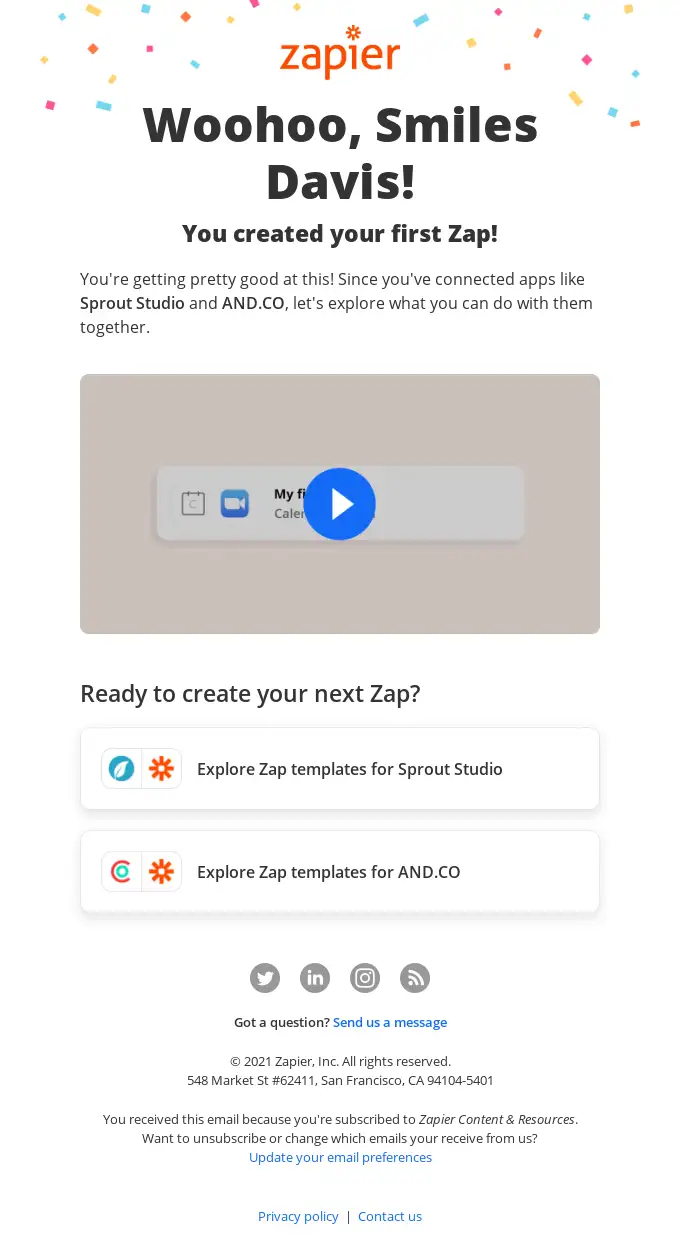 3. Highly reliable marketing channel
Email provides you control over your platform and your audience, making email marketing more reliable and stable.
Platform: Email marketing does not depend upon centralized networks or third parties, nor are you subject to any usage fees.

Algorithm: Another hurdle for small businesses is that they are left out in the cold if they don't catch up with the change in social media or search engine algorithms, but email marketing has no such problem.

Audience: You own your contact list and can access it no matter where you are or which service provider you use. You can move your database between platforms based on your needs.
4. Higher ROI
Email marketing yields better ROI than any other marketing channel, and 87% of marketers plan to invest more into email marketing. Here is the email marketing ROI for different industries.
5. Retain customers
Retaining existing customers is a much easier way to create revenue than finding new ones. Email marketing makes it easy for small businesses to nurture and retain customers.
You can send win-back emails, cart abandonment emails, reminder emails, and more to get your customers back to using your product or service.
Here's an excellent cart abandonment email template to nudge your customers to complete the purchase:

Challenges of small business email marketing
Despite the benefits of using email marketing, there are a few hurdles that you need to jump. We have mentioned the challenges and how to resolve them in the following.
Challenge 1: Delivery issues
Reaching the inbox of your subscribers is one of the most significant challenges for an email marketer.
This problem can be solved by:
Remove unresponsive individuals

Testing and validating email ids before sending

Having an active sun-set policy
Challenge 2: Avoid being spammy
Landing in the inbox and not the spam folder is a huge challenge. This can be resolved by:
This problem can be solved by:
Sending relevant emails

Regularly update your mailing list

Make it easy for the users to unsubscribe to avoid spam complaints

Domain warmup

Monitor and work on your sender's reputation
Challenge 3: Design problems
One of the major challenges of email marketing for small businesses is that people receive emails on different gadgets. Hence, the responsive design is a must so that readers can view the email comfortably, regardless of the device they are using.
However, creating responsive design requires development work which could be a huge challenge for you.
This problem can be solved by using an email marketing platform that can help you create responsive emails without any hassle.
In email marketing, one needs to become strategic and do smart work. Not everyone will want your services, but your work is to find the customers.

Find the ones with the wants and desires. Some people need your product, and some people want it. So, focus on ideas and plans to make your marketing campaign appealing.

It is better to keep a conversational tone, even if email marketing sounds professional. How you communicate and the style of conveying play an important role.
Nathan Hughes, Head of Marketing @Diggity Marketing
Creating an email marketing funnel
An email funnel is a process and journey to convert your target audience to leads to customers through a mix of informative and promotional content.
The biggest disadvantage small businesses face over large-scale businesses is the awareness of their product among regular folks. Hence, it becomes even more important to have a detailed and robust email marketing funnel for small businesses.
Below are the four stages for building an email marketing funnel:
Stage 1: Building your email list
An email list generally refers to the subscriber base you build through your website or blog. Building your email list is the first and most important stage of an email marketing funnel.
Some of your contacts may unsubscribe or opt out of your email campaigns if your emails lack relevance or interest in your product.
Email list enables you to keep your potential customers engaged and nurture them through their journey. While email marketing strategy and campaigns generally revolve around conversion, growing your email list is an important goal that calls for its own strategy and plan.
You can generate leads in two ways.
1. Add opt-in forms on the website or dedicated landing page
The landing page educates your viewers about you and your work. It gives them a fair idea of what value you can add by email communications. Hook up the form to your email campaign.

Source: Zapier
2. Lead magnets (ebooks. Checklists. Newsletters, etc.)
A lead magnet is a free service that is provided to gather data from your viewer. Examples of lead magnets includes, ebooks, checklists, newsletters, product samples, case studies, surveys, and polls.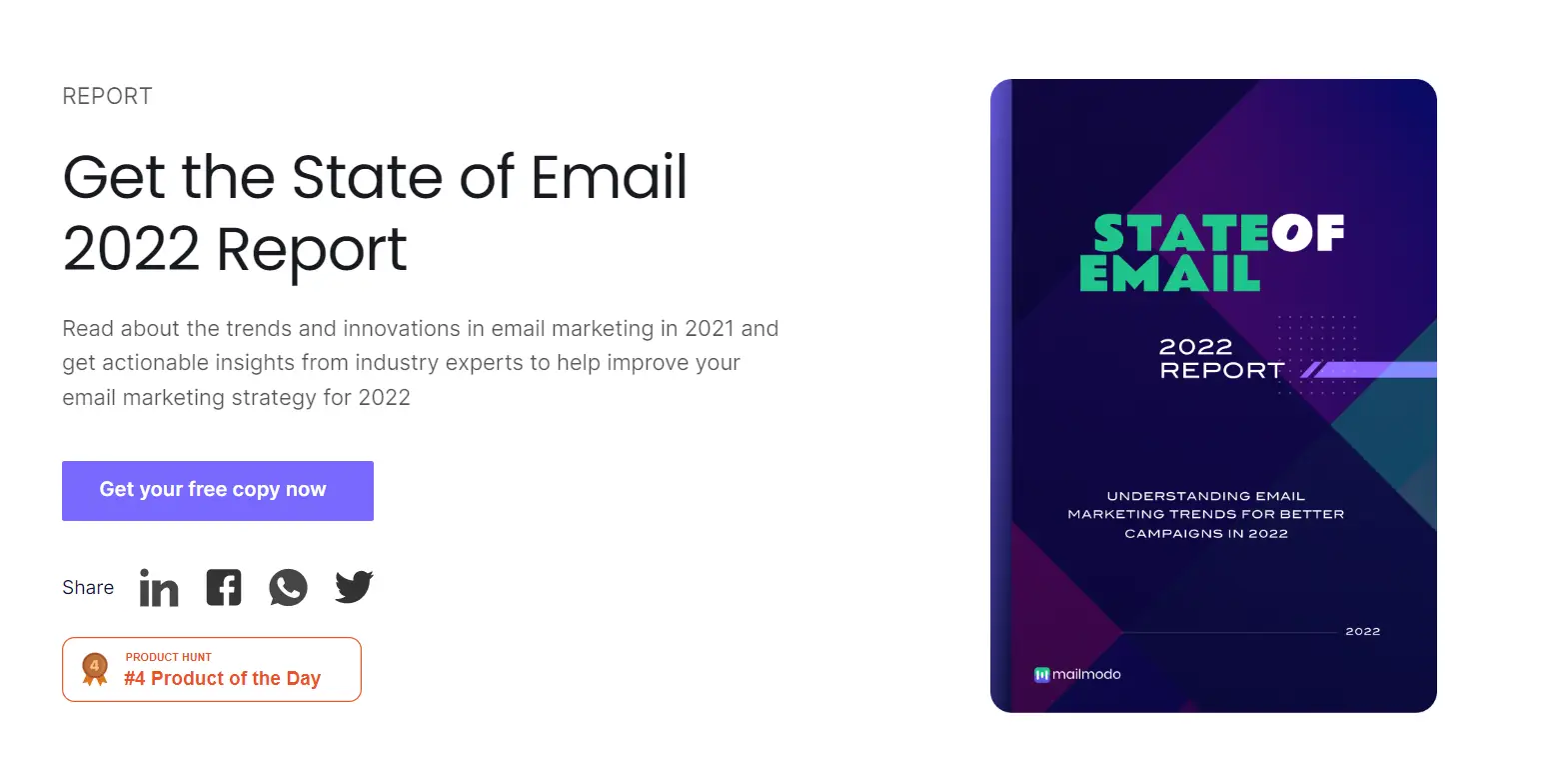 Source: Mailmodo's State of Email Report
Stage 2: Nurture your leads
Once you get a lead, you should keep engaging and nurturing them by sending them the most relevant and personalized information. Lead nurturing helps you gain their trust and increase the chances of them becoming paying customers.
Here is an example of a lead nurture email:
Source: Really Good Emails
Stage 3: Convert leads into customers
If your customer has crossed the first two stages, it is highly likely that they will become a customer. To ensure that, you can give them time-sensitive offers, send them emails about the products they are interested in, etc.
Here's a cool labor day sale email template you can use:
Stage 4: Retention of customers
Being an SMB, you can't miss out on any customer. So it is important to convert your occasional customers into regular customers. You can do these things to convert every customer to a regular customer:
Good customer support

Keep your customers engaged and updated about your product

Offer incentives to them for being loyal customers
How to set up email marketing for your small business?
To set up a robust email marketing channel for your business, we recommend you follow these steps:
Create your email strategy and plan

Choose an email marketing platform

Choose the type of emails to send

Design to perfection

Set up the campaign

Track the results and optimize

Automate further
Step 1: Create your email strategy
Failure to plan is a plan to fail.
Defining your strategy and plan in the early stage of email marketing is very important for SMBs as they have very little time at hand and no money to waste. Here are points your email strategy should address.
Email marketing goals are the targets you want to achieve from your campaign. Without goals, you will not have a clear path to follow, reducing the ROI of email marketing campaigns for your business.
The target audience is the group of individuals your campaign is aimed at. These individuals are most likely to convert to actual customers based on the targeted email campaign you send. Finding your targeted audience and marketing your product to them only saves time and resources, which becomes crucial when you are an SMB.
The frequency of your emails mainly depends on your target audience, the marketing strategy, and the type of business you own. Therefore, finding the right frequency of emails is very important for a successful marketing campaign.
You should have a plan to follow up for optimal conversion. Statistics show that only 20% of the leads are followed up, resulting in a low customer conversion rate and being an SMB, you can't afford to miss out on any lead/customer.
Chalk out a strategy over a period of time for sending different campaigns, as per your business requirements, customer profile, and journey.
Step 2: Choose an email marketing platform
Getting the best result from your email marketing campaign while saving time and money is the most important goal for an SMB. Email marketing platforms are meant to help you with your goals in the most efficient way.
However, every SMB requires different features based on the domain of the business. So it becomes important for SMBs to find the perfect email marketing platform for them. Below are the factors/features you should consider as an SMB owner while choosing an email marketing platform.
Cost-effectiveness of the platform

Number of emails you want to send and the number of emails the platform allows you to send in a month

Does the platform have a drag-and-drop email builder?

How the platform helps you in list management?

How the platform helps you in segmentation and personalization?

Customer support of the platform
Step 3: Choose the type of emails to send
Now you have your strategy and email marketing platform in place, it's time to decide on the email campaign you need to send to your audience.
Your small business email marketing objective will directly impact the type of email you send. In light of this, you can send the following types of emails:
👉 Transactional emails
Transactional emails are automated emails that are sent based on the customer actions on your website. Some examples of transactional emails are abandoned cart emails, password reset emails, account alert emails, etc.
Here is a transactional email example from Squarespace:
👉 Promotional emails
Promotional emails are emails sent to drive sales and revenue for the business. They notify customers about offers, events, product launches, and more.
Here is an example of a promotional email:
👉 Email newsletters
You can send newsletters to educate and engage your audience with regular informative content, product updates, and more. You can send weekly or monthly newsletters depending on the engagement and content production.
Step: 4. Design to perfection
It's time to create the email content and design to help you stand out from the hundreds of daily emails your audience receives.
Email content best practices:
👉 Focus the messaging on your audience
👉 Keep it simple and avoid jargon
👉 Write short email content
👉 Nail the subject line
👉 Humanize the email
👉 Include a clear CTA
Email design best practices:
Your email service provider should have an email templates gallery where you can pick one based on your campaign needs and start designing it.
Or else, you can create the email design from scratch using the drag-and-drop template builder.
👉 Use responsive email design to suit various devices
👉 Create interactive AMP emails to delight your audience
👉 Use minimalistic email design with clear messaging
Step 5. Set up the campaign
Hurray! You are now all set to send your first email campaign. But before doing that, make sure to test your emails to avoid errors.
You can send test emails to verify the email or use the email testing tools available to create error-free campaigns. Also, segment your audience list to send the email campaign to the right people.
Step 6. Track the results and optimize
Tracking your email marketing metrics helps you understand your marketing campaign success. In addition, tracking enables you to understand which strategy works, and as per the success rate, you can optimize your marketing strategy and get the best results.
Step 7. Automate further
Email automation helps connect with your audience at the right moment with the right messaging. For example, you can send welcome emails to customers who sign up on your platform or purchase your product automatically to create better relationships and guide them to use the product.
Here is an example of a SaaS welcome email automation flow that you can use: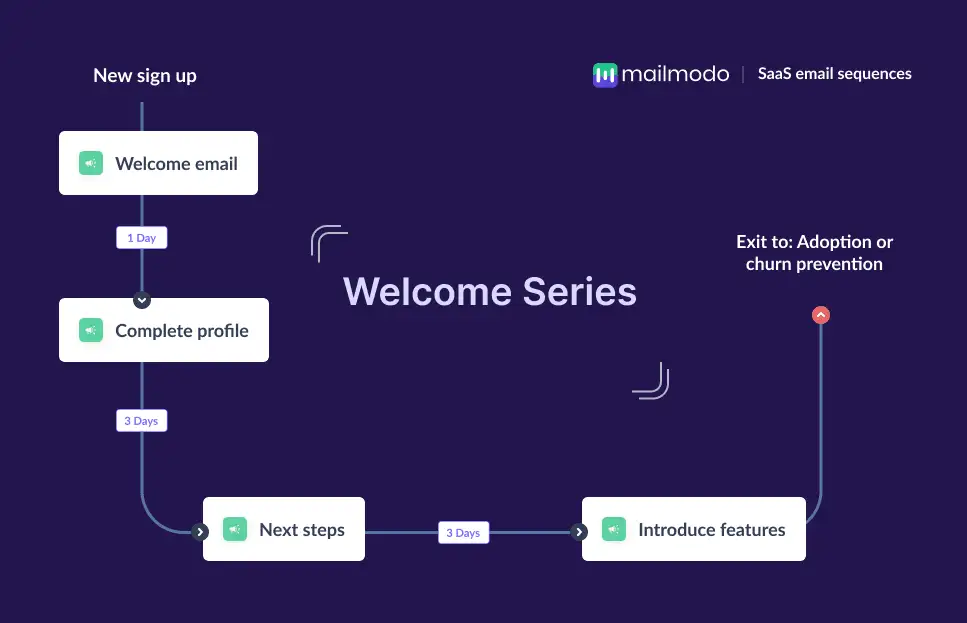 Best email marketing services for small businesses
Here are the few best email marketing platforms you can use to level up your marketing.
1. Mailmodo
Mailmodo is the best email marketing service for small businesses and startups. It offers the best in class features like interactive AMP emails, deliverability service, and email automation at a low cost compared to other service providers.
Pricing: We offer a 21-day free trial for all users. Post that, our plan starts at $49/month for 40,000 contacts and 75,000 email sending credits.
Review on G2 - 4.5 out of 5
Review on Capterra - 4.6 out of 5
"We switched from Mailchimp to Mailmodo to explore interactive emails and direct checkouts. Customer actions in the email helped us scale up faster." - Ridhima Achaliya, Growth Marketer at Traya.
2. Mailchimp
Mailchimp is the pioneer in email marketing. They offer some great features like automation and advanced segmentation to help you engage and convert your prospects. It is suited for businesses with larger subscriber lists and can be a little overwhelming.
Pricing: Mailchimp offers a freemium plan with a 500 contact limit. And the pricing plan starts at 9.30$.
Review on G2 - 4.3 out of 5
Review on Capterra - 4.5 out of 5
3. Sendinblue
Sendinblue is another great email marketing software for small businesses to create and send their email marketing campaigns. It comes with cool features like an easy email editor, email A/B testing, and more.
Pricing: Sendinblue offers a free plan with the ability to send 300 emails per day. The pricing plan starts at $25 for 20,000 emails per month and increases depending on your email-sending volume.
Review on G2 - 4.5 out of 5
Review on Capterra - 4.5 out of 5
4. ActiveCampaign
ActiveCampaign offers various marketing tools to help marketers grow their businesses. It offers great features like email A/B testing, CRM, and other automation capabilities. But the email editor and the platform itself are not-so beginner friendly.
Pricing: ActiveCampaign doesn't offer a free plan. Their basic plan starts at 29$ per month for 1000 contacts.
Review on G2 - 4.6 out of 5
Review on Capterra - 4.6 out of 5
5. Moosend
Moosend is another great tool for sending better email campaigns and other marketing automations. It offers easy-to-use email editing, automation, landing page builder, and more.
Pricing: Moosend offers a 30-day free trial for all users, and the paid plan starts at 9$ per month for 500 contacts.
Review on G2 - 4.7 out of 5
Review on Capterra - 4.7 out of 5
Get a sample AMP email in your inbox
Experience the power of interactivity right now
Conclusion
You should now have a clear idea about email marketing for your small business and how you can leverage it to grow your revenue. But as a beginner, it is hard to get started.
But with the right tool and support, you can start attracting customers to your business faster. Sign up for Mailmodo and send interactive email campaigns like this 👇.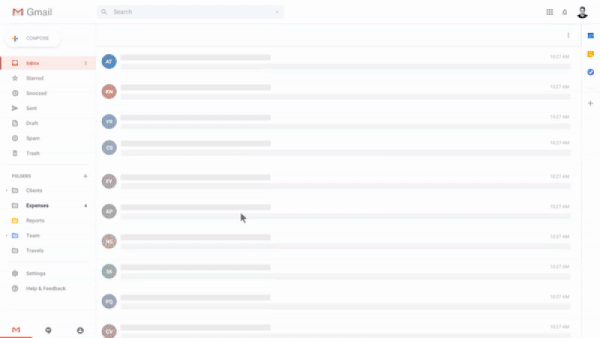 Email marketing FAQs:
How effective is email marketing for small businesses?
Around 64% of SMBs use email marketing as their primary customer acquisition channel. So, email marketing is still one of the primary revenue generation platforms for startups and small businesses. And it yields high ROI with low investment. You can set up the campaign once and automate it further.
Which email marketing software is best for small businesses?
Mailmodo is one of the few email marketing platforms that support interactive AMP emails. Interactive emails help increase conversion rates. You can insert forms, calendars, shopping carts, etc., directly inside the email.
How should small businesses do email marketing?
Here are a few small business email marketing tips for 2023:

Always clean up your email list and segment them.
Never buy an email list.
Create an effective sunsetting policy.
Warm up your email domain properly.
Authenticate your email domain.
Abide by email privacy laws.
Use a clear subject line and CTA.
Keep your copy concise.
Always test and preview your email.
Avoid unnecessary redirects or use AMP emails to reduce drop-offs.
What are a few email marketing ideas for small businesses?
5 must-use email marketing ideas for SMBs:

Create a weekly industry specific newsletter.
Send surveys to get feedback on your product.
Run referral email campaign.
Automate welcome emails to create relationships instantly.
Make use of seasonal offers and campaigns.
Include social proof/testimonials to create trust.
Send nurture email campaigns.
Send creative quizzes to boost engagement.
Use spin the wheel widget inside email to gamify email campaigns.
What you should do next
Hey there, thanks for reading till the end. Here are 3 ways we can help you grow your business:
Talk to an email expert. Need someone to take your email marketing to the next level? Mailmodo's experts are here for you. Schedule a 30-minute email consultation. Don't worry, it's on the house. Book a meet here.

Send emails that bring higher conversions. Mailmodo is an ESP that helps you to create and send app-like interactive emails with forms, carts, calendars, games, and other widgets for higher conversions. Get started for free.

Get smarter with our email resources. Explore all our knowledge base here and learn about email marketing, marketing strategies, best practices, growth hacks, case studies, templates, and more. Access guides here.