In today's competitive digital landscape, businesses need to go beyond sending generic emails. It's crucial to use targeted email campaigns that not only compel your subscribers to take desired actions but also engage them effectively. If you're sitting on an email list and are looking to figure out what types of email campaigns will work best for your customers, keep reading.
Table of contents
Types of email campaigns
Several new forms of communication have emerged in the last decade, but the popularity of email has remained steady. If these numbers are anything to go by, email marketing is here to stay. Strategic email marketing campaigns have great potential. Through this article, we'll explain eight different types of email marketing campaigns and when you should use them.
Before we dive deep into this, it is important to understand the difference between two broad categories of emails: transactional and promotional emails.
• Transactional emails
These are automated emails sent in response to a customer's action or inaction. Order confirmations, shipping notifications, password resets, and account updates are some of examples of transactional emails.
Here's an example of an account alert email by Mailmodo. Account alerts are sent to inform users when there is any suspicious activity detected.
Related guide: Transactional Emails: Use Cases, Tools, And Best Practices.
• Promotional emails
These emails usually contain a commercial message to drive purchases or other conversions. These can be automated or sent manually. Emails announcing exclusive offers, new products, deals, and giveaways are considered promotional emails.
Customize this e-book launch email template
These two kinds of email campaigns form the conceptual bedrock for defining your email marketing strategies. Promotional emails are oriented toward achieving sales and marketing objectives for a business.
Here, we present eight types of promotional email campaigns which you can use to boost growth and build an engaged customer base for your business.
1. Email newsletters
Newsletters are used to keep your subscribers updated about your business, products, and services. They are sent periodically, and their primary purpose is to provide useful and relevant information to your audience rather than be one of the primary selling tools.
As per studies, newsletters are the most popular type of email, with more than 83% of companies sending them. In fact, 81% of B2B marketers say their most used form of content marketing is newsletters.
Newsletters with AMP emails
With AMP email, you can send newsletters that are appealing and interactive.
For example, you can include fun layouts to make your newsletter look like a web page rather than basic, static text. Also, you can add dynamic ratings for your content pieces . Check out this email newsletter by Mailmodo. The emoji rating at the end is interactive as recipient's won't be redirected to a page once they give the rating.
Related guide: 10 Email Newsletter Best Practices To Follow In 2022
2. The classic promotional campaign
As the name suggests, these emails are used to promote your products and services. The goal is to increase awareness about your business, generate sales, and build customer loyalty. If done well, promotional emails can be incredibly effective.
Studies suggest that over 77% of people prefer to get promotional messages via email. Also, customers who make product purchases via email spend 138% more than those who don't receive email offers.
Promotional emails with AMP emails
AMP emails are a boon for businesses because it allow your customers to purchase and complete the order within the email, without having to open another tab.
This increases the probability of people making the purchase higher, leading to an increase in revenue.
AMP also allows you to depict your products better and provides dynamic updates of price, quantity, and other important information to the customer.
Check out this spin-the-wheel widget in promotional emails giving discount deals once users engage with it.
Customize this spin the wheel email template
3. The onboarding campaign
The onboarding email sequence welcomes new subscribers, users, and customers. The aim is to introduce yourself to them and tell them more about your website, business, or event to inform them of their journey with you. These emails are very important because they help build a rapport between your business and your users.
As per Campaign's Monitor's reports, they have an open rate of 91.43%, an average read rate of 34%, which is 42% higher than the average read rate of any other email.
Onboarding with AMP emails
Since onboarding emails introduce your brand to your customer, ensuring they are done right is very important. AMP email allows you to add interactive widgets such as calendars to book demos or forms and surveys to collect feedback.
Adding a calendar in onboarding email is a great way to let users connect with you if they face any issues. Here's an example of an embedded calendar in onboarding emails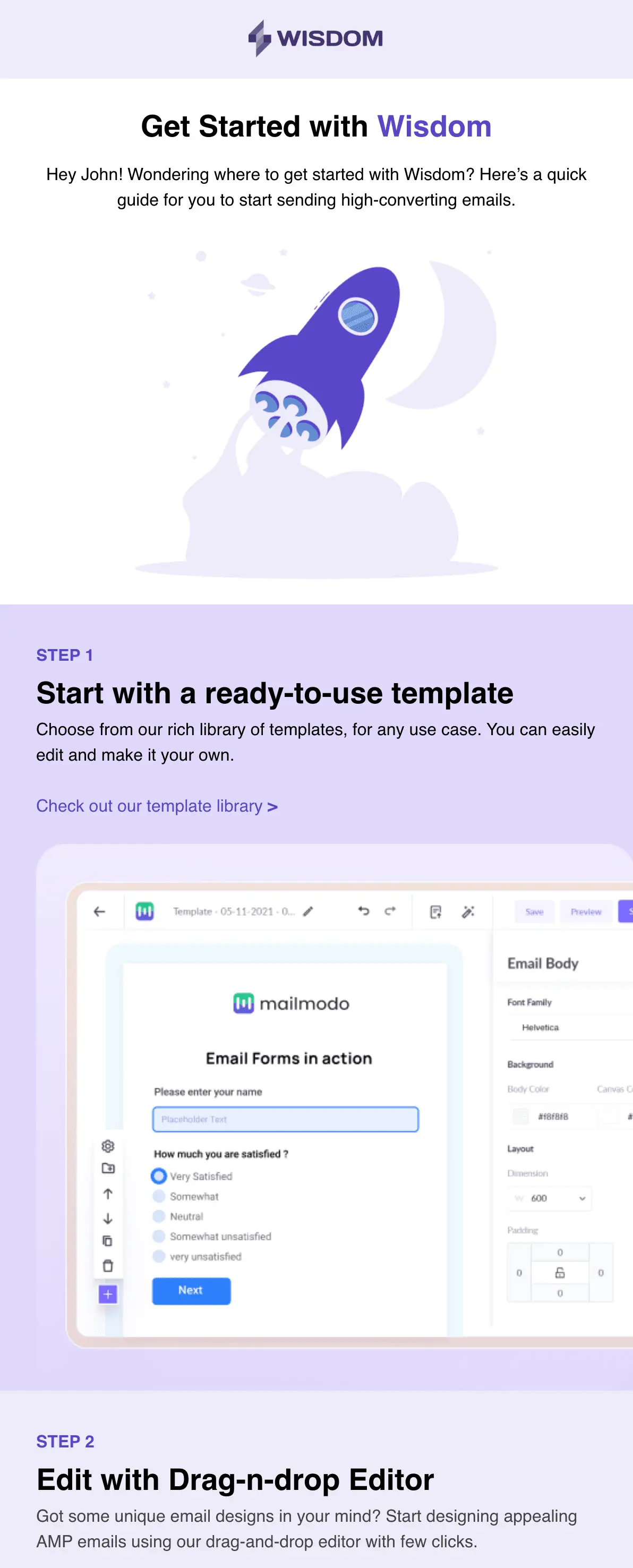 Checkout more interactive onboarding email templates
4. The lead nurturing campaign
This email campaign consists of a series of emails with content aimed at moving a lead through your sales funnel and converting them into a customer. These lead nurturing emails can consist of content about your product, testimonials from customers, and videos that can gently nudge your user into buying the product.
As per Hubspot, lead nurturing campaigns have a higher click-through rate of 8% as compared to general emails.
Lead nurturing with AMP emails
With AMP emails, you can embed videos, testimonials, and surveys in your emails without making them heavy and difficult to load. You can also include an interactive calendar for demo bookings and appointments and add dynamic ratings for campaigns, features, and products.
As a result, you can enhance your brand image with superior quality interaction, and your leads will move faster through the sales funnel.
5. The seasonal campaign
These emails are designed around major festivals and holidays. From Valentine's Day to Christmas, you can capitalize on several opportunities throughout the year to engage with your users, generate a buzz around holiday offers, and boost your sales.
People tend to spend more around festivals and holidays. According to data, the five days around the festival of Diwali accounts for nearly 40% of annual consumer spending in India.
Similarly, the average American spends about $1200 in the holiday period. You can generate great revenue through these seasonal campaigns if you plan your campaigns strategically.
Check out our guide 12 Tips to Better Your Email Marketing Game for The Holidays.
Seasonal email with AMP emails
Since these emails need to be vibrant and festive, AMP email can help you by allowing you to experiment with various layouts and styles. Also, you can sell within the email with interactive carts and product recommendations.
You can also provide dynamic price and quantity updates, making it super convenient for your customers to check out, hence improving your conversion rates.
Here is an example of an interactive seasonal email by Mailmodo. By adding interactive polls in the email, recipients can see the results in real-time making it more interesting than static emails. Such emails tend to get you higher conversions due to increased interactivity and less friction.
Checkout more interactive seasonal email templates
6. The abandoned cart campaign
These emails are sent when someone visits your website, adds a product to the cart but doesn't complete the purchase. The goal is to nudge the user into completing the purchase. You can even offer an incentive for completing the purchase, such as a discount or cashback.
Cart abandonment is very common. The average rate for online cart abandonment is 70%. Sending a follow-up email, reminding the customer to complete the purchase can boost conversions. If sent in the same hour, these emails can increase conversions by 6.3%.
Abandoned cart recovery with AMP emails
With AMP email, you can provide your users with an interactive interface and presentation of e-commerce products. As a result, they can complete the purchase without opening a new tab or leaving the inbox. This leads to an improved recovery rate of abandoned carts.
7. The survey and forms in email
There are many occasions when you need to hear from your customers. Whether it is for technical research, collecting customer feedback, testing product concepts, or gathering data for customer satisfaction, surveys are a great tool to collect information. Survey emails allow you to get your customers' thoughts, insights, suggestions, and feedback to improve and expand your business while making them feel valued.
The average response rate for email surveys is around 25%. But, this can go as high as 85% if you execute the survey properly.
Survey and forms with AMP emails
AMP email allows you to send interactive, multi-step forms to your customers inside the email itself. They can respond to such a survey without going to a landing page. The convenience offered by this feature leads to higher response rates and hence, better feedback and engagement.
Here's an example of how you can use AMP email forms to collect more feedback from the recipients. The form allow you to add variety of questions.
Checkout this customer support feedback email template
8. The invitational campaign
These emails are used to invite your users to meetings, events, product launches, webinars, special promotions, conferences as well as milestones and festive celebrations. They may also invite the user to test out a new product or book a demo to better understand a product or service.
According to Eventbrite and Emma, 40% of event creators say that event invitation emails are the most effective event marketing materials.
Invitations with AMP emails
With AMP email, you can send interactive calendars and forms within the email to collect user preferences. You can even update event dates, locations, and times dynamically. Also, your customers can RSVP for events or book demos at the click of a button, leading to improved acceptance rates.
Some popular campaigns
Apart from the above, a few other popular terms are used to refer to email campaigns that we are mentioning below. These terms are mostly derived from the nature of prospects and sequence and frequency of interaction.
• Drip campaign
A drip campaign refers to a set of pre-written, automated emails sent to customers over a period that gently motivates them to complete an action such as making a purchase.
• Cold emailing campaign
A cold email campaign comprises emails sent to prospects who have had no prior contact with you to build relationships with them.
Conclusion
Email marketing can be the most effective tool in your arsenal of marketing strategies. If you're still on the fence about investing in an email marketing strategy, consider these statistics: Emails generate $42 on average for every dollar you spend, giving a massive return on investment. While the software and technology industry sees an average ROI of 40:1, for industries such as travel and hospitality, the return can be as high as 53:1.
Developing strategic email campaigns for your business can boost your growth. AMP email can simplify this process for you and make your email marketing campaigns incredibly effective. Harness the power of email marketing to grow your business and build strong, lasting relationships with your customers.
What you should do next Hey there, thanks for reading till the end. Here are 3 ways we can help you grow your business:
Talk to an email expert. Need someone to take your email marketing to the next level? Mailmodo's experts are here for you. Schedule a 30-minute email consultation. Don't worry, it's on the house. Book a meet here.

Send emails that bring higher conversions. Mailmodo is an ESP that helps you to create and send app-like interactive emails with forms, carts, calendars, games, and other widgets for higher conversions. Get started for free.

Get smarter with our email resources. Explore all our knowledge base here and learn about email marketing, marketing strategies, best practices, growth hacks, case studies, templates, and more. Access guides here.