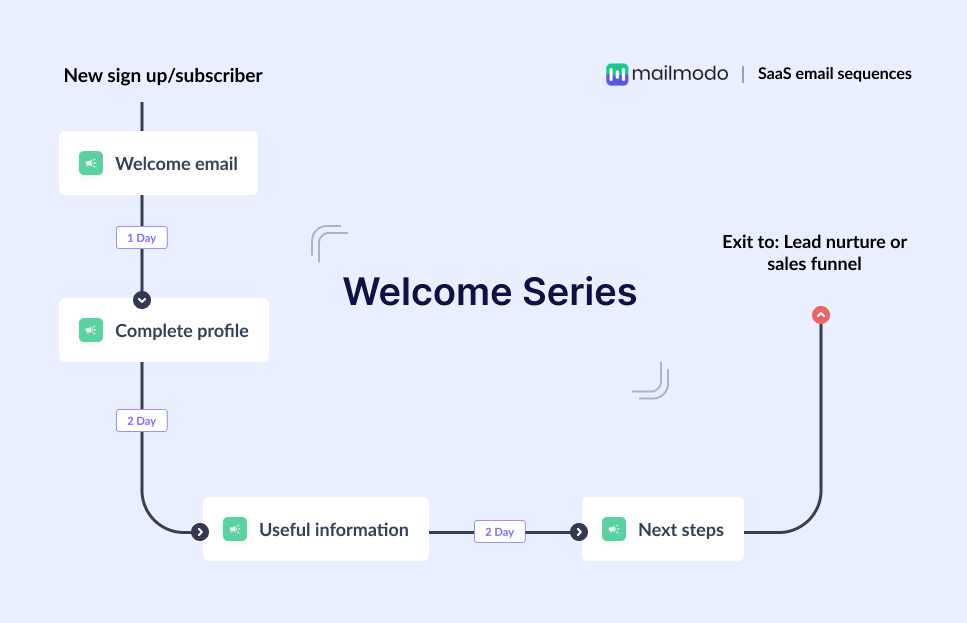 What is Welcome email sequence?
A welcome email sequence is sent to an audience who has shown interest in your offering by signing up for your product or subscribed to your newsletter. It is the beginning of your prospect's journey with your brand.
🎯 The goal of this sequence
Welcome email allows you to introduce your brand and set expectations on what they will get from you.
Guide users to the next steps

Find out your audience's preferences

Move them further along the funnel

Helps you connect with your subscribers and start the conversation
For high-touch SaaS, the goal is usually booking a demo or talking to a sales representative. For low-touch or self-serve models, it is to provide the audience with the knowledge to set up and use the product.
💼 Expert tip
"Most welcome email series to try to convert new prospects into customers. Sequences like the lead nurture series do the same. Marketers need to avoid the intersection between welcome series, lead nurture, and in some cases, onboarding.
If your goal is to drive the conversion, it's best to remove them from the welcome email flow if they are on the "conversion path." If your goal is to increase awareness, introduce the brand, and so on, you can keep them in the welcome email flow."
-Jonathan Nail, Chameleon Collective
Recommended emails in this sequence: 4 emails
Optimum flow time: 1 week
Emails in this sequence
Email # 1: Welcome email
📩 Why this email
Thank your subscribers, introduce your brand and explain what emails they can expect from you. This email will also decrease spam complaints and unsubscribes in the future as people are made aware that they have subscribed to your email list.
💼 Expert tip
"Send your initial welcome email instantly; it will have the highest engagement rates, so make sure to include clear, impactful CTAs."
-Damian Wisniewski, Miter
Email # 2: Complete profile
📩 Why this email
Get more details such as name, location, and designation/company name to understand and segment better. Don't overload the email by asking for too many details. Ask for only the most important details. You can ask for the rest of the details later on in other emails.
💼 Expert tip
"Welcome series is a good opportunity to know your user preferences. It can be a good time to ask them how they want to receive communications and how often."
-Suryanarayan Pal, Mailmodo
Email # 3: Give useful information
📩 Why this email
Provide valuable information related to your niche that your subscribers would like to know.
✅ Best practice
Keep the information related to your niche but don't promote your product just yet.
Email # 4: Next steps email
📩 Why this email
Tell your user the next steps with your product and how to make the most out of your offering.
✅ Best practice
Keep the content brief and simple to get more people to follow the steps and click on the CTA. Automate the whole welcome sequence and save your time.
⛔ Sequence exit
Based on user actions (or inaction), send them to the cold nurture series, onboarding, or sales funnel.
Talk to an email expert. Need help? Schedule an email consultation. Don't worry; it's on the house.