Marketing is a long and ongoing process of acquiring, nurturing, and converting leads into paying customers. There are different channels, but email marketing is the top organic channel used by marketers. Why? Because it generates higher ROI than any other channel and offers direct communication with the prospective leads. So, having an email marketing funnel becomes indispensable.
This guide will discuss the importance of an email marketing funnel and how to create an effective funnel to get higher returns.
Table of contents
What is an email marketing funnel?
Email marketing funnel is a strategy to help marketers study prospects' journey and move them from prospects to paying customers by nurturing them with educational, promotional, and value-giving emails. It helps to visualize the path prospects go through from their first interaction till conversion.
The four stages of the email marketing funnel are:
Lead generation

Lead nurturing

Lead conversion

Customer retention
We will be discussing each stage later but first, let's talk about the importance and need for an email funnel.
Why do you need an email marketing funnel?
Having an email marketing funnel, a sub-part of your broader marketing funnel is crucial for the following reasons:
✅ Email generates higher ROI than other organic channels
As per DMA 2021 email generates a higher ROI than any other organic channel, 51.52 USD for every dollar spent. So, it makes email marketing an effective channel to nurture and convert leads.
✅ More economical to retain existing customers
Depending on your industry, it's at least five times more difficult to get new customers than to keep older ones. With an email funnel, you get familiar with your existing customer's journey and can use that to retain them and make your loyal customers.
✅ Understand user's journey
With a well-planned funnel strategy, you can deep dive into users' journeys and get to know them. It helps you treat them as individuals, not just sales leads. Hence, you can develop stronger connections with them, leading to a long-lasting relationship.
Related guide: How to Build Customer Journey Maps for Your Buyer Personas
✅ Create a positive brand experience for the users
You can consistently engage with your subscribers and send them relevant and valuable content. It creates a positive brand experience for the users and helps you build trust and credibility among them.
Now that you know the need for an email funnel, let's break down the stages to create an effective funnel.
How to build an email marketing funnel
An email funnel will look different depending on your industry, products/services, and goals. But, in general, the following stages are the same for every brand:
Stage 1: Generate leads
The first step is to build a list of subscribers, i.e., an email list. It is the most fundamental tool in your marketing arsenal that will pave the way for an effective email funnel. To do that, you must identify your target audience, engage, and communicate with them to encourage them to become a part of your email list.
There are many ways to acquire leads to build an email list, but we will be focusing on two widely used tactics: Opt-in forms and dedicated landing pages.
1. Opt-in forms
Opt-in or signup forms are links on different pages of your website, such as the home page, blog pages, etc., through which leads can become a part of your email list. When users are interacting with your website, they can enter their email addresses to get your brand's newsletter, promotional emails, and other types of email campaigns you send.
Related guide: 12 Newsletter Ideas To Try Out In 2022.
But, to make users share their emails, your opt-in pages must offer them what they are looking for.
For instance, Mailmodo offers a signup link on their homepage and guide page. Both opt-ins highlight benefits and what's in it for the leads if they sign up.
2. Create landing pages with the right lead magnets
Another way is to create a dedicated landing page with a lead magnet - informative and interactive webinars, event recordings, ebooks, checklists, audio sessions, etc.
The purpose of a landing page is to give users free and useful content in exchange for their contact details. Landing pages are a win-win situation for both parties- users get free valuable content, and you get the leads to nurture.
To get leads via a landing page, you must determine the content and free resources that are most in-demand and popular among your leads. You can experiment with different lead magnets and then distribute them to attract leads to your landing page. If you give leads what they are looking for, they will sign up.
An example of an effective landing page is our video landing page. We conduct interviews and discussions with industry experts on various topics. All the videos are added on this landing page, and through distribution, we drive leads here. It helps them get the valuable and latest information and encourages them to subscribe.
Related guide: A Beginner's Guide to Lead Generation For Generating High-Quality Leads
Stage 2: Nurture leads
Lead nurturing is the process of building relationships with your leads across channels via promotional, engaging, and informational campaigns. With lead nurturing, you can:
Educate your prospective customer about your brand and products.

Showcase what makes your brand unique.

Guide them throughout the buying process.
Once you build your list of leads, you need to nurture them and keep them engaged. Before moving further, segment your email list based on different criteria such as their preferences, demography, past interaction with your emails, geography, etc. You can get this data from your website and ESPs analytics. Once you have done that, you can send the following emails to nurture leads:
1. Send onboarding or welcome emails
You can thank them for becoming a part of your brand and then offer them informative and valuable content, such as a list of blog posts to read, webinars to watch, an overview of your brand and your values, etc.
This welcome email by lightroom is a great example. They thank the users and give them a glimpse of what's to come.
Source: Really Good Emails
Related guide: Welcome Email Series for E-commerce and D2C Brands
2. Share free and valuable content
You can offer relevant and valuable content such as webinars, blogs, and ebooks to educate them. A good example is this email by Litmus:
Source: Really Good Emails
You can get your leads more engaged if you personalize the email experience.
For example, If you are a retail brand and have your stores located in different locations, you can use the user's locations to send personalized emails. You can send emails about your locations and the benefits they can get.
Some great examples of using location to send personalized emails are as follows: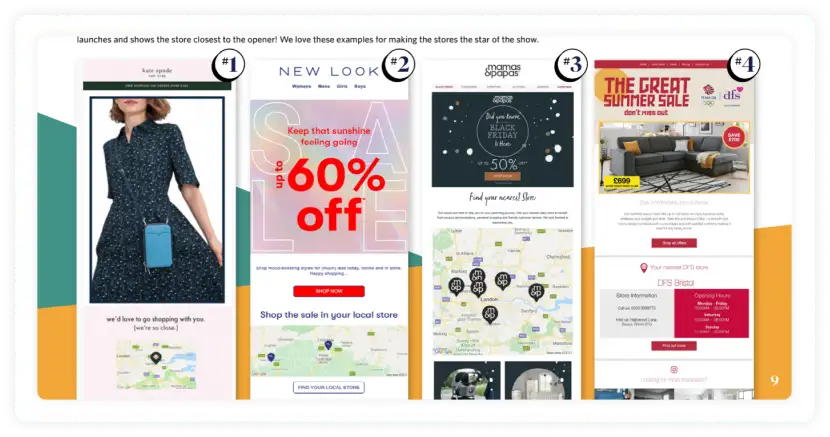 Source: Kickdynamic's Best Live Emails of 2021
Stage 3: Encourage them to convert
The first two stages were the stepping stone to push users to the actionable stage - conversion. If your leads made it to this stage, it means they are familiar with your industry, brand, and products. They decide their final decisions about your brand; all they need is a little trigger to get them to convert.
Here are a few tactics you can use to get them to convert:
1. Use time-sensitive offers
People respond more to urgency due to fear of missing out. So, create urgency in your emails via countdown timers, limited coupon deals, exclusive birthday offers, etc.
An example of a count-down timer example by Opera:
Source: Really Good Emails
An example of exclusion deals in email by Uplers:
Source: Really Good Emails
2. Re-target leads with abandoned cart emails
If leads checkout and add items in the cart but didn't purchase, you need to send retargeting campaigns. First, check out your analytics and analyze users' behavior and interaction with your website. Then, use this data to send personalized abandoned cart emails to push them towards completing their transaction.
An example of an abandoned cart email: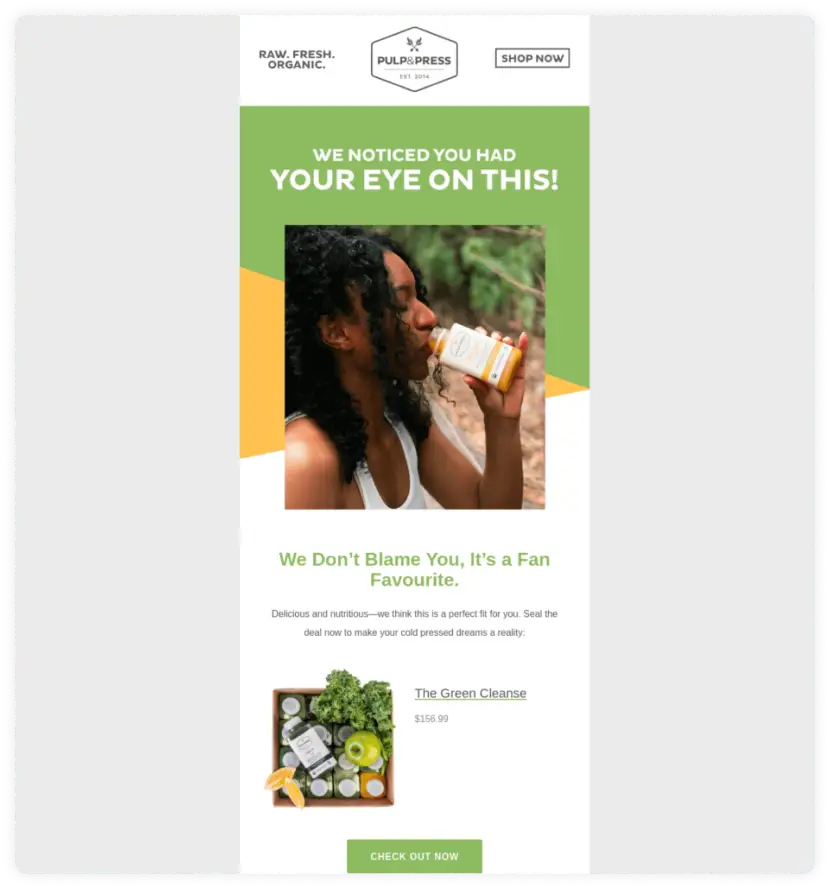 Source: Really Good Emails
The limitation of sending HTML emails is that users need to go through many redirects to complete the action. So, to make users' journey less redirecting, you can choose to send AMP emails. AMP emails allow users to complete an action without leaving their inboxes. It means less friction in the sales funnels thus more conversions.
An example of AMP abandon cart email looks like this:
Note: Users cannot make payment within their email, even with AMP emails. Read why.
Stage 4: Retain your customers
Your work doesn't stop after a lead makes a purchase. If you leave them there and focus on acquiring new customers, you won't have a loyal list of subscribers. Retaining customers is essential as loyal customers will bring more potential leads via referrals and recommendations. You don't want to miss out on this.
So, here are the most effective ways to retain your customers:
1. Feedback and review emails
Asking for users' feedback can help them feel you care about their opinion and want to do better in the future. If you send out AMP forms, you can get a higher response as users can submit their responses within inboxes. The process will look like this:
2. Weekly wrap up and summary emails
Such emails keep users informed about their activities within their inboxes. In addition, you can also offer related content to help them get more of your product.
3. Product updates emails
With these emails, users can know about new features they can try out to get more work done efficiently. Hence, they stay engaged and happy.
For example, Mailmodo's product update email covers all the new features added recently for their users.
4. Send cross-sell email campaigns
You can use the user's behavioral data to send cross-sell emails like product recommendation emails, replenishment emails, and back-in-stock emails. Such emails are more prevalent in retail brands due to the variety of products and services.
Some examples of cross-sell campaigns: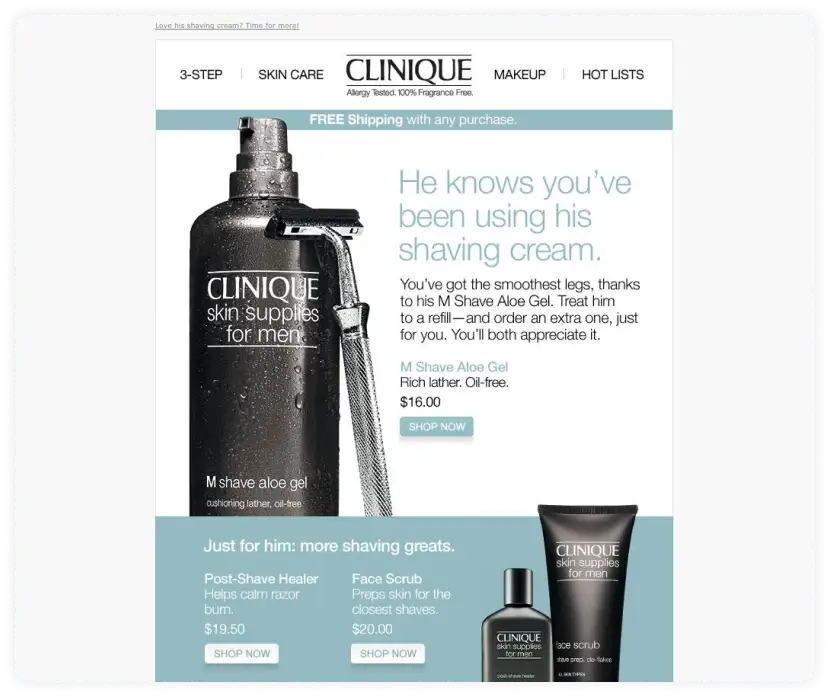 Source: Google
Source: Google
5. Use milestone email campaigns
These emails are specifically designed for individual users to make them feel special. When a brand remembers and celebrates small things about their subscriber, it counts. So you can send special deals and coupons for users' anniversaries, birthdays, etc.
For example, the Chipotle birthday email is a perfect example of milestone emails. They offer special discounts to users on their birthdays.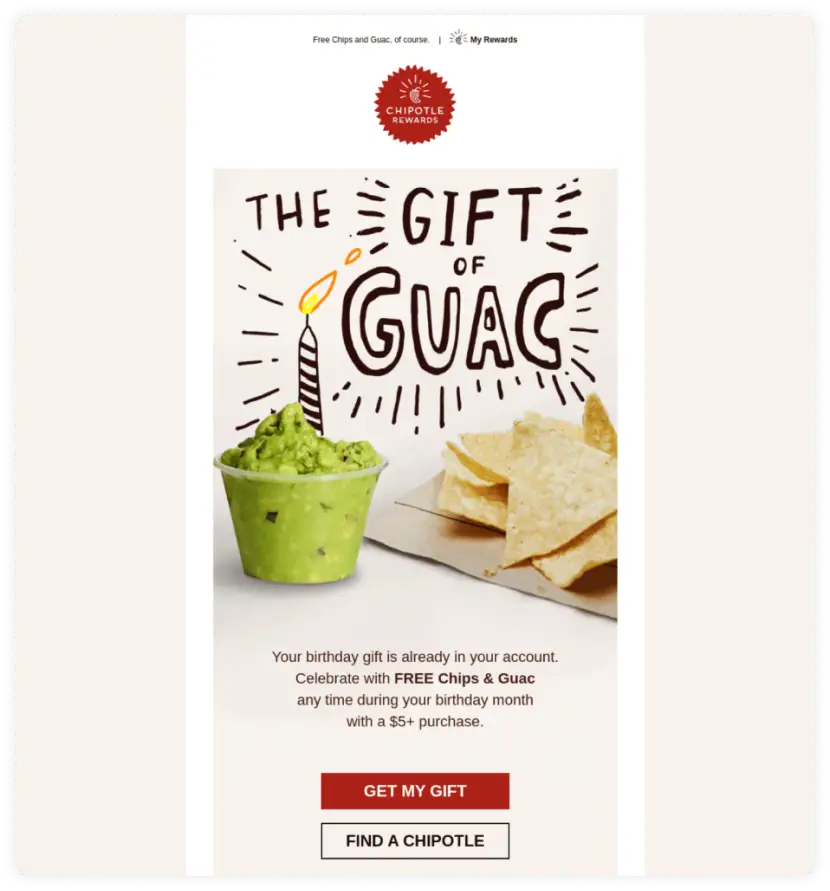 Source: Really Good Emails
Wrap up
A well-planned email funnel will get you higher conversions and ROI. But, for that, you must be patient and consistent in your efforts as you may not see results in just a few days.
Though the email funnel journey is common among all marketers, do not fear to craft a unique funnel for your brand that helps you achieve your goals. You must come up with ideas, test and refine your strategy consistently, and generate higher returns. In addition, you should analyze users' journeys and send them relevant, valuable, and informative content. And in return, users will reward you with brand loyalty and higher conversions.