Ed-Tech
AllRound drives customer engagement and achieves 28% form responses | Mailmodo
While there were several ESPs in the marketing, we wanted to make the process as seamless and easy as possible for the working parents.
Masoom Sekhar Sahoo
Marketing Manager
Overview
The Focus:
Improve customer engagement through email by reducing friction and exploring ways for customers to seamlessly engage with the brand.
How They Went About It:
Created visually appealing emails using the drag-and-drop, Mailmodo AMP editor.
Built interactivity into the email to enable user actions within the inbox with 2-way AMP forms and AMP polls.
Used the Mailmodo visual journey builder, triggered the above emails automatically based on relevant user behavior
The Outcome(s):
The customers took action inside email, driving 28% responses on feedback forms and 14% poll responses, driving AllRound's goal of increased customer engagement.
With the improved customer engagement, their customers were informed about new AllRound's initiatives and could offer feedback on AllRound services seamlessly. In the process, AllRound also gained valuable insights to deliver hyper-personalized services.
---
The Focus
As a global Ed-Tech platform that's on a mission to make co-curricular learning fun for kids, AllRound knows that to successfully provide value to the kids, customer engagement from their parents is important. But they found it a challenge to engage busy, working parents in a sustainable manner.
They explored email platforms to enable them to increase customer engagement in a sustainable manner. Not only did they want to inform on cohort notifications, important notices etc. but also to collect feedback, get workshop preferences etc. so that parents can actively participate in their child's co-curricular journey.
How They Went About It:
On exploration, they found Mailmodo. Mailmodo was not just the usual email marketing solution but it also enabled parents to take action with embedded forms, calendar bookings, surveys, and checkouts right within the inbox. With Mailmodo, the AllRound team aimed to prevent drop-offs due to redirection and enable user actions within the inbox.
Created Visually Appealing Emails:
For each email, they used Mailmodo's drag-and-drop, AMP editor for email creation and drafted feedback emails, polls, informative emails and much more. Being a co-curricular, K-12, Ed-Tech platform - it was important that the emails were visually appealing and the flexibility in template creation gave way to many design possibilities.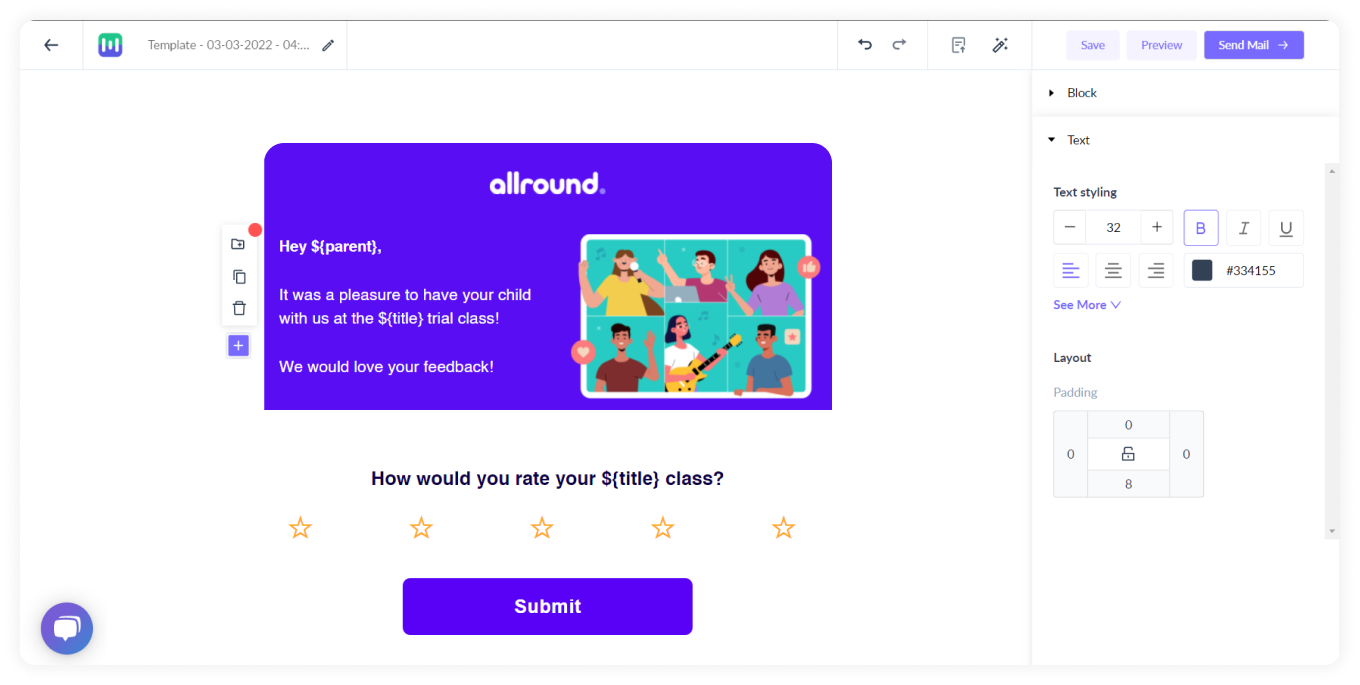 Set up Automated Email Journeys
Apart from sending these as one-off campaigns, they created an automated email flow with Mailmodo's visual journey builder. These emails were triggered to parents at specific times with targeted and relevant messaging.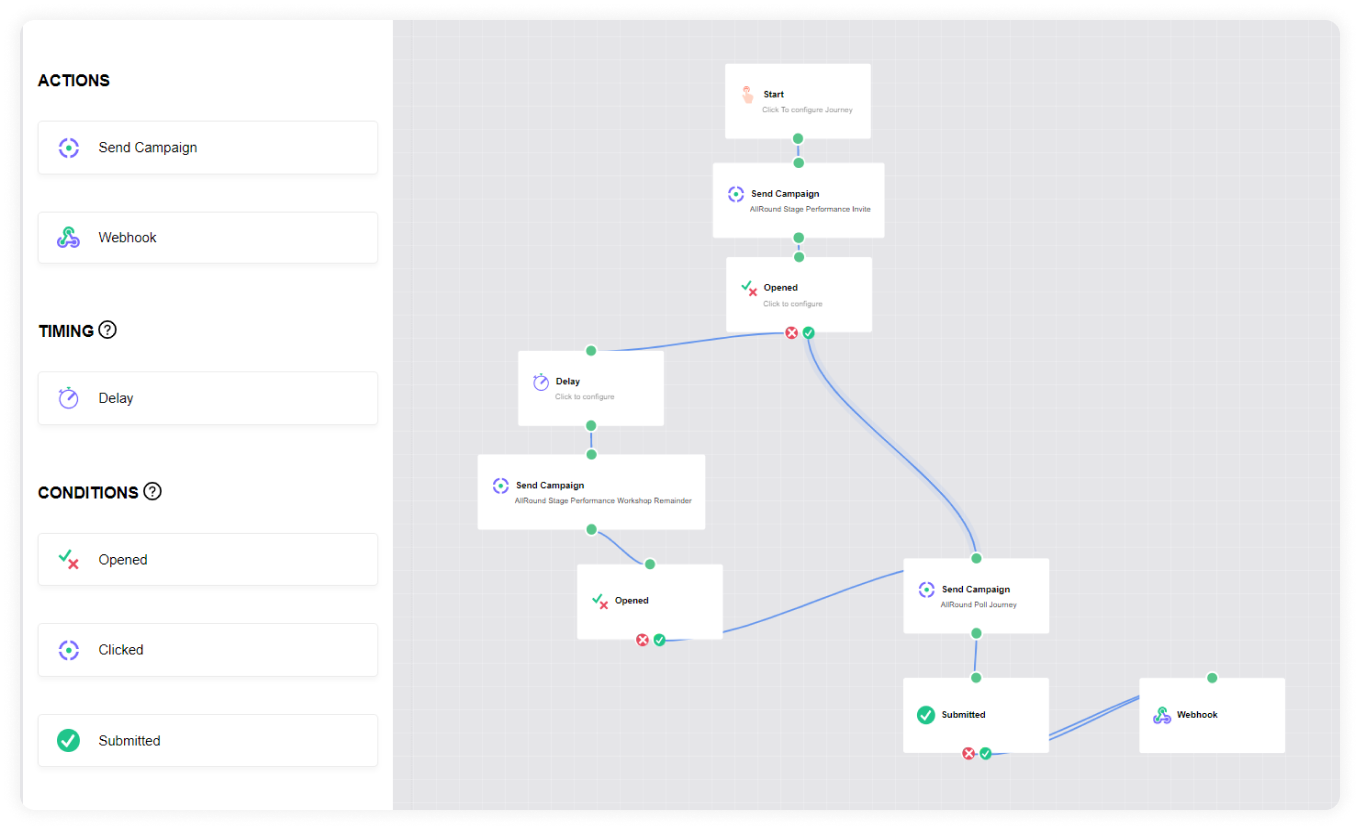 Incorporated Interactive Polls
Kickstarting their email marketing journey, Allround sent out polls to gauge the parents' interests in different topics, with the aim to provide workshops catered to parental interest. They also set up processes and email flows tailored to the poll responses.
With Mailmodo's built-in poll, busy parents could take action from the email, even on a hand-held device or while on the commute making it simpler. With the reduced redirections, the parents found it more convenient, hassle-free, and quick. The polls helped estimate demand and attendance for the workshops.
While there were several ESPs in the marketing, we wanted to make the process as seamless and easy as possible for the working parents.
- Masoom Sekhar Sahoo, Growth & Marketing Manager, Allround
Incorporated Interactive Feedback emails
Post the workshop, Allround sent out triggered feedback emails to parents to increase engagement and get insights to improve their services. They also experimented with surveys inside emails to collect feedback and set up email campaigns triggered on the basis of their feedback.
Depending on the kind of feedback or rating given in the first question on the feedback form, relevant, subsequent questions appeared. For instance, if the rating on the first question was low, the subsequent questions asked for inputs on how workshop content and deliverability could improve. This was made possible by Mailmodo's multistep surveys with built-in conditional logic that's working in the background, real-time.
The Outcome(s):
From 0-100 in one leap:
The results spoke for themselves, particularly Allround's feedback email campaigns and polls. Despite sending out email campaigns for the first time, Allround's internal team was now successfully executing major campaigns on their own. They found it simple to create emails independently with the editor.
Mailmodo is an end to end platform for building simple emailers. Most email marketing tools needed HTML developers to create the emails. Our team is doing it themselves now.
- Masoom Sekhar Sahoo, Growth & Marketing Manager, Allround
Feedback emails:
The campaign saw an overall open rate of 16% while 28% of the parents who saw the email shared their feedback with Allround. This translates to an email conversion rate of 4.48%. According to MoEngage's email marketing benchmark for Ed-Tech, the industry standard is an email click through rate of 2.9%, so AllRound was thrilled to achieve 150% of the industry standard.
Polls:
For an open rate of 16%, 14% of the parents suggested workshops and classes they wanted. While they hoped for a higher conversion rate, the data gave the team insights that their users preferred to answer rating scales over open-ended questions asking for workshop topic suggestions.
Journey Forward:
What's next for allround?
With the right take off with Mailmodo, AllRound is now planning to experiment more with the platform. One of the major use-cases they plan to explore is class booking.
Class Bookings
Leveraging Mailmodo's integration with Calendly, allround is exploring class bookings within the email itself. This would enable students and parents to book slots by selecting the date and time from the options available within the email itself. Furthermore, they're excited with the possibility of a frictionless and centralized experience that could sync the booking data with Allround's platform.