In this age of digital marketing, email marketing is a highly competitive sphere. Customer inboxes overflow with emails from marketers to capture their attention. In this competitive sector, it has become highly challenging for marketers to stand out from their competitors. This is where email personalization comes in. It allows marketers to deliver emails that resonate better with the target audience and is tailored to their needs. It offers an overall customized customer experience. In this guide, we will look at some email personalization examples you can use for your email campaigns to deliver value to your customers.
Table of contents
What is email personalization?
Email personalization is a strategy to add a customizations to emails based on the recipient's behavior and interaction history. It means segmenting your audience and designing emails for a specific group of people with a common trait.
8 Best email personalization examples
Email personalization adds a personal touch to your emails by using the basic details of your recipients. Here are 8 examples to inspire your next personalized email marketing campaign:
1. Use dynamic content
Dynamic personalization is about displaying content based on the segments subscribers belong to. You can use Mailmodo to send emails with dynamic content like product catalogs that get updated in real-time.
For example, you can create a section with a coupon code and display it only to pro users, whereas free users won't see it. Or, if you have a webinar for email geeks, you can spread the word to your audience interested in emails by using dynamic sections in your emails.
This way, you can create ultra-targeted and personalized emails and increase clicks and ROI.
Bar and Bee use geographical data to add dynamic content to show different images based on the weather conditions of the recipient's location.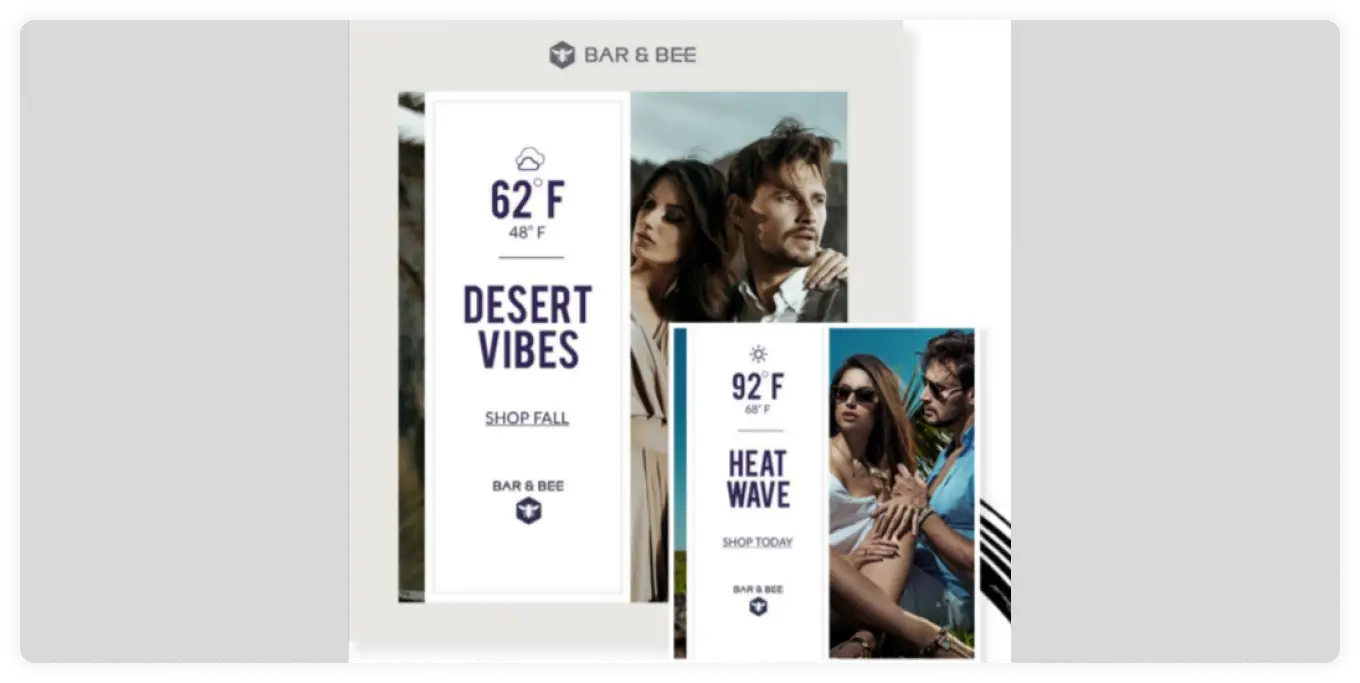 Source - Liveclicker
2. Show appreciation with thank you emails
You can celebrate special occasions and milestones such as the anniversary of your business, the user's birthday, or the first purchase they made by sending them personalized emails with an exclusive offer. In addition, you can appreciate them for being part of your organization and contributing to your growth.
Paravel sends personalized emails by collaging their user's travel history. Look how they use images to connect with users and make them nostalgic.
You can even check out Mailmodo's template library for pre-made thank-you email templates.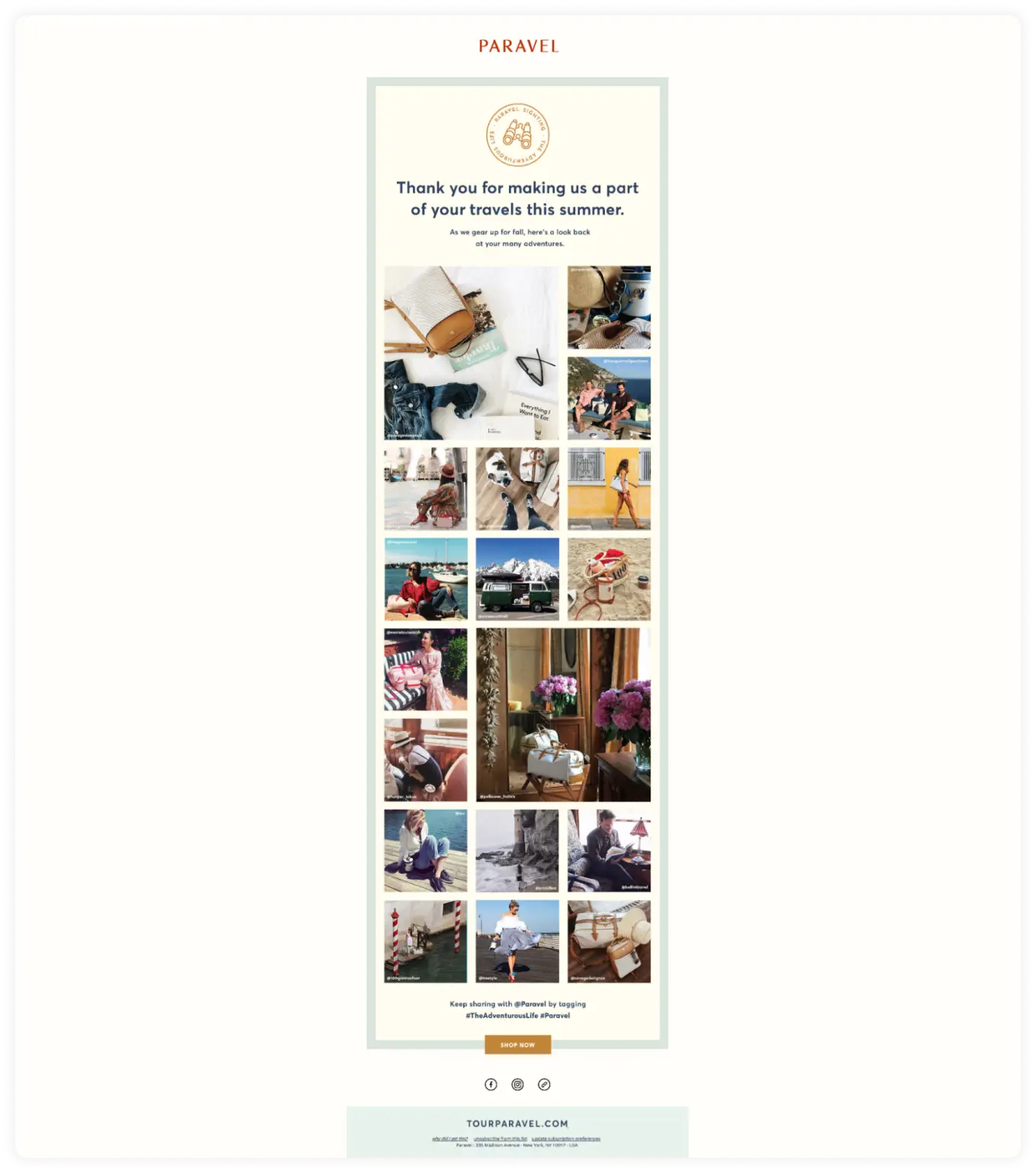 Source - Really Good emails
3. Send personalized offers on birthdays
One of our best personalizations is birthday emails offering a special discount. If you have your customer's birthday, use it to send personalized offers, exclusive deals, or coupons to make them feel special.
I liked this email by Birkenstock as it uses a birthday special celebratory theme and gives a coupon exclusive to me. Such emails strengthen customer loyalty by making them feel you care about their special days.
Mailmodo even allows you to automate sending birthday emails by creating a new journey, choosing the occurrence of date option and then choosing the birthday property. Their support page on creating one gives a detailed account of the steps.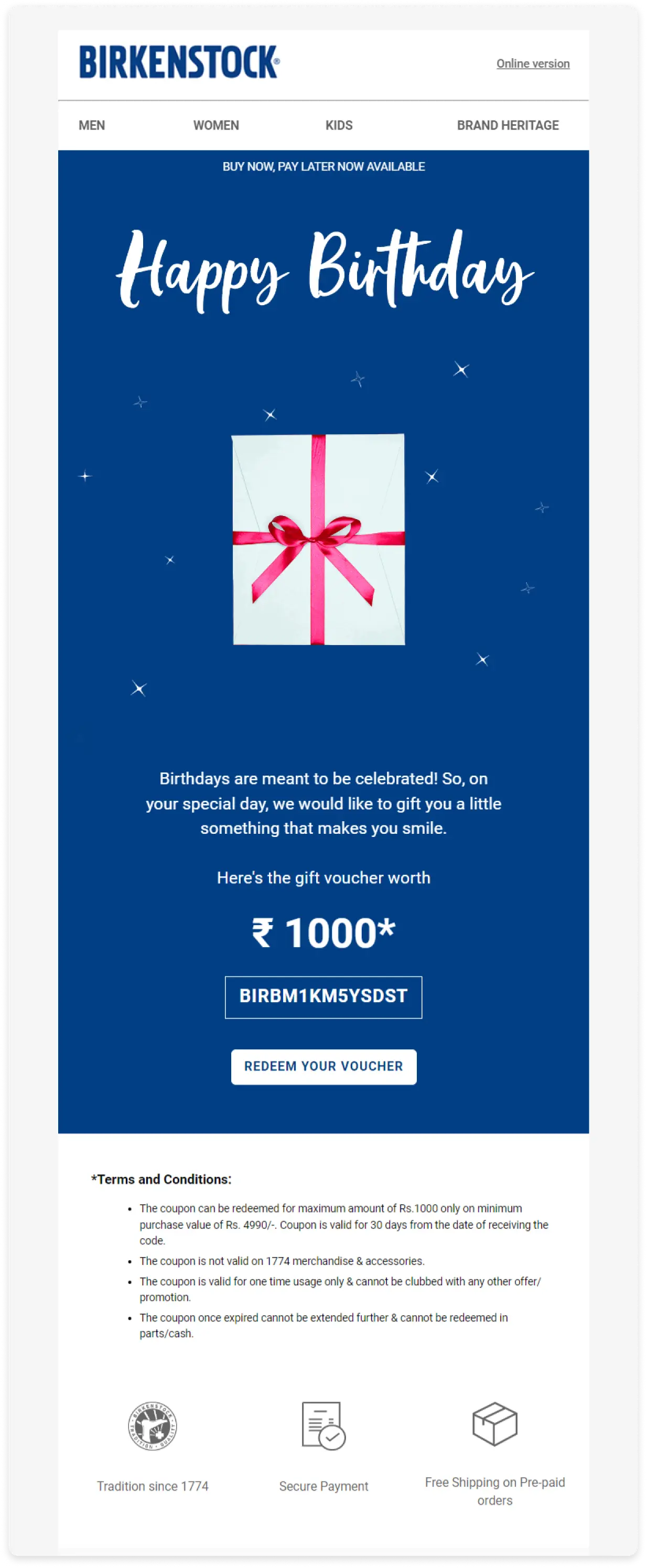 Source: Our inbox
4. Recover sales via personalized abandoned cart emails
Sending users a reminder that they haven't completed the order can significantly affect your sales. These emails are triggered based on the user's action (leaving the cart without checkout). These are already specific to them.
Check out this email from Organic that starts its abandoned cart email with a compliment followed by an image that demands attention, has a CTA that aligns with the rest of the copy of the email and ends with the benefits of their product.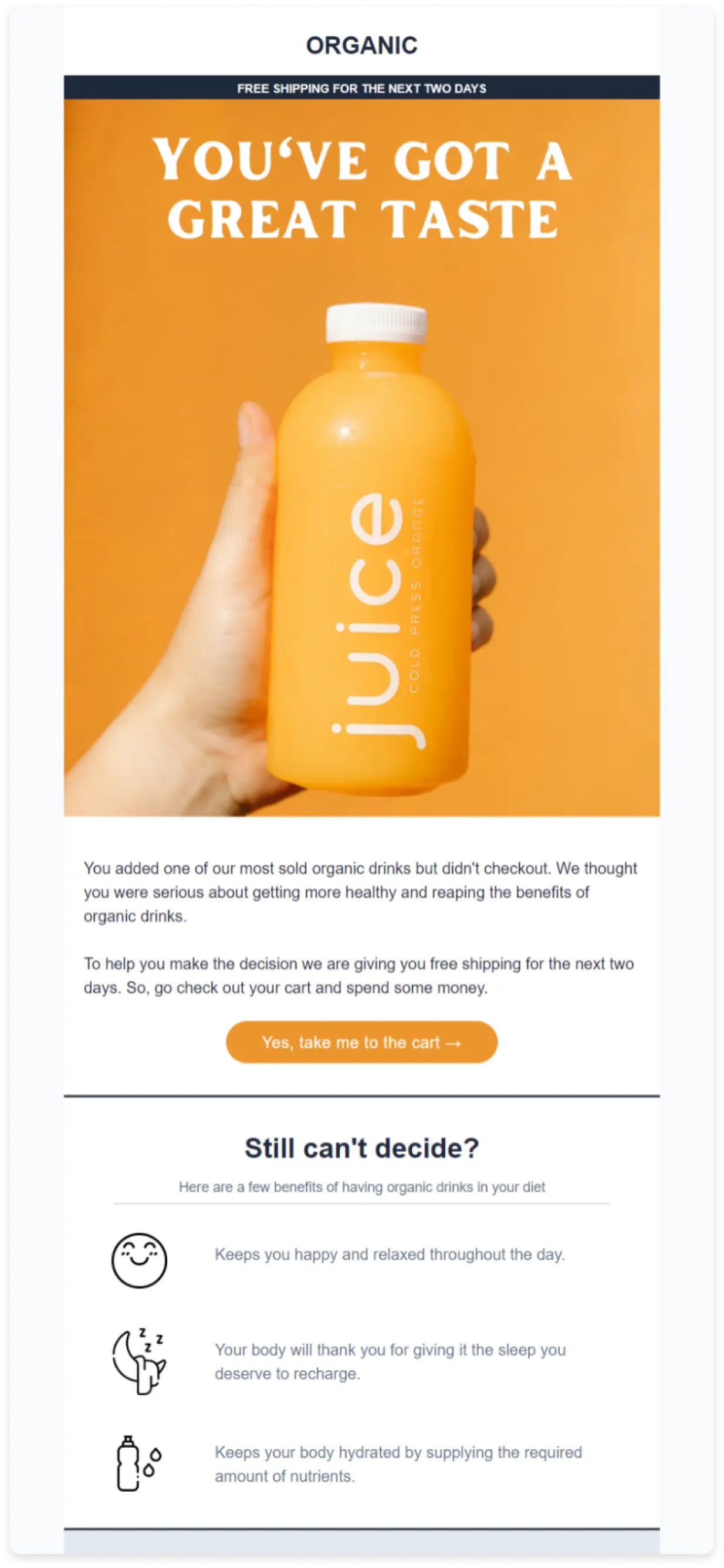 Check out this personalized cart recovery email
5. Send product recommendations
Sending personalized product recommendations can generate more sales and develop stronger relations with the target audience.
For instance, you can use users' purchasing behavior or browsing history to recommend similar products. These emails should have a clear call to action.
This email by Amazon is a perfect example of using a customer's website interaction and recommending similar products to purchase.
6. Summary or wrap-up emails
Another way to communicate with users is to send them personalized emails curating their weekly activity with your product or services. In addition, you can add gamification like streaks, badges, etc., to add more personal and creative touch to these emails.
Here is an example from Mailmodo's summary email and how they made it personalized and interactive for the reader.
Customize this weekly summary report email
7. Reach out to inactive users with re-engagement emails
If users are not taking action or engaging with your emails, you can send them personalized re-engagement emails. While creating such emails, you can check their past data and use it to make it like you want to know their problem and why they are inactive.
This email by El Parfum is an excellent example of personalized re-engagement emails. They talk to the users using conversational tones and visually appealing images of customers' favorite products.
Get this personalized win-back email template
8. Add physical location to boost in-store sales
Using the geographical data of your recipient and showing the nearest store can help you boost in-store sales. These emails contain the location of the store and opening and closing hours to give the recipient all the required details.
Such personalization requires you to have your recipient's granular location details, including Pincode. In this example, you can see how different brands are encouraging recipients to check out their stores nearby.
If you have a physical store, a store location email can be helpful to attract people who are interested in buying physically.
Another example of using your customer's location is to send emails to them based on their timezone instead of yours. You can use Mailmodo's scheduling feature or the send time optimization feature to send the mail when the customer is most likely to open it.
Takeaways
A more personalized email elevates the relevancy of your emails and provides your customers with a better customer experience. It also helps you by improving your engagement, click-through and open rates. You can use the above-personalized email examples as inspiration to improve your future email marketing campaigns.
You can also use an ESP like Mailmodo that helps you create these personalized emails without breaking a sweat with a host of email templates to choose from and a no-code drag-and-drop template builder. You can also check out Mailmodo's guide which also talks about the best tips to keep in mind while personalizing your emails.
What you should do next
Hey there, thanks for reading till the end. Here are 3 ways we can help you grow your business: