In today's digital world, marketers face numerous challenges while navigating vast amounts of data to make informed decisions. However, with AI marketing analytics, you can automate data tracking and analysis to optimize campaigns and personalize user experiences.
This article will dive deep into how AI will reshape marketing analytics.
Table of contents
Future of AI marketing analytics
Zeeshan Akhtar, Marketing Head of Mailmodo, shares his in-depth understanding of the upcoming trends in AI marketing analytics.
Be it measuring, managing, or analyzing marketing performance; AI tools are offering the most viable solutions for meeting business requirements and accelerating growth. The role of AI has only been expanding with the emerging tools and technologies.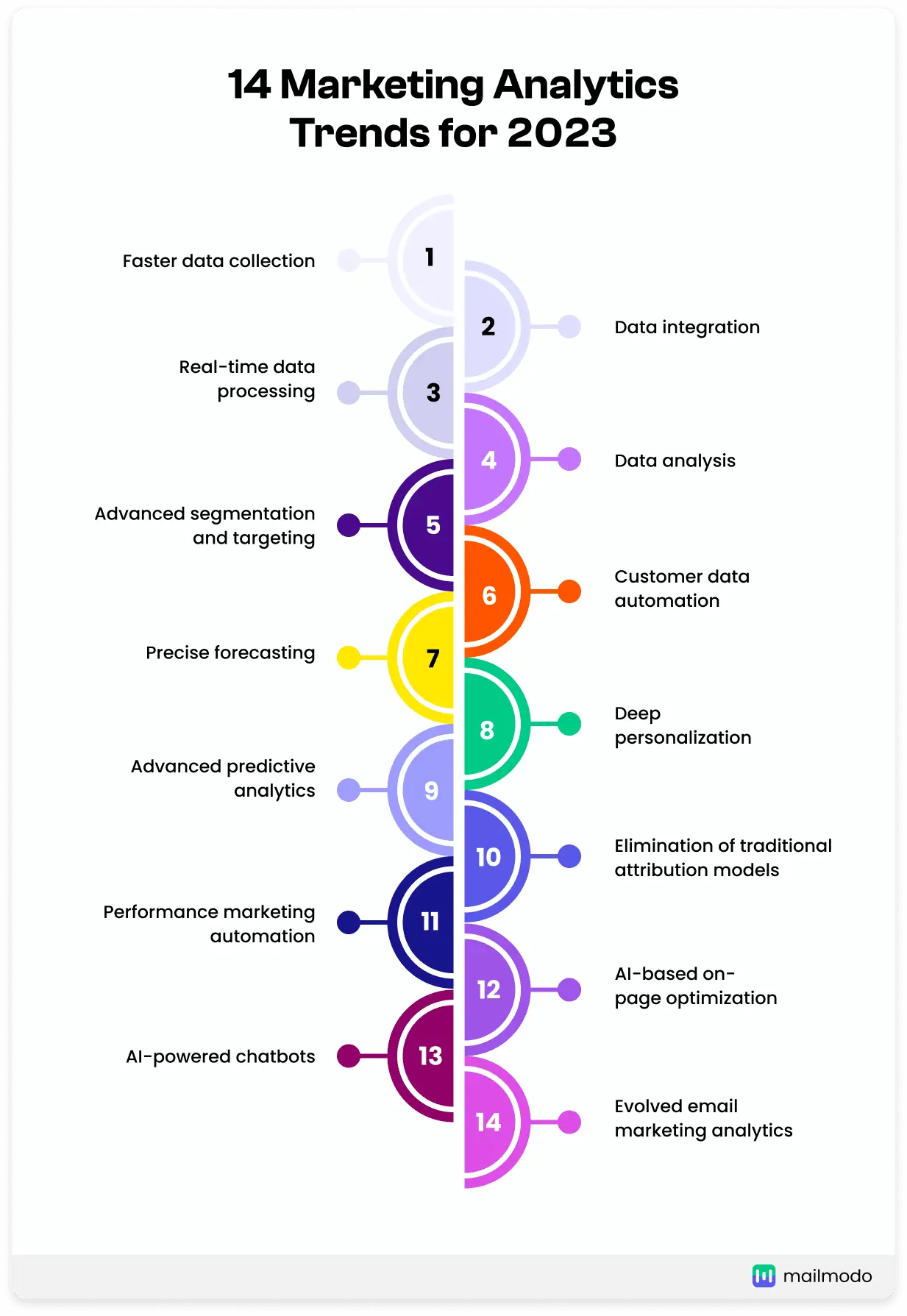 Here are the key aspects of entailing better understanding:
1. Faster data collection
While AI enhances the speed of data analysis, data processing, and decision-making processes, data collection methods are expected to remain unchanged.
Marketers still rely on various data sources, including online customer interactions, website analytics, and other CRM systems. However, AI does help in extracting valuable insights from this data and further provides actionable recommendations.
2. Data integration
Previously, businesses spent more time on data preparation than data analysis. However, data integration (DI) with artificial intelligence (AI) reverses the trend by automating the data preparation process while providing a dynamic method of data analysis.
AI can seamlessly integrate with existing marketing analytics tools and platforms. Then, it can aggregate data from multiple sources such as customer databases, CRM systems, website analytics, social media platforms, third-party data providers, etc.
Eventually, AI enables a comprehensive view of customer behavior and interactions across multiple touchpoints. Hence, it paves the way for a deeper data analysis.
How AI helps in the data integration (DI) process -
Automated data transformation (using a pre-built template and metadata catalog)
Big data processing (of structured/unstructured data)
Accurate modeling
Fast speed of computation
Autonomous learning
3. Real-time data processing
According to Accenture Interactive's "Making It Personal" report, "91 percent of consumers are more likely to shop with brands that remember and recognize them and that provide relevant offers and recommendations."
Quick responses and tailored experiences are required to win a loyal customers for the brand and re-engage the at-risk customers. Advanced AI algorithms can process large volumes of data in real time. Thus, marketers can gain instant insights, reform strategies, and make the required decisions in time.
"AI is so important because it lets us scale the internet. It lets even a small publisher or a regional app have access to the same intelligence, the same creativity as a super large behemoth and that is a critical function to the way the internet works and the way society works."
– Tom Kershaw
4. Data analysis
Marketers can gain valuable customer insights by using AI tools for analyzing humongous data. Owing to the growing number of social media platforms, it is practically not possible to gather or analyze such amounts of data manually.
AI algorithms can generate reports on data gathered from diverse sources, such as text, images, videos, social media feeds etc. Furthermore, it can help in identifying trends, uncover hidden patterns and have a better outlook on the performance of past and future campaigns.
5. Advanced segmentation and targeting
By analyzing historical data, consumer behavior, and purchase patterns, AI assists the CMOs in reframing suitable strategies, personalizing recommendations, predicting customer churn rates, and optimizing customer journeys.
AI algorithms can also create highly granular customer segments based on various attributes. Henceforth, marketing teams can work on precise messaging, resulting in improved targeting and engagement rates.
6. Customer data automation
By leveraging machine learning and predictive analytics, AI can make intelligent customer recommendations according to their preferences, past purchase patterns, and online interactions. AI tools can also offer relevant upselling and cross-selling suggestions, increasing customer satisfaction and boosting sales revenue.
7. Precise forecasting
AI tools can analyze internal and external factors to point toward growing market trends. Also, these tools can forecast customer behavior and generate accurate predictions. Consequently, marketing managers can make informed data-driven decisions and develop effective strategies for achieving goals.
For instance, a clothing retailer can analyze past sales performance and social media trends using AI-powered analytics. This information can help them predict customer preferences, thereby having a fair idea about the fashion styles or products that will be popular in the upcoming season. Likewise, they can optimize inventory, pricing, and marketing campaigns.
Source: Starbucks using AI
Starbucks is one of the most well-known brands to employ AI for marketing analytics. Deep Brew is the brand's AI-driven platform focusing on value addition to the business and customers. It enables the team to automate time-consuming tasks and processes like inventory management, preventive maintenance (on its IoT-connected espresso machines), resource allocation, and personalized customer experience.
"We're leveraging AI to deepen our digital relationships, architecting experiences that provide that experiential retail touchpoint. We want to both surprise and delight our customers in new and different ways."


Rajesh Naidu, Starbucks VP of Analytics Technology
Related guide: How AI in B2B Marketing Can Be a Game Changer for Marketers
8. Deep personalization
With AI-powered tools like Mutiny, marketers can deliver highly targeted campaigns and personalized user experiences. They can analyze and gain deeper insights into customer behavior, purchase patterns, and preferences.
It's crucial to design different marketing campaigns that suit specific customer groups' interests. Say, customers in the age group of 25-35 would've different interests compared to those between the age group of 50-65. The classification can further broaden based on the purchase history, occupation, geographic location, etc.
AI enables granular customer segmentation and scaling up the level of personalization. This ensures more likelihood of conversion and results in better customer satisfaction.
9. Advanced predictive analytics
As discussed above, AI enables predictive analytics by analyzing historical data and revealing hidden patterns and trends to look for. With predictive analytics, marketers can forecast customer behavior, market trends, and probable campaign outcomes. This empowers them to make strategic decisions, refine strategies, optimize marketing campaigns, and allocate resources effectively.
Attention Insight is one such platform that utilizes AI technology to predict the audience's attention insights before the launch. It sheds light upon the potential performance issues; hence you can validate the concepts during the design phase itself and ensure better performance from the moment you publish them. It can produce eye-tracking heatmaps and share analytics for landing pages, packaging, advertisement, posters, and other marketing material. It helps marketers optimize visual elements and placements to maximize user attention and engagement.
10. Elimination of traditional attribution models
On April 6, Google announced eliminating the four attribution models (First click, Linear, Time decay, and Position-based) from both Google Ads and Google Analytics.
These platforms would likely utilize data-driven models to attribute revenue and conversions accurately to marketing efforts across multiple channels and touchpoints. This would help marketers to gain a holistic view of their performance and optimize their strategies accordingly.
Today we announced we'll be deprecating non-last-click rules-based attribution models, which includes first-click, linear, positioned based & time decay, in Google Ads & GA4.

Data-driven attribution (DDA) is recommended & last-click will remain available.

More on why & timing:

— AdsLiaison (@adsliaison) April 6, 2023
11. Performance marketing automation
AI plays a significant role in performance marketing by automating various aspects of the process. AI algorithms can analyze vast amounts of data in a few clicks and generate customer insights for agile decision-making.
AI tools can identify underlying patterns and allow marketers to make real-time adjustments for improving ad creatives and optimizing campaigns. This leads to personalized targeting, higher ROI, and increased efficiency.
12. AI-based on-page optimization
Tools like GA4 and Screaming Frog SEO Spider Website Crawler leverage AI capabilities to audit SEO issues and assist marketers with on-page optimization.
Furthermore, AI tools can analyze complete website structure, content, and other SEO factors to provide recommendations for improving search engine visibility, rankings, and user experience.
13. AI-powered chatbots
AI-powered chatbots like ChatGPT can help businesses solve several problems, including analytics-related tasks. It can help gather information, market analysis, identify gaps, competitors' frameworks, data analysis, reporting, etc.
AI chatbots offer a more interactive, engaging, and user-friendly way to access and interpret analytics data. Henceforth, these tools also facilitate faster decision-making.
Become an email marketing expert in 90 mins
On-demand certification to master email marketing
14. Evolved email marketing analytics
AI enhances email marketing by enabling advanced analytics, micro-level customer segmentation, personalized content recommendations, and predictive analytics.
The AI tools leveraging machine learning algorithms can analyze online customer interactions based on various parameters. These tools can further provide insights to optimize email marketing campaigns, improve open and click-through rates, and deliver more relevant content to subscribers.
Related guide: 17 Best AI Email Marketing Tools for All Use Cases
7 Best AI marketing tools
Customfit.ai is an AI-powered platform specifically designed for marketers to leverage A/B testing and website personalization.
Features: It offers advanced drag and drop visual editor to create real-time experiences and craft unique customer journeys without any coding. Also, it captures visitors' behavioural traits (like Geo traits, firmographics, interests, time of the day etc.) and shares detailed analytics to track campaigns' performance across multiple channels.
Pricing: The pricing starts at $39.0 per month. There are two different plans - Basic (Outbound) at $39.00 per month. Standard (Outbound) at $79.00 per month.
Mutiny is another AI powered web personalization platform for targeting and converting B2B buyers. The pre-built data integrations help in identifying visitors according to the industry type, company size, funnel stage, web activity etc.
Features: It integrates with AI to offer content and audience suggestions. Also, it assists with A/B testing and website personalization.
Pricing: The platform offers different packages - Startup package costs between $300 to $650 per month (depending upon the term - monthly or annually) and the number of features you would like to incorporate. Standard package costs between $1,500 to $2,200 per month annually.
On Page AI is an AI-powered SEO tool that assists the marketers in optimizing web pages for attaining good search engine rankings.
It uses natural language processing algorithms to perform content audits and provide suitable recommendations for improving on-page SEO factors. Overall, it helps in building an authority site effortlessly.
Features: It offers AI detection tool, AI writing & paraphrasing tools, AI auto insert keyword documentation, predictive link building and guest posts. Also, it provides clients with the topical keyword research and analysis, deep scans, content optimization suggestions, competitor analysis, internal link recommendations, SERP tracking, and SEO performance monitoring.
Pricing: On Page AI offers a range of pricing plans starting from $129 per month. The subsequent plans offers more features ranging, $229 per month, $399 per month, $499 per month, $1999 per month and $3499 per month respectively.
Peak.ai is a cloud-based AI company offering data analysis services to support decision intelligence. It helps B2B marketers particularly by simplifying the customer segmentation process. Furthermore, the tool can be easily linked with existing communication channels & platforms like CDP, CRM, or other social media platforms.
Features: The key features include data analytics, predictive modeling, customer segmentation, campaign optimization, and sales forecasting. It provides granular segmentation with 35 AI-driven attributes.
Pricing: Peak.ai offers custom pricing based on specific features and business requirements.
Outranking.io is an AI-driven SEO tool that aims to help websites outrank its competitors in the search engine results. It performs analyzes of multiple ranking factors thereby providing actionable insights for improving website visibility.
Features: This AI powered tool offers comprehensive content optimization features. It helps the marketers to analyze every aspect of SERPs including the page structure, content outlines, backlinks, titles, meta descriptions, uniqueness, tone, citations etc and then generate on-page content audit reports in no time. After which it assists in tracking the marketing efforts' progress in real-time.
Pricing: Outranking.io offers different pricing plans - solo, company, pro and custom plans. The solo plan starts from $7 first month and $69 from the next month.
Albert.ai is used for planning, building and optimizing digital marketing campaigns. It leverages AI to analyze data and provide real time suggestions for improvement.
Features: It offers data processing, data analysis, autonomous budget allocation, specific audience targeting, ad creative optimization, performance tracking, report generation, predictive analytics and paid search campaign management across multiple channels.
Pricing: Albert.ai provides custom pricing plans based on individual business needs.
MarketMuse is an AI content planning and optimization platform. It helps the businesses to create high-quality, search-optimized content after analyzing content gaps, competitors' data, and user intent.
Features: It offers content research and audits to provide prescriptive insights. Furthermore, the features cover topic modeling, domain analysis, SEO recommendations, content brief creation, and performance tracking.
Pricing: It is free for individuals with limited content requirements (max. 10 queries per month). Apart from which, there are custom plans depending upon the number of users. The standard plan starts from $149 per month.
Wrap up
To conclude, AI marketing analytics has opened up new possibilities for the marketers to understand their customers, optimize marketing strategies, and deliver personalized experiences at scale.
By harnessing the power of AI, businesses can gain a competitive edge, drive growth, and work upon building long-lasting relationships with their customers in the ever-evolving digital landscape.
What you should do next
Hey there, thanks for reading till the end. Here are 3 ways we can help you grow your business:
Talk to an email expert. Need someone to take your email marketing to the next level? Mailmodo's experts are here for you. Schedule a 30-minute email consultation. Don't worry, it's on the house. Book a meet here.

Send emails that bring higher conversions. Mailmodo is an ESP that helps you to create and send app-like interactive emails with forms, carts, calendars, games, and other widgets for higher conversions. Get started for free.

Get smarter with our email resources. Explore all our knowledge base here and learn about email marketing, marketing strategies, best practices, growth hacks, case studies, templates, and more. Access guides here.