Remember that song by Beyoncé? The one that goes, "Who run the world? Girls!"
Well if Beyoncé had written that song today, I'm sure the lyrics would've been different.
Because big data now runs the world.
When it comes to marketing, there's a lot of data you can collect about your customers–their location in the world, age group, the parts of your site they are visiting the most, the products they want to buy, etc.
The aggregation and interpretation of all this data is the framework around which marketing analytics is built.
Read on to understand what marketing analytics is all about and the tools you can use to analyze your marketing data to grow your business.
Table of contents
What is marketing analytics?
Marketing analytics is the study of data associated with marketing (customer feedback and behavior, financial costs of marketing campaigns, engagement rates, etc.) to evaluate the performance of marketing activity.
It uses 'analytics', which is trying to find patterns in data to provide actionable knowledge.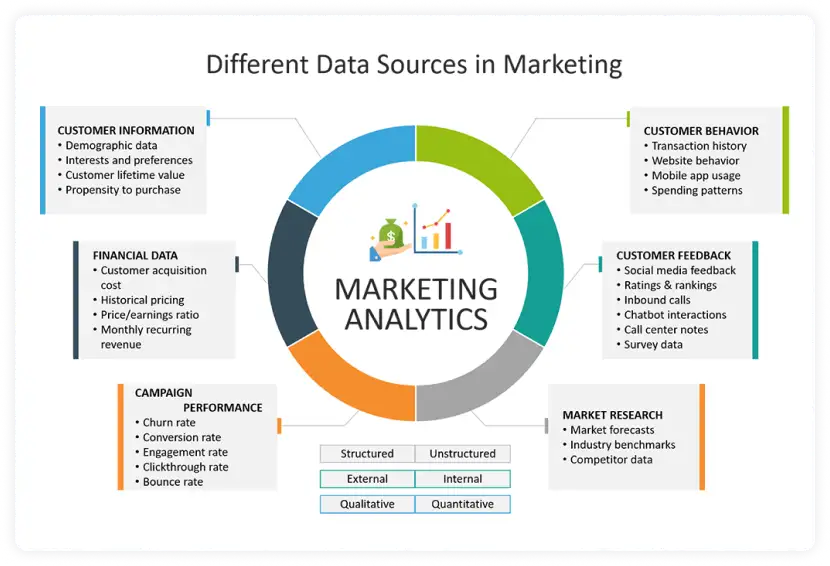 Why should you use marketing analytics?
The importance of marketing analytics lies in the fact that:
It is used to determine the ROI (Return on investment) of marketing campaigns and pinpoint improvement areas.

It is fundamental to understanding and predicting user behaviors.

The patterns identified in the data collected are invaluable for optimizing future marketing efforts.
To sum it up, marketing analytics lets you turn raw marketing data into actionable insights. You can then use these insights to maximize your business growth.
How to fully use marketing analytics architecture
Marketing analytics architecture covers the protocols, technology, and systems you use to collect, store, and analyze data that you get from marketing campaigns and ads. It is an umbrella term for a variety of technical tools and software, some of which are listed below:
• Customer data platform
A customer data platform is software that gathers data from many sources and combines them to create a singular customer database. It contains data on all customer interactions with your product or service at possible touchpoints. You can segment this database and use it to create more personalized marketing campaigns.
• Data warehouse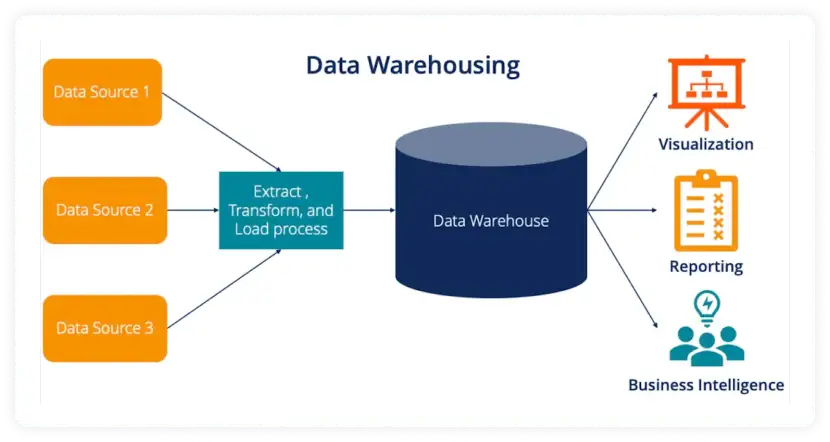 A data warehouse is a cloud-based platform that stores data in the most efficient way possible. They are a key component of data analytics and use SQL as the query language. These help marketing teams consolidate data from many platforms for a more effective analysis of the impact of marketing campaigns on your target customers.
• Tracking scripts
These are pieces of code embedded onto your website and used to check the flow of visitors and their interactions. Marketing teams use tracking scripts to collect data on reading depth, advertisement click-through rates (CTR), and sales. This data is analyzed further to measure the success of your marketing efforts.
Also read: Why are click-through rates important?
• Dashboards
A marketing dashboard displays only the necessary information to keep track of specific marketing metrics and forms the basis for more detailed marketing analytics.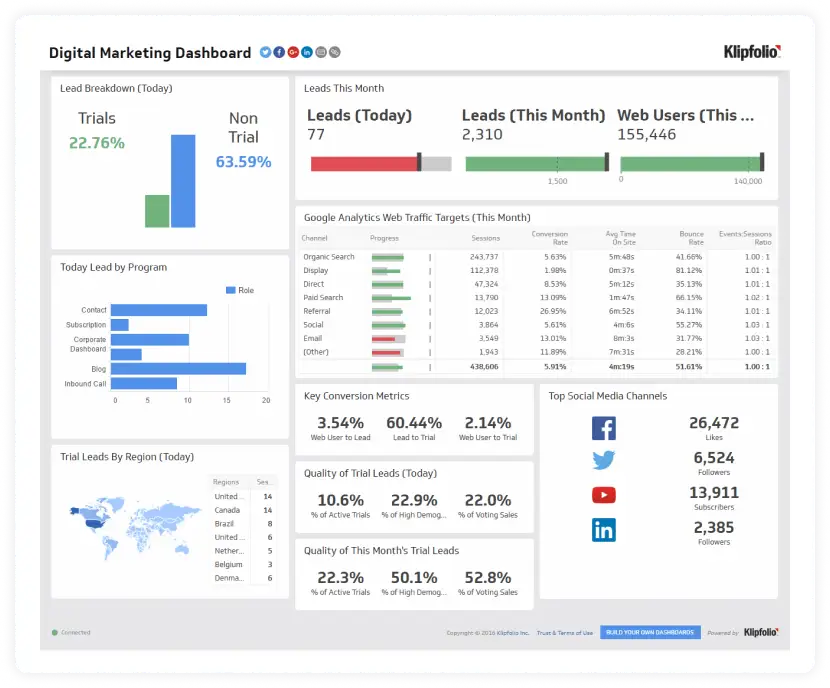 An online digital marketing dashboard is pretty helpful for tracking and displaying the marketing data points that matter. If your marketing efforts aim to increase sales, then the primary data displayed would be customer interactions and revenue growth. If your marketing goal is brand awareness, then data about engagement metrics are key.
• Funnels
A funnel is a powerful piece of marketing analytics architecture that helps marketers get a clearer picture of your customer's journey, from when they visit your website to the end when they're ready to buy your product or service.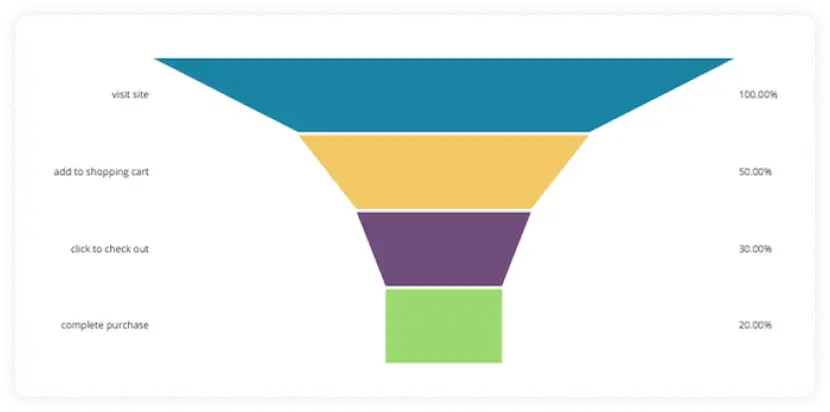 Source: Chartio
You can use funnels to gather data about where customers are dropping off on their path to conversion. After analyzing the data, you can use the results to improve your website's problem areas to increase conversion rates.
Related guide: How to Build Customer Journey Maps for Your Buyer Personas
• Events
These are actions that a user takes on your website, which the system tracks and your code reacts to. An event could be anything from a visitor filling up a form to simply closing or resizing your webpage on their browser.
For example, if a user hovers their mouse over a certain area on your webpage or clicks a specific spot, you could program your website to "react" to that event by displaying a pop-up window.
Event tracking provides data on how visitors engage (or not) with your website. Marketing analytics teams can use this information to fine-tune your website elements and marketing campaigns for most ROI.
Correct and efficient use of all parts of marketing analytics architecture is key to properly understand your marketing analytics data and making the right decisions about your current and future marketing efforts.
Can marketing analytics increase your revenue?
The short answer? Yes. 29% of US marketers say that marketing analytics has helped them grow their organization's sales revenues by 26%.
But how does it do that? Let's take a look:
Marketing analytics tools improve lead generation. You can use them to gather the insight needed to optimize your marketing efforts and target the customers who can bring you the most profits. Better leads mean more sales which mean improved ROI!

Marketing analytics lets you make real-time decisions and enables proactive management. You can analyze data the moment it is collected and take action accordingly, to prevent future losses or bad reviews on your marketing campaigns. You can also use predictive analytics to expect market trends rather than having to react to them.

Marketing analytics reports provide you and your stakeholders with a unified and comprehensive view of all marketing channels, e.g., pay-per-click advertising, email marketing, social media, etc. Analytics makes the big picture clearer and lets you dig deeper into the details.
Top 9 marketing analytics tools to help you maximize ROI
Marketing analytics tools help advertisers track and forecast the result of your marketing campaign efforts. Choosing the right marketing analytics tools and optimizing your marketing efforts could mean crushing your goals or failing to meet them.
Let's look at the top 9 tools available:
1. Google Analytics
Google has its free analytics tool known as Google Analytics. You can track your website traffic, gather information about where your visitors are coming from, etc.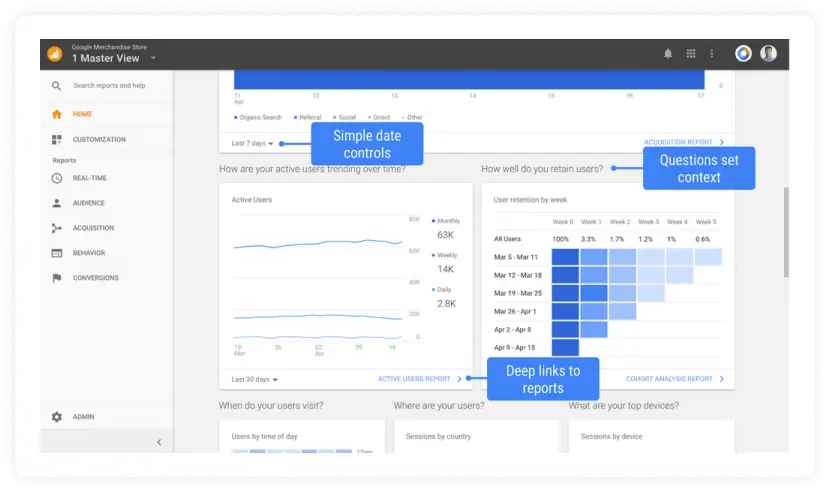 Source: Google blog
You can also integrate Google Analytics with other tools like Google Adwords or Data Studio for a more in-depth analysis of your marketing data.
But, defining and tracking new conversions using this tool can be complex, and it doesn't provide an option to track individual user sessions.
2. MoEngage
With MoEngage, you can not only analyze customer behavior but also engage with them through personalized communication across the internet or mobile.
Marketing teams can use this software to coordinate and tailor their marketing campaigns across all channels to target specific user groups.
At the heart of this platform is a comprehensive database that contains demographical, geographical, and behavioral data of customers across devices.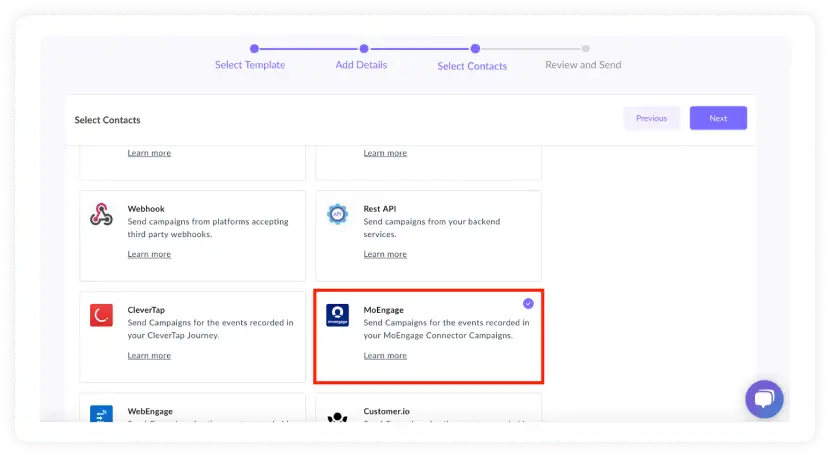 For improving the performance and increasing the interactivity of your trigger campaigns, you can experiment with integrating MoEngage and Mailmodo. Read the article to see how to configure transactional campaigns in Mailmodo from your MoEngage account.
3. WebEngage
Like MoEngage, WebEngage is full-stack marketing automation and customer data platform. But, its main focus is on helping consumer businesses drive more revenue.
The platform's analytical capabilities allow businesses to get a 360° view of their users, products, and campaigns. You can also compare the impact of each channel of engagement.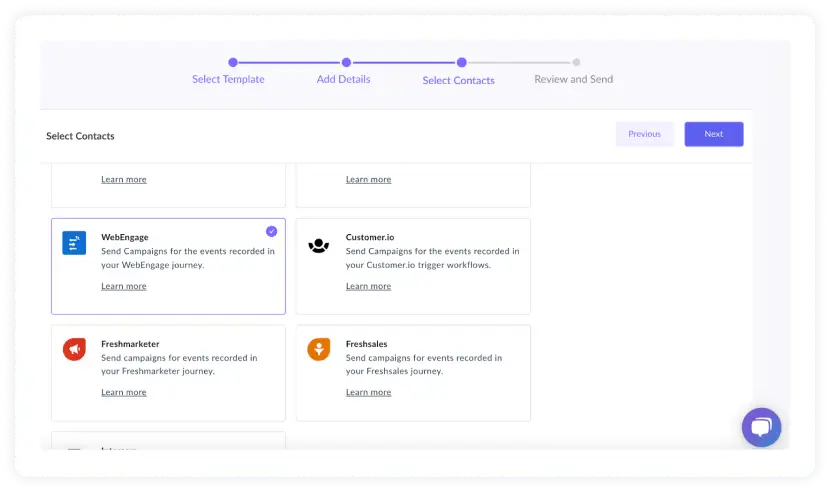 To enable real-time personalization of all emails, consider integrating WebEngage with Mailmodo. Check out this article to see how to send transactional campaigns in Mailmodo, triggered by the events that are recorded in WebEngage journey.
4. Piwik
Piwik is a free, open-source substitute for Google Analytics. Piwik tracks your website visits and allows you to create reports wherein data is sorted according to users' location, browser, operating system, and how they've engaged with your website.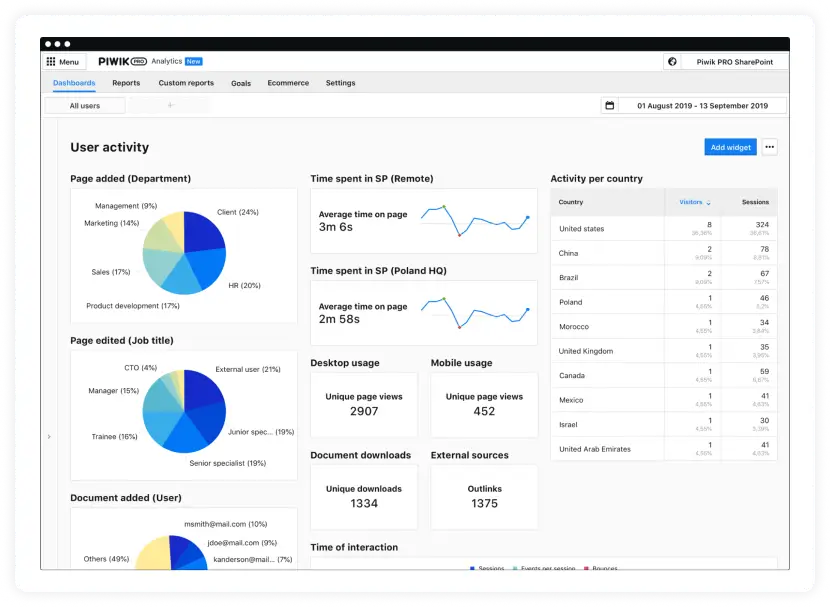 Source: Piwik
Piwik allows you to remain in full control of your visitor's data, unlike Google Analytics which is hosted remotely.
5. Heap Analytics
Heap Analytics tracks all actions individual website visitors take, and you can manually select the events you want to analyze and preview in your dashboard. You have the option to group users according to their online behavior.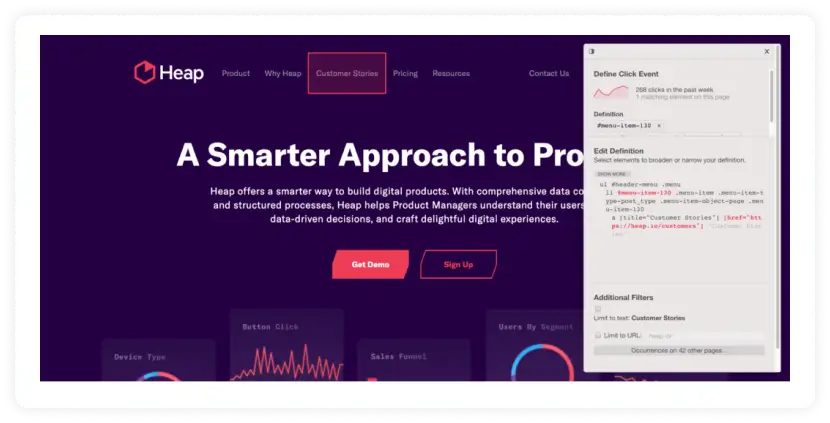 Source: Heap
A disclaimer, though. If Android apps are a part of your marketing strategy, this is not the tool for you. Heap only supports iOS apps and is a great tool for marketers if you want data on events and website conversions.
6. Mixpanel
Mixpanel is an analytics tool that focuses on behavioral analytics and improving customer experiences.
Its main feature is data reporting. It helps marketers analyze user behavior and improve key performance indicators (KPIs) to increase revenue.
Mixpanel also allows you to use funnels to determine where customers are dropping off in their journey. You can use the data to optimize your website further to boost conversions and revenue.
Other neat features of Mixpanel include messaging and testing — which you can use to send personalized marketing messages to users — and metrics like account health, lifetime value of business assets, etc.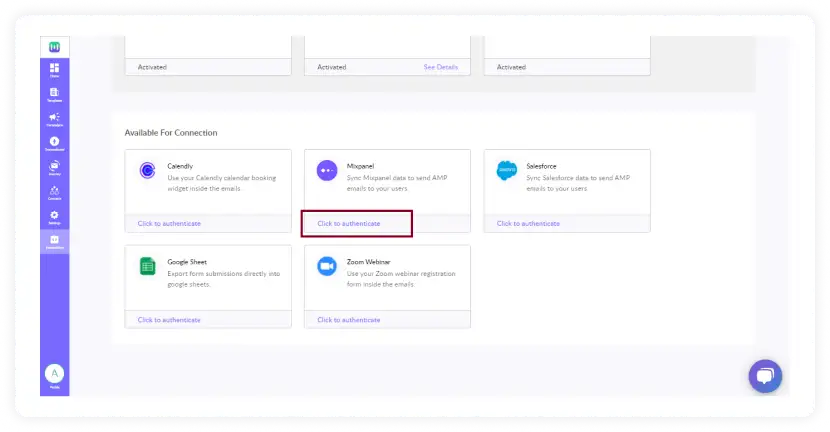 Using our Mixpanel integration, you can connect projects in Mixpanel to Mailmodo. The contacts associated with the selected project will be automatically imported to Mailmodo, and you can easily send interactive emails to said contacts.
7. SEMrush
SEMrush is a marketing analytics and SEO tool specializing in keyword research, competitor analysis, and Google Ad campaign optimization. A primary feature of SEMrush is its analytics reports tool that displays data about the keywords that your competitors are using in their ad campaigns.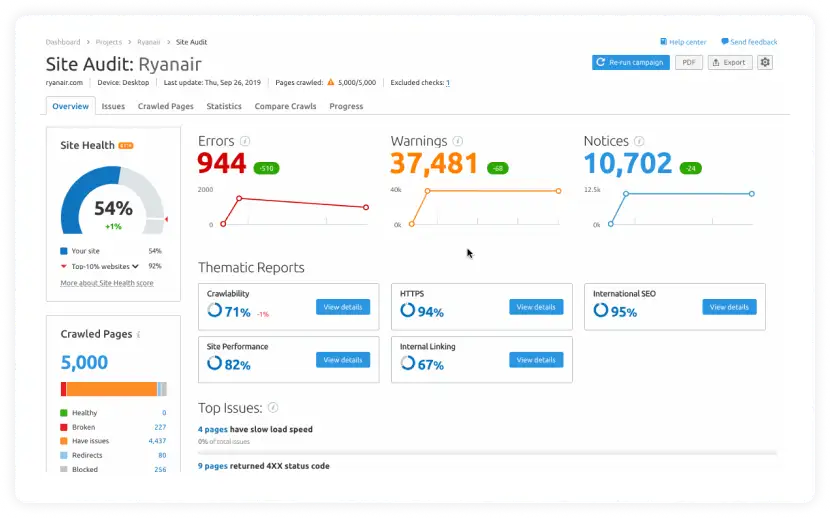 Source: SEMrush
You can use SEMrush to improve online visibility and discover marketing insights. It provides information about what your competitors are up to while helping you keep track of your marketing efforts.
8. Hotjar
Hotjar is a marketing analytics tool that reveals the details of your website visitors' online behavior with the help of heatmaps.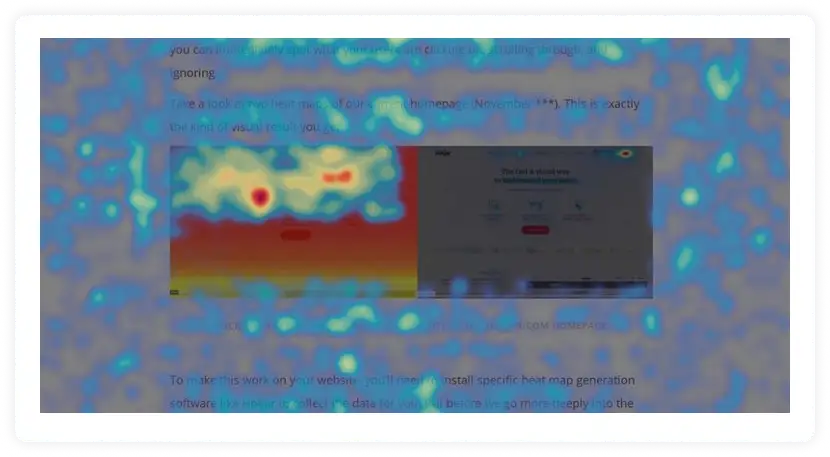 Source: Hotjar
Using heatmaps, Hotjar can tell you exactly which parts of your website or individual page are getting the most clicks and which parts aren't. This information is essential to optimize your online presence to deliver the best user experience.
For example, if your CTA isn't getting clicks, it might be time to change the copy or make your site simpler to use?
(By the way, if you're interested in learning more about how to use heatmaps to analyze your website performance, we have the perfect guide for you!)
9. Amplitude
Amplitude tracks visitors to your website and analyzes their behavior to provide a 360-degree view of users' interactions with your products. Product and marketing teams use this data to invent fresh strategies to improve user engagement and retention, further boosting revenue.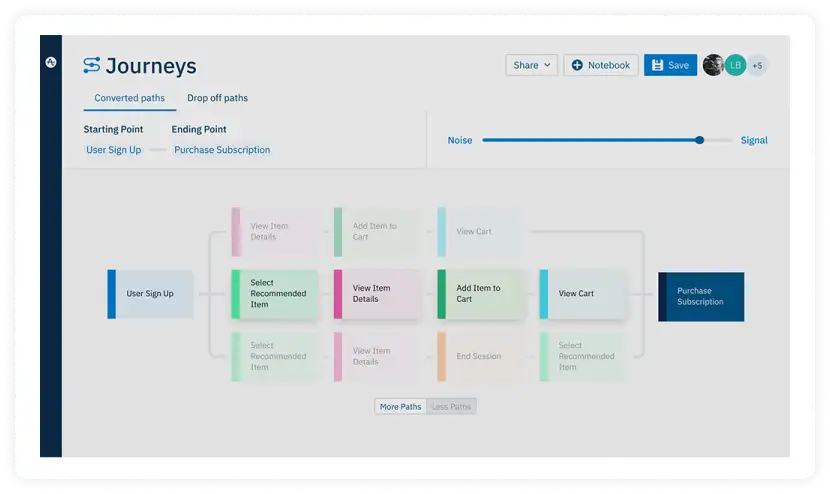 Source: Amplitude
Some of the features that Amplitude offers are: providing insights into customer experiences, creating product portfolios, and displaying real-time user analytics, including funnels and event segmentation.
Improve your marketing efforts today
Today, the impact of marketing is maximized by focusing on the customer—planning around them, addressing their needs, and making them feel valued and heard. Incorporating data analytics in marketing is the best way that businesses can gather actionable data and discover insights into preferences and market trends to improve the customer experience.
A great way to improve your marketing efforts is to make your emails more interactive. That way you offer not a boring email, but a full experience to your valued customers. Or that's how we at Mailmodo like to put it, anyway. Interested in knowing more? Get in touch with us!
What you should do next
Hey there, thanks for reading till the end. Here are 3 ways we can help you grow your business:
Talk to an email expert. Need someone to take your email marketing to the next level? Mailmodo's experts are here for you. Schedule a 30-minute email consultation. Don't worry, it's on the house. Book a meet here.

Send emails that bring higher conversions. Mailmodo is an ESP that helps you to create and send app-like interactive emails with forms, carts, calendars, games, and other widgets for higher conversions. Get started for free.

Get smarter with our email resources. Explore all our knowledge base here and learn about email marketing, marketing strategies, best practices, growth hacks, case studies, templates, and more. Access guides here.