Nowadays, business owners prioritize investments in marketing technologies as they attempt to fulfill rising expectations for personalization to improve the customer experience. For businesses, this involves using automation softwares and tools.
Marketing automation provides tools for automating and executing landing pages, email campaigns, and lead generation, scoring, and nurturing. Read our guide on marketing automation to unravel its benefits, examples, strategies, and how it works.
Table of content
What is marketing automation?
Marketing automation is the process of creating and implementing systems to automate repetitive operations such as email marketing, social media campaigns, ads, etc.
Businesses, for example, develop an automated lead generation funnel that collects a prospect's email address, provides a recorded demo, and then asks them to book a live demo.
Marketing automation is not intended to send unsolicited emails to your contacts. It is most lucrative when used to provide personalized information to your contacts rather than spam emails.
Get this pre-send checklist to hit send with confidence
An interactive checklist to send error-free emails
Benefits of marketing automation
Guess what saves you time and money while increasing your marketing efficiency? Yes, marketing automation tools can accelerate your business's growth and returns on investment by automating your follow-ups, upsells, and cross-sells.
Marketing automation has several benefits, including the ability to build more valued connections and provide value to clients. Because of the effectiveness of marketing automation, your marketers may spend less time communicating with cold leads and more time cultivating connections with hot leads.
There are a dozen other reasons why you should trust automation tools, but here are the ones that are applicable to eCommerce automation and B2B marketing automation.
Feeling inspired? Read our guide on the benefits of marketing automation where we share 11 incredible reasons why you should use automation tools to take the guesswork out of marketing.
Examples of marketing automation
Good marketing helps you stand out from the crowd. It can, however, be difficult to keep track of which marketing methods succeed and which do not. Even if you do, it's difficult to concentrate on all of them at the same time. You may not always have the time or energy. Marketing automation examples, thankfully, are available to help you and your team with marketing.
Our guide on marketing automation examples for B2B and B2C will inspire you to supercharge your marketing efforts today.
Best marketing automation softwares
Before we deep dive into the top marketing automation tools, let's pause and understand what they do.
Marketing automation software collects data about user activity from many platforms like emails, apps, websites, etc. This information prompts action via social media, SMS, email, and other channels.
When you're buying marketing automation software for your company, having defined business goals makes it easy to know what to search for. Browse our guide on marketing automation tools to compare the best automation softwares in the market.
For all your email marketing needs, sign up with Mailmodo.
Execute flawless AMP email campaigns and personalize promotional emails with our SaaS software stack. Here's how you can optimize your email marketing for higher in-mail conversions with us.
Related guide: How to Use Direct Mail Automation in Cross-Channel Marketing Campaigns
How to automate emails using Mailmodo?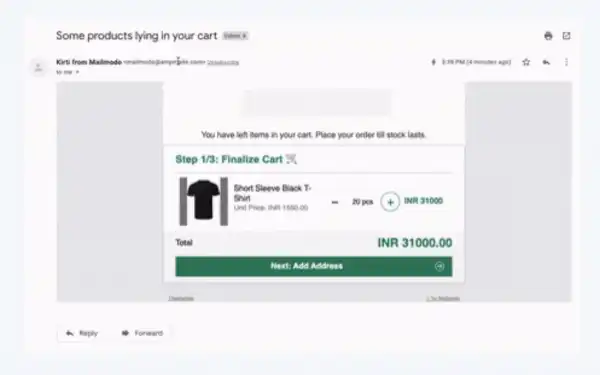 Email automation and drip campaigns benefit your organization by reducing time, effort and resources needed for email outreach, thus making it an incredible investment for you.
Let's take a look at our email automation workflow.
A visitor lands on your blog or website and performs activities such as subscribing to your newsletter, filling out a form, or signing up for product updates.

When they enter their information on your site, it is saved in the contacts database of the email automation tool using integrations like CRMs etc.

This data is segmented into categories based on the user's interests, behavior, geography, demography etc.

Marketers then create an email campaign based on the user's actions and preferences using our drag-and-drop codeless email builder.

In addition, you can configure the triggers and rules, schedule emails, and design various drip campaigns.

Emails can also be sent automatically in response to various user events such as purchase, sign up, and cart abandonment.

Users receive customized emails based on the campaigns and parameters that the marketer has established.

You get a detailed campaign performance report on a single dashboard that helps you track unsubscribes, submissions, clicks, and open rates.
For a more detailed understanding of how email automation works, you can read our guide on email automation softwares that covers all the game changers in this space.
Get a sample AMP email in your inbox
Experience the power of interactivity right now
Proven marketing automation strategies
Marketing automation is bound to fail if it isn't built around the customer, much like content marketing is. It becomes even more difficult to close the loop among sales, content, and marketing. There can be no marketing automation without a customer-centric strategy based on customer journeys and touchpoints.
Read our guide on marketing automation strategies you should prioritize to move beyond traditional tactics and embrace the future of marketing.
Send automated emails with Mailmodo
With Mailmodo, you can turn prospects into customers by building custom journeys and tailoring personalized experiences without compromising on automation. Read our one-stop guide on drafting personalized emails that help you land big clients in no time!
What you should do next
Hey there, thanks for reading till the end. Here are 3 ways we can help you grow your business:
Talk to an email expert. Need someone to take your email marketing to the next level? Mailmodo's experts are here for you. Schedule a 30-minute email consultation. Don't worry, it's on the house. Book a meet here.

Send emails that bring higher conversions. Mailmodo is an ESP that helps you to create and send app-like interactive emails with forms, carts, calendars, games, and other widgets for higher conversions. Get started for free.

Get smarter with our email resources. Explore all our knowledge base here and learn about email marketing, marketing strategies, best practices, growth hacks, case studies, templates, and more. Access guides here.