Each lead is a golden-egg opportunity for businesses catering to other enterprises. B2B customers are more discerning, make better-informed decisions, and have greater customer stickiness. It means new revenue followed by the possibility of years of repeat business.
B2B leads have higher value but take longer to make decisions than retail customers. Hence, no lead must get missed. B2B marketing automation ensures 100% that no leads are lost or left to go cold. It creates an ecosystem of sustained value-adding engagement to push each precious lead to its potential.
This guide explores B2B marketing automation strategies and functionalities needed to convert more leads.
Table of contents
What is B2B marketing automation?
B2B marketing automation is the automation of B2B related marketing activities. Automation takes care of most of the time and manpower-consuming activities. As a result, a large bandwidth is free to invest in impactful and innovative ideas.
Marketing automation means to automate-
Collection and cleaning up of lead-related data

Initiate marketing actions based on predefined workflows and triggers.
Benefits of B2B marketing automation
Automating B2B marketing can help you in the following ways:
• Increase incoming leads
B2B marketing automation directly impacts and improves communication with your target audience. As a result, more people from the target audience feel engaged and positively influenced.
• Sophisticated lead scoring
You can assign a score to the leads to determine how to act on it. Lead scoring can be done based on criteria defined by your business priorities.
Some examples of different lead scoring criteria are:
Company profile: What kind of company (company size, industry, number of employees, etc).

Product requirement: What product do they want to buy? Are they looking for a small-size product/freemium or the flagship product?

Lead can also be scored based on where they are in their buying journey. Are they window shopping or looking for product demos and requesting a meeting?
B2B marketing automation tools like Marketo and Eloqua allow scoring leads in multiple categories at the same time. This allows multiple business functions to score the same lead differently, based on their business goals.
3. Drip campaigns
A drip campaign is to post time-driven outbound series of material to your target audience to move down the sales funnel. In a drip campaign, the entire series of communication is sent to the audience. It is irrespective of any actions that the prospective customer takes (except unsubscribe). Newsletters are a good example of drip marketing.
It is challenging to conduct a drip campaign manually. Especially if you have parallel drips running for different segments.
The most popular medium to conduct a drip campaign is through emails. In fact, 84% of B2B companies use email marketing. (Source) However, lately, some marketers have started conducting drip campaigns over social media.
Related Guide: A Guide to Email Drip Campaign and How to Get Started With it
4. Lead nurturing
Here is a scenario of how B2B lead nurturing comes into play. Mr. A is a salesperson from a company that sells enterprise-level accounting software. He meets Ms. M, the head of accounting from a prospective client company to showcase the product. After meeting with Mr. A to understand the product, there is no response from Ms.M for further steps. Sales do not have the time to keep following up.
There could be a multitude of reasons for a pause in an evaluation process. This is where marketing will take up and nurture the lead until they are ready to resume the purchase process again.
Related guide: How to Nurture Leads with Email Marketing
5. Increased revenue from repeat business
B2B marketing automation adds value through the entire Awareness, Acquisition, Activation, Review, Referral (AAAAA) funnel. Post-purchase support and engagement determine how your Customer Lifetime Value (CLV) is doing against the Cost of Customer Acquisition(COCA).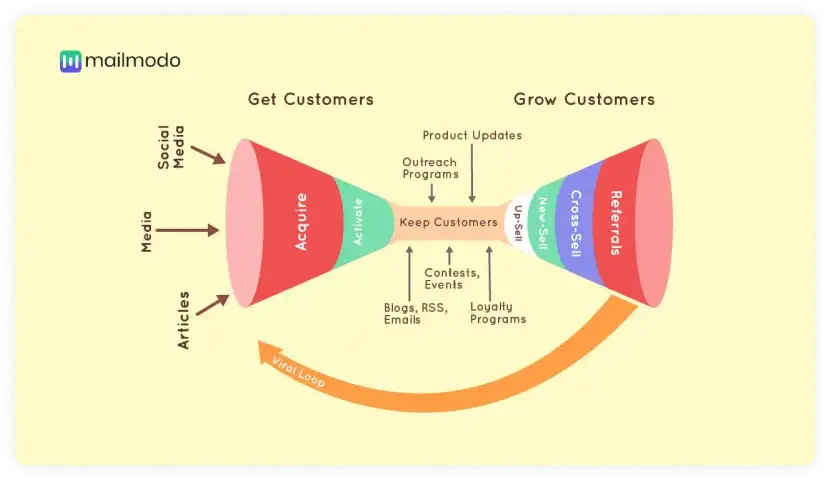 If your automation software is integrated with CRM and support like Zendesk, there is humongous information at your disposal. It can help to design personalized communication and add more value through continued engagement.
5 excellent B2B marketing automation strategies
Use these 5 marketing automation strategies to generate more leads:
1. Personalized user experience
Using marketing automation you can design highly personalized campaigns and customer reach outs. There are many ways to create a personalized experience in B2B marketing are:
Reach out to segmented audience people based on location, role, and department.

Monitor leads visiting certain product pages, send them further information, and suggest next steps as a drip campaign.

Reach out to the audience based on where they are in their purchase journey (Awareness, Consideration, Decision, Delivery, and Delight).
Related guide: How to Master Website Personalization to Improve Customer Experience
2. Account-based marketing
ABM is a strategy that applies to large accounts with a large spending potential.
Consider this example:
A SaaS company that sells employee expense management products implements AMB. Once the data about customer personnel mapping is set up, they can reach out to teams of different departments.
IT Team- on how they will have one less application to manage.

Finance team- Importance of corporate governance and cost savings that the solution brings to the table.

HR head- demonstrate how the system can manage all possible employee benefits
As you can see, a personalized reach out to Senior Management, Employees, and Approver across different functions makes sure that during evaluation, all RACI ( responsible, accountable, consulted, and informed) stakeholders find value in your solution and get inclined to sign up as a customer and stay on for long.
3. Social media strategy
Since B2B caters to a select audience, there was a delay in understanding the impact of social media on B2B customers. Having realized the potential, B2B marketing is now adopting B2C principles of social media marketing.
Many B2B marketers do not realize that having a significant social media presence also improves the SEO of a brand. Improve SEO by creating more original content across social media channels that gets shared and talked about. It creates an impression that the company is reliable, popular, and adds value.
Most of the world is already active on social media. It becomes a very powerful platform to create brand awareness and establish trust. This helps remarkably to shorten the sales cycle when the lead gets activated.
4. Customer journey orchestration
Companies with a strategic mindset understand the need for B2B customer journey orchestration to increase lead conversion.
Identify pain areas and snags where customers lose interest or fall off. Is it at a requirement understanding stage, post a product demonstration meeting, or at the proposal stage? It could also be at the end of your freemium experience, sub-par customer support experience, etc.

Create an ideal customer journey by handling the snag points.

Tighten the process regularly.
This strategy calls for an introspective approach to increasing lead conversions. However, this is also something that will give organic, long-lasting results.
5. Sales alignment
Marketing qualified leads need to be nurtured until they are ready to be sales-qualified leads. B2B sales adopt a hyper-personalized approach, focused on meeting specific requirements of each prospective customer and eventually converting them into actual customers.
It is not possible for the marketing to provide this level of personalized content to each customer they reach out to. Similarly, sales cannot waste their focus on simply keeping leads from going cold. Through the sales cycle, leads can keep going from marketing to sales and vice versa. It ensures that the ball does not get dropped at all.
Functionalities to look for in B2B marketing automation software
To execute these strategies there are some functionalities one would require in your automation tool.
• CRM integration
Most of the information that is required to create an impressionable marketing campaign lives on the CRM. Integrating seamlessly, so that the marketing automation software can pull the information it requires easily is paramount.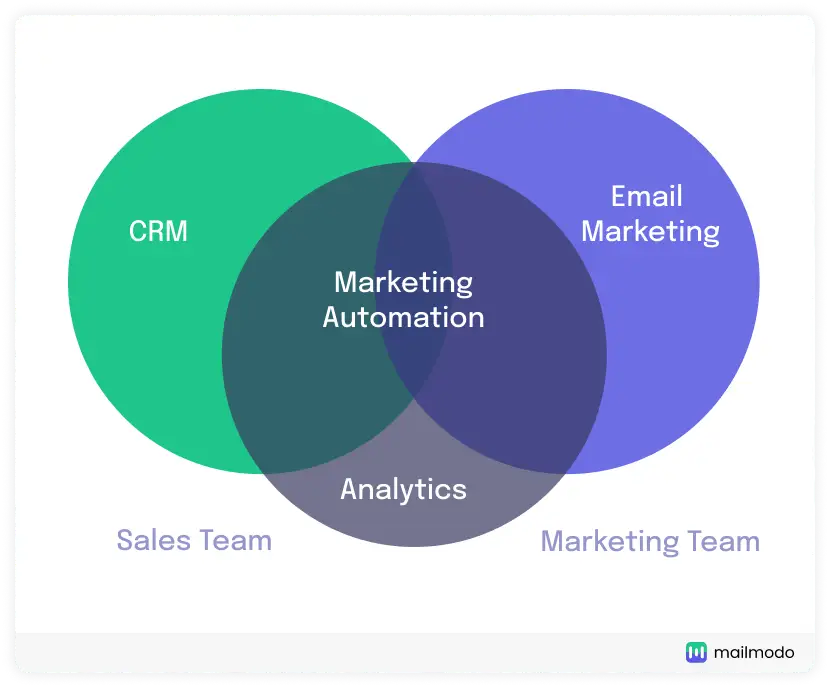 If the integration is 2 way, it can deliver even more impressive results. Marketing automation software has functionalities that can manage new contacts, predict email ids, track visitors and collect their contact information, etc.
In that case, it should allow new entries to be created directly in the CRM for further action on the workflow through the marketing automation software.
• Omnichannel marketing
You may not be using an entire plethora of social media channels for your content marketing. However, in this day and age when you want to reach out to your customers through all possible channels in a systematic fashion. That is possible only through a marketing automation system. What was 'good to have' has now become a 'must-have' feature.
Your marketing automation tool should allow you to
Publish on all your social media channels from one place.

Track activities and responses on all channels from a single place. A dashboard view is usually easy to understand and therefore also preferable.

Produce content in advance and use a scheduling tool to publish at pre-programed times.
• AI-based content creation
Some global leaders use AI bots to create large amounts of content. Automation workflow companies usually have ready-made email templates and social media templates.
Here are some of how an automation tool can help in content creation:
AI-based automated content creation: AI tools create content from data with little or no human interference from data through NLG(Natural Language Generation) technologies.

Chatbots: Enhance user experience through chatbots.

Ready to use templates: These could be landing pages, emails, or posts.
• Ease of use
While it is not technically a functionality, it is required by new marketers to hit the ground running.
Most marketers are not able to use the marketing automation software to its full potential because it is too complicated to use. The idea is to be able to use a system through a user interface without any previous experience with coding.
Many marketing automation systems like HubSpot and ActiveCampaign offer an easy visual interface to create workflows for lead management. However similar experience should be extended to other relevant functionalities like customer segmentation, personalization, pre-scheduled content publishing, etc.
5 best B2B marketing automation software
I'll begin this by saying- that not everyone needs marketing automation software. Small and medium enterprises don't always need to buy whole-set marketing automation software.
You do not need to buy complete MA software if you are only looking to set up drip and nurture campaigns. You can do that with the best-in-class email marketing software.
However, should your marketing strategy involve a multi-channel, multipronged approach that cannot be achieved with only email marketing software or mobile marketing software, then you can go ahead with buying any of these B2B marketing automation software.
1. Marketo by Adobe
Gartner mentioned Marketo by Adobe as a Leader in the Magic Quadrant for B2B Marketing Automation Platforms. It boasts great features and an easy UI along with excellent reporting and analytics.
2. Eloqua by Oracle
Eloqua was acquired by Oracle in Dec 2012. Eloqua is a SaaS B2B Marketing automation tool. It helps to create campaigns in minutes with a drag and drop interface across multiple channels.
3. Pardot by Salesforce
Salesforce is a best-in-class CRM that acquired Pardot for B2B marketing automation in late 2012. Pardot helps personalize content based on different criteria. It also provides robust insight into user behavior and response.
4. HubSpot
HubSpot was founded in 2006. HubSpot offers an entire range of marketing products and services including sales, customer service, and CRM.
It also provides the resources and support to help enterprises set up and use the system functions. Because HubSpot offers everything under one roof, it is a popular choice with small and medium enterprises. HubSpot is also mentioned in the Gartner magic quadrant for B2B marketing automation software.
5. ActiveCampaign
ActiveCampaign, founded in 2003 is a very popular choice for B2B marketing automation. It is easy to use and was a pioneer in creating the visual workflow model for lead management. Unlike others on the list, it is not bulky to implement and is relatively easy on the pocket.
ActiveCampaign also comes with an integrated CRM system. The only disadvantage of ActiveCampaign is not being great at reporting and analytics as compared to others in the same segment. ActiveCampaign was not included in the Gartner magic quadrant as of 2021.
Wrap up
Modern, budget-friendly, and flexible marketing automation software enable small and medium enterprises to fulfill their marketing goals.
If you are a B2B marketer, our guide on marketing automation examples should set you on the path to effectively using B2B marketing automation for improved lead conversion.
What you should do next
Hey there, thanks for reading till the end. Here are 3 ways we can help you grow your business:
Talk to an email expert. Need someone to take your email marketing to the next level? Mailmodo's experts are here for you. Schedule a 30-minute email consultation. Don't worry, it's on the house. Book a meet here.

Send emails that bring higher conversions. Mailmodo is an ESP that helps you to create and send app-like interactive emails with forms, carts, calendars, games, and other widgets for higher conversions. Get started for free.

Get smarter with our email resources. Explore all our knowledge base here and learn about email marketing, marketing strategies, best practices, growth hacks, case studies, templates, and more. Access guides here.