Check if your domain/IP has been blacklisted (and how to fix it)
What will this help with?
Avoid the spam folder and land in the inbox

Improve email metrics
What is an email blacklist?
An email blacklist is a list of domain names or IP addresses that are associated with suspicious or spam content from untrustworthy sources. Mailbox providers like Gmail etc., use these blacklists as a filter to detect and block spam emails.
How to check if you are blacklisted?
Send yourself a test email from the domain you want to check.

Check the header of the email for the IP address. For instance, if you are using Gmail, click on the "setting icon" in the test email and click on "Show original."

In the original message, you can find the IP address of the domain, as shown in the image below.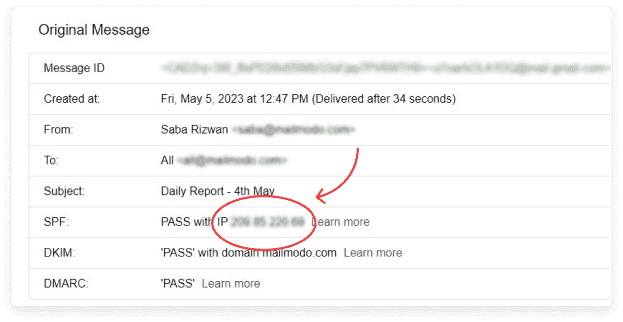 Visit a free blacklist checker website like DNSBL Blocklist Check.
Enter your IP address from Step 3.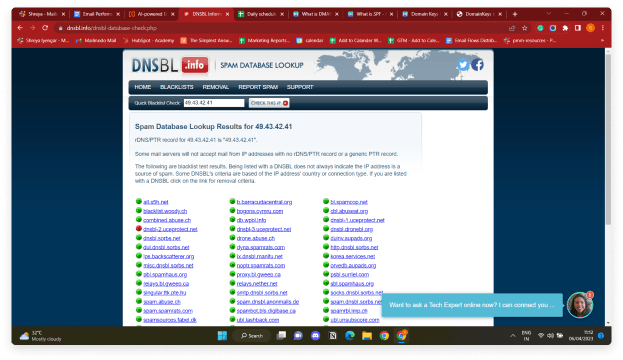 Check and analyze what the report says about your domain and IP.
Below are alternatives to DNBSL that you can use as well:
What to do if you are on a blacklist?
Get in touch with your email service provider to get your name removed from the blacklisting services' lists.

Alternatively, you can also contact the blacklisting service companies. Follow the process prescribed by them, and comply with the process to get your name removed from their lists.
What you should do next
Hey there, thanks for reading till the end. What now?
Complete the task with Mailmodo Take action and complete the task to improve your email performance using Mailmodo. Try it for free for 21 days.

Join the challenge If you want to get daily emails with actionable tasks with step-by-step instructions to stay motivated to improve your email performance then register for the the challenge here.

Need some help? If you have any questions about the task, ask us on our Slack community and get answers from experts. Join the community here.
Complete the tasks and improve your email performance using Mailmodo
Take the 21 Day Email Performance Challenge
In association with
Samar Owais
Email Strategist and
Conversion Copywriter