A piece of advice doled out frequently is: don't care about what others think of you.
It's good advice in most situations. But if you're running a company, you should definitely care a lot about what your customers think of you. Because that constitutes your brand image, and a positive brand image is crucial to your company's success.
This guide will take you through smart ways to build, measure and improve your brand image, and help you skyrocket your sales and magnify revenue.
Table of contents
What is brand image and why is it important?
Brand image is the impression that customers have of your brand in their minds. It is basically how your customers feel about your brand and is developed mainly through direct and indirect interactions with your brand over time.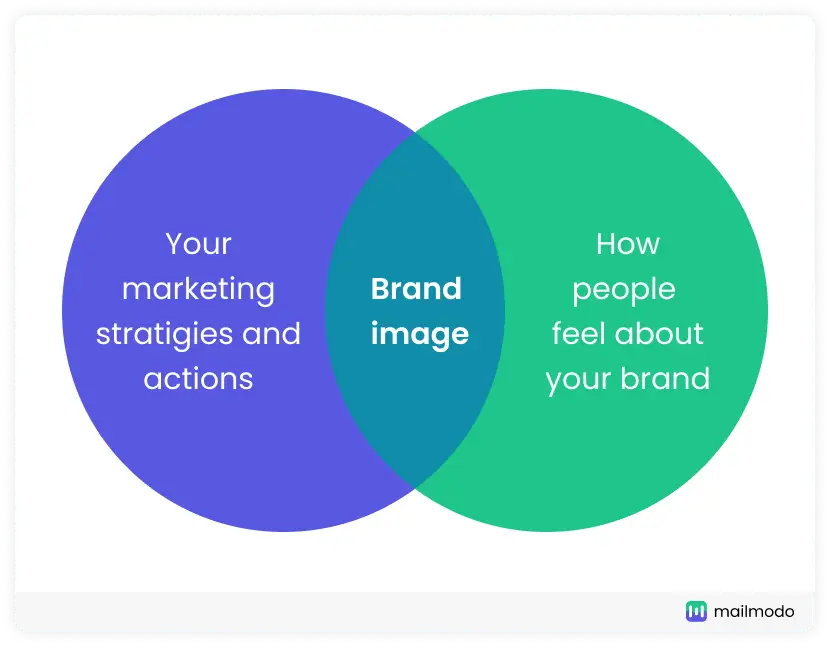 Your customers' perception of your brand is important because of the following reasons:
A company's brand image is a reflection of the company's values, ethics, and management philosophy in the eyes of the public.

A consistently positive brand image is an important tool to retain existing customers and increase customer loyalty.

Your brand image is the first thing a new customer sees or hears about you before any direct interaction. A negative brand image is likely to deter potential consumers from taking the next step and interacting with your brand.
It should be noted here that you can't have full control over your brand image. Even if you do everything correctly:
Market your brand well

Provide great customer service

Have highly sought-after products of exceptional quality
A stray negative interaction could result in a customer forming an unfavorable impression of your brand.
4 examples of brands with outstanding brand image
There are many brands which have not only managed to form a stellar brand image for themselves, but also maintain it over the years. Let's take a look at four such brands:
1. Apple
The Apple brand is all about lifestyle, imagination, and reliability. Their brand image is based on forming an emotional connection with their customers. Their consumers trust and love the company because of the excellent product quality, innovative ideas, and post-sales customer experiences.
Although Apple's products are priced higher than their competitors, they have an extremely loyal customer base. This shows that a good brand image (along with other factors) plays an important role in retaining customers, who will gladly pay a premium price for your product.
2. Louis Vuitton
Almost anyone with a passing interest in luxury consumer goods and brands would know of Louis Vuitton and its handbags. Their iconic logo and square pattern can be recognized even from a distance. The brand has created an impression of grandeur, class, and comfort in the minds of its customers.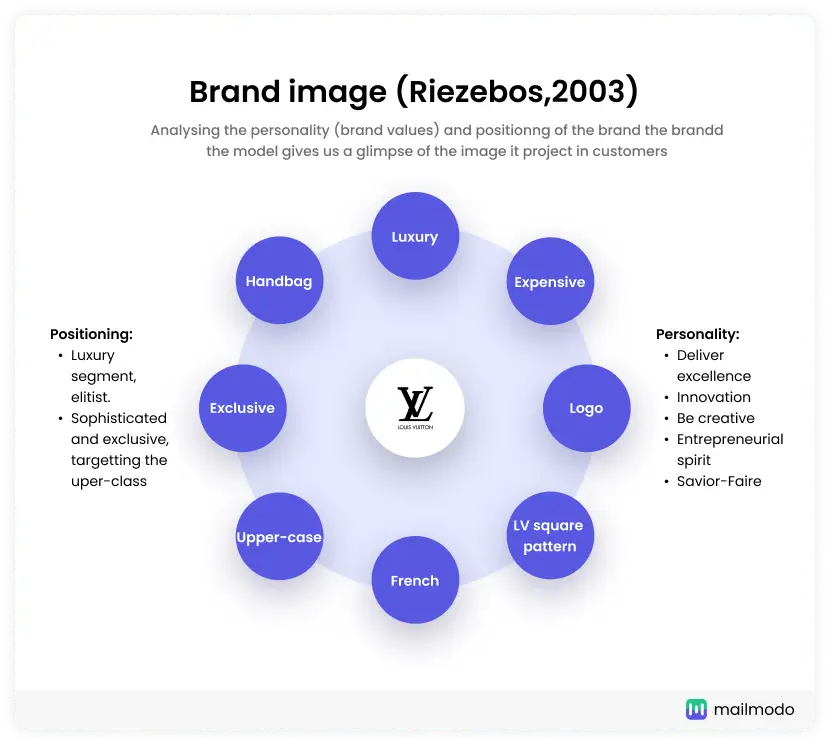 Louis Vuitton has maintained its image of exclusivity and opulence through exceptional product quality, terrific branding, and effective marketing strategies.
3. Victoria's Secret
Victoria's Secret is famous for its lingerie products and perfumes.
On the one hand, they've maintained a positive brand image through consistent product quality alongside innovative designs and good customer service.
On the other hand, the brand is often perceived as selling lingerie only for petite women. This promotes an unfavorable image of non-inclusivity and discrimination toward plus-sized customers.
4. Coca-Cola
You simply cannot talk about anything brand-related without bringing up Coca-Cola. The brand has crafted and maintained an image of happiness, product quality, and authenticity over the years. Whenever you think of Coca-Cola, you probably think of a refreshing drink on a hot summer day or perhaps of a burger, fries, and some coke. That is how powerful its brand image is.
However, many customers might have a negative image of the brand and its products, citing health concerns about the iconic drink.
How to measure brand image
Brand image involves subjective perceptions and can be tricky to measure using a single tool.
But it is important to measure your brand image as best as possible using multiple tools because it allows you to identify the positive or negative associations customers have with your brand.
A few different ways you can measure your brand's image in the public eye are:
1. Surveys
A brand perception survey is an excellent way to measure and better understand the kind of impression your brand makes on customers.
Brand perception surveys help evaluate how well your customers understand the message and values you want your brand to convey. You could create an online survey form or invite a focus group from your target demographic and ask them questions about your brand.
In best-case situations, getting people to fill out forms for review is difficult. This is why you should use NPS surveys. With Mailmodo's interactive emails, your customers can fill the NPS survey in the email without being redirected to another platform, as shown below.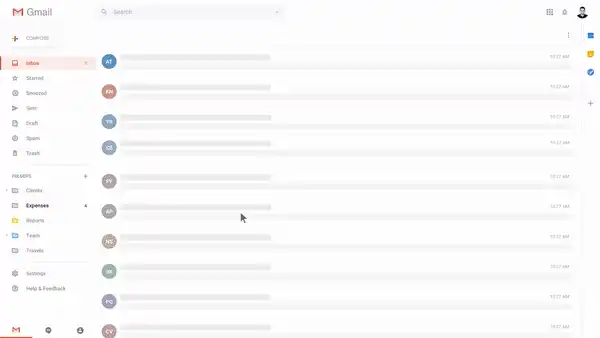 2. Brand concept maps
Brand concept maps are visual representations of brand associations formed by customers.
The first step is to conduct market research to identify a set of associations that your consumers have about your brand in their minds. Once you have collected the data, it can be mapped out on a brand concept map to give you a better understanding of your company's brand image.
Here's an example of a brand concept map. The brand in question is Old Navy.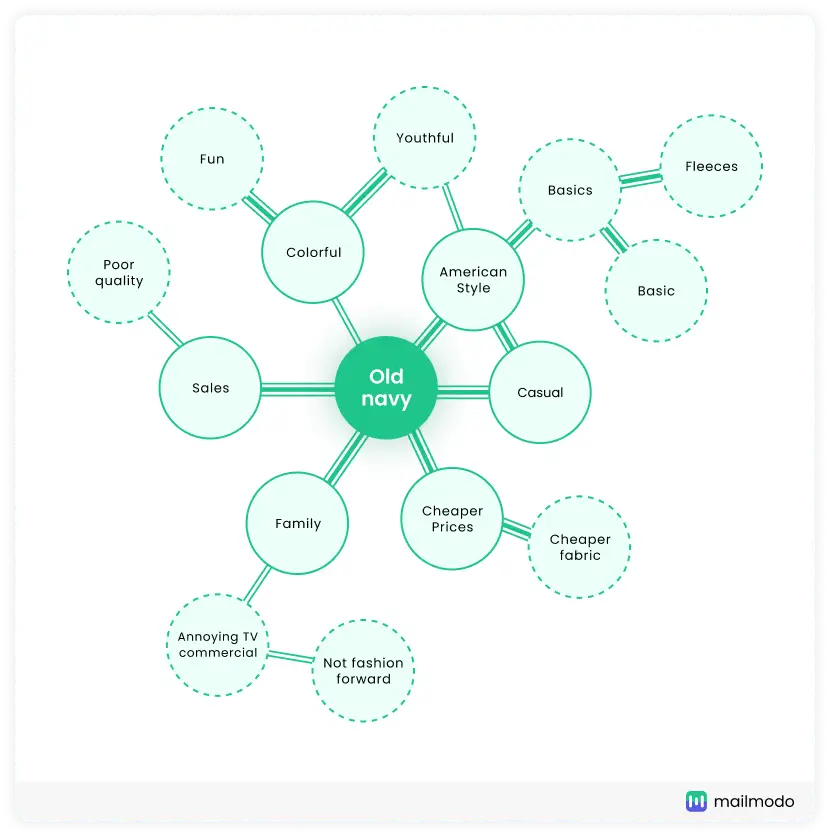 Source: Semantic Scholar
3. Semantic differential scaling
"The semantic differential scale is used for measuring the meaning of things and concepts (Snider & Osgood, 1969). Participants indicate where they feel a product or experience lies on a 7-point scale between polar adjectives (e.g., strong-weak, good-bad)" - Science Direct.)
Customers can rate your brand on a semantic differential scale. The scores would give you an idea about the overall perception of your brand in your customers' minds.
Below is a modified version of the semantic differential scale (5 points instead of 7) used to measure Victoria's Secret's brand image.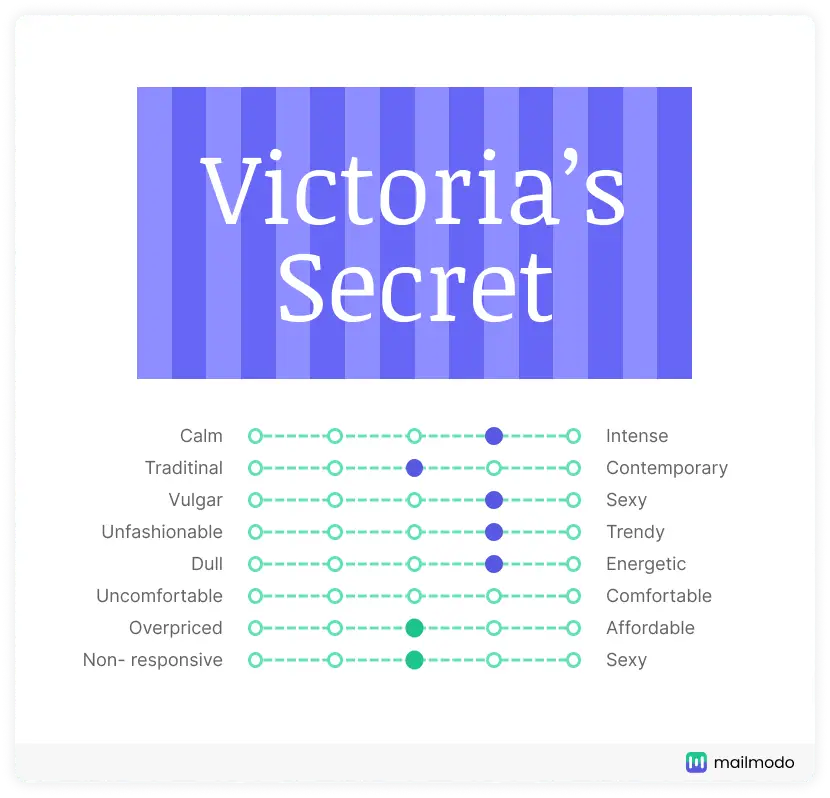 Source: Behance
3 steps to build brand image
Building a brand image is all about taking measures to leave an impression (hopefully, a good one) in the minds of your customers.
1. Create a brand identity
You cannot control your brand image, but you can definitely control your brand identity.
You must have a clear idea of what you want your brand to stand for, and communicate it effectively to the market. This will allow you to build positive external perceptions (brand image) which align closely with the message you want to send to your customers (brand identity).
2. Position your brand in the market
You need to position your brand in the market to stand out from the rest of the competition. Once you occupy a unique place in customers' minds, your brand will be the first they think of when they are ready to make a purchasing decision.
Also read: Brand Positioning 101: How To Dominate The Market
3. Deliver positive customer experiences
Customer experiences have a direct impact on brand image. A positive customer experience — where the customer is left happy and satisfied at the end of their interaction with your brand — elevates your brand's image in their eyes.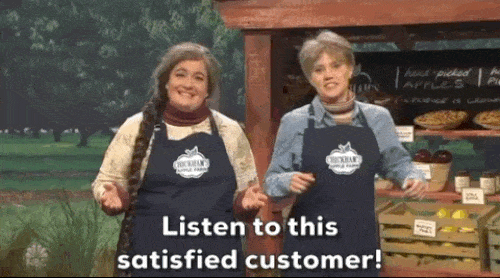 Delivering a seamless and consistently pleasant experience across all customer touchpoints is extremely important, whether at your online site or brick-and-mortar store.
Building a brand image takes time and dedication. You just need to keep trying your best to leave a good impression of your brand in the minds of your customers.
4 strategies to improve brand image
Out of the several methods you can use to upgrade your brand image, here are four:
Amp up your marketing strategies to improve communication with your customers and send clear messages. (If you're looking for someone to help refine your email marketing strategies, Mailmodo has got you covered!)

Listen to customer feedback and act on it. Your brand image depends completely on your customers. Their feedback is of the utmost importance to evaluate your image and figure out what you might be doing wrong.

Communicate brand values. Are your practices sustainable? Are your manufacturing processes eco-friendly? Do you give back to your community through charity work or donations? Tell your customers about it. In today's world, brand values hold a lot of weight in customers' minds when deciding about the brand they want to give their money to.

Be consistent with your efforts. This includes providing excellent customer service to each customer and maintaining the quality of your products and services across multiple platforms, to name a few.
But remember, don't fix what's not broken. If measuring your brand image reveals a strong, mostly positive impression of your brand in customers' minds, you're doing great!
Wrap up
Building a good brand image does not happen overnight. It takes careful planning, customer research, finding ways to connect with your customers, and ensuring they have a pleasant experience every time they interact with your brand.
The more often you can deliver on your brand's promises, the easier it is for customers to remember who you are, and have a positive impression of you in their minds. Speaking of positive impressions, you can learn about how to build your brand voice to better communicate with your customers!
What you should do next
Hey there, thanks for reading till the end. Here are 3 ways we can help you grow your business:
Talk to an email expert. Need someone to take your email marketing to the next level? Mailmodo's experts are here for you. Schedule a 30-minute email consultation. Don't worry, it's on the house. Book a meet here.

Send emails that bring higher conversions. Mailmodo is an ESP that helps you to create and send app-like interactive emails with forms, carts, calendars, games, and other widgets for higher conversions. Get started for free.

Get smarter with our email resources. Explore all our knowledge base here and learn about email marketing, marketing strategies, best practices, growth hacks, case studies, templates, and more. Access guides here.