To cook a meal, a chef should have the right ingredients in the right amount: a tablespoon of salt, a pinch of garlic, and vegetables. If they miss any of them, it will spoil the whole meal.
Similarly, as marketers, you need to put together some essential elements to devise your marketing plan.
These ingredients are the 4Ps of marketing, known as the marketing mix. But what are these 4Ps of marketing, and how will they help you in your marketing strategy?
This guide will help you understand the marketing mix by studying how the top food brand McDonald's, adopted these tactics.
Table of contents
What is a marketing mix?
Marketing mix is a combination of various elements used by marketers to promote their product or service. It typically includes product development, pricing strategies, target audience identification, and promotional activities. It helps businesses create a cohesive and effective marketing strategy.
As a marketer, your first task is to decide who your target audience is. Once you have identified that, you will consider the product and the pricing plan.
After that comes the promotional part, which includes all the activities to make the target audience aware of your product. All these factors should be combined or mixed to get the desired results. The mixture of these elements is known as the marketing mix.
Get the State of Email 2023 Report
150+ email experts share their email tips and secrets
The emergence of the marketing mix
In the early 20th century, Harvard professor James Culliton published an article titled "The Management of Marketing Costs," describing marketers as 'mixers of ingredients.'
By mixer of ingredients, he means marketers are constantly engaged in devising a mix of marketing procedures and policies to create a profitable enterprise. His colleague Professor Neil Borden further promoted this idea in the 1940s.
Yet, despite the popularity of the marketing mix model, there was no consensus on what elements should be in the mix.
Then, in the 1960s, marketer and academic E. Jerome McCarthy proposed the 4Ps framework in his book Basic Marketing: A Managerial Approach. Since then, the 4P framework - Product, Price, Place, and Promotion, has been used by marketing teams to develop their marketing strategies.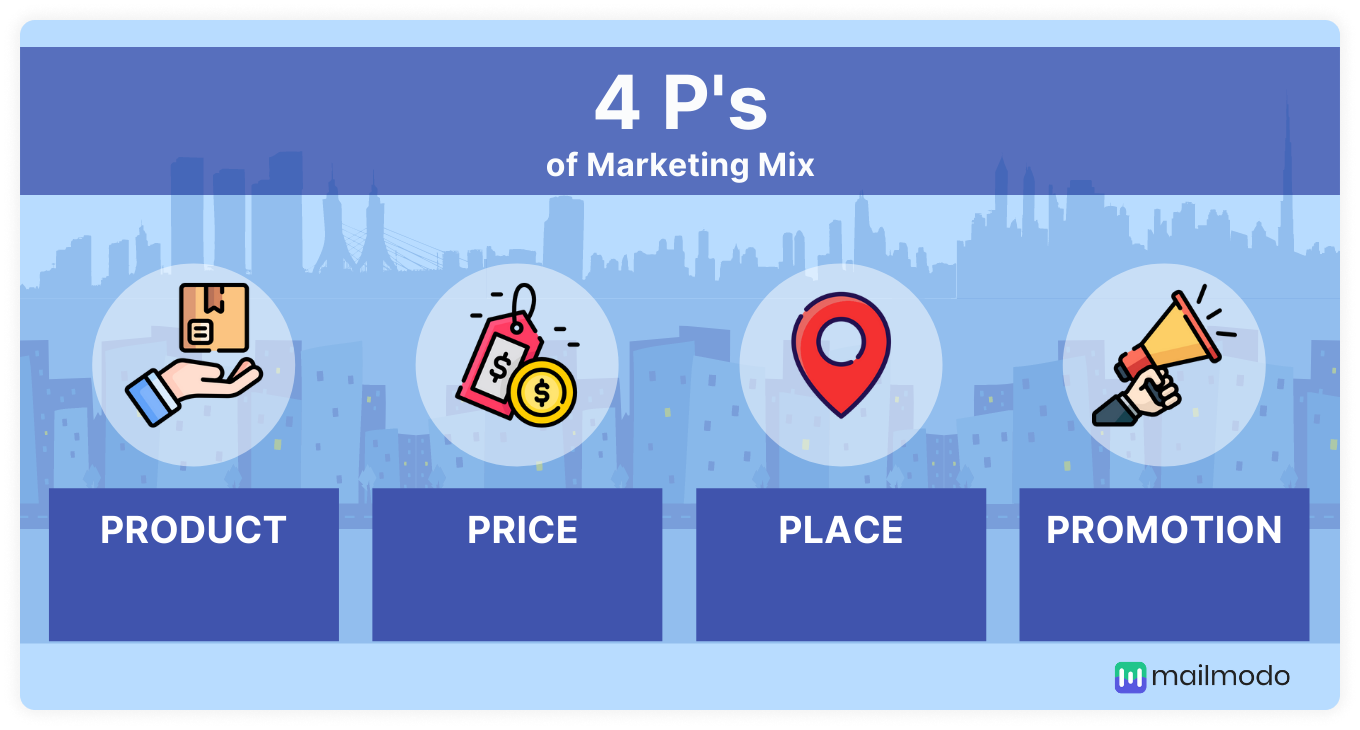 What role does the marketing mix play in your organization?
Implementing a marketing plan helps you in many ways. Some of them are:
Help you understand the changing dynamics of the market and how to devise your marketing strategy based on these changes.
Build brand awareness and trust.
Identify the strengths and weaknesses of your business.
Identify marketing trends and develop innovative ideas for products or services.
What are the 4 marketing mix elements?
As discussed above, the marketing mix consists of four elements that every marketer must use in their business to drive results: The 4 elements of the marketing mix are:
Product or services: What are you selling?
Price: The amount of money for product/services
Place: Where will you sell your product/services?
Promotion: How to get the word out and drive more sales?
Let's discuss each of them in detail.
1. Create value with your product
A product includes every aspect of what you are trying to sell, both goods and services.
It is the most fundamental element of the marketing mix, as you cannot advertise or sell something that does not exist.
Products or services aim to create value for their target audience. If the product is not valuable, there will be no demand.
While deciding on the product, you should be able to answer these questions:
Who is my target audience?
What product or services will serve my audience well?
What are the features of my product or services?
How is my product different from other products in the market?
Let's look at McDonald's product marketing strategy. The below table explains how they developed it.
Metrics
What it includes
Products
Veg and non-veg hamburgers, sandwiches, beverages, breakfast meals, desserts, and combo offers.
Target audience
Age: 8-45
Income group: Lower and middle. class
Life cycle stage: Parents with young children, young children, business customers, and teenagers.
Feature of their products
Diversification: Offers an immersive range of menus for people with different tastes and preferences.
Offer a happy meal box designed for children.
Product differentiation from competitors
MacDonald's offers localization, which means they provide socially and culturally acceptable products to a particular region.
Instead of beef patties, India has Big Mac with chicken to create the Maharaja Mac instead of beef patties since the cow is a sacred animal.
In Sweden, where people prefer a healthy diet, MacDonald's offers a vegetarian burger called the McBean Patty.
McDonald's create value in the following ways:
Localized food items.
Diversified range of products for every age group.
All-in-one availability: meals, beverages, and desserts.
Related guide: Step-By-Step Guide to Implement Audience Segmentation in 2022
2. Capture value with the right price
The price in the marketing mix aims to capture your product's value to the target audience and earn revenue from the sales. Each product offers different values and utility to other individuals. So, choosing the right price is crucial to serving your audience well.
While deciding the price, one should look at the following factors:
What costs do I need to consider?
Will my target audience be able to afford this price?
How will I ensure that I earn profit while giving this price to my audience?
Will my pricing have discounts and offers? If yes, then how will I decide that?
Here's McDonald's pricing mix example:
| Strategy | What it includes |
| --- | --- |
| Bundling price strategy | Offer combo meals that are cheaper than purchasing each item separately. For instance, customers can buy a happy meal box, veggie combo offer, etc. |
| Psychological pricing strategy | Use a fractional price range instead of rounding up the price. For instance, a Mcveggie burger is priced at Rs.39 instead of Rs.40. |
McDonald's captures the value through price in the following ways:
They offer combos and meal boxes which cost less than separate items.
The more customization a product demands, the higher the price.
They have products for every income group, from lower to the middle. Thus, having a more inclusive pricing structure.
3. Deliver value in the right place
Place in the marketing mix refers to how you offer your product to your customers. It can be through a retail store, websites, or third-party members or applications. The place aims to deliver value to your customers by providing easy accessibility and physical evidence.
Nowadays, digital marketing has become more prevalent where people can place their order from the website and get it delivered. So, it should have an attractive user interface, navigational bars, and a secure checkout to provide value to your target audience.
For this, you need to ask these questions yourself:
Where is my target customer shopping?
Where are my competitors, and which distribution channels do they use? Is it physical or digital?
How will I sell my products online? Will I use third-party services or sell on my own?
If I sell my products in a physical store, what kind of facilities should be there?
How would I make your physical store customer-friendly?
McDonald's Place strategy uses a combination of both physical and digital stores to distribute their products. Let's look at how:
| Strategy | What it includes |
| --- | --- |
| Physical stores | Restaurants, food outlets in shopping complexes. Small kiosks solutions sell specific items such as sundaes and other desserts. |
| Digital platforms | Uses third-party apps such as Zomato and Swiggy. Customers can access information about the company's products and place their orders. |
McDonald's deliver value in the following ways:
Ensuring accessibility by establishing stores within the range of their target audience. Some of their stores also offer services 24*7.
Every store has free wi-fi, and the environment is friendly where freelancers and business people can do their work and enjoy their meals.
4. Communicating value with promotion
The promotional marketing mix includes all the offline and online channels and methods you use to make the consumers aware of your products or services. The main goal of promotion is to communicate a product's or service's value.
The promotion channel includes TV advertising, banners, pamphlets, email marketing, [display ads](https://www.mailmodo.com/guides/display-ads/, social media ads, etc.
When you decide about a promotional channel, ask yourself these questions:
Which channel does my target audience use the most?
Which channel do my competitors use?
How would I map out the buyer's journey?
How much budget will I allocate for promotion?
Will I hire an agency, freelancers, or more employees to do the promotional work?
Take a look at McDonald's promotion strategy in the below table:
| Strategy | What it includes |
| --- | --- |
| Advertisements | TV, radio, print media, and online media. |
| Public relations | Activities help promote the business to the target market through goodwill and brand strengthening. For instance, the Ronald McDonald House Charities and the McDonald's Global Best of Green environmental program support communities while boosting the value of the corporate brand. |
| Social media marketing | They actively post and engage with their audience on social media channels like Instagram, Linkedin, and Twitter. |
McDonald's communicate value in the following ways:
Creating seasonal offers to attract customers during holidays, festivals, etc.
Engage with their online audience and post creative campaigns to inform them about updates or new product launches.
Send push notifications, emails, etc., to stay in touch.
Learn how to use email marketing to communicate with your audience from our email marketing guide.
Evolution of marketing mix: 7Ps of marketing
A marketing mix is not a static framework as better frameworks can always be developed, filling the gaps or missing pieces. Marketers continuously look for such gaps and build models that are better than the previous ones.
Bernard H. Booms and Mary J. Bitner did this in 1981 by introducing three new elements to the existing 4ps of the marketing mix: People, Process, and Physical evidence.
This framework was known as the 7Ps of marketing or the extended marketing mix model.
• People
Customer service is integral for every business to enjoy success in the long run as businesses serve people, and these people have issues or problems that they might encounter while using your product or services.
The importance of good and active customer support is non-negotiable with virtual marketing where both business and people are online and want 24*7 support, or else they'll simply shift you to competitors.
Responsible and attentive customer support helps resolve customers' problems and build brand rapport and trust with the customer.
• Process
It encompasses the entire process of how the product is made and delivered to the target consumer. The delivery process should be seamless, and consumers should be kept in the loop throughout the delivery of products/services.
With every business going into the business of online delivery, the process has become easy to track for the consumer.
• Physical evidence
Physical evidence is how a business legitimizes its identity and builds credibility among its target consumers. It's everything that points towards the existence of your business - your store, location, business cards, website, etc.
Physical evidence is also about how you differentiate your brand from your competition through packaging, branding, design of your store & website, etc.
Get a sample AMP email in your inbox
Experience the power of interactivity right now
Takeaways
Marketing is an evolving field, and you need a practical framework to keep growing and stay one step ahead of your competitors. With digitization, these marketing mix elements may seem outdated, but they are not. Instead, these elements provide a framework for building an effective marketing mix strategy.
Each element is independent of the others, so you can't expect to increase your sales if you don't have a product that solves your target audience's needs.
Hence, keep your target audience at the core of all your decisions for each element and provide value to them throughout their journey.
What you should do next
Hey there, thanks for reading till the end. Here are 3 ways we can help you grow your business:
Talk to an email expert. Need someone to take your email marketing to the next level? Mailmodo's experts are here for you. Schedule a 30-minute email consultation. Don't worry, it's on the house. Book a meet here.

Send emails that bring higher conversions. Mailmodo is an ESP that helps you to create and send app-like interactive emails with forms, carts, calendars, games, and other widgets for higher conversions. Get started for free.

Get smarter with our email resources. Explore all our knowledge base here and learn about email marketing, marketing strategies, best practices, growth hacks, case studies, templates, and more. Access guides here.