A welcome email is the first impression or touchpoint your brand has with a customer. Most users expect a welcome email from D2C brands on sign-up or registration, and hence welcome emails typically show higher open rates than any other email campaign.
According to Shopify, an average marketer can generate over 320% revenue using welcome series emails compared to other emails. In addition, Sending welcome emails gives your e-commerce brand high conversion opportunities since most users pay active attention, interact with these emails, and take specific actions.
Table of contents
Why should you send welcome emails?
Sending welcome emails gives you the power to build relationships with potential users and subscribers and nudges them in the right direction in the sales funnel.
Welcome emails are a great way to:
Express gratitude to prospects & build loyalty.

Introduce customers to product information and features.

Incentivize and encourage prospects to make purchases.

Connect with users/prospects across social and digital channels.
Strategy for crafting a welcome email series
Use the following pointers to create great email marketing strategies and achieve high customer attraction and retention among new sign-ups and registrations on your store or website -
Get the State of Email 2023 Report
150+ email experts share their email tips and secrets
When to send
Immediately upon sign up or registration.

Follow-ups with relevant product recommendations are sent between 24- 48 hours of the first welcome email.
Read our guide to learn more about the best time to send welcome emails.
What to write
Welcome the subscriber.

Introduce the brand.

Set expectations as to the content your subscribers may receive from your brand.

Identify the goal you want to achieve by sending a welcome email. For example - connecting & engaging on social media, filling out a survey form, educating your subscriber about your brand.
Read how to plan an effective sales cadence for higher conversions.
Points to focus on for an effective welcome email.
Highlight features without sounding too sales-y or pushy.

Set up automation to follow up with users on promises; e.g., promising an offer code on sign-up should ensure that the benefit lands in the user's inbox.

Ensure that future emails live up to the expectations set in the welcome email series and reiterate the same values.

Use AMP emails and dynamic forms to set up interactive CTA buttons and nudge users to take sales and feedback inside the email.

Don't be afraid to be creative! Showcase your personality with funny emails.
Giveaway: Ready-to-use welcome email template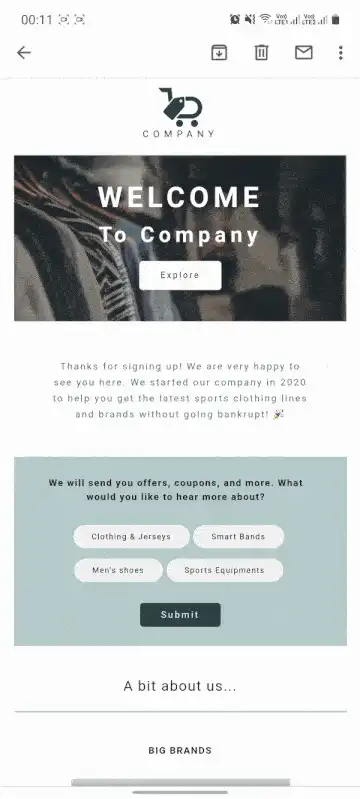 About this template
Welcome your new customers warmly with AMP emails using this welcome email template. This template will also help you get to know your customers better by using forms within the email template.
We tested this email template, and below is the analysis for the inbox display and accessibility of this template:
✅ Responsive.
✅ AMP display for AMP supported clients and standard HTML display for non-AMP supported clients.
✅ Well structured email headings.
✅ Usage of variable font size and color for highlighting.
How to use this template?
Customize the company name.

Add your company logo and social media buttons.

Customize the email copy based on your product offering.

Replace form fields (multiple choice options) with your products.
Read our guide to know the best email icon provider to use in your welcome emails.
Welcome Email 2: Product recommendation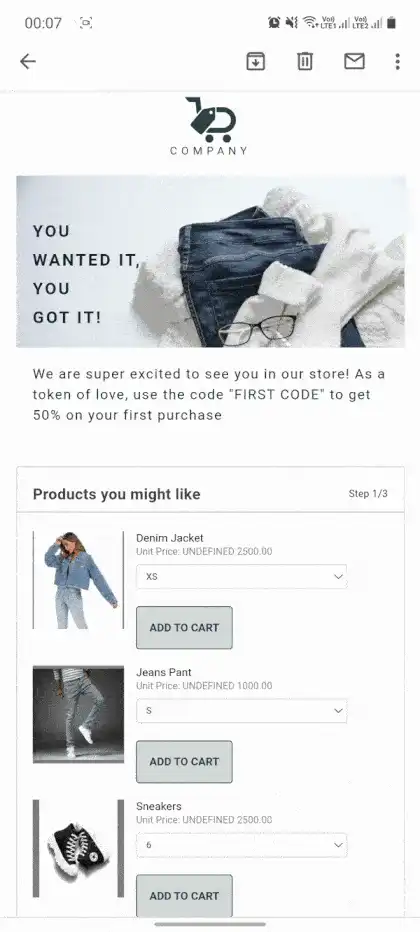 Welcome Email 3: Feedback and discount promo email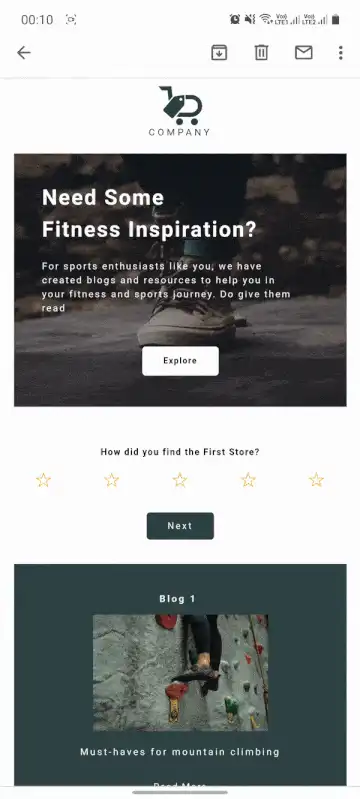 Welcome Email 4: Free trial onboarding email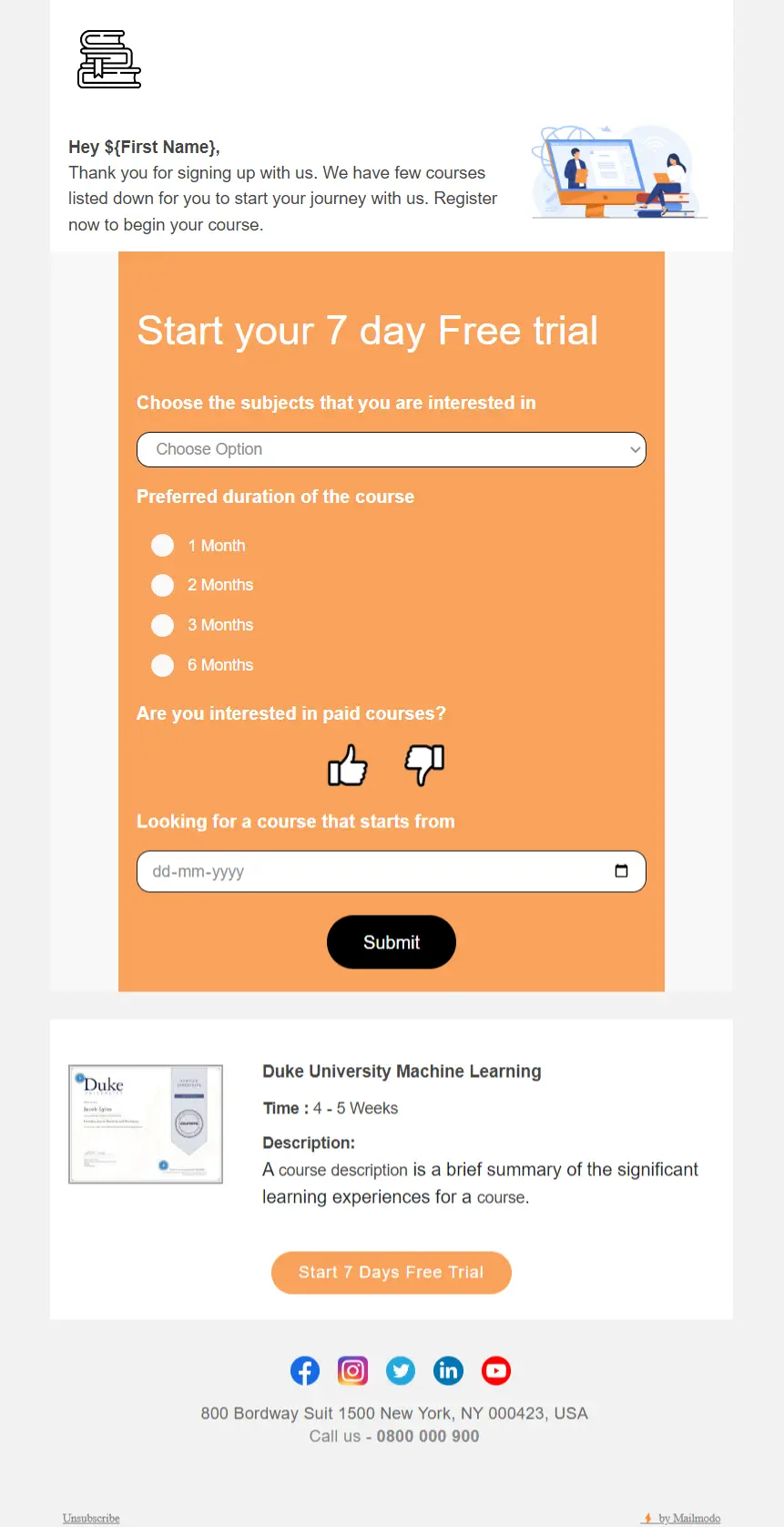 Checkout this free trial email template
Giveaway: Ready-to-use welcome email series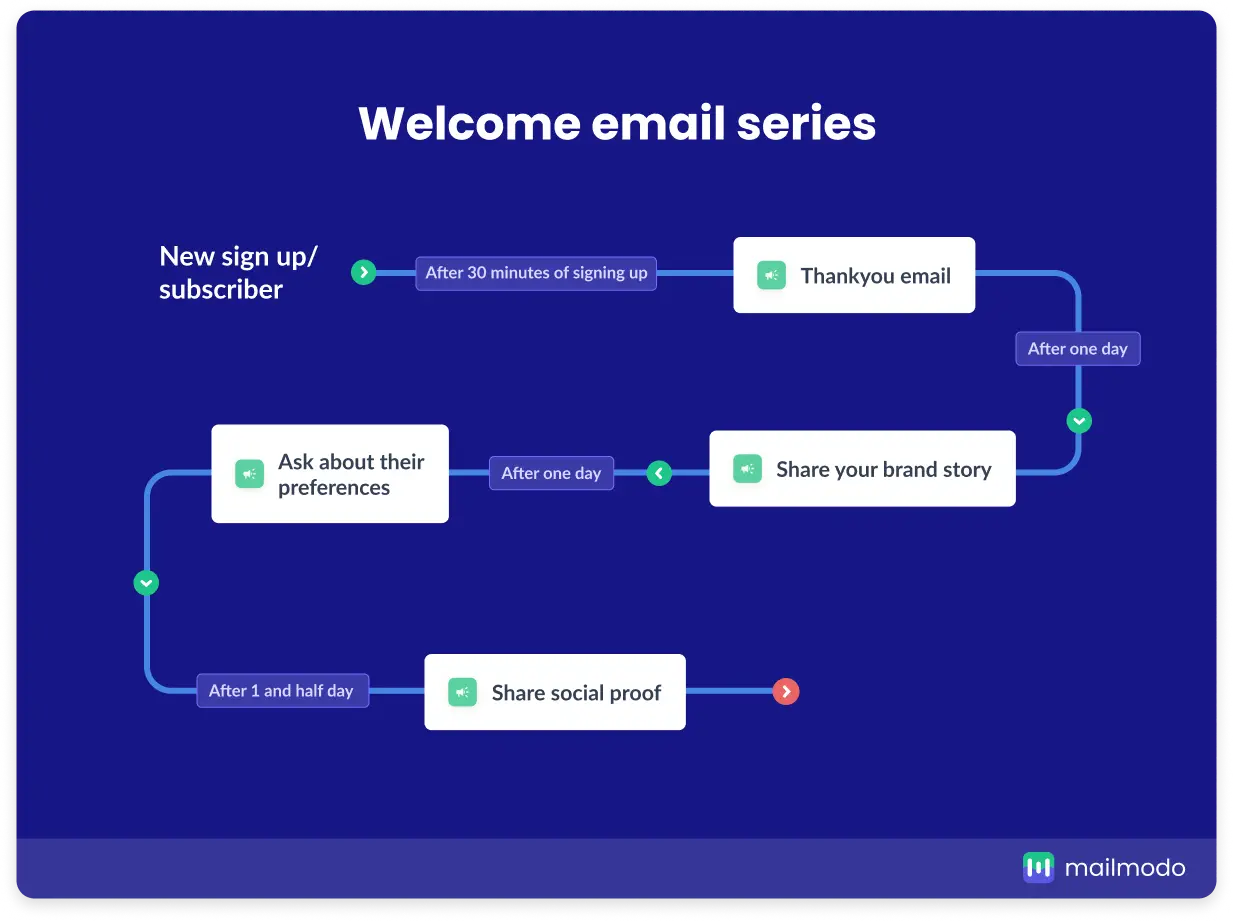 About this email journey
This 6-day welcome series journey will help you create an engaging onboarding experience for your customers. It starts as soon as the customer signs up for your store or website. An effective welcome email series must nudge your subscriber towards interacting with your store and getting to understand your brand.
Related guide: A Complete Guide to Creating Engaging Onboarding Emails
Get a sample AMP email in your inbox
Experience the power of interactivity right now
How to use this journey?
The journey will be triggered once the customer has signed up for the store or newsletter.
Step 1: Add the welcome email campaign to the first trigger point.
Step 2: Add a delay (wait 24 hours).
Step 3: Trigger the second email campaign after one day of sending the first one. The follow-up can be about product recommendations (based on the user response to the in-mail form in the first email if you use AMP emails).
Step 4: Add a delay (Wait 48 hours).
Step 5: After 2 days of sending the first email, prompt the customer to explore the blogs and visit the store with campaign 3.
Step 6: Set up the trigger point using API endpoint trigger or other app integrations like Zapier and Integromat. Integrate Mailmodo account with your Shopify store, connect your store/website with Zapier, Integromat, or use API to get started with the customer email journey.
How to use this email giveaway series for your e-commerce brand?
We will share one lifecycle email template and email series with you every day. We will also share guides, best practices, and ideas behind implementing these series for your e-commerce store. These templates and series are designed to help you achieve the maximum benefits of email marketing with minimum effort.
4 steps to lifecycle marketing for your e-commerce brand:
To access these templates, sign up with Mailmodo.

Customize the template quickly in under 120 seconds.

Finally, add your sender email and domain.

Then, start sending AMP emails to your consumers and build brand loyalty and higher sales.
If you are a Shopify user, you can use Shopify store integration with Mailmodo to build on this email series.
Welcome series email best practices
Thank users for signing up, subscribing to your updates, or choosing to know more about your brand.

Use your brand logo in the email header for brand recognition.

Have a warm, engaging subject line and preheader since they are the first thing a potential user notices about your brand's emails.

Personalize your message to make users feel more affiliated with your brand. For example, using their first names in subject lines can make your email stand out in a crowded inbox, and saying more than just hello in your email can help users understand your brand better.

Automate emails to trigger specific emails, for e.g., offer-based emails, follow-ups, etc.

Place concise calls to action, so your users are directed to take specific actions. The more direct the CTA, the higher the click-through rate - tell people what you want them to do, and they will likely follow.

Allows your users to update their preferences by providing unsubscribe links so they can be comfortable knowing they have the opportunity to opt-out
Generating more revenue with welcome emails
Welcome emails are a great way to introduce yourself to subscribers and guide them to understand your e-commerce brand better.
Take this opportunity to provide friendly, relevant, and valuable information to help your users explore possibilities of building lasting relationships with your brand. Use these lifecycle email marketing templates to set up your welcome email sequences. Once these are in motion, analyze and test data associated with these campaigns to see how effortlessly you can generate results and increase your brand's outreach.
Excited to grow your e-commerce store and digital presence? Sign up with Mailmodo today to use this email series instantly.
What you should do next
Hey there, thanks for reading till the end. Here are 3 ways we can help you grow your business:
Talk to an email expert. Need someone to take your email marketing to the next level? Mailmodo's experts are here for you. Schedule a 30-minute email consultation. Don't worry, it's on the house. Book a meet here.

Send emails that bring higher conversions. Mailmodo is an ESP that helps you to create and send app-like interactive emails with forms, carts, calendars, games, and other widgets for higher conversions. Get started for free.

Get smarter with our email resources. Explore all our knowledge base here and learn about email marketing, marketing strategies, best practices, growth hacks, case studies, templates, and more. Access guides here.