Optimize send time for better open rates
What will this help with?
Improve open rates and engagement

Better targeting of emails for higher conversion rates
How to set up send time optimization
Figure out if your ESP has an STO feature. If it has one, follow their documentation to enable it for your account. If it doesn't have one, follow the below steps for optimized scheduling of campaigns.
Find the most active day and time with respect to open rates and click rates for your email campaigns. You can do this by analyzing previous campaigns' performances from your ESP's dashboard.

Find out which time is the best open time for different geographies. You can segment based on geographies such as Eastern and Western Hemispheres, continents, regions, time zones, or countries, depending on the geographic location of your customer base.

Create a concise report with a time and day that worked well for different contact segments and content types. Use this information to deploy future campaigns.
💡 Resources
How to set up send-time optimization on Mailmodo
⚡️ At Mailmodo, we have built-in send-time optimization feature, which suggests the best time to send campaigns based on previous campaigns. You can enable and use this any time you want to send a campaign.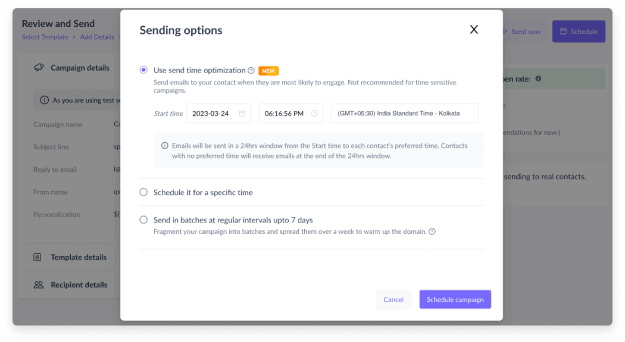 You can select this feature as part of Sending options whenever you are scheduling/sending your next campaign. Read more about the STO feature on Mailmodo here.
What you should do next
Hey there, thanks for reading till the end. What now?
Complete the task with Mailmodo Take action and complete the task to improve your email performance using Mailmodo. Try it for free for 21 days.

Join the challenge If you want to get daily emails with actionable tasks with step-by-step instructions to stay motivated to improve your email performance then register for the the challenge here.

Need some help? If you have any questions about the task, ask us on our Slack community and get answers from experts. Join the community here.