AI content writing tools can be the absolute best investment for your business as they are cost-effective and time saving. We have tons of AI copywriting tools available in the market and since all of them claim to be the best, we have tried, tested, reviewed and curated a list of the actual best.
Table of contents
Why choose AI copywriting tools over a human copywriter
Copywriting with AI comes with its own pros and cons. On one hand, It not only helps you save a lot of time but can also cut costs. On the other hand, it lacks the emotional intelligence that only humans can provide. However, AI copywriting tools are great if you have writer's block or you want to create templatized content.
11 AI copywriting tools to speed up content creation
Here are some AI copywriting tools with their best features, use cases, pricing and our personal reviews:
1. Copy.ai
Copy ai is one of the most popular, easy to use content writing tools that can help you write copy real quick. It can generate copy for Instagram captions, nurturing email subject lines, cold outreach pitches or it can even suggest you different copies if you are in your creative block, CopyAI's got you covered.
Best features:
Can create: digital ad copy, social media content, website copy, eCommerce copy, blog content, and sales copy

The pro version generates content in multiple languages

Focus on your target audience

Product descriptions

Long-form document editor

You can also create workspaces or access the workflows templates to generate content at scale.

You can also use in-built tools that help you generate content ideas and short copies.
I generated a social media testimonial copy with Copy AI and this is how it looks: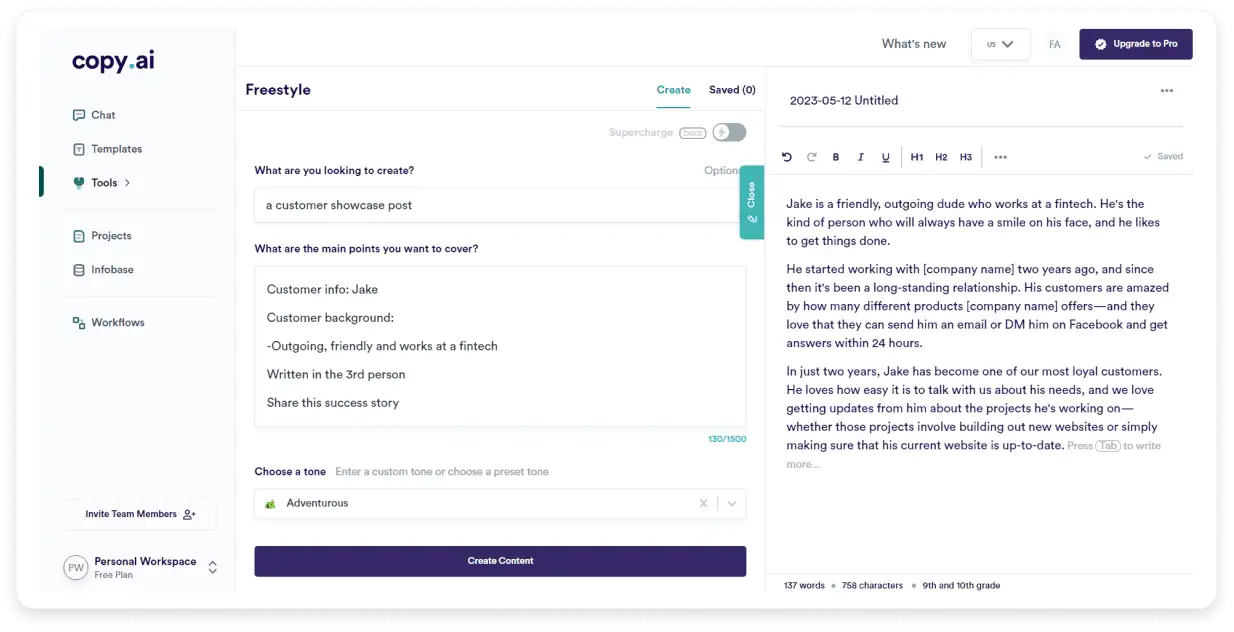 Pricing:
Free trial: ✅
The free plan comes with only a 2,000 word limit and the features are limited too. The monthly plan is for $49/month. However, you can get it for $36 if you choose to pay yearly. Check the full pricing plan here.
Final verdict:
Ease of use: The tool is great for beginners, people who are not familiar with AI tools as it is very easy to understand.

Best for: The tool is great for people who want to generate short-form copy for social media, pitches and descriptions etc. or for copy ideas.

UI: The UI is very intuitive and gives you hints on the usage which is very convenient.
2. Article Forage
Article Forge is a great AI content writing tool for generating high-quality SEO-friendly articles. It will create a high-quality first draft for you to use and fact-check. It might even be good enough to publish immediately.
Best features:
Adds relevant images, videos, and links to ensure your content is ready to publish and exciting.

You can automate the SEO content to wordpress, schedule and post.

This tool can help you write in 7 multiple languages, so you can reach people with your content.

Research in real-time, which means you can create relevant and accurate articles about current events.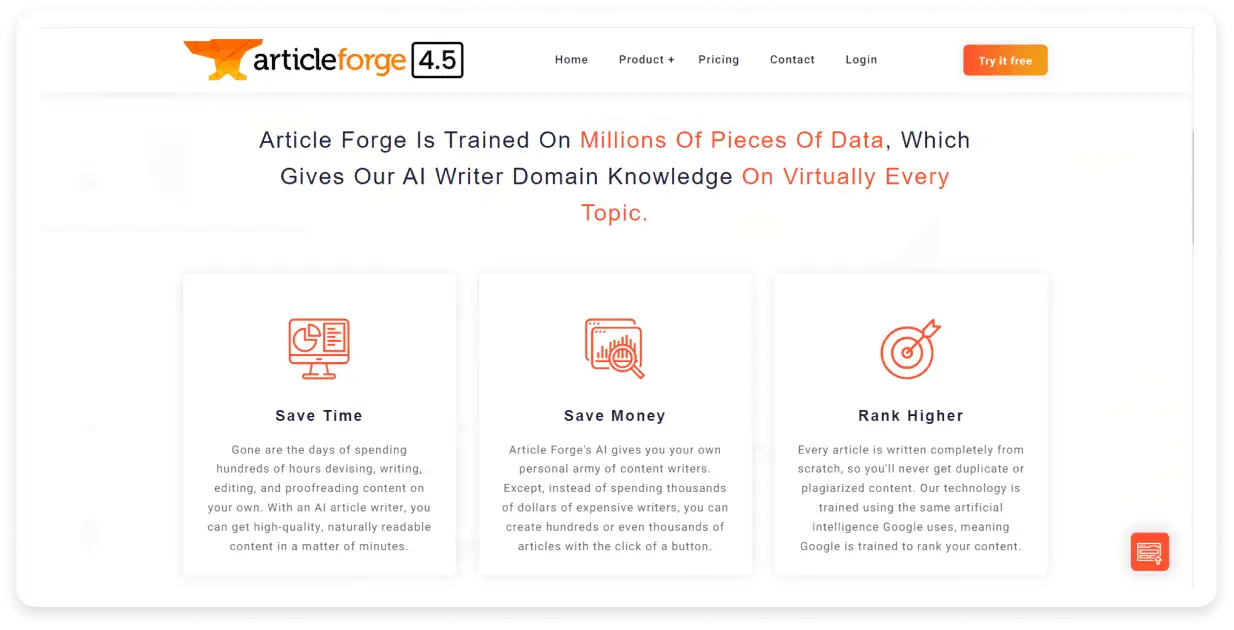 What I did not like about this is that it kept asking me for credit card information without letting me have a demo which was quite annoying. Also, the login process is a bit of a hassle as there is no google integration inside this software.
Pricing:
Free trial: ✅ 5-day free-trial
Article Forage comes with a monthly plan for $27. However, you can get it for $13 per month if you choose to pay yearly. Here is the full pricing plan for Article Forge
Final verdict:
Ease of use: Although the sign up process was a bit of a work, the tool is pretty easy to use. The tool comes with a post scheduler and wordpress integration which is convenient for writers.

Best for: This tool is great for writers who want to generate bulk articles quickly as it is specifically designed for articles and SEO content. It helps you write full-fledged articles for your blog posts.

UI: The interface is quite good. It could be improved in terms of functionality and features.
💡Related Guide: 12 Best No-Code Email Builder Tools for Successful Email Campaign
3. Copymatic
Copymatic, one of the best AI content writing tools offers various templates depending on what you want to write. If you're using it to write a blog post, you just need to fill in some info and it generates title options, intro paragraph options, topic and keyword, outlines. It can write content from social media, to SEO and website, to blog content, and Ecommerce copy.
Best features:
With this tool, you can adjust the creativity level or the tone of voice to get the perfect copy for your business.

There are more than 50 tools available for your copy needs.

Copymatic can also polish your content as it checks and rewrites your content automatically.

The tool understands your sentences and rewrites it in a completely unique and smart way.

The new update also offers text-to-speech, tweet generator and twitter threads generator
I tried generating FAQs with Copymatic and it gave me so many options to pick. Voila!🤩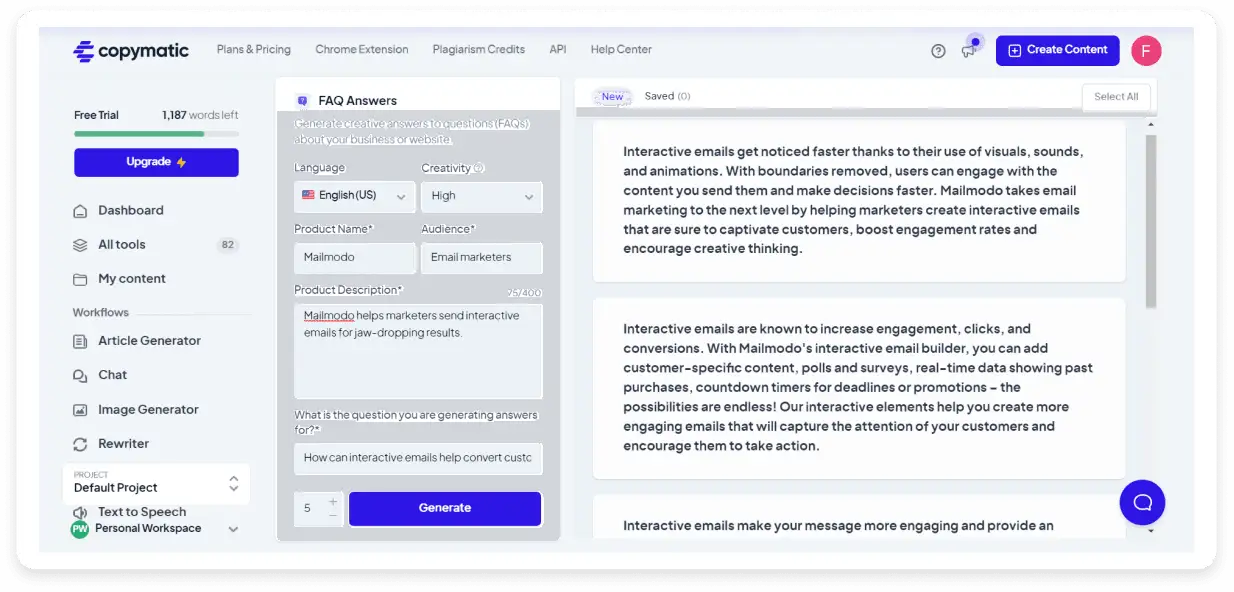 Pricing:
The free plan is limited to 2,000 words. You can always refill your word requirement as Copymatic lets you pay as per the content requirement. Check the pricing here.
Final verdict:
Ease of use: Copymatic is quite easy to use. You can easily access all the features on one page and have an app-like experience on search engine.

Best for: This is a great tool for all and absolutely useful for your short-form copy needs.

UI: The interface is smooth and easy to work with.
4. Simplified
Simplified is an all-in-one tool for your content creation needs. It helps you write a variety of content and comes with templates for platforms from social media, to emails, to websites and much more. It generates blogs and other copies in 2 minutes. Apart from writing, you can also experiment with video and picture editing and social media publishing.
Best features:
It comes with a large number of templates that help you write short and long form content quickly and creatively.

It can instantly write AI copy for over 50 types of content, including Facebook ads, blog intros, product descriptions, and more.

It can help you rewrite, edit, improve, or write new copy from scratch so you never have a writer's block.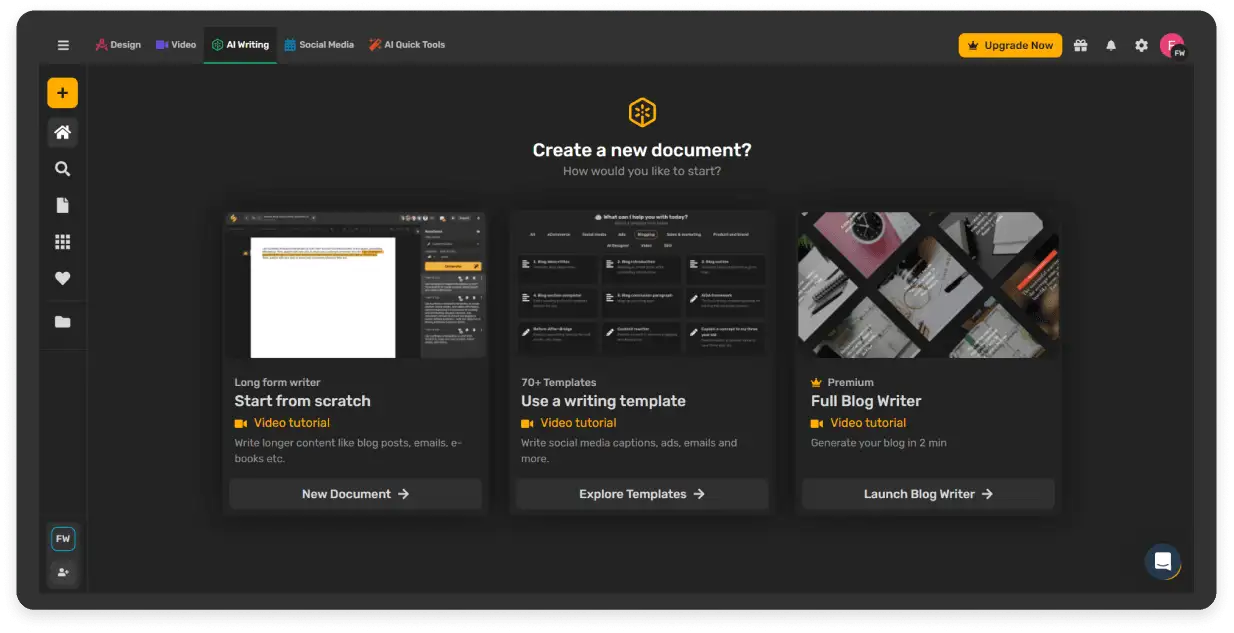 Pricing:
Simplified comes with a free forever plan. However, the features in the free plan are limited. You can upgrade to small, business or growth plan to access all the features. The business plan is for $50 per month and you can get it for $40 if you choose to pay yearly. Check out the full pricing plan here.
Final verdict:
Ease of use: Simplified, like its name, is very easy to use. All the features are at one place, so its easy for you to create content and publish as well.

Best for: Simplified is best suited for content creators, freelancers and businesses wanting to scale up their content.

UI: This tool has an amazing interface, a bit similar to notion which makes it an ideal writing platform for creating and organizing content.
💡Related Guide: AI in Marketing: 10 Real-Life Examples and Use Cases
5. Longshot AI
LongShot AI specializes in creating legit, accurate, and SEO-friendly long-form content. It also provides some of the most comprehensive features, which offer lots of use-cases like blogs, headlines, rephrasing content, generating content ideas etc. You can use these features to generate high-quality content for your audience
Best features:
Comes with integration of tools like Wordpress, Semrush, Hubspot, Medium etc.

Generates factually accurate AI content.

Provides customized AI templates for specific needs

Generates short-form copy for your blogs like meta description, bullet points, summaries, headlines etc.

It can also help you generate textual information with just a few keywords.
Longshot has some great tools for short copy. You can select any tool from the dropdown (FactGPT in the picture) and tweak it if you want in the editor.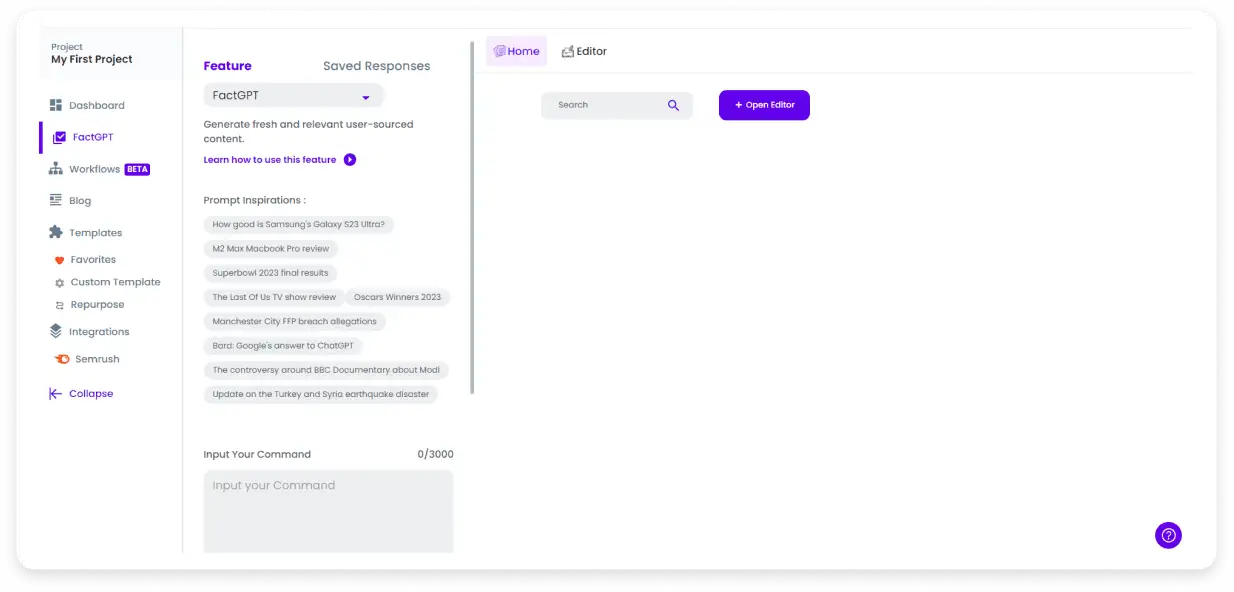 Pricing:
Free Trial: ✅ 5-day free-trial
The free trial gives only 100 credits. The pro version is available for $29 per month, You can get it for $19 if you choose to pay yearly. There are also team and agency plans available as per your requirement. Check the full pricing plan here.
Final verdict:
Ease of use: The tool is quite convenient. The templates, workflows, dashboard and integrations, all are at one place which makes it easy to work with.

Best for: Longshot is best for all types of businesses and freelancers to generate high-quality, short form and long-form content.

UI: The interface is pretty good, beautiful and all the features are easily accessible.
6. Jasper AI
Jasper AI is also one of the most popular AI copywriting tools Jasper is a tool which uses GPT-3 to write content, including social media posts, ad copy, blog posts, emails etc. The best thing about this tool is that it lets you write copy without losing your brand voice, which is also its USP.
Best features:
Jasper learns from your brand to help you stay consistent so you can create high-quality branded content..

It also helps you collaborate with your team

It can turn a single piece of content into a full-scale campaign in minutes

It also supports voice prompts and keywords so you don't have to write if you don't feel like it.
Look at this example, Jarvis generates a long product description with just a few lines: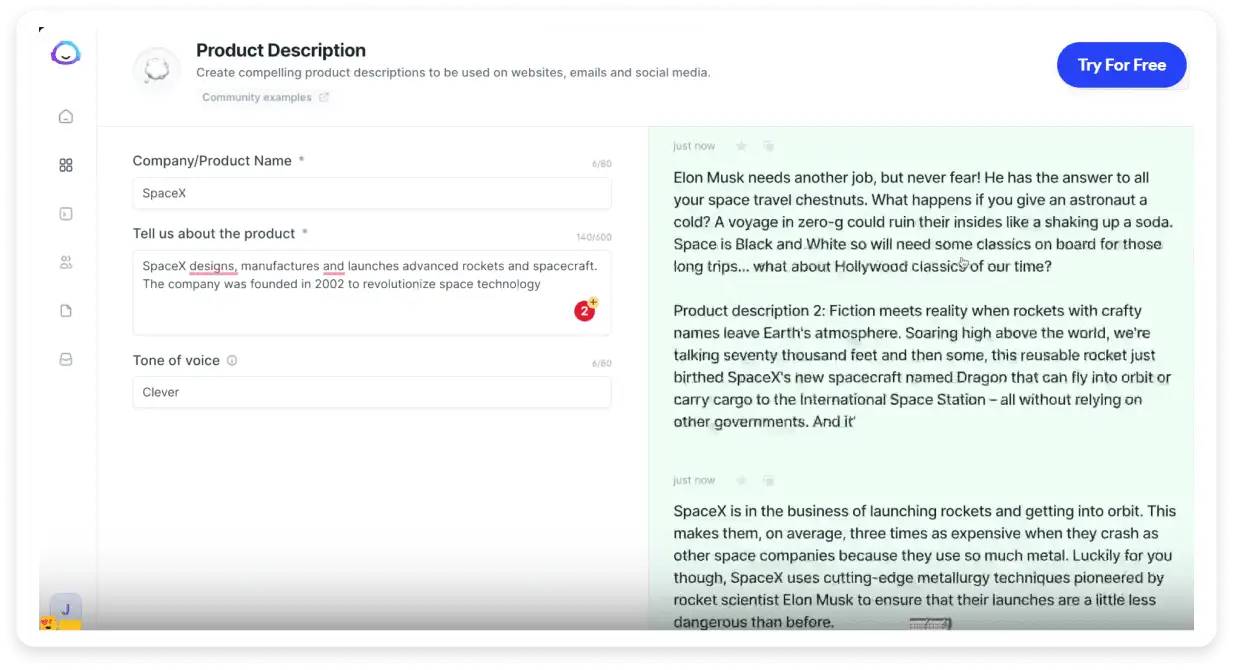 Pricing:
Free trial: ✅ 7-day free-trial
Jasper AI offers three different plans: creator, team and custom so you can invest according to your need. The creator plan is for $49 per month. However, you can get it for $39 if you choose to pay yearly. Check all the plans and pricing here.
Final verdict:
Ease of use: Jasper is pretty easy to work with and a beginner can surely understand the functionality quite easily.

Best for: Jasper can be a great collaborative tool for teams. It is made for branded content so brands can incorporate this AI tool in their content creation process.

UI: Like every other tool, the interface is quite easy to navigate and understand. If you've used an AI content writing tool before, this should feel pretty similar.
7. Copysmith
Copysmith is another AI writing tool that helps you generate great Ecommerce copy for your products.This powerful tool also uses AI to analyze and give feedback on your writing that can help you improve your style, grammar, and syntax. All you need to do is provide a sweet and short description of your product.
Best features:
You can easily put together a professional blog and publish immediately.

Create compelling product descriptions for videos and websites.

Generate FAQs that can help you come up with content ideas for blogs and other types of content.

Comes with integration for BigCommerce, Shopify, Amazon,and others

You can also assign to team members and approve the copies as needed.

It can use your data to train itself according to your brand voice and tone.
The coolest thing about Copysmith that I noticed is how it lets you generate bulk copy which is great for Ecomm businesses.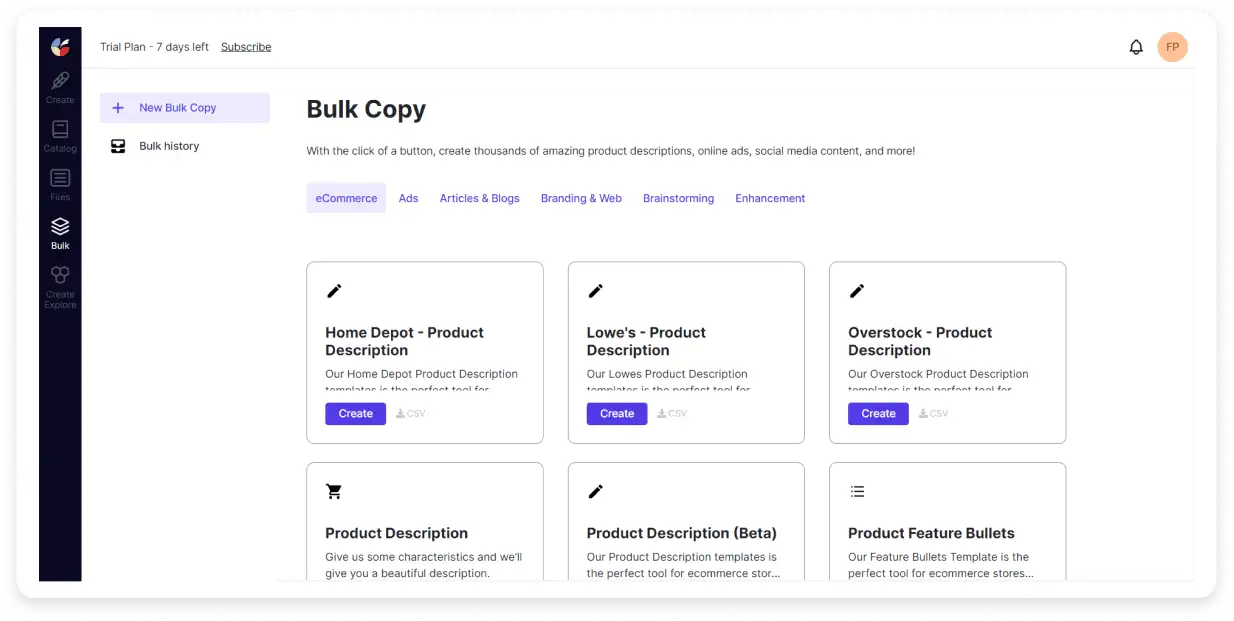 Pricing:
Free trial: ✅ 7-day free-trial
Copysmith has three different plans according to your requirements. The starter plan costs $19 per month. You can also check out its professional plan which can save you money if you choose to pay yearly. Check out its pricing plan here.
Final verdict:
Ease of use: Copysmith is great tool as its great for beginners and people who don't have much know-how of AI tools.

Best for: This tool is the best investment for Ecomm brands and small business to generate their product descriptions in bulk and write copy as per their brand voice.

UI: The interface is quite convenient to work with as the features are also very limited.
💡Related Guide: 9 eCommerce Personalization Strategies to Boost Sales
8. Writesonic
Writesonic is an innovative tool that uses cutting-edge AI to analyze and assess your writing style, from your word choice and sentence length to your use of punctuation and grammar. You just select a template, supply a few lines of description, and it provides multiple copy samples for you to choose from.
Best features:
Helps you write SEO optimized marketing copy for blogs, social and Google ads, Quora answers, and sales emails to increase clicks, conversions, and sales.

For writers, it can generate long-form content like Ebooks, sales email or essays. It can improve your content to perfection using in-built editing tools: Paraphraser, Expander, and Shortener.

For marketers, it helps generate great ad and sales copy that increases CTR, conversions and cost-per-click.

For leaders and entrepreneurs, it can even generate new ideas for your new startup and use our growth ideas generator to get innovative ideas to grow your business.

Creates content in more than 20 languages so you can reach global audiences.
Look how I generated Google Ads copy in minutes with Writesonic: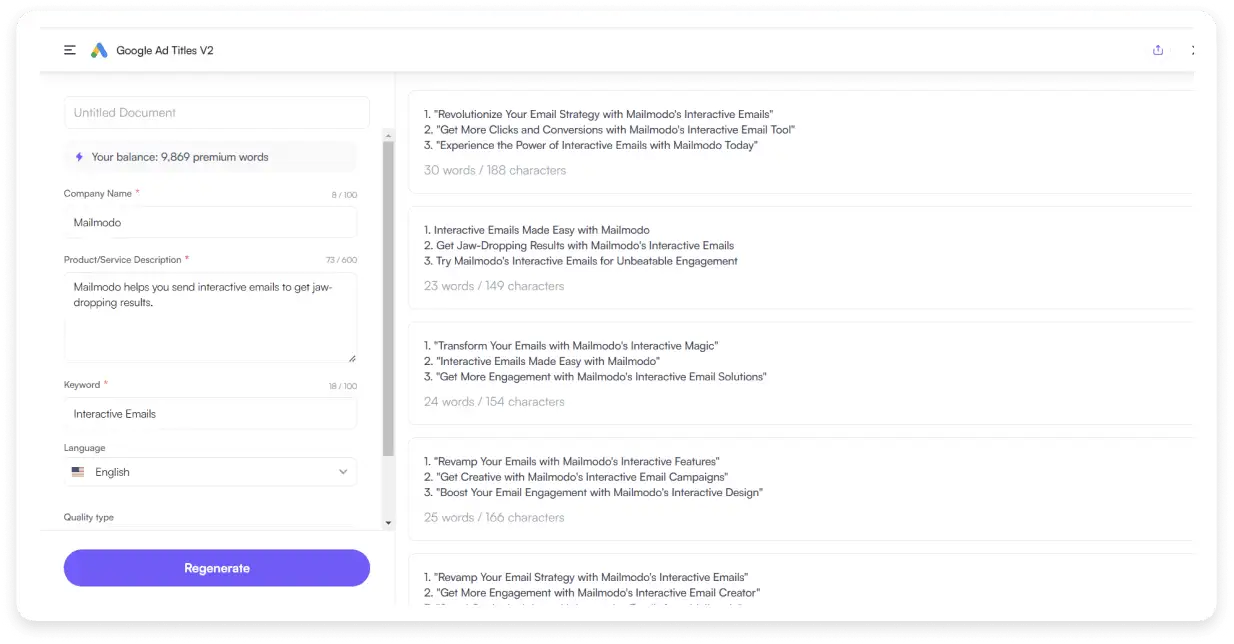 Pricing:
Free trial: ✅
The free plan comes with a limit of 10,000 words. If you want to upgrade and write more, there are also pro and enterprise plans. The pro plan comes with a cost of $19 per month. However, you can get it for $12 per month if you choose to pay yearly. Check out the complete pricing plan here.
Final verdict:
Ease of use: Writesonic is the best tool for beginners as it comes with numerous templates for many copies. You can easily find all the templates the moment you sign up.

Best for: Writesonic is for all. Whether you are a freelancer, a marketer or entrepreneur, Writesonic will help you with your content needs.

UI: The interface is attractive and easy to navigate. It has also launched some new and cool features like Botsonic and chatsonic which are great tools if you want to generate branded and high-quality content.
💡Related Guide: How To Write a Unique Selling Proposition for Your Brand
9. Frase
With Frase, you can research, write and optimize your content for SEO. It's an all-in-one content writing solution for bloggers, content creators, and marketers to produce high-quality content in less time. From content brief to content analytics, its an all in one tool for your content.
Best features:
With frase.io, you can integrate your Google search console for better SEO optimization.

It provides built-in templates to generate content in minutes or you can also create custom templates as per your needs.

Frase helps you identify new content opportunities and provides content ideas by analyzing Google search console data

The content editor comes with all word processing features to help you format your content.
Frase provides product demos on weekdays. You can register and get the know-how of the product. Register here.
Pricing:
There is no free trial. However, you can get a 5-day trial of the product for $1.
Frase comes with different plans as per your requirement. The solo plan starts with the cost of $14.99 per month and if you choose to pay yearly, you can get it for $12 per month. Check out the pricing here.
Final verdict:
Frase is one of the most popular AI copywriting tools. Its great for writing blogs, SEO content and helps you analyze the content. In short, a dream tool for content marketers.
10. Narrato AI
Narrato AI helps you ideate, create, collaborate and publish on the same workspace which makes it an ideal content writing tool with AI-driven capabilities. You can ideate and create using a number of templates available and also collaborate with your colleagues for better accountability and team management.
Best features:
Content marketers can leverage AI at various stages in their content creation journey as Narrato has an AI tool for almost everything from content ideation to optimization.

Tools like the bulk AI product description generator can generate 100s of descriptions within seconds, saving content creators hours of work.

The ChatGPT integration offers an added layer of convenience and lets content marketers flexibly research and create content.

Workflow automation features also help create and collaborate on content seamlessly.
I generated a cold outreach email template with Narrato with just a few word description, title and tone. Here's how it looks: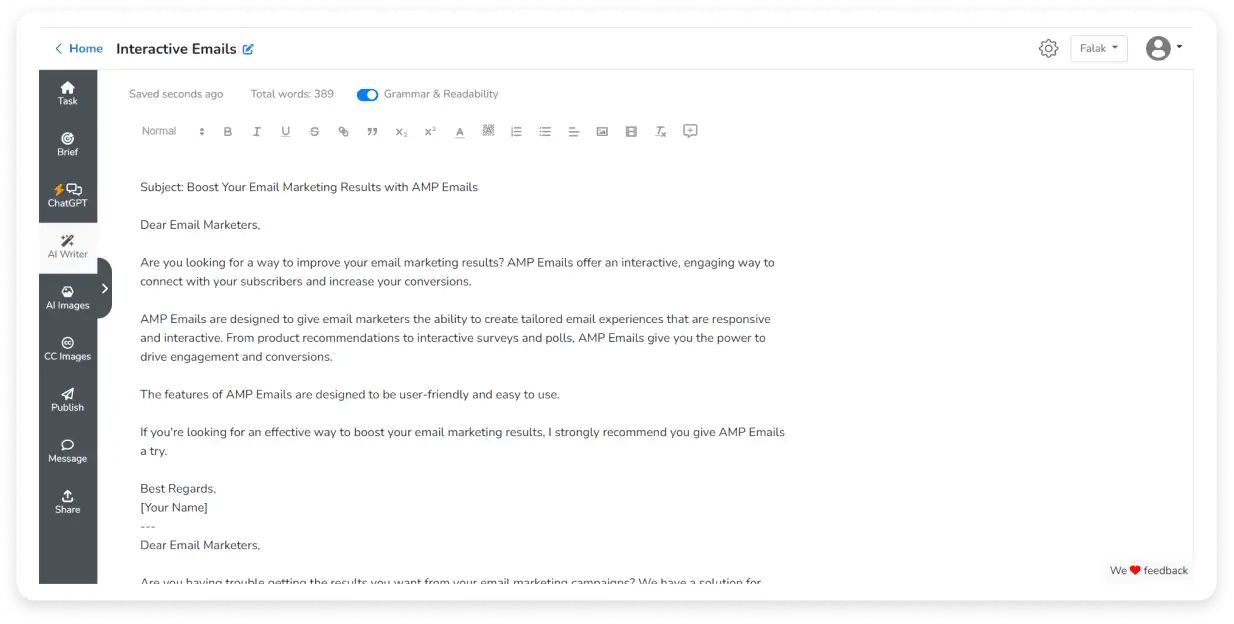 The best thing about this tool is its 14-day trial which is much better than other tools that offer only a 4-5 day or a word limit trial.
Pricing:
Free trial: ✅ 14-day free-trial
The Pro version comes with a cost of $65 per month. However, you can get it for $45 per month if you choose to pay yearly. It has 2 other plans that you can explore.
Final verdict:
Ease of use: Narrato is pretty much like all the team and content management tools you might be using. However, if you are not, you can get a hang of it once you start using it.

Best for: This tool is amazing for teams and businesses who want to keep their teams on the same page for content creation and team management.

UI: The interface is quite similar to that of Notion. Its attractive, organized and easy to navigate.
11. Hypotenuse AI
Hypotenuse is an AI content generating tool that streamlines your writing and image generation process. From content ideation to creating content with AI, it helps you smoothly create your campaigns, copies and blogs easily.
Best features:
Creates unique, well-researched and ready to publish articles for your blogs.

Looking for ecomm content? Hypotenuse also helps you write product descriptions at scale.

Social media and ad copy? Hypotenuse generates a copy that speaks to your audience and converts.

Hypotenuse helps you generate email and website copy in minutes which would usually take days to write.
What really stood out to me was how it helped me understand the product and all its features as I went through the tool. It would be a timesaver for a beginner.
Pricing:
Free trial: ✅ 7-day free trial with limited credits
There are three plans that you could choose from. The starter plan is for $29 per month. However, you can get it for $24 per month if you choose to pay yearly. Here's the full pricing plan.
Final verdict:
Ease of use: The tool is easy to understand. Pretty much like every other content creation tool. A beginner would definitely understand it as it provides clues as to how to use the tool.

Best for: The tool is great for all types of content and people. From content creators, to agencies, to teams, and businesses.

UI: The interface is quite good and helps you walk through the product. It also has some great features like HypoChat and HypoArt which are pretty cool to instruct the AI and get relevant text and images.
12. HubSpot AI Writer
HubSpot's AI Blog Writer is a powerful content generation tool designed to help businesses and writers create high-quality blog posts quickly and efficiently. Using the power of artificial intelligence, this tool streamlines the content creation process, reduces research time, and enables users to consistently produce valuable blog content.
Best features:
Instant Content Generation: With HubSpot's AI Blog Writer, users can generate blog posts in seconds by providing prompts or topics. The tool's machine learning-backed algorithms assist in initial research and writing, saving significant time and effort.

Improved Blog Efficiency: Writing blog content often involves time-consuming research, writing, and editing. This tool eliminates inefficiencies from the blogging process, allowing writers to focus on refining the content to match their brand voice and audience preferences.

Seamless Integration: HubSpot's AI Blog Writer seamlessly integrates with HubSpot's blog software, providing a single workspace for blog creation. This integration eliminates the need to switch between multiple tools, streamlining the entire content marketing workflow.

Built-in Reporting: The tool offers built-in blog reporting, allowing users to measure the return on investment (ROI) of their content marketing efforts. This data-driven approach helps content creators understand which blog posts resonate most with their audience.
Pricing:
HubSpot's AI Blog Writer is free, with upgrade options as part of HubSpot's larger suite of marketing and sales tools. Pricing varies depending on the specific package and features selected, making it suitable for businesses of all sizes. By offering both free and paid plans, HubSpot makes it accessible to a wide range of users.
Final verdict:
Ease of use: Relatively easy to use, although the sign-up process may require some initial effort. The tool's integration with HubSpot's ecosystem, post scheduler, and WordPress integration adds convenience for writers.

Best for: This tool is ideal for writers looking to generate bulk articles quickly, particularly for blog posts and SEO content. It empowers users to create full-fledged articles with less manual effort, making it a valuable asset for content marketers.

UI: The interface is user-friendly, but there's room for improvement in terms of functionality and additional features. Overall, HubSpot's AI Blog Writer offers a productive environment for content creation and marketing activities.
13. Prepostseo
Prepostseo is a well-known toolkit for optimizing content for search engines. It has multiple tools that work together to remove all errors from your content and enhance its quality. You can use this toolkit for creating your first drafts and also for optimizing already written rough drafts. So, it is a one-in-all package.
Best features:
The variety of tools on Prepostseo allows users to fix all their content-related issues using a single platform.

The multiple tools of the Prepostseo function in a streamlined manner elevate every aspect of your write-up separately.

Almost every tool has multiple uploading and downloading options. This provides versatile support for file formats.

Most of the tools function in multiple languages. Such multilingual support makes this platform accessible to a wide audience.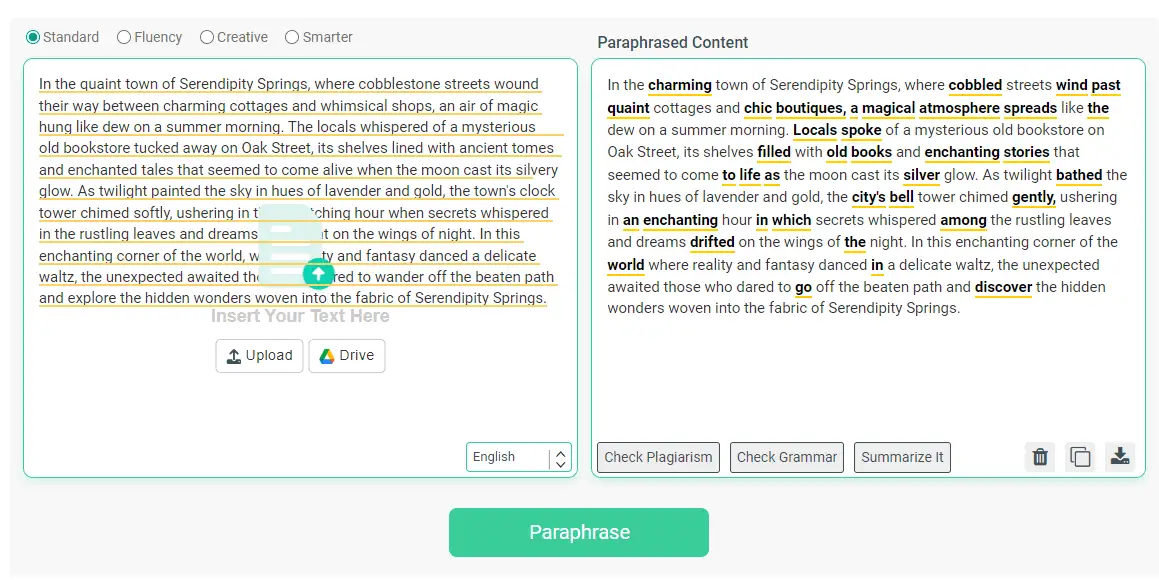 As we have mentioned repeatedly, Prepostseo houses multiple tools. However, for a vague idea, here is a snapshot of the paraphrasing tool:
Pricing:
Prepostseo can be used for free. However, there are some limitations to this free version. Restrictions like word limits are there. To remove these limitations, users can purchase a premium plan. The standard plan is priced at $20/Month. For details about other plans and packages. Here's the full pricing plan.
Final verdict:
Ease of use: The interface or UI of Prepostseo is minimalistic and beginner-friendly. Even the users who come to use the platform for the first time have no issues understanding it.

Best for: Prepostseo is best for a number of things. You can paraphrase content, correct your grammar, check for plagiarism, rewrite articles, etc., effectively.

UI: The simplicity of Prepostseo's UI is one of the most prominent features of this platform. You can navigate among the tools easily and also use the highly efficient search bar.
Get this pre-send checklist to hit send with confidence
An interactive checklist to send error-free emails
Are there any limitations to AI copywriting tools
An AI tool can be a great investment for good writers who know how to use them creatively and effectively. However, getting greedy about scaling up content too fast, can lead to low-quality content as Google can detect pure AI content.
"Content automatically generated with AI writing tools is considered spam, according to the search engine's webmaster guidelines."
John Mueller, Google's Search AdvocateJohn Mueller, Google's Search Advocate
Also, AI can often generate biased and factually incorrect data. So, it's always a good idea to fact-check and always give your content the human touch, empathy and creativity that these AI tools will not.
What you should do next
Hey there, thanks for reading till the end. Here are 3 ways we can help you grow your business:
Talk to an email expert. Need someone to take your email marketing to the next level? Mailmodo's experts are here for you. Schedule a 30-minute email consultation. Don't worry, it's on the house. Book a meet here.

Send emails that bring higher conversions. Mailmodo is an ESP that helps you to create and send app-like interactive emails with forms, carts, calendars, games, and other widgets for higher conversions. Get started for free.

Get smarter with our email resources. Explore all our knowledge base here and learn about email marketing, marketing strategies, best practices, growth hacks, case studies, templates, and more. Access guides here.