One of the top priorities of any business is to build and maintain a loyal customer base. While attracting new customers is a significant part of marketing strategies, keeping the existing customers happy and satisfied is something no business can afford to ignore.
Often, businesses enhance customer loyalty by improving their product offerings and their customers' shopping experience to meet their individual needs. This process is referred to as eCommerce personalization. Keep reading to explore what that is, why it is important and how it helps you land customers.
Table of contents
What is eCommerce personalization?
eCommerce personalization is the process of offering tailored customer experiences based on their browsing history and purchase patterns. Using customer data, such as demographics, preferences, device usage, browsing history, and previous purchases, companies can provide more targeted product recommendations to customers.
A company can define target audiences and customer segments and can even use third-party data to develop these personalized experiences. With the help of user journey tracking, fully individualized customer experiences can be provided.
Why is eCommerce personalization important?
As of 2022, there are an estimated 12-24 million eCommerce sites operating across the entire globe, with multiple new ones being created every single day. However, less than 1 million of these sites manage to sell more than $1,000 per year. Astonishing, isn't it?
Moreover, numerous studies have shown that customers are more likely to buy from companies that personalize their offerings. When emails are personalized, companies report getting 6x higher transaction rates. Similarly, according to a study by Instapage, personalized promotional mailings have 29% higher unique open rates. So, a company not only lowers its chances of making sales by not personalizing but also runs the risk of sending its customers to competitors.
Benefits of eCommerce personalization
eCommerce personalization can benefit a company in so many ways.
Higher sales conversion rates
By showing customers exactly what they are looking for, companies can raise sales conversion rates. Showing product recommendations before customers check out is also a popular tactic to get them to explore more options.
Improved brand engagement
When a company offers products to customers based on their preferences and purchase history, it improves the chances of interaction with them. Customers are more likely to interact with brands that show them relevant products they are actually looking for.
A Mckinsey study has shown that customers are likely to move to a competitor in the absence of personalization. Companies that personalize their product offerings have a higher chance of retaining their existing customer base and attracting new customers.
Improved customer experience
In a customer-centric business world, the company needs to implement strategies that enhance customer experience. Personalizing your offering helps your company serve the customer in a better and more efficient way, resulting in happier customers.
9 eCommerce personalization strategies that work
Successful eCommerce personalization involves many factors. There are several strategies that work, and it is recommended to use a combination of methods for optimum results.
1. Personalize your homepage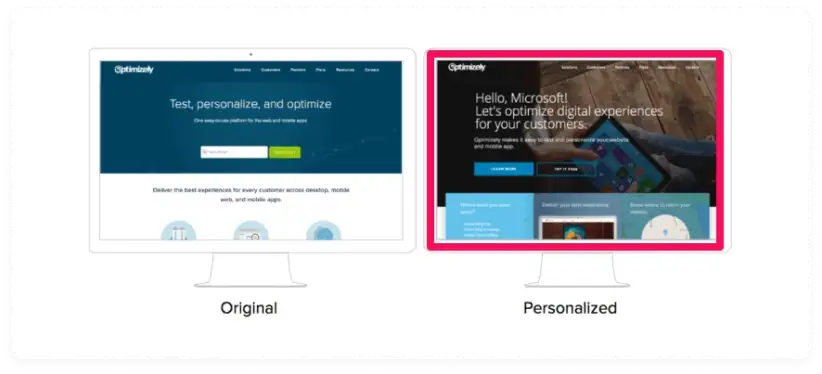 Image source: Neil Patel
Personalizing your homepage will help your customers decide whether they want to browse through your website or not. You can use static HTML website templates to build an attractive homepage that is likely to entice customers. Cookies used on your website allow you to track customer information quickly, which can be used for eCommerce personalization purposes.
2. Personalized shopping guides
Companies can provide their website visitors with style guides to give them a unique shopping experience and help them make better purchasing decisions. Create a quiz on your website to attract customers and retrieve vital information about them. You can then use this information to build personalized shopping guides for them.
3. Add a chat option to your site
Image source: Chatbot
Adding a chat option to your website makes it more interactive. Potential customers can chat with the customer care executive to get answers to their questions. Having a chat option ensures that your website visitors' individual questions get answered and increases your chances of making sales.
4. Personalized product recommendations
Image source: Glood
One eCommerce personalization tactic you can't afford to miss is personalizing the product recommendations shown to your customers. Cookies can be used to get information about the customer's location, the kinds of products they purchase, and their browsing history on the website. Having "recently viewed" and "you might also like" options on your website is also likely to motivate the customer to buy more. You can also use our interactive product recommendation email template to drive more sales.
Write winning subject lines with our free ebook
Proven subject line framework to get higher opens
5. Weather-sensitive personalization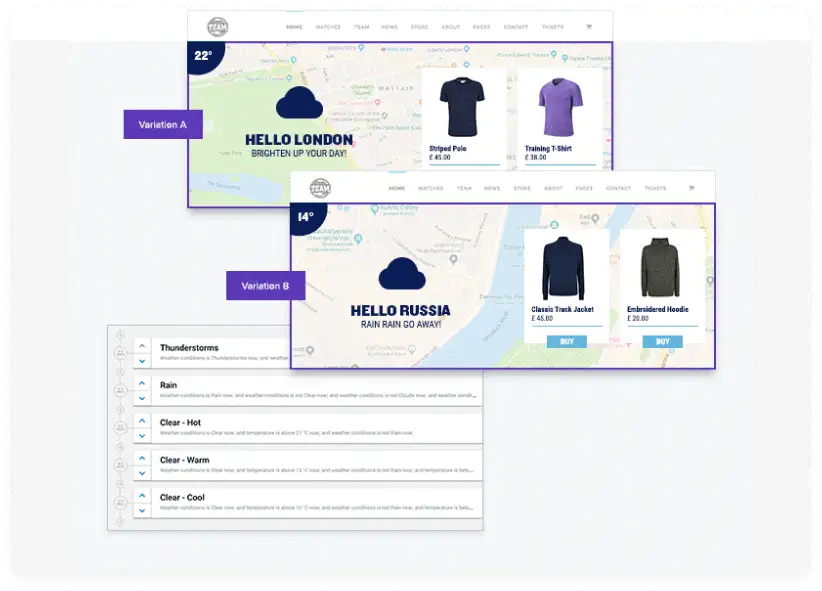 Image source: Dynamic Yield
As a business owner, you have access to information about your customers' locations and countries. Use this information to give them weather-sensitive personalized recommendations. Is a certain city expecting a snowstorm in the coming weeks? Show the customers living there attractive buying options for warm sweaters and jackets.
6. Launch custom campaigns
![Follow-up Email Template}(https://res.cloudinary.com/mailmodo/image/upload/strapi/uploads/Follow_Up_f20916bddf.png)
Each of your customers is a unique individual with distinct needs and desires. Your company can optimize its sales by tailoring marketing campaigns to meet the unique needs of your different customer segments. You can send personalized emails using Mailmodo's attractive follow-up template with special offers, incentives, and discounts to first-time customers to encourage them to return. Your existing customers can be sent emails informing them of special offers on their favorite products.
Related guide: How to Write a Perfect Follow up Email to Engage Your Subscribers
7. Have an exit-intent strategy
A business can also adopt exit-intent campaigns, wherein the attention of the customers is grabbed just before they checkout. Showing customers personalized offers while they are in the process of checking out raises the chances of them making another purchase. Since the customer has already purchased something, they are in "buying mode." The company can optimize this chance by providing them with personalized product offers they just can't resist.
Related guide: How to Use a Customer Data Platform to Deliver Personalized Experiences
8. Make lists of recently viewed items
Often, customers browse a website for different products but don't end up buying them. Remind your website visitors of the products they showed an interest in last time but didn't purchase. They might be inclined to buy one or more of these items this time.
9. Reach out to inactive potential customers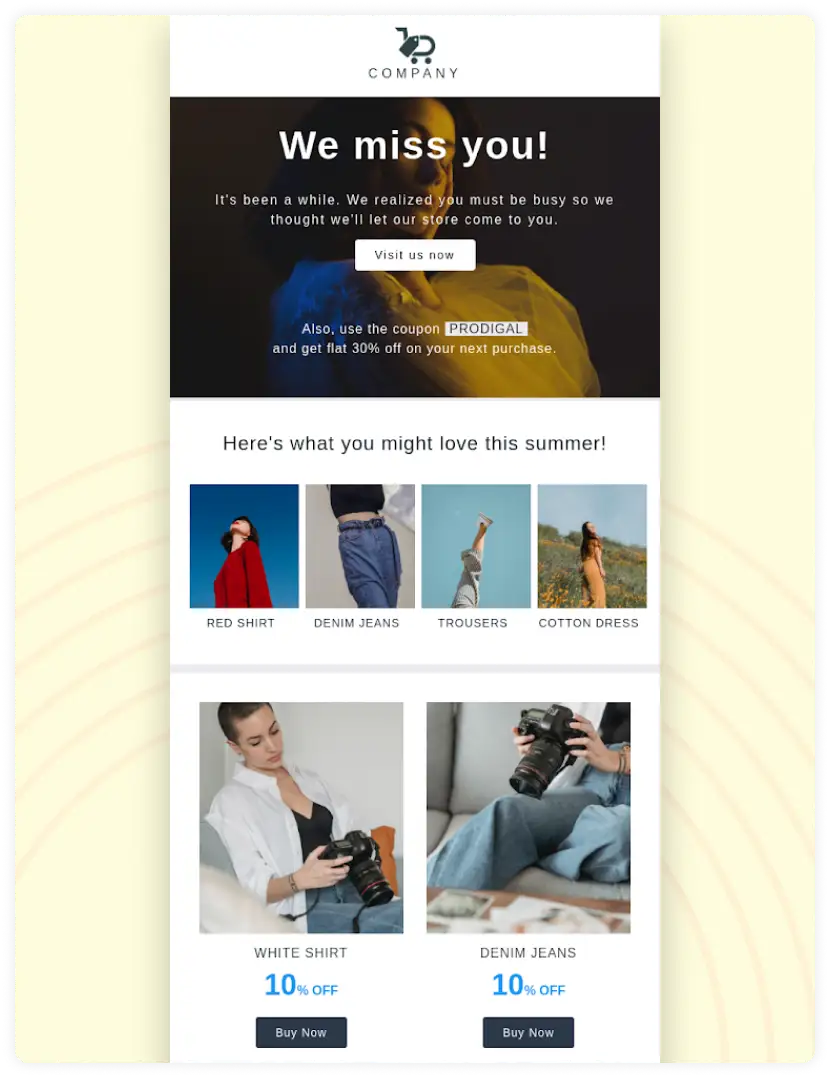 While your existing customers are undoubtedly very significant when it comes to eCommerce personalization, don't ignore your inactive leads, as they have the potential to become active customers again. Re-engage previous customers who haven't made a purchase in several weeks with attractive engagement emails. Use the data collected by cookies to see who hasn't purchased in a while. Reach out to them with tailored product recommendations and special offers.
Related guide: How to Send Lead Nurturing Email Campaigns (With Examples)
Is there any downside to eCommerce personalization?
eCommerce personalization strategies can be highly effective in driving up the sales of a business. However, personalization does have a few cons to it. Many customers feel stifled by the passive-aggressive personalization tactics adopted by companies and don't like brands constantly pushing their products.
Also, today's customers feel the heat of choice fatigue. Having too many options is not always a good thing and can lead to unnecessary confusion in customers' minds. The endless options available on the internet can even be off-putting to some customers.
Managing a massive amount of digital data and implementing a plethora of personalization tactics can also have a toll on the marketers as they are expected to invest substantial financial, technical, and human resources in eCommerce marketing. This is why your business needs to invest in eCommerce marketing automation.
Get a sample AMP email in your inbox
Experience the power of interactivity right now
Wrap up
eCommerce personalization tactics are a proven way to scale up your sales. However, businesses should also keep in mind that these strategies could be time-consuming and resource-intensive.
Customers are looking for personalized brand experiences, and keeping them satisfied is important for long-term success. Numerous strategies can be used to increase conversions. Read our guide on conversion rate optimization to figure out the best combination of strategies to increase your ROI.
What you should do next
Hey there, thanks for reading till the end. Here are 3 ways we can help you grow your business:
Talk to an email expert. Need someone to take your email marketing to the next level? Mailmodo's experts are here for you. Schedule a 30-minute email consultation. Don't worry, it's on the house. Book a meet here.

Send emails that bring higher conversions. Mailmodo is an ESP that helps you to create and send app-like interactive emails with forms, carts, calendars, games, and other widgets for higher conversions. Get started for free.

Get smarter with our email resources. Explore all our knowledge base here and learn about email marketing, marketing strategies, best practices, growth hacks, case studies, templates, and more. Access guides here.