In today's fast-paced business landscape, AI tools for sales offer SDRs (sales development representatives) an array of powerful capabilities, from automating repetitive tasks to providing valuable insights. This article will explore the top 15 AI tools every SDR should know about to take sales to another level.
Table of contents
How AI tools for sales enhance performance
The emerging AI tools have been transforming the way sales professionals operate. These tools enable the automation of repetitive tasks such as data entry, email follow-ups, scheduling meetings, etc. Subsequently, SDRs can focus more on building relationships and closing deals.
AI tools can make the sales cycle efficient in the following ways: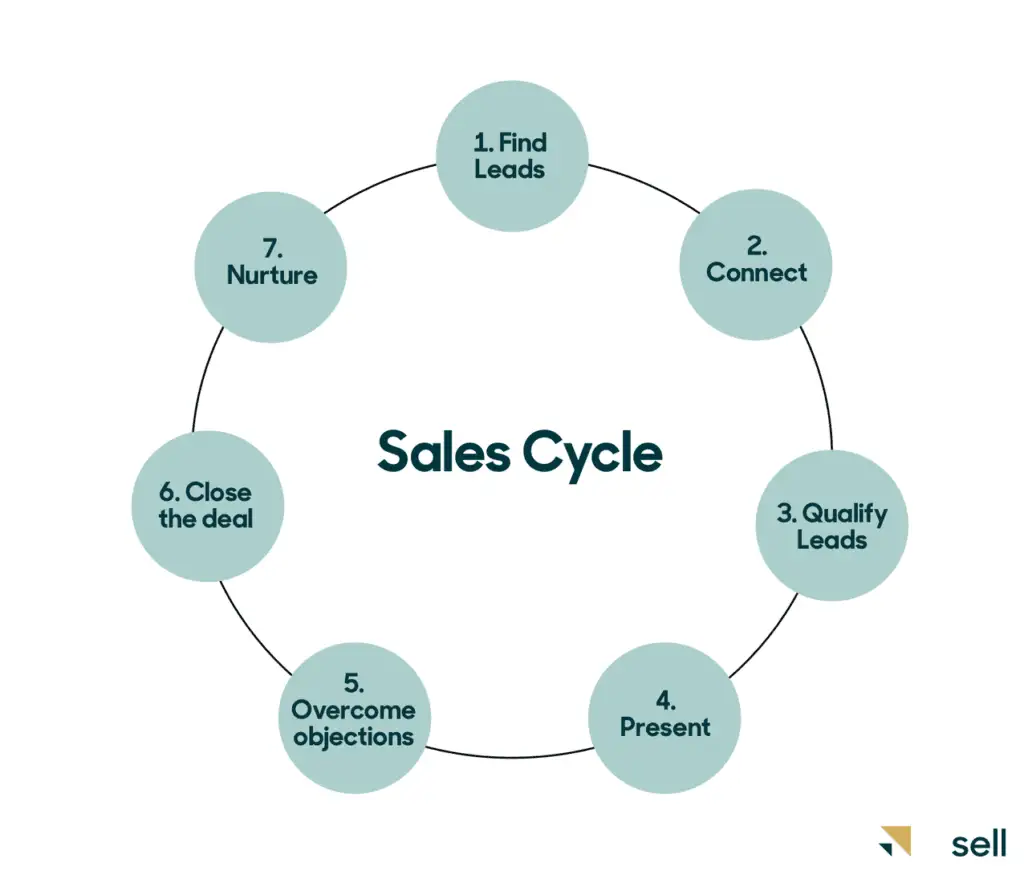 Source: Sales Cycle
Improve lead generation by analyzing vast amounts of data
Identify high-quality prospects and predict their likelihood of conversions
Automate lead tracking, scoring, and prioritization
Provide valuable insights into customer behavior, preferences, and buying patterns
Facilitate sales forecasting by reporting and analytics
Assist in contact, email, calendar, and overall pipeline management (workflow automation, lead distribution, etc.)
Thus, AI tools empower SDRs to work more efficiently, make data-backed decisions, and reform strategies, leading to higher sales conversions and business growth.
15 best AI tools for sales teams
We've prepared a list of the 15 best AI tools for sales teams to maximize productivity and drive conversions.
1. Humantic.AI
Humantic.AI provides salespeople with a buyer intelligence platform. It helps the teams with the personality AI assistant that aids in identifying early adopters, personalizing outreach, and generating useful customer insights for every interaction. Overall, it enhances sales conversations and converts more deals.
Key features
Personality AI assistant: This AI engine is available as a Chrome extension and uses a combination of Psycholinguistics and Computational Psychometrics. It also incorporates I/O Psychology and Neuroscience with ML and AI for providing actionable insights to the sales team.

Personality AI dashboard: The dashboard aids in advanced buyer analysis at the bulk level. SDRs can gain insights into multiple buyer personalities simultaneously.

Automated enrichment: The pre-built integrations are given with tools like Salesforce and Outreach. It ensures automated enrichment across multiple channels by shedding light on numerous buyer attributes ranging from buyer's job level, designation, personality, etc.

Calendar integration: It enables auto notifications of upcoming events - zoom meetings or calls along with the participant's insights. It helps in tailoring the right conversation approach, resulting in a better likelihood of closing the deal then & there.
Pricing: It comes with different pricing plans for individual customers and organizations. The individual plans include starter, pro, and expert pricing plans whose cost range around $16/month, $24/month, and $40/month, respectively. The organization plan includes startup, growth, and enterprise pricing plans whose costs can be obtained upon request.
Related guide: 6 AI Marketing Trends That Will Define 2023
2. Tact.ai
Tact.ai is an AI-powered platform designed to help sales representatives in numerous ways. This user-friendly platform provides seamless access to customer data, automates manual administrative tasks, and shares intelligent insights. Overall, it facilitates lead management, enhances customer engagement, and boosts sales productivity.
Key features
Contextual alerts: Tact.ai sends timely alerts on upcoming events/meetings to enhance customer experience.

Direct data entry: SDRs can update customer data directly from the platform. Furthermore, it ensures seamless call scheduling and tracking.

Curated insights: It delivers dynamic insights for supporting the planning before the call and assisting during the call. Also, it tracks sales activities for further follow-ups and deals progress.

CRM integration: It can easily integrate with popular CRM systems, MS Teams, and digital asset management systems. Subsequently, SDRs can make live calls and access and collaborate 1:1 or as a group.
Pricing: The pricing for Tact.ai is available upon request.
3. SalesDirector.ai
SalesDirector.ai is an AI-driven sales platform that enables SDRs to automate data capture and analysis processes. It helps in improving their sales techniques and, further, revenue outcomes.
Key features
Capture trends and activities: The tool can automatically capture data such as sales representatives' emails and calendar activities and suggest other next steps after meetings.

Deep analysis: It leverages machine learning algorithms to perform sentiment analysis, enriches data accuracy, and automate workflow. Furthermore, it can connect with leading BI tools like Tableau and Power BI to provide valuable insights for driving more conversions. The insights may include forecast summaries, activity reports, win rate reports, cycle time reports, etc.

Forecasting: It empowers the SDRs with accurate forecasting. It shares real-time opportunity data and sheds light on risk-adjusted sales forecasts.

Instant pipeline visibility and projections: The tool offers a pipeline risk meter and AI-driven projections. It helps quickly identify supporters and detractors and provides personalized coaching for nurturing customer relationships via SMS & Slack coaching, just-in-time reminders, etc.
Pricing: The pricing plan for SalesDirector.ai starts at $29 per user per month.
Related guide: 10 Real-Life AI Marketing Examples and Use Cases
4. Exceed.ai
Exceed.ai is an AI-powered conversational marketing and sales platform. It assists the sales managers at various stages, including lead management, workflow management, growth acceleration, etc.
Key features
Chatbot automation: This virtual assistant engages with more personalized conversations. Then, it qualifies them based on predefined criteria and captures relevant information.

Lead nurturing: It automates the repetitive tasks during lead nurturing and focuses on personalized drip campaigns, delivering relevant content and driving better lead engagement and re-engagement

Automated follow-up: Once the lead qualifies, it automatically schedules meetings into a rep's calendar. Also, re-book slots for no-show leads

CRM integration: This AI tool can easily integrate with other CRM systems, ensuring seamless data transfer across multiple touchpoints. Further, it enables SDRs to access lead information and track every customer interaction to improve future sales prospects.
Pricing: Exceed.ai follows a subscription pricing model starting from $1950 per month.
Subscribe to the Mailmodo Bulletin
12k marketers get these growth tactics in their inbox
5. Conversica
Conversica is an AI-powered virtual sales assistant that engages and qualifies leads through natural human-like conversations. It automates lead follow-up, nurturing, and appointment setting. It helps in directing and scaling the authentic outreach efforts towards the high quality leads. Furthermore, the emphasis is laid upon converting the outbound into the inbound leads.
Key features
Revenue digital assistants: Conversica prompts action on the part of potential customers and ensures persistent follow-ups to drive conversion and customer retention.

Lead generation & engagement: This AI tool helps the sales team to find leads, initiates conversations, and qualifies them based on their responses.

Appointment setting: It assists the BDRs with the automation of monotonous tasks. It schedules appointments/meetings with qualified leads and ensures autonomous execution and collaboration.

Lead nurturing: Conversica automates the lead nurturing process by sending personalized follow-up emails, engaging leads in ongoing human-like conversations, resolving queries, and providing customer support.

Report generation: It can generate detailed reports using it's ROI calculator and lead response time calculator.
Pricing: The subscription pricing plan for availing the benefits of this tool starts at $2,999/company/month based on the functionality requirements.
6. PaveAI
PaveAI is an analytics tool designed for agencies, small and mid-size businesses, and enterprises in e-commerce. It aids the marketers and sales team by providing actionable insights and recommendations.
Key features
Automated reporting: Pave AI generates automated reports analyzing vast amounts of data and reflects upon what's working and how to improve.

Easy integration: It can be synchronized with Google Analytics, AdWords, Facebook ads/Twitter ads, etc., to generate the required reports in a few seconds

Customizable solution: It offers a fully customizable solution wherein you can collaborate with the product engineers and make modifications as necessary. Once SDRs gain a deeper understanding of the analytics, they can fine-tune the strategies accordingly.
Pricing: PaveAI comes with different pricing plans. The minimum one starts at $39/month under the SMB & e-commerce category.
Related guide: How AI in B2B Marketing Can Be a Game Changer for Marketers
7. Warmer.ai
Warmer.ai provides an 'AI email writer' for enhancing their outbound sales campaigns. It helps SDRs personalize their outreach efforts and generate qualified leads. Hence, it improves response rates significantly.
Key features
Email personalization: Warmer.ai analyzes email objectives, prospect's LinkedIn profile, and website (or CSV) to create the highly personalized email content.

Automated follow-ups: The tool automates follow-up emails according to set sequences for nurturing leads. Also, it boosts engagement and increases the chances of response using a tailored strategy for dealing with clients.

Customizable dashboard: It offers a customizable dashboard with a user-friendly interface for sending AI-generated cold emails and managing campaigns effectively.
Pricing: The pricing plans start at $97/month for 325 credits, or 30 cents per contact (with five lines per person). After which, the next plan costs $279/month for 1,500 credits or 18 cents per contact.
8. Outreach
Outreach is a comprehensive sales execution intelligence platform that empowers SDRs to streamline their outreach efforts. It leverages machine learning capabilities to assist at different levels, such as lead tracking, scoring, and prioritization.
Key features
Lead tracking, scoring, and prioritization: Outreach predicts deal health score and suggests actions to convert successfully. It recommends using unique engagement signals across emails, follow-up calls, and meetings.

Sentiment analysis & integrated A/B testing: Outreach detects and classifies the buyer's language across email, providing deep insights for overcoming objections and improving reply rates. It also runs various tests from time to time to learn which messages are converting and hence, scale those best practices further.

Automated speech recognition: It delivers real-time call transcription by incorporating a customized model of speech recognition.

Forecasting simulation: It allows the SDRs to model different scenarios after analyzing historical baselines.

Pipeline Management: It covers contact management, email management, calendar management, reporting and analytics for sales forecasting, and pipeline management. This leads to smooth workflow automation and lead distribution.
Pricing: The pricing plan for Outreach can be obtained upon request.
Related guide: How Will AI Influencer Marketing Boost Community Engagement
9. People.ai
People.ai aids the SDRs by directly combining automation, AI-driven insights, existing sales process, and methodology into the CRM system. It enables them to access the complete picture of accounts and opportunities, thereby properly qualifying leads and de-risk pipeline.
Key features
CRM integration: People.ai seamlessly integrates with CRM systems; thus, managers can access and update customer data directly from the platform.

Lead generation: By analyzing email and calendar activities, People.ai helps the respective sales team identify and classify high-value leads and prioritize their efforts toward converting them strategically.

Account management: SDRs can efficiently organize their contacts lists and look for timely follow-ups and effective sales management.

Pipeline creation: This revenue intelligence tool boosts pipeline creation, execution, and management. It relies on accurate data insights and best practices for effective sales.

Capture activities and interactions: People.ai captures sales activities in detail. Then, it provides real-time insights into engagement levels, at-risk leads, and deal progress.

Opportunity management: SDRs can track revenue generation opportunities using actionable insights.
Pricing: Both a free and paid version are available. The pricing starts at $50 per user per month.
10. Drift
Drift is a conversational AI tool that enhances the marketing and sales process. The platform enables SDRs to engage with leads in real time. It focuses on lead generation, lead qualification, and lead nurturing through conversational interactions. It offers live chat features, personalized conversations, and overall pipeline management.
Key features
Chatbots & live chat: SDRs can ensure customer engagement and satisfaction by resolving queries and assisting website visitors via chatbots and live chat.

Lead generation: Drift helps capture real-time lead information and further qualify those leads through personalized conversations.

Lead qualification: SDRs can use Drift's conversational capabilities to qualify leads based on their positive/negative responses. It can identify the most interested prospects or high-quality leads.

Lead nurturing: Drift enables ongoing conversations with the leads and personalized follow-ups, building trust and nurturing customer relationships.
Pricing: The pricing plan for small businesses - Premium starts at $2500 monthly. Rest, advanced, and enterprise plans are available, whose details can be availed upon request.
Related guide: 10 AI Tools for Small Businesses to Make Teams More Efficient
11. Salesbox AI
Salesbox AI helps the SDRs by combining ChatGPT with real-time intent signals and CRM data, bringing more meaningful conversations within in-market accounts. This intent-driven platform focuses on creating memorable content experiences and accelerating pipeline growth.
Key features
Validate key accounts: Salesbox AI helps validate contacts and identify the best-fit customers. Its AI assistant manages manual tasks, optimizes the funnel, and sync inbound leads with existing opportunities.

Intent-based demand generation programs: Content syndication via LinkedIn, emails, and other voice programs pave the way to generate highly qualified intent-based leads from target accounts within the market.

Identify early-stage opportunities: This conversational AI tool allows sending personalized outbound messages and sharing relevant information in time for building a stronger relationship with prospects and existing customers.

Lead scoring and prioritization: SalesGPT monitors the activity, interactions, and engagement across the web, email inboxes, news sources, etc., on your key target accounts. Using this, it assists the team in lead scoring and prioritizing good opportunities.

Customer engagement: SalesGPT analyzes the customer data, provides valuable insights, and shares relevant content/message recommendations to deliver at each stage of the buyer's journey.
Pricing: It offers a subscription model starting from $20 per user per month. However, a 14-day free trial is also available.
Related guide: [21 Best AI Marketing Tools for Different Marketing Needs](21 Best AI Marketing Tools for Different Marketing Needs)
12. Clari
Clari is an AI-powered revenue operations platform for business development representatives and executives. It combines AI with automation and data analytics to provide dynamic insights, accurate sales predictions, and enhanced pipeline visibility. Clari empowers SDRs to design strategies, make data-driven decisions, and improve sales performance.
Key features
Revenue data automation: Clari automatically captures every minute detail, including emails, contacts, meetings, downloads, and other interactions, all in one place. Then it cleans and enriches the gathered data, associating it with the right contacts and opportunities. Eventually, it results in synced efforts and a streamlined selling process.

Sales analytics and forecasting: Clari provides real-time data analytics and insights into past sales performance. It allows SDRs to continuously track key metrics and identify the areas for improvement. Then, it leverages AI to generate accurate sales forecasts based on several parameters, such as historical data, deal progress, and market trends. This forecasting accuracy results in revenue precision.

Pipeline management: Clari's purpose-built revenue analytics provide complete visibility into the historical sales performance, compare it with the current pipeline health, and accurately determine future quarter sales and revenue projections. It helps optimize the sales efforts in advance to ensure that the team meets the given targets within the dedicated timeline.
Pricing: Different pricing plans are available for execution, forecasting, and platform usage. One can request a quote from the official website.
13 Regie AI
Regie AI is a fully personalized sales outreach platform. It analyzes email conversations and provides real-time suggestions to improve email copies, increasing email open rate and response rates.
Key features
Hyper-personalized copies: Reqie AI boosts sales performance by researching contacts and providing hyper-personalized email copies. It further offers subject line optimization and dynamic email insights aligning with your brand's tone and the recipient's preferences.

Custom sales sequence: Regie AI supports the go-to-market team by easily creating multi-touch outbound sequences that are SEP-ready in seconds. Whether it's a cold outbound sequence, a post-demo follow-up, or otherwise, it can generate a custom sequence and sync it directly into your preferred sales engagement platform like Salesloft or Outreach.
Pricing: Regie AI is available as a Chrome extension. A free version is available with limited functionalities. Then, the pro plan costs $59 per month, and the small business plan costs $89 per month.
14. CoPilot AI
CoPilot AI enables sales leaders to generate more leads with LinkedIn, thereby supporting outreach activities. It helps save time, target quality leads, and improve response rates.
Key features
Personalized LinkedIn automation: CoPilot AI helps businesses to tap into the full LinkedIn potential. It aims for better prospecting, social selling, and value-driven lead generation. It further automates personalized email outreach and quality client interactions.

Follow-up automation: This tool allows sales leaders to create effective marketing campaigns and automate the follow-up sequences to enhance customer engagement.

Lead nurturing: CoPilot AI delivers tailored messages to nurture quality leads throughout the sales cycle.

Data analytics and insights: SDRs can gain valuable insights into the email campaigns' performance and learn more about the engagement metrics to evaluate the strong and weak points. Henceforth, they can optimize their outreach strategy to generate more revenue.
Pricing: The standard plan starts at $389/month.
Related guide: 14 AI Marketing Analytics Trends to Expect in 2023
15. Seamless.AI
Seamless.AI is an AI-powered lead generation platform that uses multiple data points to crawl through the web in real-time. Based upon this, it finds, verifies, and validates people's contact information and supports the list-building efforts. It focuses on efficient lead generation processes and up-to-date contact management.
Key features
Lead generation: Seamless.AI helps identify, organize, and manage accurate contacts. It also saves sales executives 3 hours per day in selling time and gives access to over 1.9 billion contacts and company profiles. Thus, it brings in more deals with fresh leads.

Buyer intent data: This AI tool assists the sales leaders in identifying active buyers who are looking for the respective solutions and directing the efforts to high-value leads.

Workflow efficiency: The automation of various tasks simplifies the work. Also, the tool enables targeting users with similar attributes and gaining insights to re-engage clients.
Pricing: Seamless.AI offers different pricing plans - free, basic, pro, and enterprise. The cost of these plans can be obtained upon request.
(Please note that the pricing mentioned above is subject to change and may vary based on specific requirements and package options offered by the respective tools.)
Wrap up
So, these were the 15 best AI tools for sales using which SDRs can smoothen the workflow, boost productivity, and drive business growth. As can be seen, artificial intelligence and human intelligence both would go hand-in-hand in the future. The former would offer assistance at various stages, while the latter would be responsible for overviewing performance and the strategic decision-making that helps accomplish the business goals.
What you should do next
Hey there, thanks for reading till the end. Here are 3 ways we can help you grow your business:
Talk to an email expert. Need someone to take your email marketing to the next level? Mailmodo's experts are here for you. Schedule a 30-minute email consultation. Don't worry, it's on the house. Book a meet here.

Send emails that bring higher conversions. Mailmodo is an ESP that helps you to create and send app-like interactive emails with forms, carts, calendars, games, and other widgets for higher conversions. Get started for free.

Get smarter with our email resources. Explore all our knowledge base here and learn about email marketing, marketing strategies, best practices, growth hacks, case studies, templates, and more. Access guides here.