There's a lot of content being churned for consumption in this fast-paced world, and not all of it is straightforward. But a microsite stands out for its no-nonsense simplicity.
That's what makes it a powerhouse in the digital space. It is targeted, relevant, and focused. By supporting conversion and customer retention, a microsite helps you expand your brand reach and presence.
Want to grasp your audience's attention with your microsite but unsure how to build one? Dive right in to find out!
Table of contents
What is a microsite?
A microsite is a branded content site that is typically outside of the company's primary website. Your microsite may have its own domain name, or it can be a subdomain of your company's main website. It is supported by its own content and interfaces and is created for a specific business goal.
Microsites are a time-limited platform for keeping your campaign or brand launch clean, succinct, and focused. Some specific business goals they are created for are:
Promote an upcoming event

Market an ad campaign

Provide extra information about niche topics

Target a specific audience segment

Promote a new product line
Difference between a microsite, website, and landing page
| Microsite | Website | Landing page |
| --- | --- | --- |
| With unique brand objectives, microsites must be monitored independently from your website. They are hyper-focused on a single corporate message, making them an effective marketing tool for establishing your credibility. Microsites enable you to experiment, be creative, and engage targeted audiences for campaigns. It can be one or more pages and published either as part of the parent site or on its own. | Your website is the main site and the face of your company. Consider how many businesses have the same four restrictive navigational links on their website: About Us, Shop, Careers, and Contact. Standard website navigation improves user experience but also limits your capacity to experiment and innovate. It directs users to different landing pages. | Landing pages are created for a campaign with the goal of converting visitors. It's published on the parent site. A landing page is intended to get people to do something, like sign up or download. It isn't linked to your website's navigation, and it doesn't contain any links that may lead your visitors away from the page. It is only one page. |
Examples of a microsite
There are typically three types of microsites.
1. eCommerce microsites
Bentley Motors created a microsite that allows users to digitally tour the Bentley Bentayga luxury SUV. Loyal customers may schedule a test drive, personalize a Bentley Bentayga online, or learn more about the vehicle.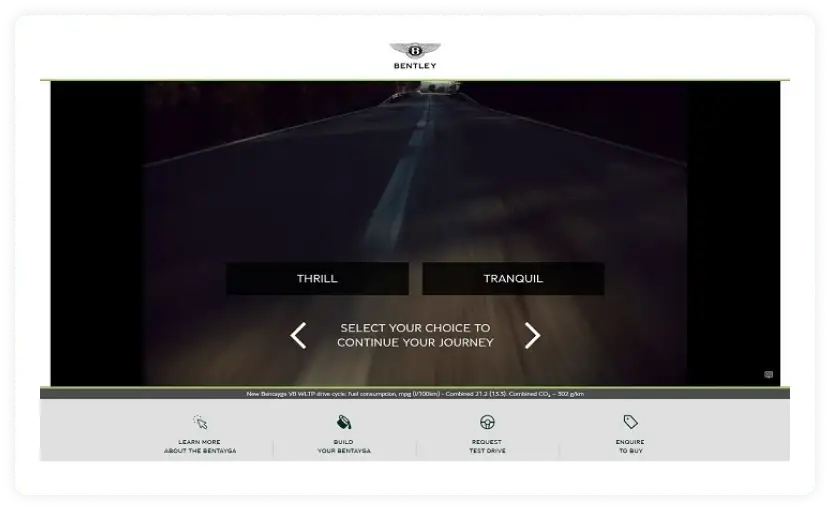 Styled by Levi's is a microsite that allows users to take a questionnaire about their own style preferences. After finishing the questionnaire, users are encouraged to link to their Pinterest accounts to receive a tailored Pinterest board of clothes that they can shop for.
Source: Styled by Levi's
Subscribe to the Mailmodo Bulletin
12k marketers get these growth tactics in their inbox
2. Interactive microsites
Spotify's Year in Music microsite is customized for each visitor depending on their listening habits. It includes a personalized year-end playlist of your favorite music and performers. This may bring up fond memories for the listeners, making them eager to hear the playlist on repeat.
Source: Spotify
Users are greeted by a two-minute music video set to the sounds of a special campaign anthem when they visit Coca-Taste Cola's the Feeling microsite. The video consists of three-second GIFs that show the many emotions experienced by Coca-Cola consumers.
Source: Coca Cola
3. Informative microsites
Inside Chanel is a microsite that aims to enlighten clients about the house's history and tradition through film and multimedia material. The site has a slew of short films chronicling the events, things, people, and places that have aided in Chanel's continuous development.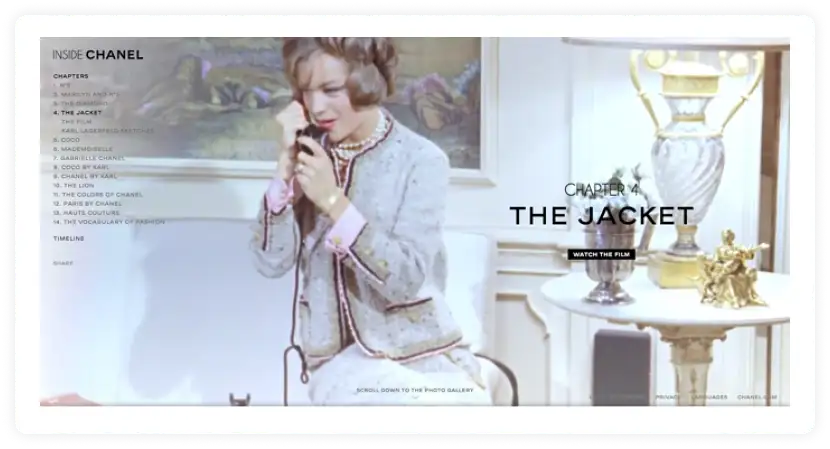 Source: Chanel
This microsite was built to accompany Mellow Mushroom's recent Burger BFF promotion. Mellow Mushroom is a pizza franchise based in Atlanta, Georgia. It was designed to promote two new menu items: Carnie (a beef burger) and Herb (a vegetarian burger). For the campaign, the menu items were transformed into cartoons.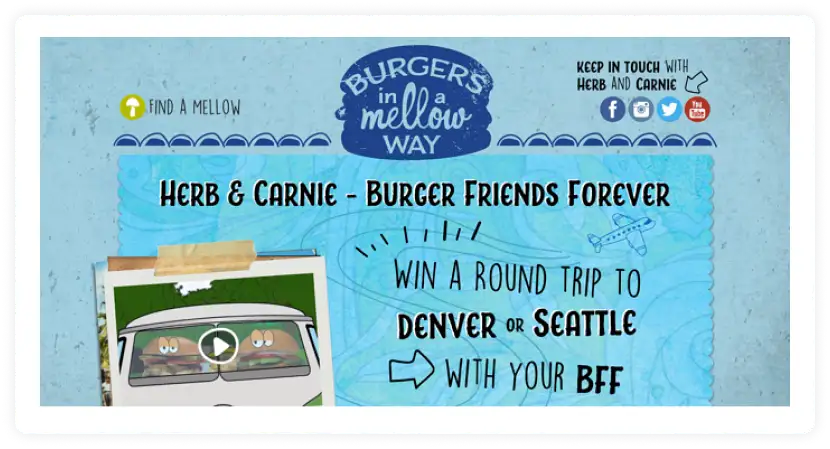 Source: Burger BFF
Patagonia's Blue Heart microsite attempts to raise awareness about dams in the Balkan area, which Patagonia hopes to demonstrate are damaging the ecology and the health of the residents living nearby.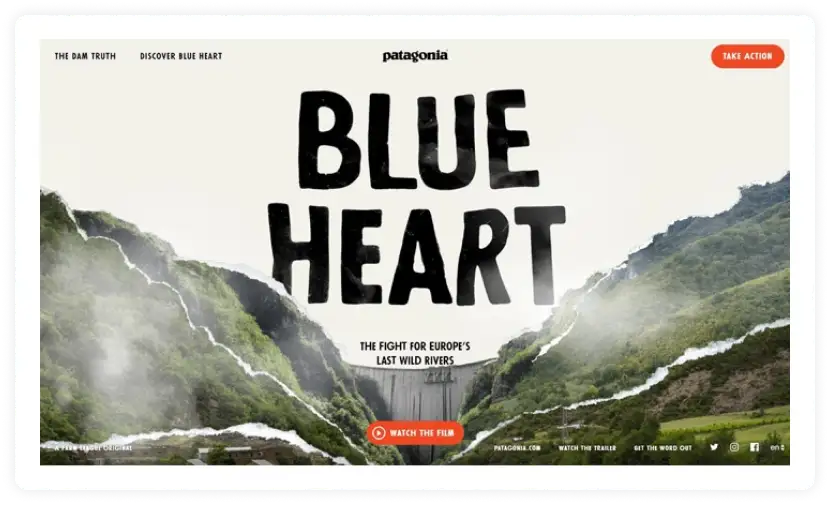 Source: Blue Heart
Pros and cons of a microsite
We've weighed some pros and cons to help you decide if launching a microsite is the next step for you.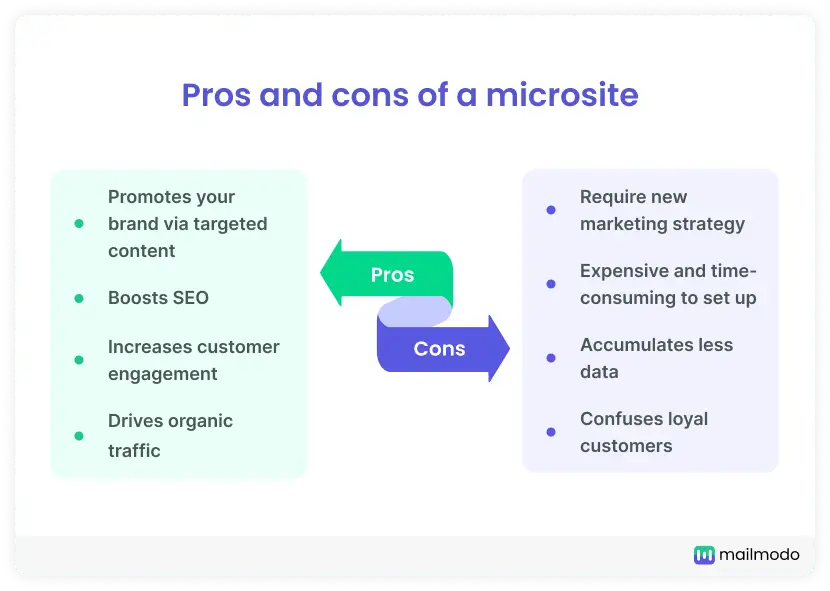 Pros
Promote brand awareness via targeted content: You can grow your digital presence by creating time-sensitive content around your fundraisers, conferences, product launches, and crowdfunding campaigns. You will not only educate your audience base but also draw attention to your brand voice.

Boost SEO: Creating a keyword-rich domain will not only get the attention of search engines but will also boost your SEO rankings.

Increased customer engagement: By creating time-sensitive content, you're encouraging customers to check in regularly and see how things are going on, thereby increasing engagement.

Drive organic traffic: Excellent campaigns drive organic traffic straight to a microsite. When you remove irrelevant elements and site navigation, you force visitors to focus on your calls to action fully.
Cons
Require new marketing strategy: It is more difficult to create calls to action for microsites. Not only that, you will have to create additional functionality unique to your microsite and research and ideate content for it that is distinct from your website and landing page content.

Expensive and time-consuming to set up: You need to put additional time and effort into creating a microsite. Not to mention, buying an extra domain name and backend maintenance won't come cheap.

Accumulate less data: With microsites, you're gathering less data at one time with restrictions on which data can be entered.

Confuse loyal customers: A campaign-specific URL may confuse customers of your parent site or brand.
What makes a good microsite?
Microsites require the same level of consideration as websites. Here are some things to consider when creating a microsite:
1. Design
The design of the microsite is based on your understanding of the target audience and best practices in interface design. To get your users to engage with the content and stay on your microsite longer, it should be intuitive, easy to navigate, and interactive.
2. Niche content
Create content for the microsite based on your existing set of brand standards and guidelines. This means that your content should be in line with the established voice and tone of your brand. To make your CTA engaging and write copy that converts, ensure that your content is crisp, concise, and actionable. Use different forms of media to persuade your audience to take action on your microsite.
3. Optimized domain name
Your microsite should have a domain name which includes either of the following: name of the campaign or product you're launching, your slogan, keyword which you're targeting, etc. That will ensure your microsite gets more traffic and ranks highly on search engines.
4. SEO
Ensure that the content is optimized for SEO and is keyword-rich. For your microsite, this means concentrating on on-page SEO, off-page SEO, and technical SEO. Increase its shareability by connecting your microsite to your website, mobile app, email, or any social media profiles associated with it. You can also consider promoting it through paid ads, PR, and email blasts.
Pro tip: If you repurpose content from your parent site, you will have to get strategic about keywords and content to ensure Google doesn't flag it for duplication.
5. Analytics
As your microsite audience can differ vastly from your core audience, be open to experimenting with A/B testing. Split testing will provide you a lot of competitive insights. Web analytics tools like Google Analytics and Google Search Console can help you track the status of your microsite's indexing and improve its search visibility. Here are some other metrics you should consider tracking:
Form completions

Unique visitors, as compared to the parent site

Time on site

Number of visitors
Related guide: How Marketing Analytics Can Help Your Business Grow
6. Audience segmentation
Find an audience for your niche topics. Mapping out user personas is an essential part of creating valuable content and a promotional strategy by extension. You have the creative freedom to create memorable content for your segmented audience by personalizing it.
Related guide: Step-By-Step Guide to Implement Audience Segmentation in 2022
Get a sample AMP email in your inbox
Experience the power of interactivity right now
Key takeaways
You may develop a microsite if you have a new product releasing shortly or even simply an interesting narrative to share. It's your call, really, whether your business requires it or not. A microsite may even effectively serve your content marketing strategy with lots of planning. Read our guide to snag hacks to create a winning content strategy today.
What you should do next
Hey there, thanks for reading till the end. Here are 3 ways we can help you grow your business:
Talk to an email expert. Need someone to take your email marketing to the next level? Mailmodo's experts are here for you. Schedule a 30-minute email consultation. Don't worry, it's on the house. Book a meet here.

Send emails that bring higher conversions. Mailmodo is an ESP that helps you to create and send app-like interactive emails with forms, carts, calendars, games, and other widgets for higher conversions. Get started for free.

Get smarter with our email resources. Explore all our knowledge base here and learn about email marketing, marketing strategies, best practices, growth hacks, case studies, templates, and more. Access guides here.