Everybody in business understands the importance of content marketing because it helps increase leads and brings traffic.
To make a lasting impact on your audience, the content marketing strategy should be crafted in a way that showcases your organization as a trustworthy business.
But, without a plan, all the effort could yield low or no results.
"An hour of planning can save you 10 hours of doing." said, Dale Carnegie. That is what a content marketing strategy helps marketers do.
After reading this guide, you will have a clear idea of the importance of content marketing strategy in current times. You will also be able to identify main elements of a content marketing strategy and create one for your business.
Table of contents
4 key elements of a content marketing strategy
If the content marketing strategy is a cooking recipe, these key elements are the ingredients.
So, what are those elements?
Brand and product positioning
A clear idea about your brand positioning can form a strong base for all content that gets created and ultimately reaches your customers.
For example, Tea Trunk is a global, premium tea brand from India. However, they have positioned Tea Trunk as a health and wellness brand. They craft wellness teas for the new generation of health-conscious consumers. This message comes through in all of their communication to the customers. It is an excellent example of precise brand positioning and product differentiation.
Brand and product positioning should be documented as a definitive guideline to which all content needs to be aligned.
You should identify:
What does your brand stand for?

What is the purpose of your business?

How are your products different from all the others? What makes them unique?

What value do you plan to add to a customer's life?

Why should a customer choose you over all other available options?
Related guides:
How to Best Leverage Your Product Differentiation Strategy
Brand Positioning 101: How To Dominate The Market
Business goals
Creating brand awareness, highlighting differentiating product features, and sharing important information with the customers are some examples of business goals.
For example, in 2019 a highly celebrated Burger King campaign was both unique and innovative.
Burger King gave out the signature Whoppers for just $0.01 if ordered via Burger King's app but from a McDonald's location. This ad campaign created product awareness and added new customers while also increasing app downloads.
Target audience segmentation
One size does not fit all. For you to add value to your customers, you need to understand them better. What are their pain areas, what problems do they face? For your content to be effective, it is important to reach the customer segments for whom it is relevant.
Customer segments can be created by grouping the target audience according to their demographic or cultural traits. Demographic characteristics are age, gender, income, location, education, job, etc. Cultural traits can be media preferences, payment preferences, fears, consumer needs, etc.
According to campaign monitor, segmented email marketing campaigns increase revenue by 760%.
To create an effective content marketing strategy identify:
Who are you planning to reach out to?

What does their profile look like?

How do their problems and pain points align with the problems your products solve?
Related guide: Step-By-Step Guide to Implement Audience Segmentation in 2022
Content marketing framework
A content marketing framework is a strategic tool that is formed after conducting a content audit and competitive review of other brands' content.
One popular framework as suggested by the Content Marketing Institute has 5 core elements:
Purpose

Audience

Process

Measurement
This guide uses the CMI content marketing framework to help you create a content marketing strategy.
Another example is the Tofu-Mofu-Bofu framework.
Tofu: Top of the funnel. Build brand awareness and positioning.

Mofu: Middle of the funnel. Evangelization and educating people on seeking the best solution.

Bofu: Bottom of the funnel. Product differentiation and establishing why your product is the best solution.
You need to develop personas in this framework. It will help you to establish the stage of the funnel where the customer currently is and create tailored content.
7 easy steps to creating a content marketing strategy
Check out how easy it is to create an effective content marketing strategy in 7 simple steps. We will also create a simple marketing plan for a hypothetical new cosmetic company as we go along the steps.
1. What problem do you want to solve
Why are you doing content marketing? Is it to educate your audience? Increase incoming leads? Build customer relationships? Increase revenue?
Identify and document the business goals you are looking to achieve from your content marketing strategy.
For example, if you are a new cosmetics company, you could define the business goal to increase brand awareness. You have a KPI of increasing web traffic by 200% in this quarter. Tie your business goal to your KPI.
2. Perform a content audit
A content audit is to take stock of all your existing content and its performance. This will give you a clear idea of what kind of content is working with your audience. More importantly, what is not working. Understand and categorize the content that also aligns with the goals you have identified.
Results from the content audit, along with the type of goal you want to achieve should give you an idea of what type of content marketing framework you want to follow.
For example, if you want to increase web traffic to your website by 200%, then performing a content audit on your website is a good place to start with. You can start with heat maps that will tell you user behavior on your website.
Related guide: How To Use Heatmaps to Analyze Your Website Performance
3. Know your target audience
First, you segment your target audience based on different criteria. Then you identify which customer segment will respond positively to your marketing campaign. The best way to do that is to create an empathy map. It works to highlight valuable insights about how your target audience behaves and what their pain areas are. Insights from the empathy map will help you create a precise buyer persona.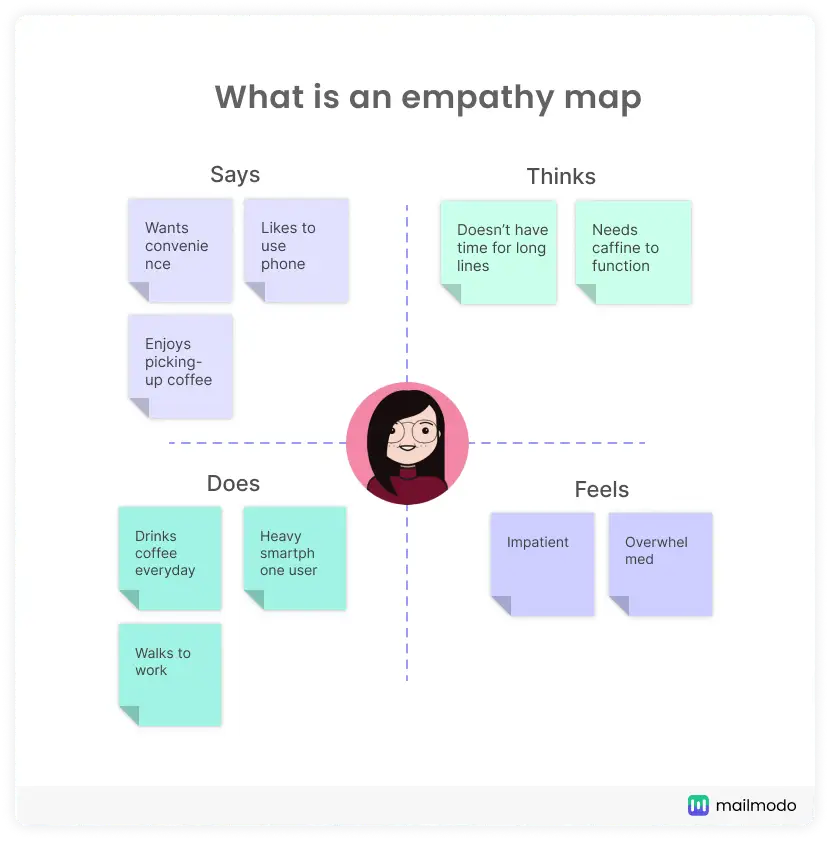 A buyer persona helps to even discover what kind of content they will react to best. What topics and medium of communication work for them most effectively.
For example, let's refer to the brand and product positioning of the new cosmetic company. Let's say that the cosmetic company for which we want to increase brand awareness is a vegan, cruelty-free, organic brand. We create an empathy map. We understand insights from that and map the right customer segment. As per the insights, a person who goes out of their way to buy vegan, cruelty-free, organic brands will be discerning. They will appreciate informative content about how their choice is more sustainable.
4. Create strategic content
It's not about simply creating content. Content needs to be strategic. Make sure that the content is:
Adhering to brand guidelines

Engaging, appealing, and effective

SEO friendly

Ends with an actionable step that is linked to your KPI
Create suitable content for different stages in the customer journey: Awareness, consideration, decision, retention, advocacy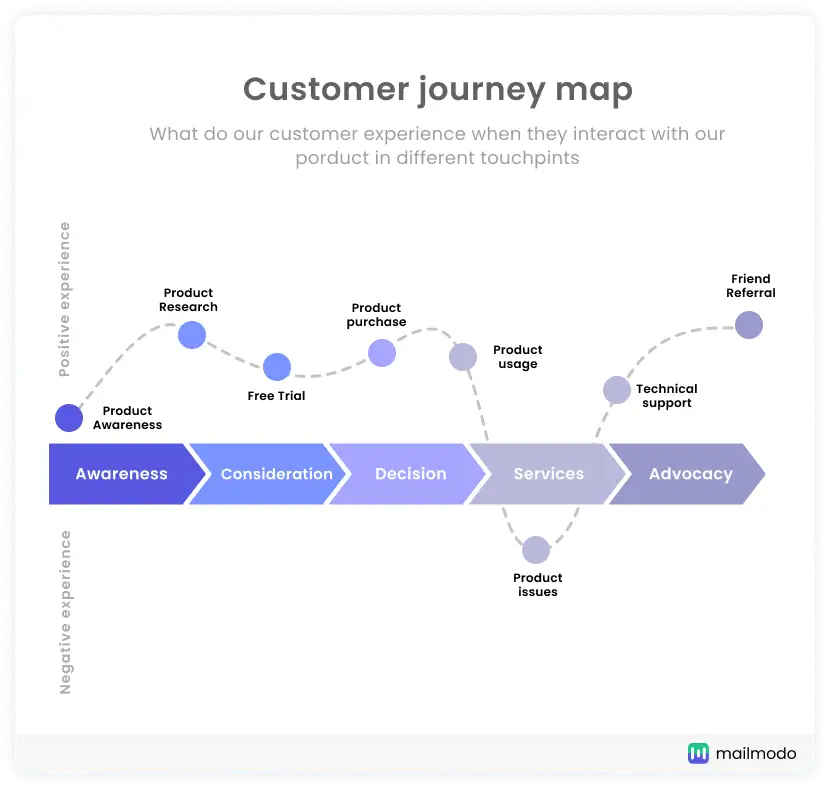 There are many ways to brainstorm great content ideas.
Creating a community about your product ideology is a rich pool from where quality ideas can emerge.

Curate content, repurpose content that has had great success in the past

Social listening is a great way to understand what people are talking about a certain subject and take it from there.
For example, content about how plant-based products are better for the skin and hair will surely get a good response from a user of vegan, cruelty-free cosmetic products. Since it is not mainstream, getting validation from social media influencers will also be appreciated. CTA at the end of the content that redirects traffic to the website would also boost website traffic. Creating a community for aware, cruelty-free product users is a great bonding experience for the users as well as a goldmine of impactful content.
5. Publish and manage content
Once you have content ready- publish. Multichannel marketing is an effective method of ensuring that your content reaches the target audience through different platforms.
Consistently, seeing your brand across different channels ensures that it remains relevant in the minds of the target audience for longer:
Create a content calendar in alignment with your content marketing framework. Time out what content needs to be a regular program like newsletters and blogs. Publish the showstopper content like a podcast with a guest or a webinar or eBook, when the interest has been built. And don't let the pipeline dry up.

Use paid media because, in reality, there is a decline in organic social traffic. Paid media takes more space on the search engine results. Pay and maximize online brand visibility.

Use social media because it is where maximum people consume content.
For example, for a consumer of vegan, cruelty-free cosmetic products, content would go on website blogs, Instagram, YouTube. A Facebook community would be formed. An integrated marketing approach would be helpful in this case.
Related guide: A Beginners Guide to Integrated Marketing
6. Use email marketing
Emails are cheaper, can be sent to a much larger audience, and work best for building loyalty and repeat business. It works in parallel with all other platforms and channels. Emails are another opportunity to engage with the target audience over and above the published content.
Get the State of Email 2023 Report
150+ email experts share their email tips and secrets
Here is how you can use emails to bring home your content marketing strategy:
For example, personalized emails about new cosmetic products and feature highlights would go to customers based on customer activities or like newsletters. Emails can also include highlights from the social media community to keep the customer engaged. Since the KPI is to increase website traffic, the CTA would be to click on a link to bring users to the website using a lucky draw or discount offer.
Related guides:
5 Steps To Run A Successful Email Marketing Campaign
The Definitive Guide to AMP for Email
7. Measure and repeat
There is a multitude of metrics and data points that can be collected to understand the performance of your content. That will give a clear idea of whether your strategy was a hit or a miss. Either way, you understand what is working with your target audience and what isn't this then helps to take further action accordingly.
For example, The metric linked to the KPI is website traffic, which is fairly easy to get. Once done, new KPIs would be set and the same strategy with necessary corrections would be repeated to achieve new goals.
We hosted @lorenbaker on our Growth Chat last Friday and it was nothing short of a masterclass in all things SEO. Here's a summary of what all we learned –

— Aquibur Rahman (@AR_Bits) March 29, 2022
Conclusion
As you create more content, you will get a better idea of what your target audience responds to. Content marketing strategy is not absolute and you may have to execute multiple iterations of your content marketing strategy to make it more effective than the last.
Get a sample AMP email in your inbox
Experience the power of interactivity right now
However, if you are creating a new marketing strategy, you can also read this guide to create an effective word of mouth marketing strategy for your business.
What you should do next
Hey there, thanks for reading till the end. Here are 3 ways we can help you grow your business:
Talk to an email expert. Need someone to take your email marketing to the next level? Mailmodo's experts are here for you. Schedule a 30-minute email consultation. Don't worry, it's on the house. Book a meet here.

Send emails that bring higher conversions. Mailmodo is an ESP that helps you to create and send app-like interactive emails with forms, carts, calendars, games, and other widgets for higher conversions. Get started for free.

Get smarter with our email resources. Explore all our knowledge base here and learn about email marketing, marketing strategies, best practices, growth hacks, case studies, templates, and more. Access guides here.