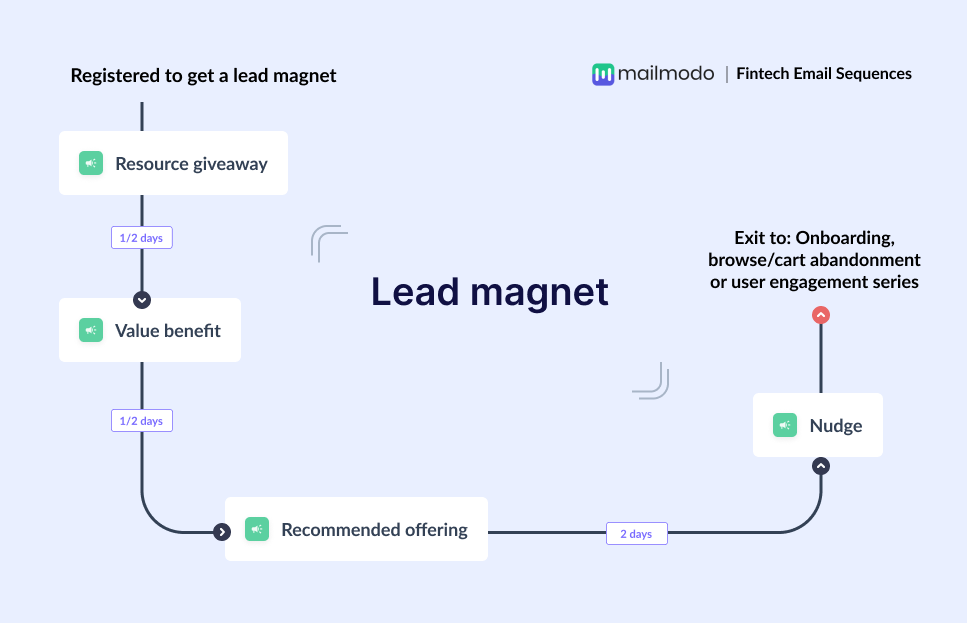 What is Lead magent email flow?
Send this series to people who have signed up to get your lead magnet (e-book, white paper, checklist, etc.).
🎯 The goal of this sequence
Share the resource they signed up for

Get them to check out your offerings
Recommended emails in this sequence: 4 emails
Optimum flow time: 1 week
Emails in this sequence
Email # 1: Resource giveaway
📩 Why this email
Share the resource your audience signed up for immediately before they get distracted.
💼 Expert tip
"After sending them the resource, have an exit condition wherein if the lead has previously gotten a marketing email from you in the last 30 emails, you can remove them from this lead magnet nurture sequence."
Email # 2: Value benefit
📩 Why this email
Your audience has downloaded a certain lead magnet because they are interested in the topic and are looking for a solution to their pain point. So, show them how you can help them out or how your offering solves their pain points.
✅ Best practice
Share only relevant offerings for their pain points instead of the generic pitch to get better results.
Email # 3: Recommended offering
📩 Why this email
Apart from offerings that can solve their pain points, include other offerings that they might be interested in or find useful.
Email # 4: Nudge
📩 Why this email
Send a final email encouraging them to sign up and try out your offerings.
⛔ Sequence exit
Send the audience to the onboarding series based on the user's actions.
Talk to an email expert. Need help? Schedule an email consultation. Don't worry; it's on the house.