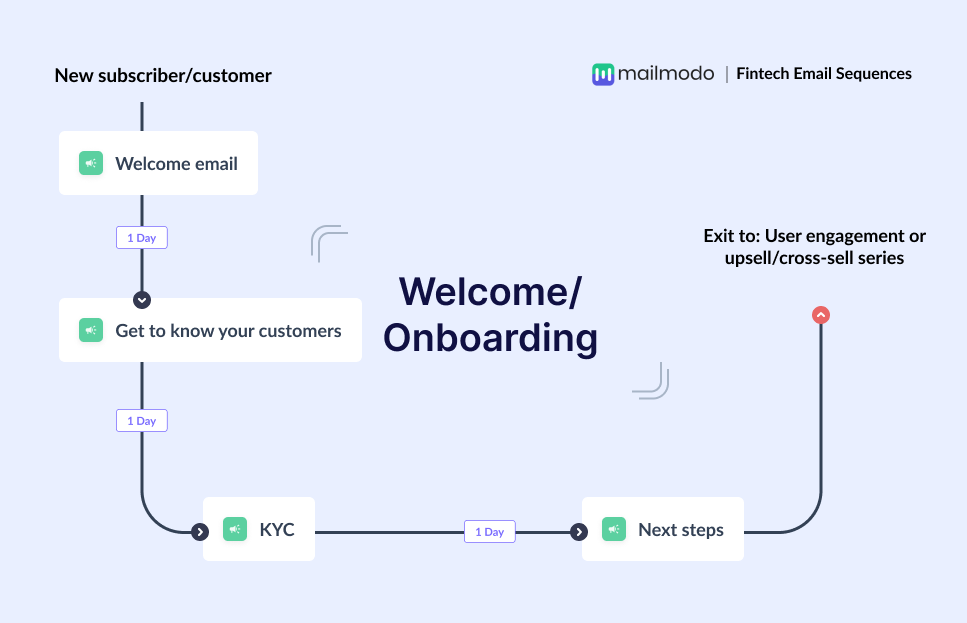 What is Welcome/Onboarding email sequence?
A welcome email sequence is sent when people have signed up to your email list on your platform or marketing channels. It is the first interaction with your customer. This sequence is used to welcome new subscribers, tell them about your company and what you offer, and get them to try out your product/service.
You can change the order of the following emails according to your requirement. For example, if you want customers to complete their profile before talking about the company, you can send email # 2 before email # 1.
🎯 The goal of this sequence
Introduce your company

Get to know your customers

Show them what you offer

Guide them through the next steps

Get them to try out your product/service
Recommended emails in this sequence: 4 emails
Optimum flow time: 3 days
Emails in this sequence
Email # 1: Welcome email
📩 Why this email
Thank your subscribers for signing up on your platform. Provide information about the company, what you provide, and how you can help them.
Email # 2: Get to know your customers
📩 Why this email
Collect the information you need about your customers like full name, date of birth, employment status, family size, bank account connection, Demat account, etc. If you don't want to collect all the information at once, you can send multiple emails to get them to fill out their details.
💡 Recommendation
Using Mailmodo, send AMP emails with forms to collect the user information in the email itself rather than redirecting them to a website to get it. Check out how it works.
Email # 3: KYC verification
📩 Why this email
Send this email to complete your KYC verification online by getting all the documents like government ID address proof and income verification. This email will look different for different models, so customize the content to fit your need.
Email # 4: Next steps
📩 Why this email
Tell your customers what they need to do next to start on your platform, like booking a call with customer support to apply for a loan, transferring money to a friend or family member, investing in something, purchasing a cryptocurrency, etc.
⛔ Sequence exit
Send them to user engagement or browse/cart abandonment series based on the user's actions.
Talk to an email expert. Need help? Schedule an email consultation. Don't worry; it's on the house.