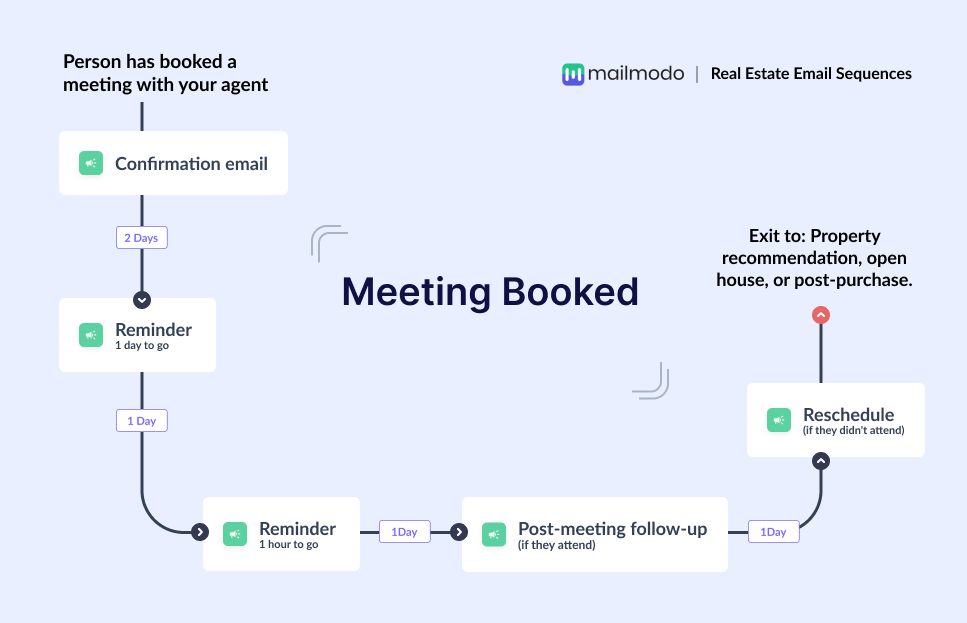 What is Meeting booked email flow?
Send this sequence to those who have booked a meeting with you or your real estate agent. Customize the copy of these emails for buyers and sellers.
🎯 The goal of this sequence
Boost meeting attendees

Understand your audience's pain points and interests to nurture them
Recommended emails in this sequence: 4 emails
Optimum flow time: 1 week
Emails in this sequence
Email # 1: Confirmation email
📩 Why this email
Once a potential buyer books a meeting with your agent, send them a triggered email to acknowledge or confirm the booking.
✅ Best practices
Remind them to add it to their calendars (if it is not automatic).
Email # 2: Reminder - 1 day to go
📩 Why this email
Builds anticipation. It also helps remind people if they have forgotten and gives them time to rearrange their schedules to attend the meeting.
✅ Best practices
Mention the date and time along with the time zone for people who haven't opened the previous reminder email.
Email # 3: Reminder - 1 hour to go
📩 Why this email
Remind them that the meeting is just around the corner. "Can't wait to meet you."
Email # 4a: Post-meeting follow-up
📩 Why this email
After the meeting, email them to stay in touch with your prospects and nudge them towards purchase. This email is usually not automated. The agent should personalize and send this email to prospects.
Email # 4b: Reschedule
📩 Why this email
Send this email to people who didn't attend the meeting to allow them to rebook an appointment.
💡 Recommendation
Send them a Calendly invite that allows them to schedule the meeting at a convenient time within the email itself. Check out how you can do that.
⛔ Sequence exit:
For buyers, based on their actions, move them to property recommendation, open house, or post-purchase. For sellers, send them to the new listing series if they have successfully listed their property/house on your website after the meeting with the agent.
Talk to an email expert. Need help? Schedule an email consultation. Don't worry; it's on the house.