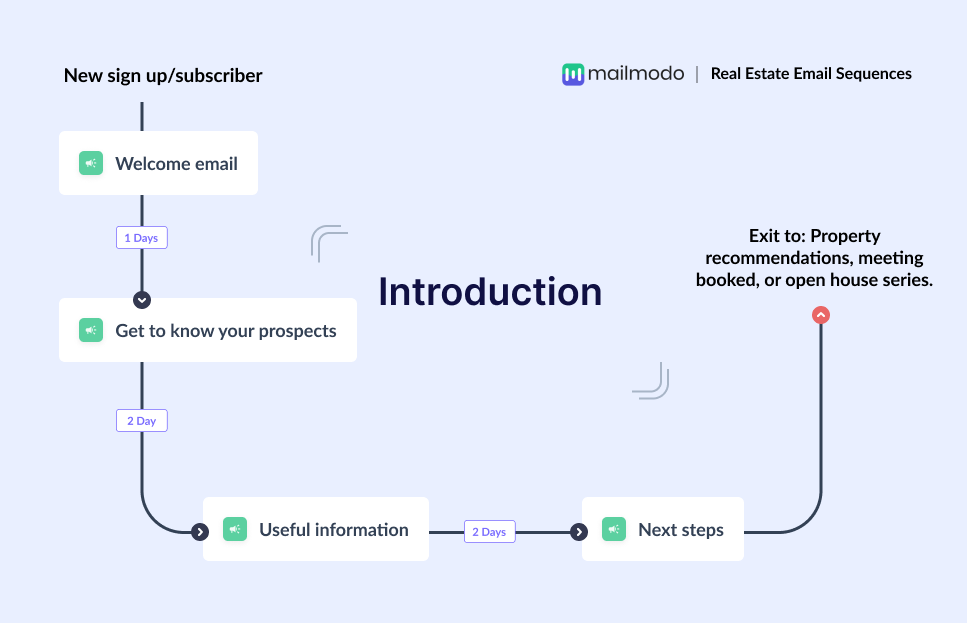 What is an Introduction email flow?
The introduction email sequence is sent to an audience who has shown interest in your company by signing up through your website form, paid ads, socials, or to receive your newsletter. It is sent at the beginning of your prospect's journey with your company.
🎯 The goal of this sequence
Introduce yourself

Get to know your prospects

Start a conversation with your prospects

Guide them through the next steps

Tell them what they can expect from you
Recommended emails in this sequence: 4 emails
Optimum flow time: 1 week
Emails in this sequence
Email # 1: Welcome email
📩 Why this email
Thank people for registering/subscribing to your email list. Introduce yourself, briefly explain what they can expect from you and what value you will provide them.
Email # 2: Get to know your prospects
📩 Why this email
Account creation captures basic information such as name and email address. Use this email to capture purchase-related information such as contact information, family details, property preferences, location, intent (buying or selling), etc.
✅ Best practices
Don't overload the email by asking for too many details. Get the most important details; you can get the rest later in other emails.
Email # 3: Useful information
📩 Why this email
Share some helpful tips, blogs, market updates, etc., to help newbies learn about the market and what they should look out for when buying a house. You can also create and share helpful lead magnets like free house evaluations, open house checklists, etc., as it'll help you establish yourself as an expert in the industry.
Email # 4: Next steps email
📩 Why this email
Tell your prospects the next steps they can take, like booking an appointment with you or your real estate agent, looking at listings, signing up for open house tours, etc. If they are interested in selling, get them to choose an agent or connect them with a customer support member to get started on the platform.
✅ Best practices
Automate the whole welcome sequence and save your time.
⛔ Sequence exit
For buyers, based on their actions, move them to the property recommendations, meeting booked, or open house series. If sellers have booked a meeting with an agent, send them to the meeting booked series; if not, send them to the customer support or sales team to onboard them.
Talk to an email expert. Need help? Schedule an email consultation. Don't worry; it's on the house.