Does your business use Facebook to capture leads?
If not, you better start as it has one of the largest user bases, 1.9 billion, and Facebook offers ample opportunities to generate leads using organic and paid tactics.
This guide will discuss 11 free and paid tactics to generate more leads on Facebook and nurture these leads into paying customers.
Let's get started!
Table of contents
What is Facebook lead generation?
Facebook lead generation is the process of generating quality leads by building interest in your product or services through different paid and non-paid tactics. As one of the widely used lead generation channels, Facebook offers you ample features to reach and engage your target audience.
You can collect basic information such as name, email address, and contact number through various tactics covered in the following section.
11 ways to generate high-quality leads on Facebook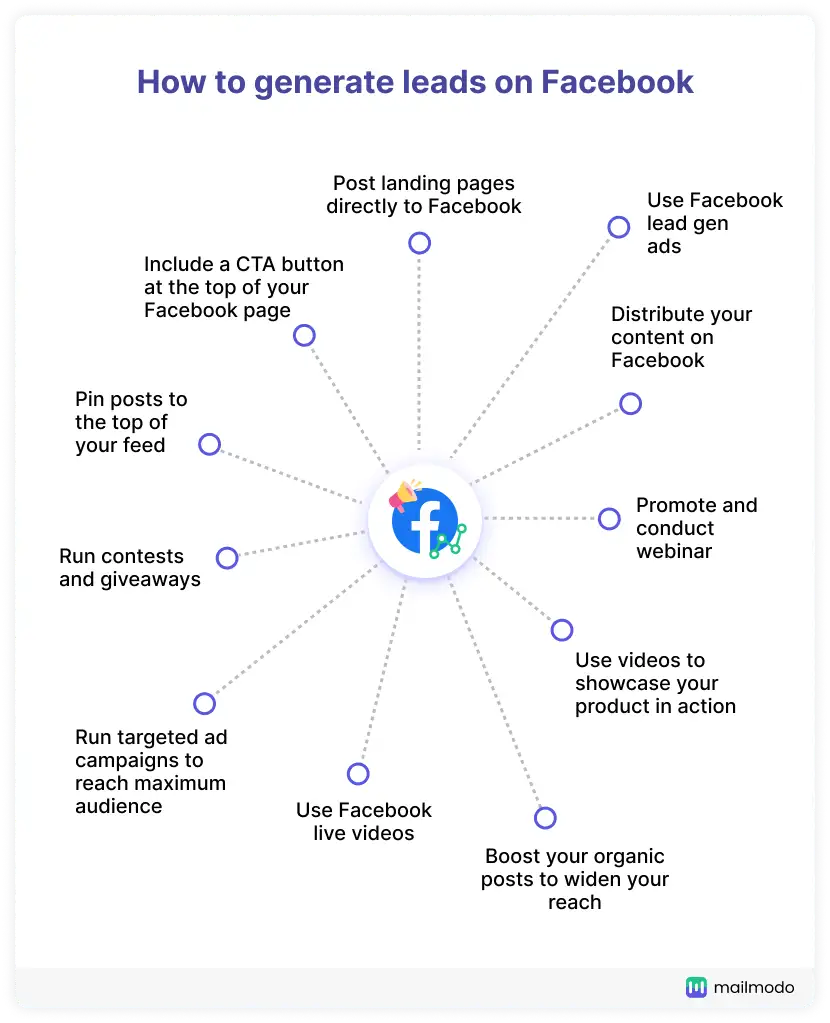 Here are 11 tactics that can help you generate leads using Facebook.
1. Post landing pages directly to Facebook
One of the best lead generation tactics is to share your landing pages directly on Facebook and redirect users to fill out the form when they land there.
This is one of the easiest ways to generate leads, but you need to present your page in a compelling way along with an actionable call to action.
Three things are visible to the users: The caption or the copy, images, and the CTA button. Each should be optimized and give users a clear idea of what you are offering and where it will lead them if they click on the CTA.
Here is an example of Mailmodo's Wordle mail page. We have used a clear image of the feature and the copy clarifies what the page is about.
2. Use Facebook lead ads
Facebook lead ads are a paid ad tactic to reach your target audience and collect their information in instant form. An instant form collects basic information like name, email address, and phone number. You can also include custom questions that are relevant to your business.
Unlike traditional lead generation, where you redirect users to your landing page and ask them to fill up a form, lead ads allow people to fill out the form without a redirect. This reduces the friction in the conversion path and generates a higher submission rate.
At Mailmodo, we use lead ads to target users in different funnel stages.
For instance, we run ads to target users on top of the funnel by sharing educational content to educate them about our industry. Besides, we also encourage users to try a sample AMP email to create awareness of Mailmodo and AMP emails.
Once you get the leads, you can send these leads automated emails to nurture them. Our Facebook lead ads integration allows you to trigger emails as soon as users sign up. It helps you nurture leads by sharing valuable content without giving them the chance to move on to other things.
You can read our guide to learn how to integrate your Facebook leads ads with Mailmodo
Get the State of Email 2023 Report
150+ email experts share their email tips and secrets
3. Distribute your content on Facebook
Content distribution is one of the widely used tactics to get traffic to your website, educate the visitors and compel them to take further action like signing up for a newsletter.
You can use Facebook to share blog posts, e-books, webinars, podcasts, etc.
Besides, you can showcase your reward and recognition to build credibility among your target audience. Make sure you actively engage with your audience while sharing your content to increase the reach of your posts.
Here's an example of how we share our guides on Facebook to drive traffic to our website.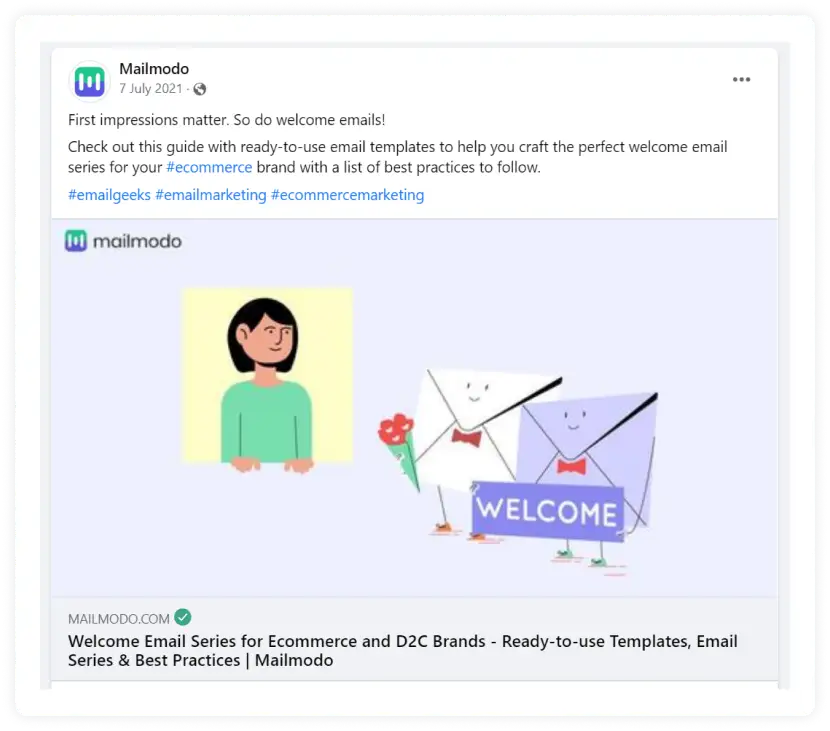 Related guide: How to Define Marketing Qualified Leads (MQLs)
4. Promote and conduct webinar
Webinars are a great way to capture leads as these allow you to virtually connect with your audience and share valuable content with them. Webinars can vary from interviews with industry experts to interactive talk shows to QnA with the team, and so on. The content you share in webinars will vary depending upon your audience, goals, and industry.
You can promote webinars using paid ads or sharing upcoming webinars with your audience. These webinars can help you capture valuable leads as users who register might be interested in learning about your industry.
Webinar signup is among one of your main lead generation tactics. We conduct webinars weekly with industry experts and share actionable tips about email marketing and marketing in general.
Related guide: A Beginner's Guide to Lead Generation For Generating High-Quality Leads
5. Use videos to showcase your product in action
You cannot miss out on sharing video content to show your product in action to capture more leads. Not only do 54% of consumers want to see more video content from marketers, but Facebook algorithms also favor video content.
Furthermore, as Facebook auto-plays videos, the first 5-10 seconds are your ticket to capture the attention and encourage users to view the full video. So, make the beginning visually appealing that hook reader and propel them to convert.
Here's how Mailmodo showcases the use case of AMP forms in email using video:
6. Boost your organic posts to widen your reach
A boosted post is a post on your page's timeline that you can make visible to a specific demographic of your choosing. Their expertise is in increasing the reach of your best posts, thereby increasing your audience and lead generation opportunities.
Follow these steps to boost a post:
Navigate to Your Facebook Business Page: This is where you'll find the post you want to promote.

Choose which post to promote: It's best to boost high-performing posts that people will enjoy or posts with lead magnets.

Choose "Boost Post": This option can be found in the post's bottom right corner. Some posts may not be eligible for a boost.

Fill in Your Ad Details: Facebook will ask you to define your target audience, set your maximum budget, and decide how long you want the ad to run.

Boost the Post: You can now sit back and wait for new followers and leads.
Here is an example of a boosted organic post by Marketo:
Related guide: How to Generate Leads Through Email Marketing in 2022
7. Use Facebook live videos
Facebook Live is one of many features that allows you to capture leads by broadcasting videos directly from your mobile devices to people's Facebook News Feed. There are plenty of interactive tools to help you engage your audience throughout the sessions to encourage people to connect and probably convert.
Some of the ways to leverage Facebook live are:
Add polls and quizzes to get user's feedback in real-time.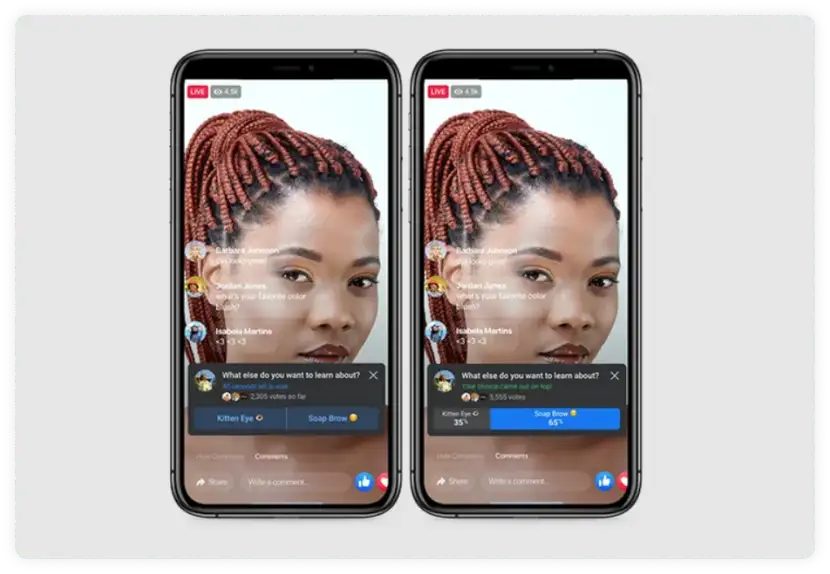 Source: Meta
Invite multiple guests in your live session using the Live with feature and interact with your audience.
Source: Meta
As these live sessions are spontaneous and interactive, you need to highlight your CTA verbally to encourage people to take action.
8. Run targeted ad campaigns to reach the maximum audience
If you are looking to widen your reach and reach a wide audience, you can opt to run target ad campaigns on Facebook. Facebook allows you to create ads to target people based on their age, gender, location, behavior, and preferences. Such a targeted campaign can help you generate high-quality leads.
Facebook displays your ads in two different locations: The right side of the user's news feed and within the news feed.
Besides the placement, Facebook allows you to run ads in various formats. Here is a list of all the formats you can use to run ads for lead capturing:
| Format | Explanation |
| --- | --- |
| Photos | Add compelling images that showcase your offering along with a CTA button. |
| Video | Make your offering interactive by using sound and motion. Such ads have a high rate of lead capturing as you can showcase your product/service in action. |
| Stories | These ads appear in Facebook stories, and you can use them creatively to display your product/service sign using a combination of images, collages, GIFs, and videos. |
| Messenger ads | Messenger ads run on messenger apps and allow people to initiate a conversation. |
| Carousels | Carousel ads allow you to showcase 10 images or videos, each with its own individual CTA link. You can use it to highlight different features or stitch a story to compel action. |
| Slideshows | Slideshow ads display your content using special effects, just like the changing effect in PPTs. |
| Collection | You can display different products in a collection format, and people can click and browse the product they want to know about. |
| Playables | Playable allows people to preview by interacting on the spot before deciding to take any action. Such ads help create engagement as users can try your product/services in real-time. |
You can learn about Facebook's ad format in detail here.
9. Run contests and giveaways
You can run contests to engage your audience, boost your reach and generate leads, giving users a fun experience.
As your primary aim is to generate leads, you need to be creative in your copy design to compel maximum people to sign up for the contest. You can use images, illustrations, GIFs, or even videos to create an interactive contest to attract more eyeballs and increase participation.
Besides, ensure that you put forth the guideline to participate and the criteria to win, just like the image below: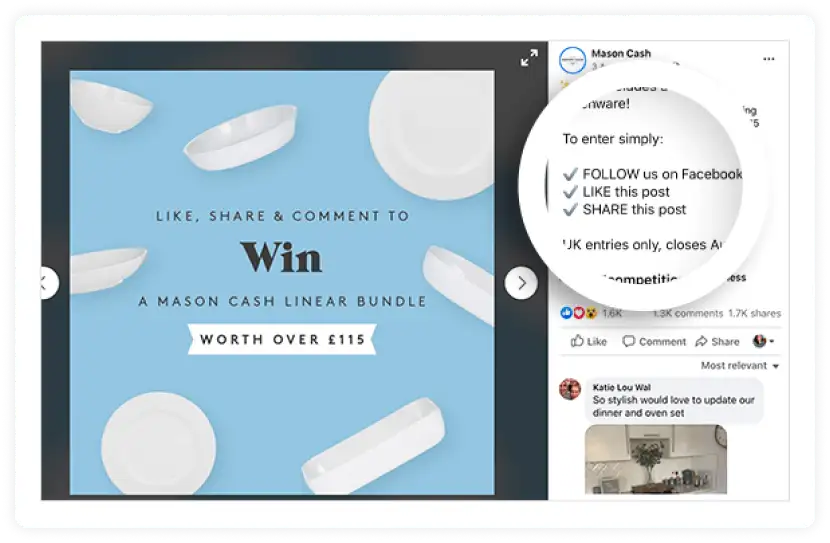 Source: Google
10. Pin posts to the top of your feed
Pinning a post to the top of your page's timeline allows you to highlight and showcase an otherwise ordinary post. It will remain at the top of your timeline for up to seven days before returning to the published date on your page's timeline.
Any post you choose to pin should hook the reader's attention and must redirect them to a compelling landing page where they can sign up.
Related guide: Creative Social Media Lead Generation Strategies That Convert
11. Include a CTA button at the top of your Facebook page
Including a compelling CTA button on your Facebook page can help you grab visitors' attention and generate leads by directing them to relevant landing pages.
This is how the CTA button will appear on your page.
Facebook gives you 17 pre-made CTA buttons, including "Sign Up," "Shop Now," "Contact Us," and more. You can choose the one that best fits your brand.
To get more leads, try experimenting with the CTA button. For instance, if your cover page promotes your ebook, you can align the CTA copy to that to encourage more clicks.
Get a sample AMP email in your inbox
Experience the power of interactivity right now
Capture those leads today!
It's time to put these tactics into practice to generate high-quality leads for your business.
Once you've got the leads, the next step is to nurture them. One of the best ways to nurture leads is through email marketing. Email offers a direct channel to send different emails based on users' preferences, demography, and interests.
You can read our guide about nurturing leads using email marketing to know more. Give it a read and start nurturing leads today!
What you should do next
Hey there, thanks for reading till the end. Here are 3 ways we can help you grow your business:
Talk to an email expert. Need someone to take your email marketing to the next level? Mailmodo's experts are here for you. Schedule a 30-minute email consultation. Don't worry, it's on the house. Book a meet here.

Send emails that bring higher conversions. Mailmodo is an ESP that helps you to create and send app-like interactive emails with forms, carts, calendars, games, and other widgets for higher conversions. Get started for free.

Get smarter with our email resources. Explore all our knowledge base here and learn about email marketing, marketing strategies, best practices, growth hacks, case studies, templates, and more. Access guides here.