People usually think of email as a channel for lead nurturing. And, they only use it to send educational or promotional emails to their leads to determine MQLs and nurture them into customers.
But that's not all that you can do with email.
You can use email marketing for lead generation purposes too. It's not a very well-known channel for lead generation, so I understand that you are skeptical.
We'll show you how you can generate leads using email marketing and some best practices to keep in mind when you do so.
Table of contents
What is lead generation?
Lead generation is acquiring new leads to increase the number of potential customers of your company using various lead magnets or content. People become leads for your business when they willingly give you their contact information (name, email id, or phone number) and permit you to contact them.
What is email lead generation?
Email lead generation involves gathering potential customer information via an opt-in form that typically requests a name and email address. This helps build an email list for future marketing campaigns, allowing businesses to target interested individuals and nurture them through the sales funnel.
Let's discuss exactly how you can do this using email marketing.
How to generate email leads through email marketing?
Here are three ways you can generate leads through email marketing.
1. Outbound email lead generation
This is a controversial way to generate leads. Let me explain.
Usually, in email marketing, you create a campaign and send it to people on your email list who have voluntarily given you their email id. Now, as we saw previously, these people are considered your leads.
So if they are already your leads, you can't send them emails to generate leads. This is where outbound email lead generation comes in. It's also commonly called cold emailing.
In this type of email lead generation, you send emails to your potential prospects with whom you have no prior connections. It becomes controversial because they haven't willingly given you their email address or permission to email them.
You might wonder, why do people still do it then if it's so wrong? Well, it's because the technique works pretty well at generating new leads, and many people (including us) have bought products that have been introduced to them through a cold email.
So, now it's up to you to decide if it's the route you want to take or not. If you like to try it out, check our guide on cold emailing to know how to do it the right way.
Let's move on to more mainstream and less controversial ways to generate leads.
Become an email marketing expert in 90 mins
On-demand certification to master email marketing
2. Adding signup forms in emails you send
As a marketer, you might already be sending newsletters to your audience. And if your newsletter provides a lot of useful information, people will likely share it with their colleagues or friends.
These people can also be a lead for your company. So to leverage this opportunity, you need to add a sign-up button or form in your newsletters, as shown in the example below. If people are interested in you, they'll sign-up through the form and become a lead for your company
Then you can use automation tools like SureTriggers which will help you collect the leads in a Google Sheet with all the entries and also can let you create a list of your leads in your favourite CRM and ESPs.
Later it can also send personalized emails to your leads using the ESP like Mailmodo. Genius isn't it?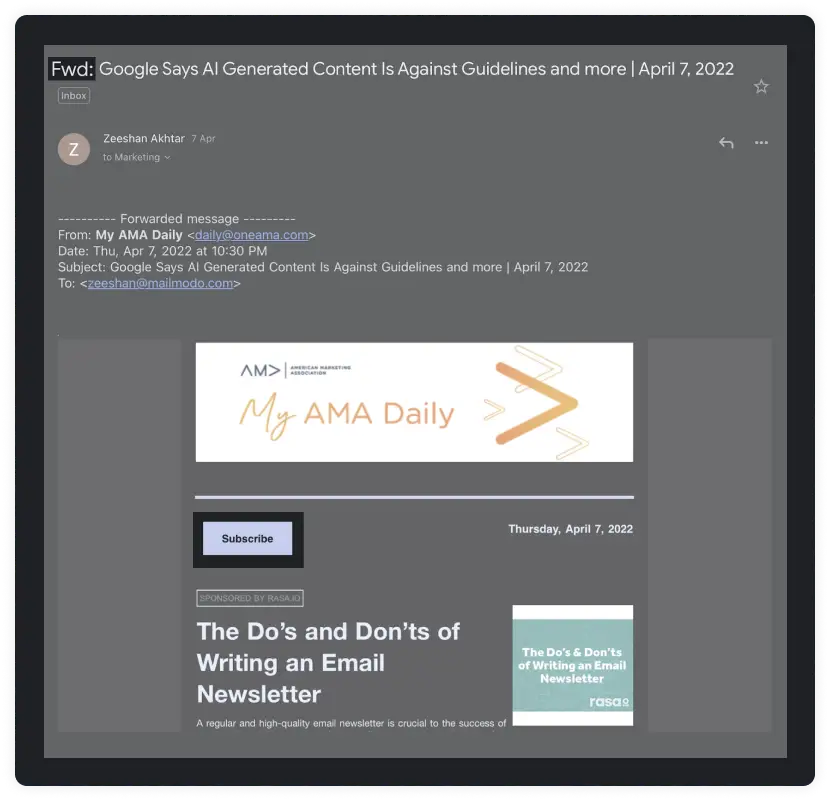 3. Email ads
Lastly, let's talk about a paid email lead generation option: email advertising. In this type of email lead generation, you will be placing a display ad in another person's email (newsletter), and the ad gets sent to their audience. In the ad, you will have a CTA or form where people can sign up.
You need to place the ads in the newsletters of people in your niche as only then will their audience be interested in your brand and become a good quality lead. The leads you generate here are warm leads who have seen your ad and voluntarily given you their contact information, unlike cold emailing.
And those are the three ways you can use email marketing to generate leads for your business.
Email lead generation best practices
Here are things you need to keep in mind when generating leads through email marketing.
1. Personalize your outbound emails
You would send outbound emails to people who don't know about you. And, they are not likely to respond well to your email if it sounds generic.
So, research about them, get more information about their interests, lifestyle, pain points, etc. Use the information you compiled to craft a personalized email for them. It'll increase the chances of them responding to it.
2. Use AMP forms in your email ads
AMP forms are interactive forms that people can fill within the email itself. If you place amp-forms in your email ads, you can get the person to sign up within the email instead of redirecting them to a webpage.
But this is up to the person placing your ads in their emails. So start a conversation with them about this and ask them if they would be willing to add this feature to their emails.
If they don't know how to do it, don't worry. We can help you. Book a demo with us to find out how you can add interactive forms to your emails.
3. Have a signup form or button at multiple places in your email.
This will help you increase your chances of getting leads when someone shares your email with people they know. However, don't overdo it; one or two buttons per email should be enough.
Put one at the beginning of the email or header and one at the footer. This way, you cover the entire email, and people don't have to search for the button.
Get a sample AMP email in your inbox
Experience the power of interactivity right now
4. Keep the copy of your outbound email precise and to the point
Most people get annoyed reading a long rambling essay from a person they don't know. Your prospects are no different, so don't waste their time and energy. Keep your emails short and crisp and include only the most important information.
What's next
Now you have generated leads using email marketing, what's next? You have to send email campaigns to these leads and find out which of them are qualified to become MQLs. After that, you need to nurture the leads to convert them into paying customers. If you don't know how to do that, check out our guide on lead nurturing. It'll help you understand how to use email marketing to nurture your leads.
What you should do next
Hey there, thanks for reading till the end. Here are 3 ways we can help you grow your business:
Talk to an email expert. Need someone to take your email marketing to the next level? Mailmodo's experts are here for you. Schedule a 30-minute email consultation. Don't worry, it's on the house. Book a meet here.

Send emails that bring higher conversions. Mailmodo is an ESP that helps you to create and send app-like interactive emails with forms, carts, calendars, games, and other widgets for higher conversions. Get started for free.

Get smarter with our email resources. Explore all our knowledge base here and learn about email marketing, marketing strategies, best practices, growth hacks, case studies, templates, and more. Access guides here.