Email is an essential channel for communication in both professional and personal spheres. However, the volume of emails received daily can lead your inbox to be unproductive and cluttered space.
Cleaning up your inbox can be a dreadful and daunting task if you choose to assess every single email you receive and decide whether to keep it or delete it. Thankfully, the rise of email cleaner apps has made managing and organizing an otherwise unmanageable inbox much easier. In this article, we give you a list of some of the best email cleaner apps to help you achieve a clean email inbox.
Table of contents
What are email cleaner apps?
An email cleaner app is designed to streamline and optimize your email management process. These apps offer a range of features that aim to categorize your incoming emails, prioritize the important ones and delete irrelevant emails. These email cleaner apps can integrate with your email service providers like Gmail, Outlook, Yahoo and more to be more accessible to a broad number of email users.
7 Best email cleaner apps
There are some great email cleanup tools available. Take a look at some of them that you can use for different tasks.
1. Clean.email
Clean.email offers a variety of powerful tools and features to help you quickly auto-clean your inbox.
Features:
It can bundle commonly cleaned emails and bundle emails based on sender, subject, label, etc., which can then be moved to the trash or archived together.

It can unsubscribe or temporarily pause a newsletter subscription or just keep the newest version.

The quick clean feature allows you to clean commonly cleaned emails like social notifications and emails older than 3 years.

The smart views feature helps organize emails by bundling similar types of emails together.
Support: Gmail, Yahoo, AOL, iCloud, Outlook and any other email provider using IMAP.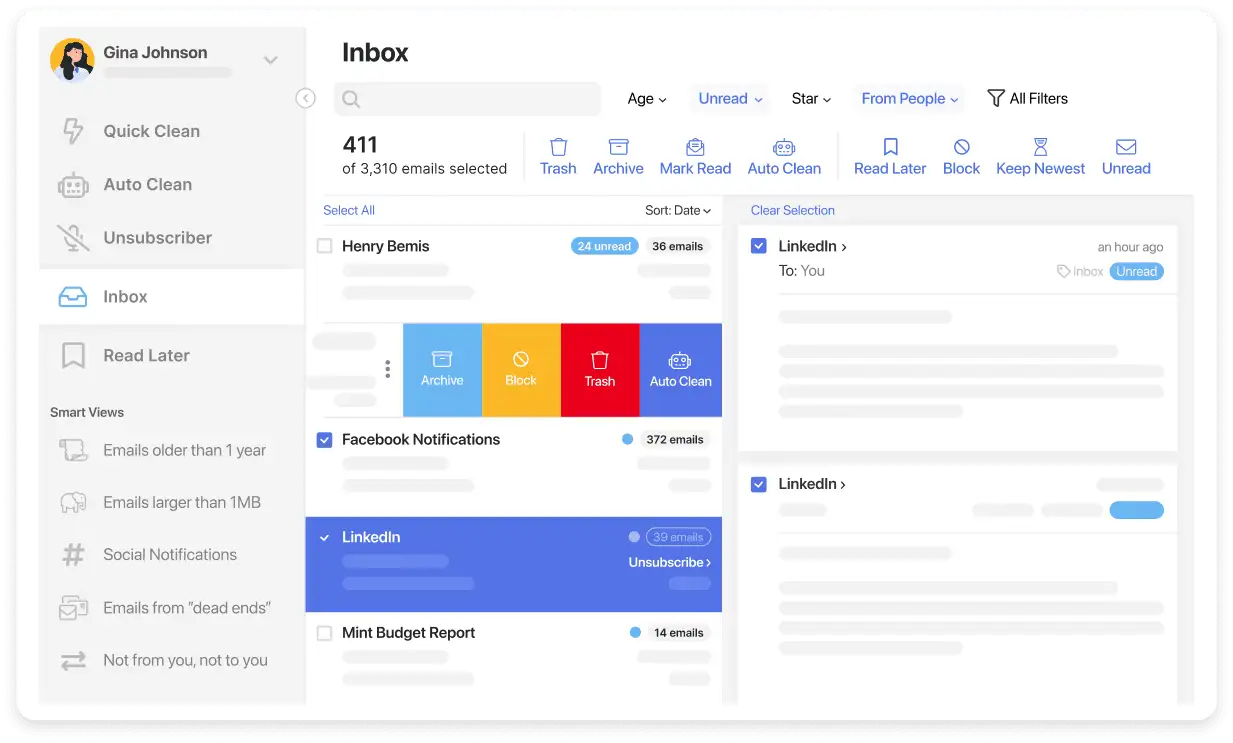 2. Mailstrom
Mailstrom is another email cleanup tool that identifies related emails and bundles them so that you can take action on them as a group.
Features:
It allows you to block spam emails in one click.

Has an unsubscribe feature that allows you to get off the mailing list with one click.

Offers styles, tips, hacks and suggested best practices for cleaning your inbox.
Support: Gmail, Outlook, Yahoo, Verizon + AOL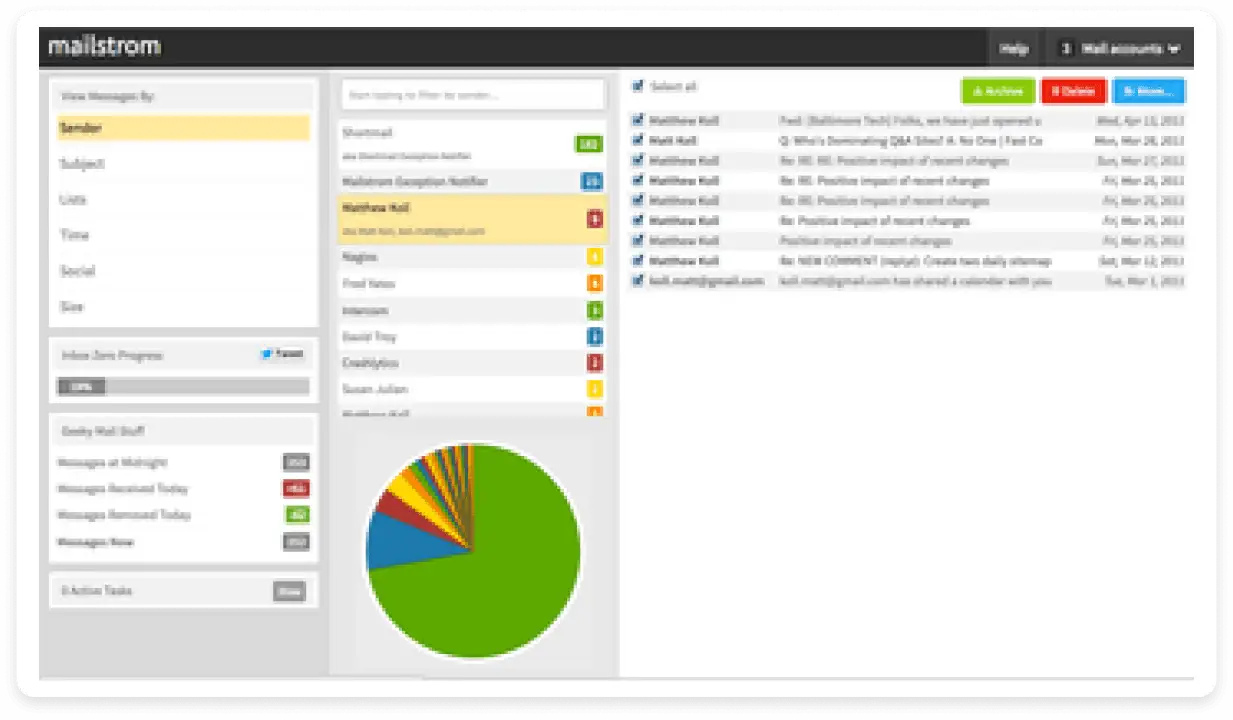 3. Unroll.me
Unroll.me is a great tool to unsubscribe from newsletters.
Features:
Gives you a list of all the subscriptions in one place from where you can unsubscribe to any subscription.

The Rollup feature keeps all your subscriptions in a separate folder.

Offers an app for Android and iOS
Support: Gmail, Outlook, Yahoo, iCloud, AOL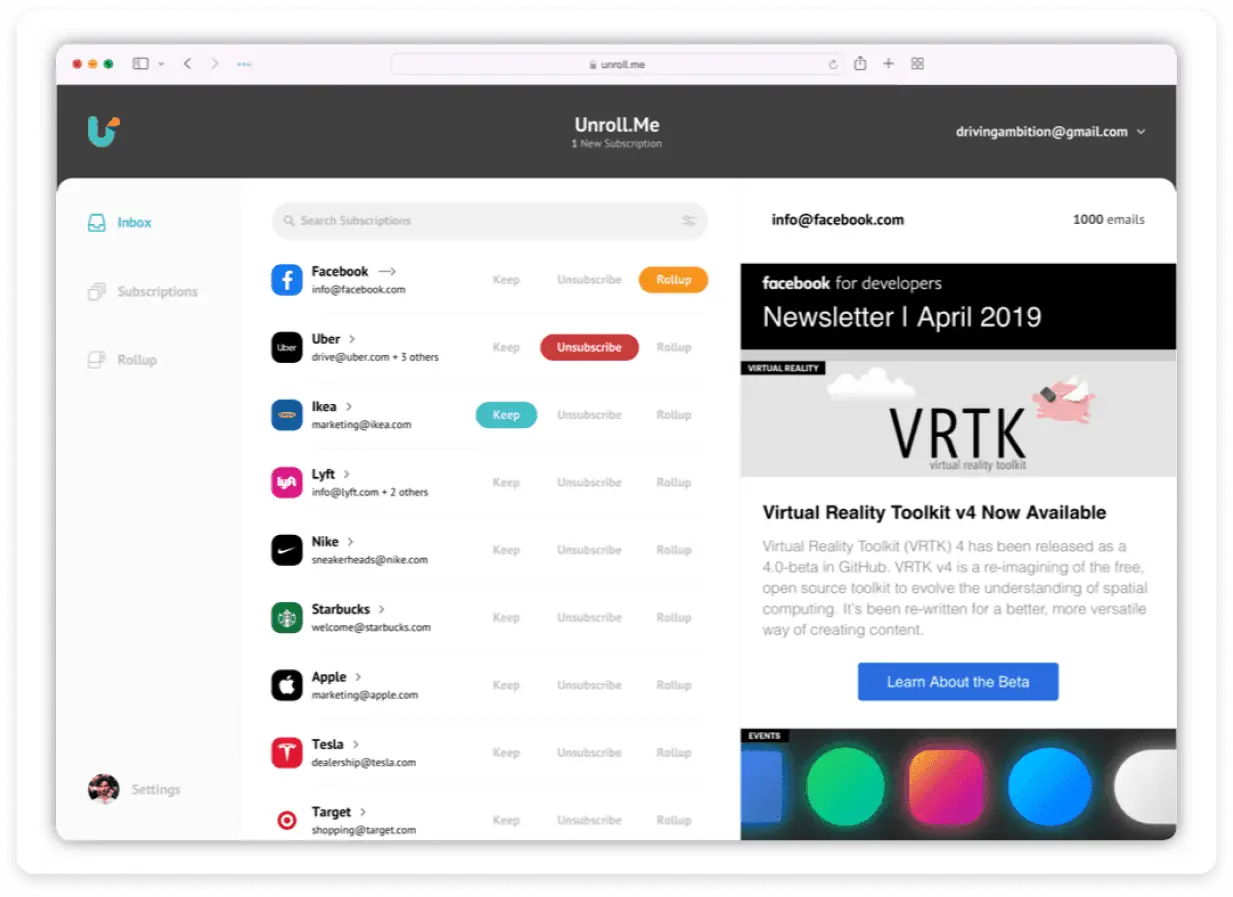 4. Cleanfox
Cleanfox allows you to remove and block newsletters you do not want to receive with just one click.
Features:
Provides you with statistics on newsletters, spam mails and more.

Puts deleted emails in a trash bin in case you need it and the bin is cleaned automatically after a few days.
Support: Gmail, Yahoo, Outlook, iCloud and more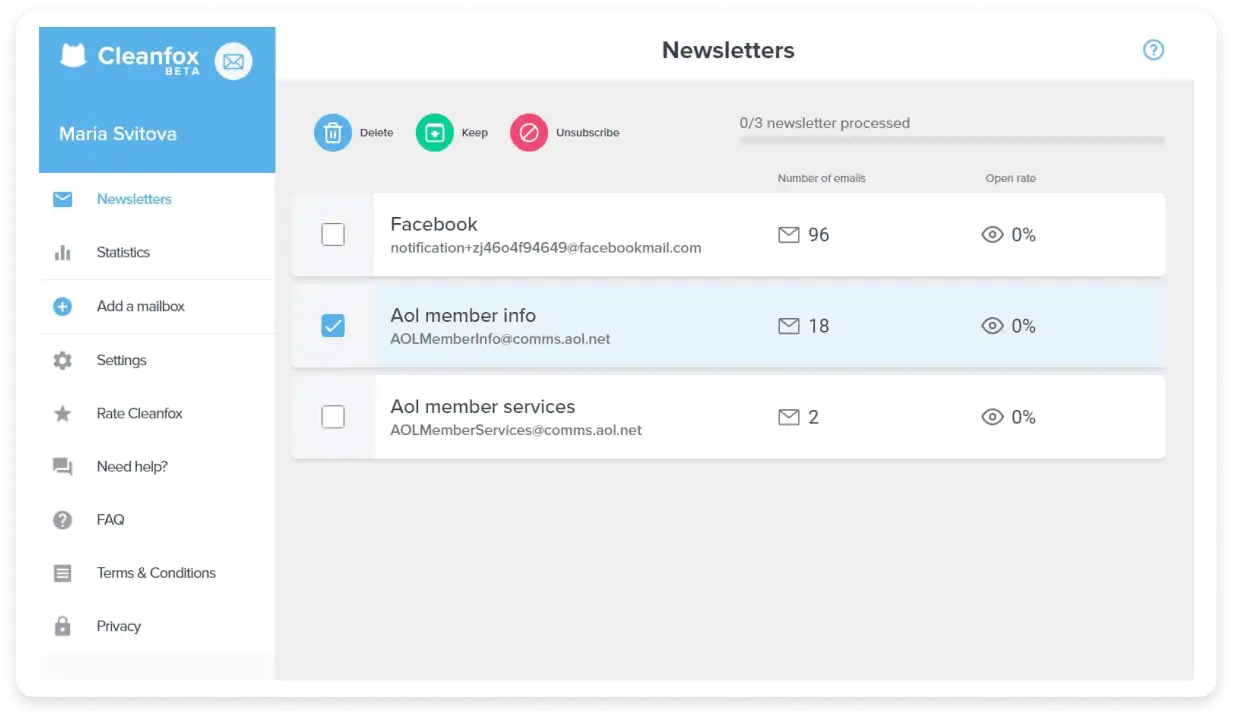 5. Triage
Triage is unique in the way it allows you to clean your inbox. It stacks up your unread emails as a pile of cards. Swiping left archives the email, swiping right keeps it and tapping on it expands it. It helps you stick to the concept of inbox zero. One downside is that their app is only available on iOS.
Features:
Provides an intuitive way to clean your inbox.

Allows you to reply from within the app.
Support: Gmail, Yahoo, iCloud and most IMAP email services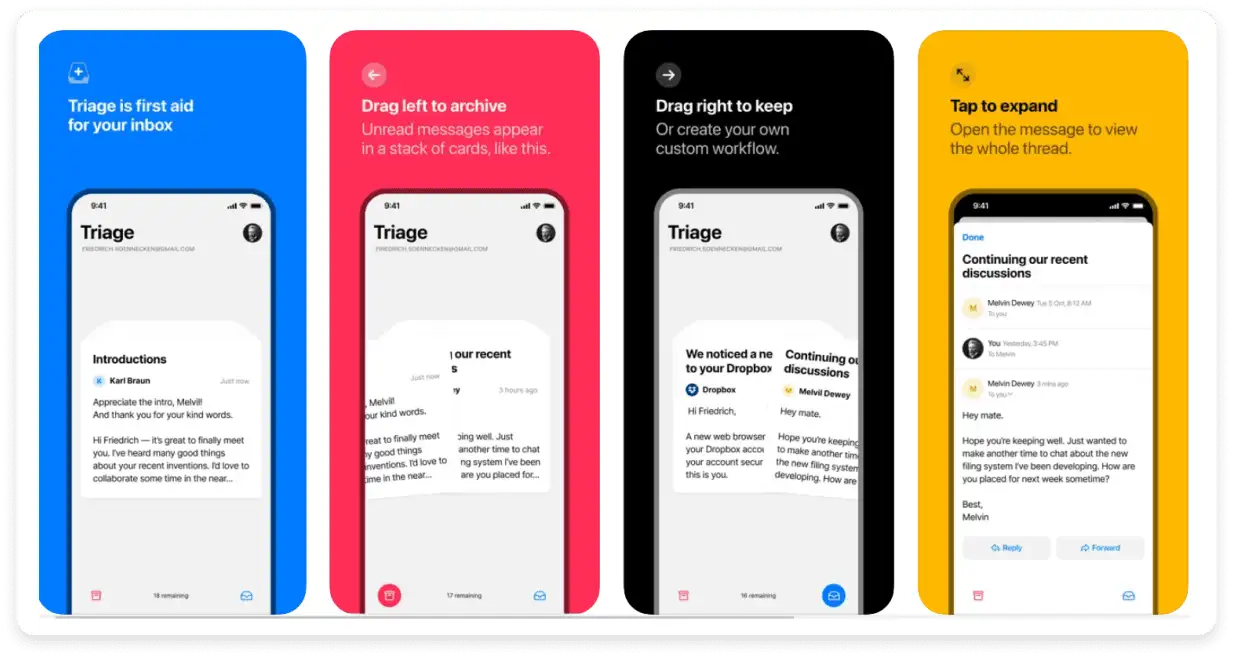 6. Trimbox.io
Trimbox scans your inbox for email lists and unwanted emails and lets you unsubscribe to them with just one click.
Features:
It lets you mass delete all past emails from a sender with a single click.

Lets you unsubscribe without opening the email.

Automatically scans for unwanted emails.
Support: Available as an extension for Gmail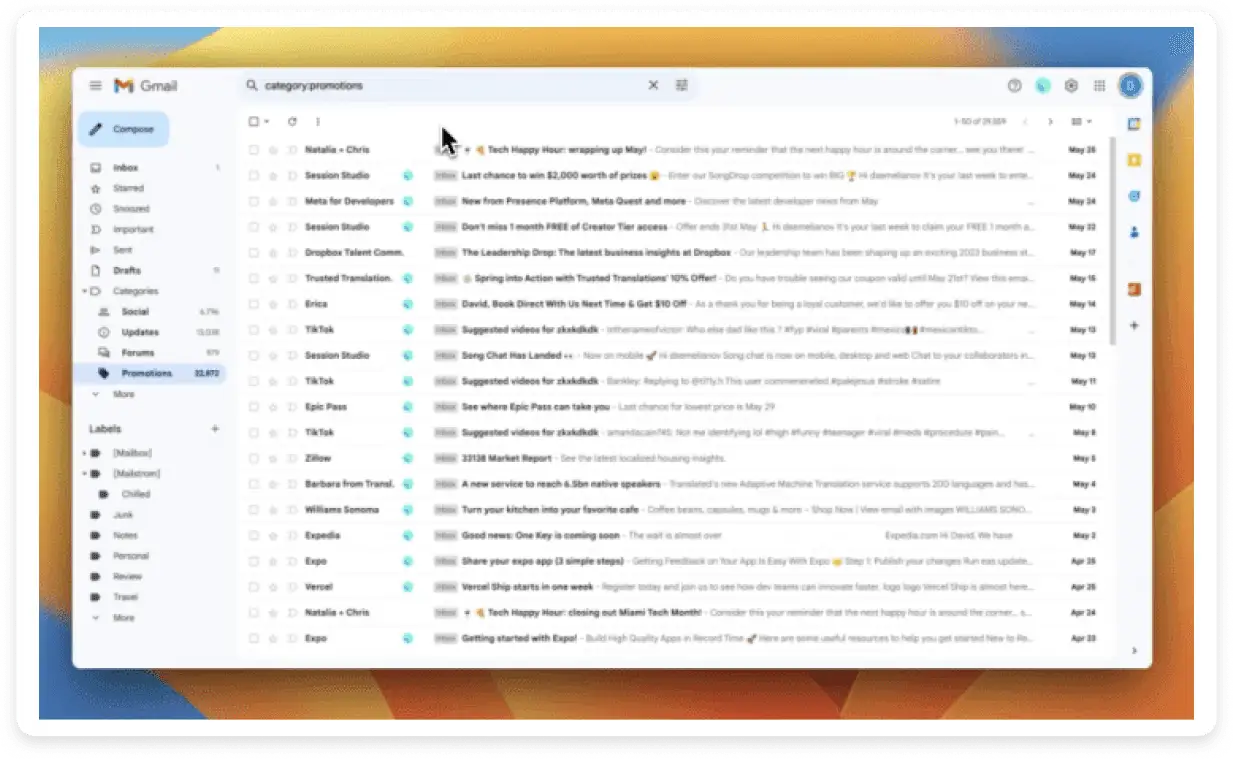 7. SubscriptionZero
Subscriptionzero combines all your newsletter subscriptions into a single digest. This helps you view them all in one place and even unsubscribe and block them.
Features:
Provides all your newsletters in one place where you can read, star and archive your digests.

Offers an automated unsubscribing process.
Support: Gmail, Outlook.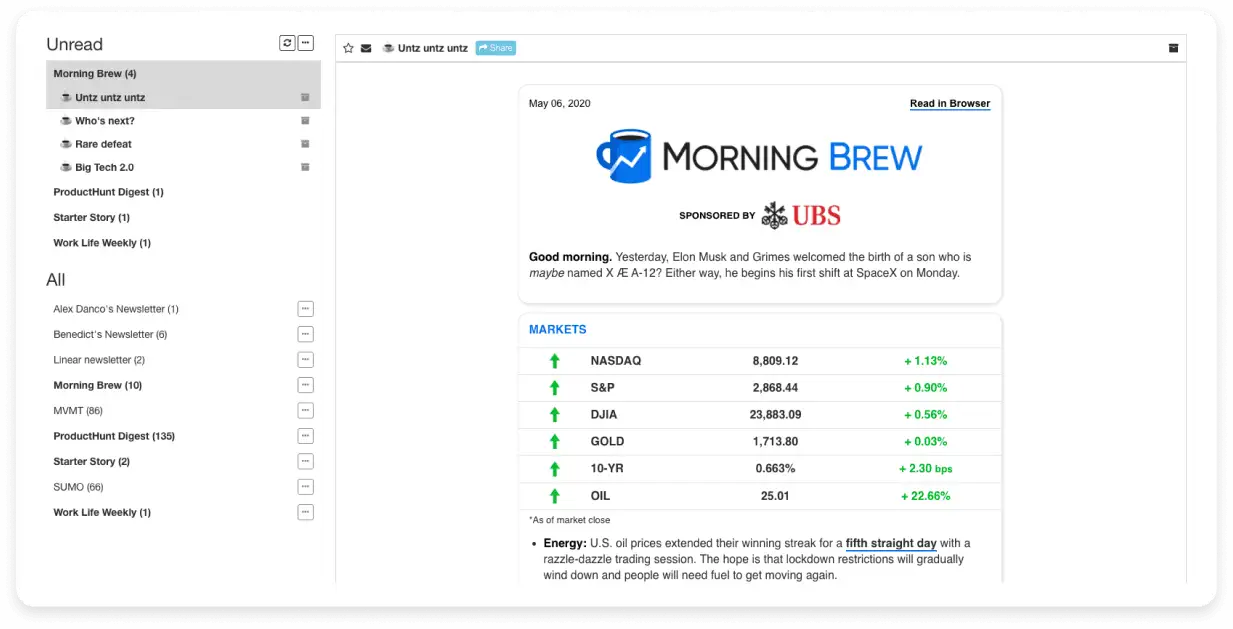 Takeaways
By using these above email cleaner apps, you can streamline organizing your incoming emails, unsubscribing from unwanted newsletters and deleting any unwanted emails to achieve a clean email space. If you find yourself drowning in incoming emails, it is time for you to use these tools and claim your inbox for yourself, thereby increasing your productivity and overall efficiency of your email inbox.
What you should do next
Hey there, thanks for reading till the end. Here are 3 ways we can help you grow your business: