As email marketers, you may have to collect data from your emails, such as names, signatures, or data from email attachments, to organize them systematically.
When the number of emails is less, it makes sense to do the extraction manually. But as the scale and scope of extraction increase, manual extraction becomes tedious and time-consuming. That's where email parsers come in.
Email parsers can help you extract data from multiple emails on autopilot. This guide will explore the takeaways of using email parsers and the benefits marketers reap from using them.
Table of contents
What is an email parser?
An email parser is a piece of software that extracts data from incoming emails. But not just any kind of data, however. It will work on your predefined conditions and extract the specific data you need. You can scan any attachments, such as text files, PDFs, spreadsheets, etc., and extract the information you need without manually opening the email.
Why should you use an email parser?
I'm sure you're busy and don't have the time to manually search every email and find the required data. That's where email parsers shine. This software will help you save time by doing all the work by itself.
You need to set them up once, and they'll keep working on autopilot. The only time you need to spend is deciding on choosing the best email parser software (see below) and configuring the parts of the emails you want to extract.
This one isn't specific to email parsers, but since email parsers are digital softwares, they'll have way more accuracy than humans since they don't get "tired" like humans do. The software can work much longer and more efficiently, so an email parser is a way to go if you must extract data from hundreds of emails.
So if you're convinced to look for an email parser solution, here are our top picks for you.
Get the State of Email 2023 Report
150+ email experts share their email tips and secrets
Top 3 email parser use cases
Here are the top 3 use cases of email parsing softwares:
1. Data extraction from reports
As a business owner and marketer, you may receive many automated reports via email on a daily basis. Since these reports will have similar templates, you can setup a parsing software to automatically extract valuable data and organize them in a structured manner.
2. Handle customer requests
Do you get a lot of customer requests and complaints via email? Do you manually note the complaint ID, name, and complaint to a spreadsheet? It will be better to use your time if you automate that process with email parsing software.
3. Sort job applications' data
Attracting great talent requires you to showcase your job offering on many different job sites. But sorting data from all those platforms into a unified way can be hard. That's where you can use email parsing software to parse data from job all those job request emails as done by using Parseur.
How to parse email content?
Different softwares may parse emails slightly differently than others but here are common steps they all follow.
1. Give your email access
To parse your emails and extract the data, your parsing software must first access them. Some softwares like Zapier Email Parser need you to forward your emails to their address while Email Parser scans your inbox and downloads your emails to parse them.
2. Setup parsing rules
Once your parsing software has access to your emails, you have to teach how it should parse your emails. Many softwares allow you to highlight and map the text simply you want to parse and so this will be an easy step for you.
3. Access your data
After the software is done with parsing, you can view it in its dashboard. For example, Zapier Email Parser lets you view your parsed data in its dashboard or you can also send it to spreadsheets and other business applications. This allows you to automate the entire parsing process.
Related guide: How to Use Email Automation to Scale Up Your Marketing Efforts
Top email parser softwares in 2022
Following are the best email parsing softwares you can use.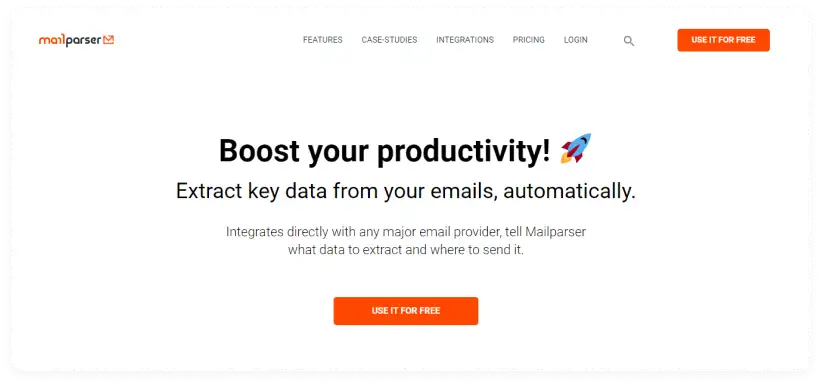 Mailparser is one of the most popular email parsing softwares with a 4.5 average G2 rating. It has parsed over 134 million emails and 3 billion data points.
Features
Transfer the parsed data to many business applications or download it from the Mailparser app.

Can pull text from various file formats (PDF, DOC, DOCX, XLS, CSV, TXT, XML, etc).

You can transfer your data to Excel, Google Sheets, Slack, and more.

Integrates well with major email providers like Gmail and Outlook.

Can also integrate with CRMs, productivity tools, file storage services, email platforms, etc.

Data is encrypted, and they claim to use bank-level encryption from A-Z.
Pricing
Free plan: $0/month

Professional plan: $39.55/month

Business plan: $99.95/month

Premium plan: $299.95/month

Enterprise plan: Need to request a quote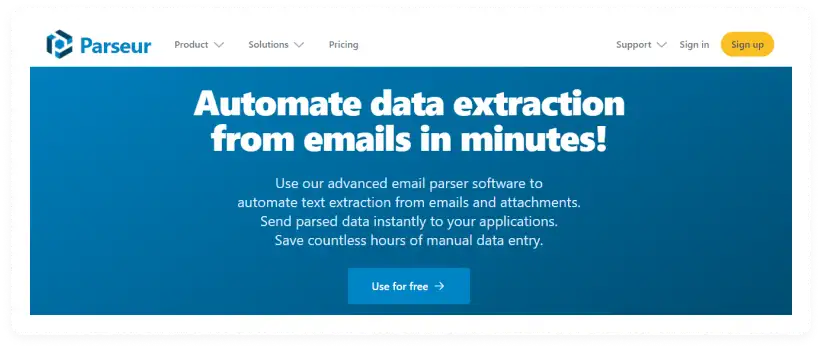 Parseur's highlight feature of creating a template and data extraction from attachments make it an attractive option for beginners.
Features
Uncomplicated template creation with point and click template creation.

Send data to your CRM in real-time.

Automatic layout detection that detects the template type without setting up template routing rules.

Tons of integrations like Notion, Slack, Google Calendar, etc., to send your data to any app.

Built-in parsing templates for Google alerts, food orders, real estate leads, et., that you can use to avoid building from scratch.

GDPR compliant, and your data will be stored in a highly secure data center in the EU.
Pricing
Starter plan: $99/month

Pro plan: $299/month

Enterprise plan: Need to request a quote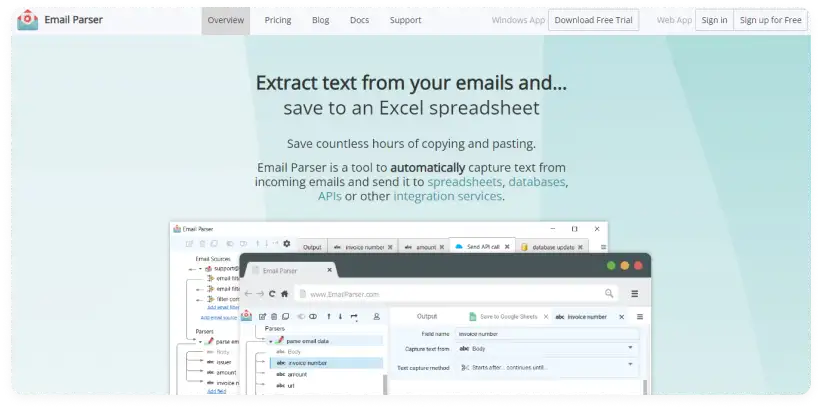 Email parser continuously looks for new emails to process in your inbox. Fortunately, parsing the existing set of emails is also available.
Features
Integrates with major email providers like Gmail and Microsoft Exchange.

The extracted data can be sent to Google Sheets, Microsoft Excel, databases, APIs, or many other integrations.

The Windows app allows you to integrate email information with local files.

Like other tools, it can extract data from email attachments such as PDFs, DOCX, TXT, and more.

You can work both with the webapp or with the Windows app. So you can get your work done even on a Tablet device.

GDPR compliant and use secure Amazon Web Services to store your data.
Pricing
Windows app: $79/year

Web app: $24/month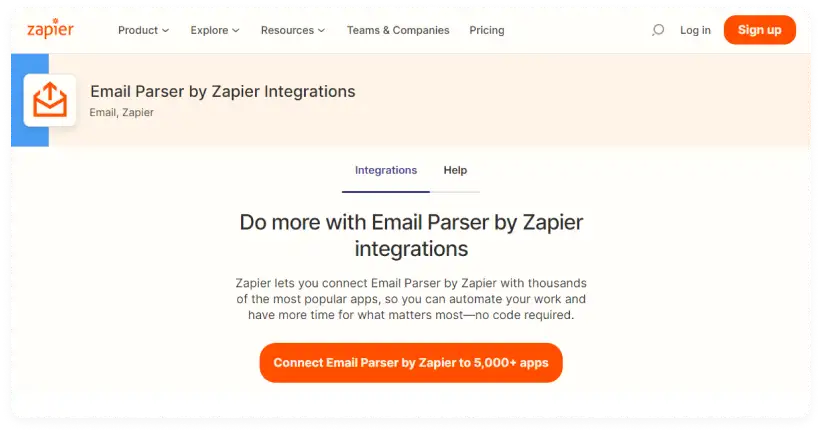 Zapier is one of the leading automation software, and it also offers a Mail parser that you can connect with your Zapier account to use for automatic email extraction.
Features
Trigger your existing Zaps with the parsed emails.

Send the parsed data to major spreadsheet apps.

Access your data from your Zapier dashboard.

Set up multiple mailboxes with their own @robot.zapier.com email address.

The information is stored differently than information on your Zaps.
Pricing
Zapier Email Parser is free software that you can also use with paid plans of Zapier.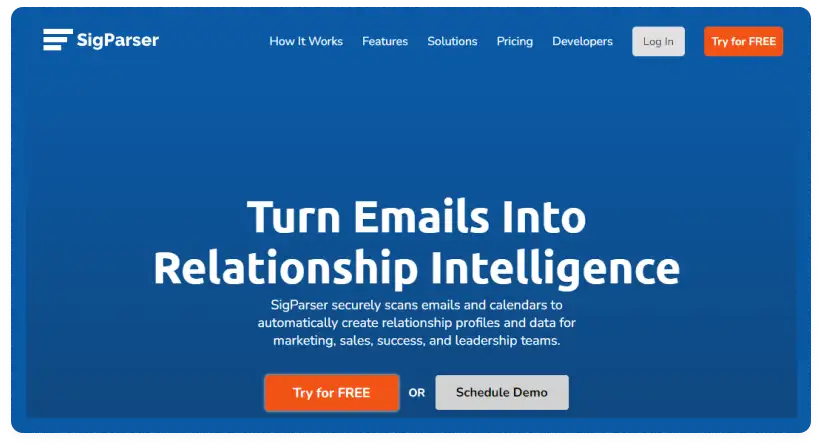 SigParser does more than just email scraping. It allows you to build relationship intelligence by analyzing members of your organization and provides valuable insights.
Features
Lets you scrape emails, attachments, and signatures and extract useful data.

You can deploy data to your private cloud, so you keep control of it.

Provides you with actionable insights about people and your company.

Works with a single person and can scale to match the company's needs.

GDPR compliant, and their applications are run in a highly secure environment managed by AWS.
Pricing
Individual: $19/month

Team: $49/month

Professional: $299/month

Enterprise: $499/month
Get a sample AMP email in your inbox
Experience the power of interactivity right now
Conclusion
Email parsers have allowed companies to automate the email extraction process completely. Before email parsers, employees had to sit for hours looking for new emails and sort the required data. Fortunately for you, there are email parsers that'll do all the boring work for you and help you in your email automation journey.
What you should do next
Hey there, thanks for reading till the end. Here are 3 ways we can help you grow your business:
Talk to an email expert. Need someone to take your email marketing to the next level? Mailmodo's experts are here for you. Schedule a 30-minute email consultation. Don't worry; it's on the house. Book a meet here.

Send emails that bring higher conversions. Mailmodo is an ESP that helps you to create and send app-like interactive emails with forms, carts, calendars, games, and other widgets for higher conversions. Get started for free.

Get smarter with our email resources. Explore all our knowledge base here and learn about email marketing, marketing strategies, best practices, growth hacks, case studies, templates, and more. Access guides here.