The right email address can make you look more professional and increase your business credibility. It's crucial to have an email address that properly represents your brand and identity. Learn how to set up a GoDaddy email that will make you look great with this handy guide.
Table of contents
What is a GoDaddy Email?
GoDaddy email is a professional email that matches your domain name. You can use this email to carry out business communications and promote your brand to your customers.
Maximize your email performance with our free ebook
Optimize the right email metrics for higher ROI
Why you should use GoDaddy to create your email?
GoDaddy is the largest domain registrar according to Cybernews. That alone should give you an idea about why so many people choose GoDaddy. So here are the benefits you get when you use GoDaddy professional email.
World-class security that blocks more than 300 million unsolicited and potentially dangerous emails.

99.9% guaranteed uptime.

Access to a modern, intuitive webmail portal.

Flexible plans with an option to choose an individual or team plan.

Perfectly integrates with GoDaddy domain and hosting.

Sync and use your email across all platforms – even on mobile.
Prerequisites to create a GoDaddy email
There are two prerequisites to creating the email:
You need to have a working GoDaddy account. If you do not have a GoDaddy account, you can create one here.
Once you have met these two requirements, you're ready to create your GoDaddy email.
How to set up GoDaddy email (Step-by-step)
Follow these steps to set up your email with GoDaddy:
Step 1: Sign-in to your GoDaddy account
Sign in to your GoDaddy account and click My products from your account name dropdown present at the top.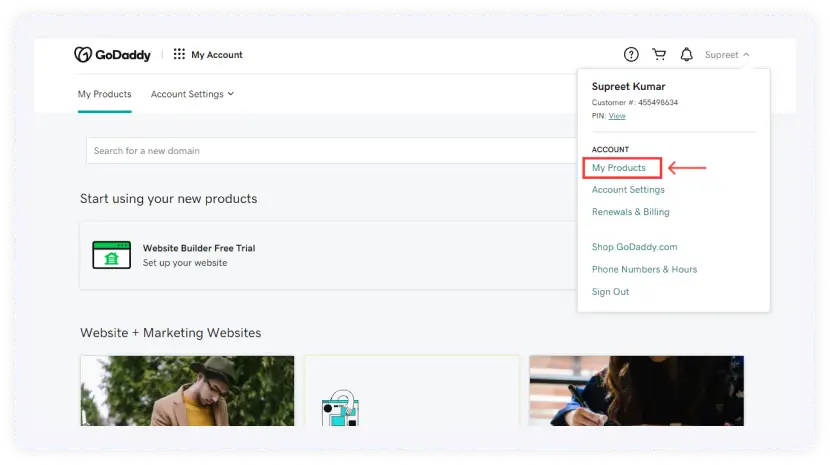 Scroll down to see your domain name and click on Set up an email account.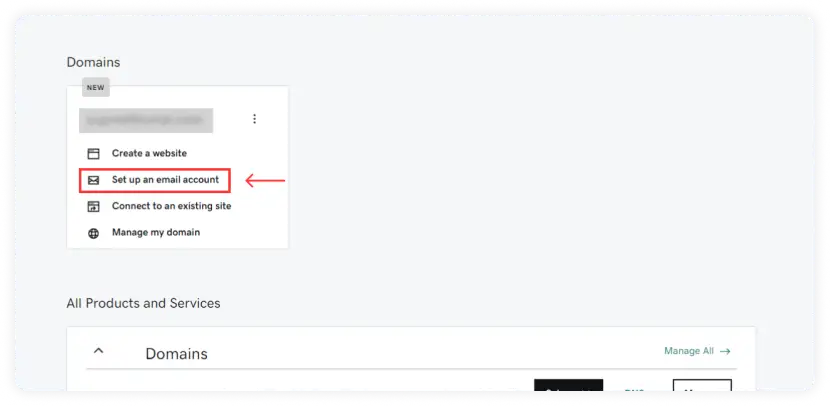 Step 2: Decide the plan and complete your purchase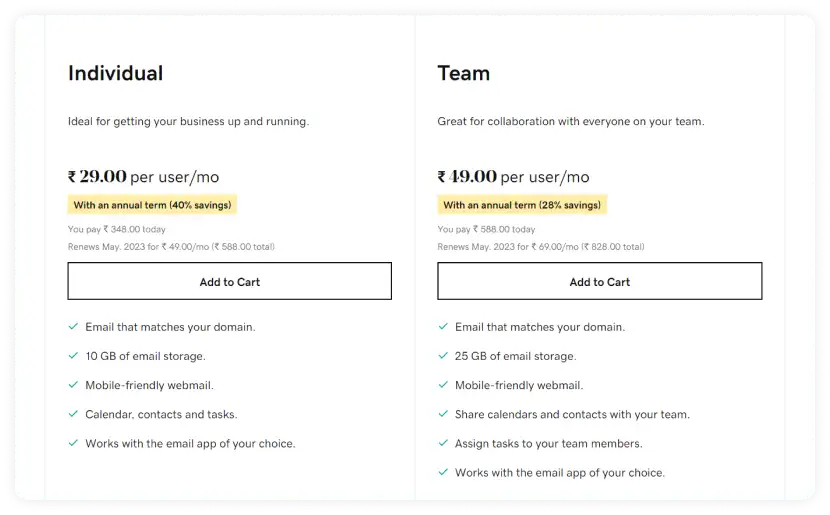 GoDaddy provides two plans: Individual and Team Plan. Select the plan that best fits your needs and then you'll need to pay the amount.
Choose the Individual or Team plan.

Select the duration of your plan.

Review all the details and click on I am Ready to Pay.

Select the payment method and complete your GoDaddy purchase.
Step 3: Set up your email account
After you complete the order, you need to follow these steps:
Select the domain of your choice and click Continue.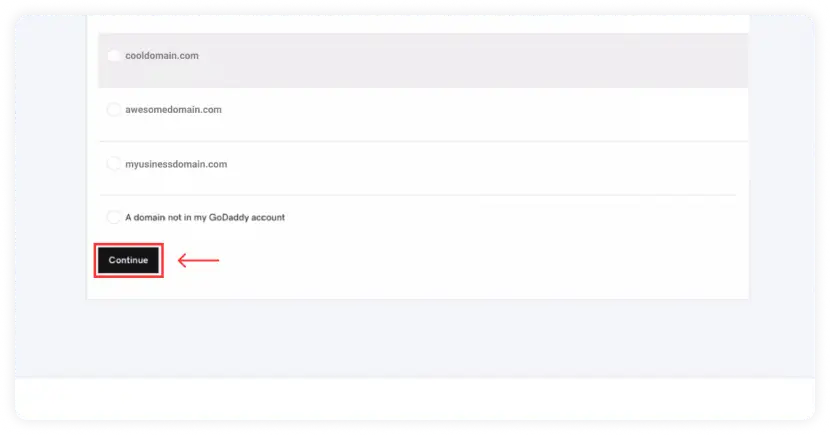 Now, enter all the details:

Username: This is the name that will appear before the domain name in your email. So, for example, if you enter your username as john, your business email will look like john@yourdomain.com.

First and Last name: You can enter your name or business name.

Link domains: If you want to link your email to your domain, choose that domain from the dropdown. If you don't want to link it, choose Do not share.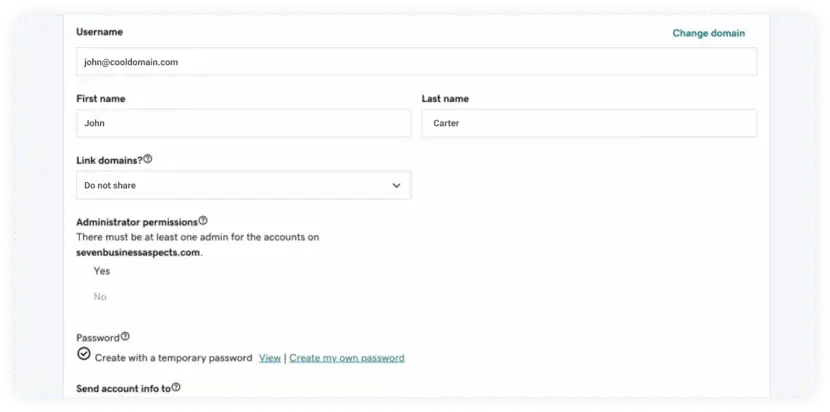 Enter a strong password and email address to receive your account information. Then click Create.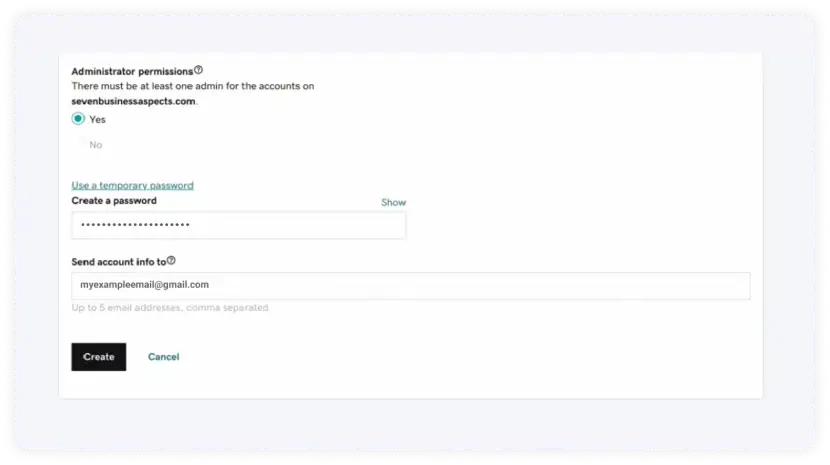 After a few minutes, you'll receive a popup saying your professional email is live. Click the Sign in to email at the bottom.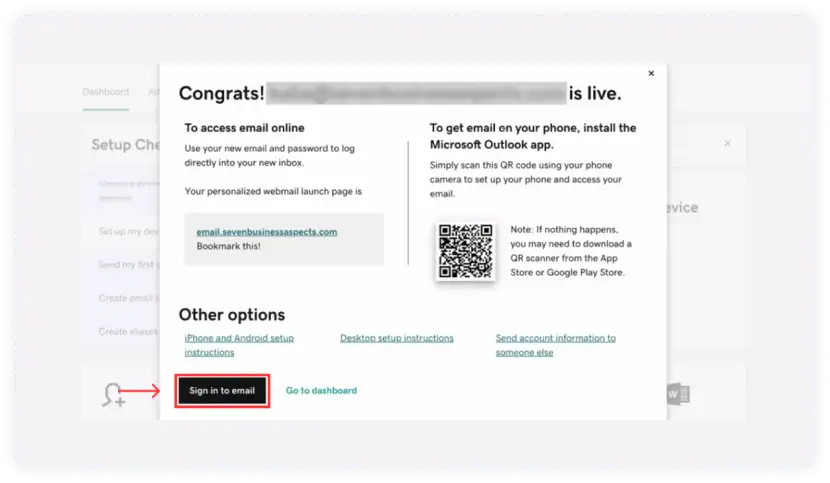 Now enter a recovery email that you would like to use if you forget the password or face some other issues. Then click Save & continue.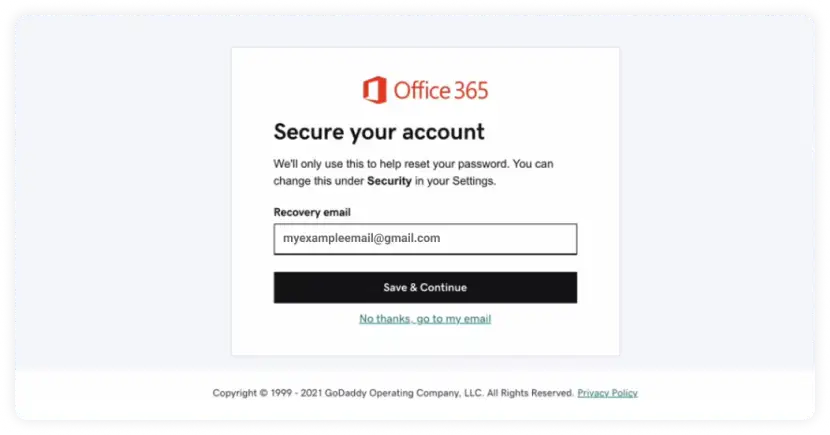 You'll now be redirected to the email client.
Get a sample AMP email in your inbox
Experience the power of interactivity right now
Wrapping up
Congratulations!
You've just created your professional email with GoDaddy. Now you can use this email to communicate with your customers and business partners and have a great impression on them.
If you plan to use this email to send bulk email campaigns that generate high ROI, check out our guide on creating a winning email campaign strategy that will teach you what is a good email strategy, how to create one, and the right metrics to measure.
What you should do next
Hey there, thanks for reading till the end. Here are 3 ways we can help you grow your business:
Talk to an email expert. Need someone to take your email marketing to the next level? Mailmodo's experts are here for you. Schedule a 30-minute email consultation. Don't worry, it's on the house. Book a meet here.

Send emails that bring higher conversions. Mailmodo is an ESP that helps you to create and send app-like interactive emails with forms, carts, calendars, games, and other widgets for higher conversions. Get started for free.

Get smarter with our email resources. Explore all our knowledge base here and learn about email marketing, marketing strategies, best practices, growth hacks, case studies, templates, and more. Access guides here.