SPF or Sender Policy Framework is a technical layer to filter out spammers from spamming, spoofing, and phishing email users. Also, it helps authenticate emails to scale the delivery rates and multiply open and click rates.
So let's look into how Sender Policy Framework (SPF) can help achieve that and its benefits and limitations.
Table of contents
What is SPF?
When you unlock your phone, the pin or fingerprint authenticates your identity and communicates that you are the rightful device owner. Similarly, the recipient server checks if the received email is being sent from the proclaimed sender server when you send an email.
SPF or Sender Policy Framework is a form of email authentication that determines the mail servers allowed to deliver mails for your domain. SPF alerts you about emails sent from a compromised relay server. Mail servers that have received an email from your domain use SPF to check if the messages from your domain are from the proclaimed sender server.
Maximize your email performance with our free ebook
Optimize the right email metrics for higher ROI
How does SPF work?
Spammers started sending emails from relay servers, which caused the spam filters to detect whitelisted IPs and accept the emails.
This is how SPF works: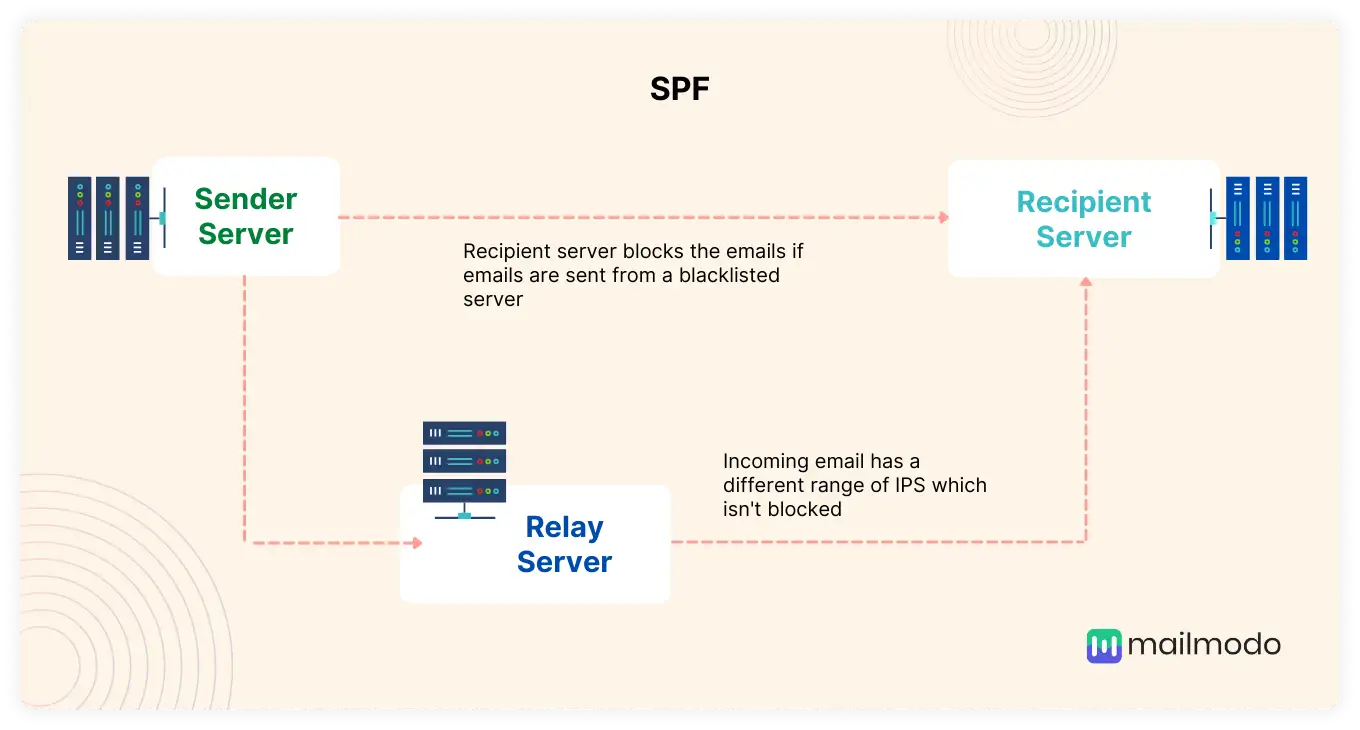 To counter this, the anti-spam bodies conceptualized SPF. SPF or Sender Policy Framework is a form of email authentication that authenticates the sender's mail servers on behalf of the recipient. That means if SPF passes, the sender IP belongs to the range of IPs from the sender's email server.
SPF must pass on the envelope domain as the envelope domain is linked to the sender server: the envelope contains information about where the email must be delivered. If the recipient isn't available, which server must the email bounce back to.
But, there's no authoritative action here: The email will still be delivered if SPF fails.
An example of an SPF record is as follows :
Myntra.com IN TXT v=spf1 include:_spf.google.com include:_spf1.myntra.com include:_spf-sfdc.successfactors.com include:amazonses.com include:spf.falconide.com include:mail.zendesk.com ip4:199.255.192.22 ip4:15.224.192.102/32 ip4:219.65.87.215 -all
You can include different ranges of IPs by using the 'include:' field in the record.
Note that the most SPF hops(servers) allowed are 10. You can check the validity of your SPF record on this website.
How is SPF related to DKIM and DMARC?
SPF, DKIM, and DMARC are ways to authenticate your mail server. These spam protection methods are becoming more popular and might become a compulsory measure against junk emails someday. Not only that but confirming your account with these methods will make you a legitimate sender in the eyes of the receiving server.
• DKIM
It is an acronym for "Domain Keys Identified Mail". It also goes by the name of "email signing." DKIM facilitates an encryption key and digital signature that verifies that an email message was not forged or altered, building trust between the sender and receiver servers. It means no one can tamper with any emails going from one server to another.
• DMARC
It's an acronym for "Domain-based Message Authentication, Reporting, and Conformance". It's an email authentication, policy, and reporting protocol formed by combining SPF and DKIM. A DMARC policy applies clear instructions for the message receiver if an email does not pass SPF or DKIM authentication.
How does SPF help expand your reach?
Spammers will try to send unwanted emails whenever they can take control of your domain. This will harm your credibility and damage deliverability. You should make it a priority if you have not authenticated your domain. This is how SPF helps take care that your deliverability is high:
• Informs recipients of third-party
An SPF record will ensure that the end-user is intimated if spammers use a relay.
• Easy entry to inboxes
When email receivers establish trust in your brand due to the use of SPF, your future emails will find a secure entry in their inboxes.
• Necessary with some recipients
Some email recipients strictly desire an SPF record and otherwise mark emails as spam. Otherwise, It might result in email bouncing.
• Increases sender score
Sender Score is a score of every outgoing mail server using conventional email metrics such as unsubscribes and spam files. SPF helps increase your Sender Score, and in turn, helps email deliverability.
SPF does look like a one-stop solution for preventing spamming, spoofing, and phishing, but you do want to look at some of its limitations.
Get a sample AMP email in your inbox
Experience the power of interactivity right now
Limitations of SPF
There are a few constraints of the SPF system. They are as follows:
• Doesn't work on forwarded emails
Forwarded emails usually fail the sender policy framework test as they do not contain the original senders' information and appear to be spam messages.
• Not regularly updated
Many domain administrators might not be able to update their SPF records regularly.
• Have to update despite server change
Using a third-party email provider, the domain must update the SPF record even when the service provider changes its servers, which is extra work.
SPF for AMP email approval from email clients
If you want to reap the benefits of sending out interactive AMP emails, you will have to get whitelisted with Yahoo Mail, Gmail, and Mail.ru which support AMP emails. For a whitelisting of your sender address, these email clients need SPF before approving your email address.
Conclusion
SPF protects the envelope sender and stops spammers from abusing mail systems to trick innocent users. Unfortunately, 1 in 6 emails gets sent to the spam or blocked from your subscribers' inbox altogether, leading to only 83% conversion. Mailmodo will help you with 17%. Our email experts will help you get your security certifications done and improve your deliverability to yield the best results.