B2C lead generation does not have a one-size-fits-all solution.
The best B2C lead generation strategies establish trust and rapport with the audience to make them feel comfortable enough to buy the product or service you're selling.
While many B2C marketers turn to emails, socials, and paid ads to generate leads, it's all about knowing and educating your target audience first, which starts at the top of the funnel.
In this guide, we'll discuss tactics for capturing your audience's attention and moving them closer to becoming paying customers.
Table of contents
What is B2C lead generation?
Before we get into the ways to amplify your lead generation, let's quickly go over the basics.
B2C is an abbreviation for business to consumer. Here, your business sells directly to individual consumers in the market, rather than other businesses (that is referred to as B2b). Eating at a restaurant or shopping from a clothing store are all examples of B2C transactions.
B2C lead generation refers to the process of converting said individuals into leads. Leads are people who have expressed an interest in your company through some action on your website, such as signing up for emails or requesting a quote. You need leads because they are the people who are most likely to buy from you.
Get the State of Email 2023 Report
150+ email experts share their email tips and secrets
10 ways to generate B2C leads
Here are the most effective lead generation strategies that are designed to generate sales.
1. Grow your B2C email list
Here are a few fast strategies to increase the size of your B2C email list:
With each purchase, ask your consumers for permission to send them newsletters.

Ask for emails at events and on social media.

Incorporate sign up forms into every of your blog entries.

To collect signups, use popups and exit-intent popups.

Create lead magnets that may be downloaded.
You can also encourage prospective users to participate in a scratch card contest which you can set up using Mailmodo. They give you their name and contact information, perhaps answer a few questions, and then scratch a card to know right away if they've won or not.
Do you need reward ideas? Consider:
A digital voucher (for example, a $10 discount).

A gift card.

A free service or product (you can reduce the win chance in this scenario).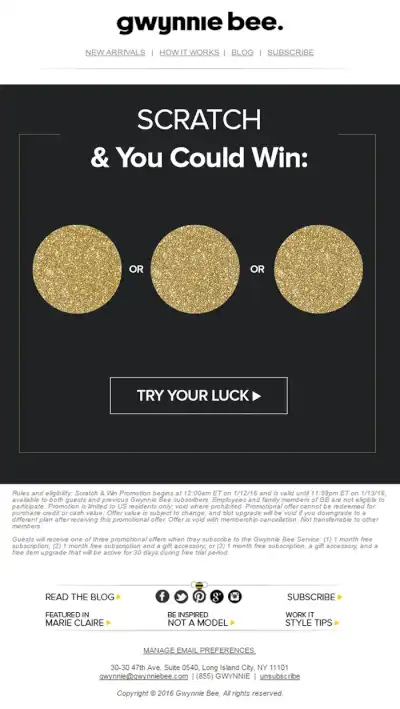 Want to generate enormous leads through email? Check out our collection of personalized AMP lead generation email templates.
2. Add a lead form to a quiz
Let's talk about how quiz lead generation could benefit your company if you're new to it.
You make a quiz, personality test, or any other interactive material.

Make your own lead generation form by asking quiz participants for their name and email ID.

Add the form between the last question and the user's results, when they're most emotionally invested and eager to learn their outcomes.
It's as simple as that. Including a lead form in a quiz can result in opt-in rates of up to 55%. Let's see this in action with this Mailmodo quiz lead gen form.
The email uses AMP to enable participants to answer questions within the email without being redirected elsewhere, reducing drop-off rates significantly.
3. Gamify your emails
Email gamification is an excellent way to keep your customers interested in your brand and products. Creating such content is inexpensive, and with a little creativity, you may leave a lasting impression in the minds of your customers, making it a useful B2C lead generation strategy.
A famous game that people enjoy playing is wheel of fate, spin the wheel, or roulette. You can customize spin the wheel in a variety of ways, such as using coupon codes, discounts, or other prizes.
Mailmodo's spin the wheel widget is a great example. The awards can be customized based on the target audience, email campaigns, and industry. You'll gain greater engagement and conversions if your rewards are more targeted.
4. Produce video content
Do your customers have questions about the product? Do you have a solution to their issues? Present the solution in the form of a video email marketing. According to Wyzowl, 80% of video marketers say that video content has a direct impact on boosting sales. There are many different types of videos that will help you generate leads. These are our top 5:
A brand video conveys a story about you and your business. Viewers will be eager to learn more about your brand if you tell them a narrative about it.
Create a commercial for your product or service that piques the curiosity of your audience. Once they've learned about your product, ask them to submit their contact information so that you can send them promotional content.
Using the positive experiences and recommendations of former customers helps capture prospective consumers' interest and earn their trust.
FAQ videos are an excellent way to address often asked questions while also promoting your product or service.
Teach people about your products, how to use them, and what problems they can address with them. Customers will be more willing to contribute information if you're providing something they want.
Keep these tips in mind when producing video content:
To urge your audience to take action, include a CTA, such as "sign up now" or "learn more." Test a range of CTAs to see which ones work best for your company.

Make your video entertaining and educational, and people will watch it all the way through.

Make sure your video is the right length for the platform. A tutorial on your website, for example, can be lengthier than a Facebook advertisement.

Including a transcript in your video is an excellent approach to boost its SEO.
5. Contribute to other blogs
Yes, we're talking about guest posting.
The main goal of guest blogging is to drive traffic to your website, improve your domain authority, raise brand awareness, and build relationships with your industry peers. Guest posting for high authority domains is an effective way to market your content.
Remember that if you don't have domain authority, Google won't trust you and the algorithm won't recommend or rank your site.
Backlinks are one of the variables considered by Google's algorithms when ranking websites on SERPs. Because Google evaluates backlink age, make sure you submit your guest post to older domains because their backlinks are more powerful.

Begin by identifying your customers' pain points. Write and distribute informative articles that address each pain point. We recommend addressing one need per post to increase engagement while not overwhelming your prospects.
6. Launch paid advertising campaigns
Understandably, when we buy a product or a service for ourselves rather than for our businesses, we have various criteria to consider:
Brand loyalty: While brand loyalty is less important in B2B, where we tend to make more data-driven decisions, brand loyalty is more important in B2C consumer decisions. After all, certain companies radiate values that we want to associate with, like comfort, luxury, independence, and success.

Value of the purchase: Rather than considering the price, we consider the amount of value we will receive from the purchase.
Gucci perfume advertisements are a wonderful example of B2C marketing since they frequently use stereotypes to elicit basic human instincts and sentiments of desire.
Paid ads are great for driving conversions, and they're also great for lead generation. Not everyone will buy as soon as they see your ads, but they will be introduced to your company. This could pique their interest in you and turn them into leads.
Google Ads is the best paid advertising option in this context. You can bid on specific keywords to have your ads appear only in relevant search results and websites.
7. Run affiliate and loyalty programs
Loyalty and affiliate programmes delegate B2C lead generation work to your existing customer base.
Some of the most successful brands, such as Dropbox, have grown their businesses through word of mouth. In other words, they encourage their user base to bring others along for the ride in exchange for some sort of benefit.
In the case of Dropbox, the company encouraged existing users to get others on board to gain extra storage space. People desired more storage without having to pay for it, so they actively sought leads for the company.
8. Harness the power of social media
Did you know that the average social media user spends 33% of their time there?
Building your reputation on social media sites like Facebook and LinkedIn that are relevant to your industry is beneficial. Adding value, whether in the form of an opinion, advice, or a link to a resource, will drive more traffic to your brand from social media. You can also post content such as videos and infographics related to your business.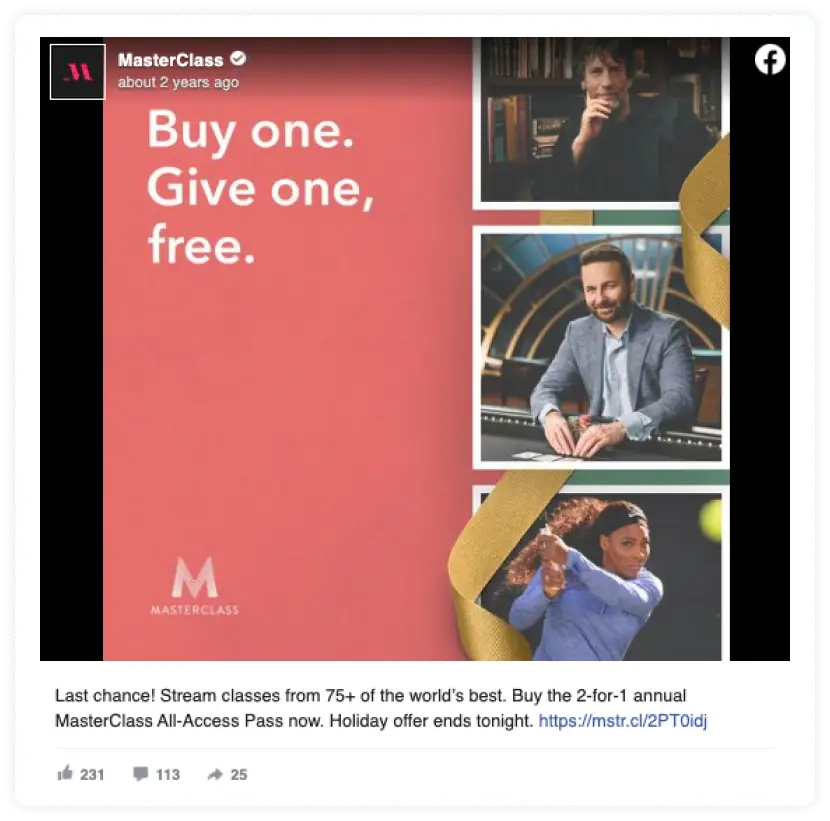 Source: Sprout Social
For example, Masterclass ran a campaign that allowed users to receive a free annual subscription when they received one as a gift. The campaign was then promoted on social media through organic posts.
9. Cross promote email marketing and social media
Many people believe that having more social media followers means more business. But what matters more is how engaged your followers are with your business, because that is what will drive new leads your way.
Sales opportunities are lost when cross-promotional opportunities are not utilized. Cross-promotion increases customer acquisition and aids in B2C lead generation. It also means that if your prospect is not responding to your emails, you can reach out to him or her via social media.
There are several methods for connecting these platforms.
The most common are social share buttons and subscribe links.

Your email marketing and social media teams can collaborate to create interactive content for your target audience. A social media calendar can serve as a centralized platform for both teams to align their strategies.
10. Have chatbots on your website
Chatbots that have NLP or Natural Language Processing capabilities can converse with customers in the same way that humans do. It frees up your sales and marketing teams for more complex tasks by gathering customer requirements and problems on their behalf. This way you will be able to understand your customers' needs and provide them with the best service possible.
According to research, people are hesitant to fill out a form on a website because they think it will be a waste of their time. They are, however, at ease chatting with a bot to get instant answers to their questions. As a result, investing in chatbots can help you increase your lead count.
Get a sample AMP email in your inbox
Experience the power of interactivity right now
Get new B2C leads today
It takes time and experimentation to figure out how to generate high-quality leads. If you want to take your B2C business to the next level, leverage the power of emails. Read our guide on B2C email marketing to learn how to capture top-of-the-funnel leads effectively with AMP emails.
What you should do next
Hey there, thanks for reading till the end. Here are 3 ways we can help you grow your business :
Talk to an email expert. Need someone to take your email marketing to the next level? Mailmodo's experts are here for you. Schedule a 30-minute email consultation. Don't worry, it's on the house. Book a meet here.

Send emails that bring higher conversions. Mailmodo is an ESP that helps you to create and send app-like interactive emails with forms, carts, calendars, games, and other widgets for higher conversions. Get started for free.

Get smarter with our email resources. Explore all our knowledge base here and learn about email marketing, marketing strategies, best practices, growth hacks, case studies, templates, and more . Access guides here .