As a B2C brand, you likely have a broader target audience, and you are reaching out to them through various marketing strategies. But is email marketing one of them? If it isn't, then you're missing out on a lot of unparalleled opportunities for your business.
With a user base of 4.3 million in 2022, email is the king of B2C marketing, beating out social media, affiliate marketing, and SEO. It is estimated that you get a $51.52 return on every $1 you spend on email marketing. Clearly, your investment in email marketing strategies pays off big time.
In this guide, we'll walk you through the steps to create B2C email marketing campaigns and how to connect with users during their lifecycle journey.
Table of contents
What is B2C email marketing?
B2C or business to consumers email marketing refers to sending email campaigns to individuals rather than business owners to promote your product or services. The B2C emails target consumer emotions to get their attention and encourage them to buy.
A major contributor to B2C success is lifecycle emails - understanding the user's journey and sending target emails at each touchpoint. You need to deep dive into the user behavior, and interaction with your emails and website to see what catches their attention and resonates with them the most.
For example, if a user checked out the footwear section of your email, and added it to the cart but didn't checkout. This data allows you to nudge users with abandoned cart emails within a feasible time frame to compel them or remind them what they left.
Importance of B2C email marketing
Here is how having a B2C email strategy will help you grow your business:
• Offer one-to-one communication with the target consumer
Unlike social media, your email list is an asset you own. You can reach out to targeted subscribers with the right email and call to action. Besides, you get to build one-to-one connections as they have opted in to receive communication from your brand.
Subscribe to the Mailmodo Bulletin
12k marketers get these growth tactics in their inbox
• Drive customer retention
Email marketing helps you build a loyal customer base by sending win-back emails, refill emails, abandoned cart emails, etc. As per data, the success rate of selling to a customer you already have is 60-70%, while the success rate of selling to a new customer is 5-20%. You can upscale your sales by retaining valuable customers by targeting them with the right win-back email campaign.
• Increase website traffic
When you send relevant and targeted emails and direct users to your landing pages, it increases the traffic to your website. As a B2C, you can send different email campaigns - seasonal campaigns, coupons, special deals, exclusive benefits, insider benefits, etc. 72% of B2C marketers say email is their most effective content distribution channel.
How to create B2C email campaigns
Follow these 5 steps to create effective email campaigns for your audience:
1. Identify your goals and KPIs
Have trackable and clear goals that you want to achieve through email campaigns. Is it to increase website traffic, get more people to sign up to your promotional emails, or get new users to make their first purchase? Defining your goals will pave the way for email list-building tactics and drafting email campaigns.
2. Build an email list of the target person
Building a decent-sized email list is imperative to send emails to your target persona. To attract your target audience, you need to deep dive into their behavior and study them. Understand how they interact with your website, engage with your brand across social platforms, products/services they are interested in, and then push them to sign up.
For example, social media is one of the effective ways to capture leads for your email list. So, if your target audience hangs out at Instagram, Facebook, or Tik-Tok, you can launch social media contests, post topical posts to engage with them, or run paid ads to increase brand awareness.
Related guide: 11 Email Acquisition Strategies to Grow Your Subscriber Database
3. Segment your email list
Once you have a decent size email list of quality subscribers, it's time to segment your email list. For B2C brands, segmentation becomes crucial as your customers are at different stages at a given time. Besides, your brand might be selling many products, and your subscribers might not be interested in hearing about all of them. Their age, gender, location, or habits all vary. Thus, segmenting users to send emails that resonates with them is essential.
The four segmentation techniques you should use to personalize your emails are:
Age, gender, occupation, and ethnicity.
Country, city, pin code, and locality.
Lifestyle, habits, and values.
This is one of the effective segmentation techniques and a paving stone for interacting with users at various touchpoints via lifecycle email. Behavioral is about tracking users' activity on your website, which email they open, what they click on, which page they spend the most time on, and where they're coming from.
4. Drafting and designing the perfect email campaign
Once you have your segments ready, it's time to create email campaigns specific to each segment.
Let's assume you have two different segments of users at the same stage in their buyer's journey, but one segment is active users while non-active users are in the other segment. (Assuming all other variables such as age, gender, lifestyles are similar.)
Active users: Opened and clicked on your emails and ended up completing the transaction.
Non-active users: Opened the email but neither clicked nor interacted with your website.
The email you will draft will be very different for each segment - subject line, copy, design, and CTA will also vary.
In the active user's case, the user has made the purchase, but you can't leave them like that. You need to retain such customers by nudging them with win-back or upsell campaigns. An example of upselling email can be to send AI product recommendations based on their past purchase.
This email by AILLEA is a great example of a product recommendation. They compel users to check out their related product lines:
Source: Really Good Emails
In the second scenario, you need to re-engage users so that they engage with your email. One way to do that is to send the exclusive deals or discount codes as everyone loves a little off of their favorite brands, as Crocs has done.
Source: Google
Related guide: Everything You Need to Know About Email Design
5. Automating the email campaigns
If you want to save time and resources and increase your revenue, you need to automate your email campaigns. But for effective automation, you need to map your user's journey correctly and design emails that resonate with them (which we have discussed before).
You can build different email sequences - nurture email sequence, re-engagement email sequence, etc., and automate them using automated software tools. You can specify how and when to trigger these emails - time-based trigger or behavior-based trigger.
Read in detail: A Beginner's Guide to Creating Email Sequences That Drive Conversions
5 lifecycle you should send for persuasive B2C campaigns
You need to send different emails during different buyer's stages, and that is what we will be discussing in the following section:
1. Welcome emails: For new subscribers
Welcome emails are like a shout-out to your new subscribers - thanking them for becoming a part of your brand. These emails are effective in showcasing your brand. Tell your brand stories, or promote your sales.
These users are at the top of the funnel stage, and they are still getting familiar with your brand. So, you should send welcome emails within a few seconds of their sign-up. Users who just signed up are excited to hear from you, and you can use this opportunity to nudge them with new special deals to entice users to make their first purchase.
Goal: Brand awareness, get users to make their first purchase
When to send: Within a few seconds after users sign-up
Look at this welcome email by NAADAM.
Subject line: Welcome to the herd. Your 10% off code is inside.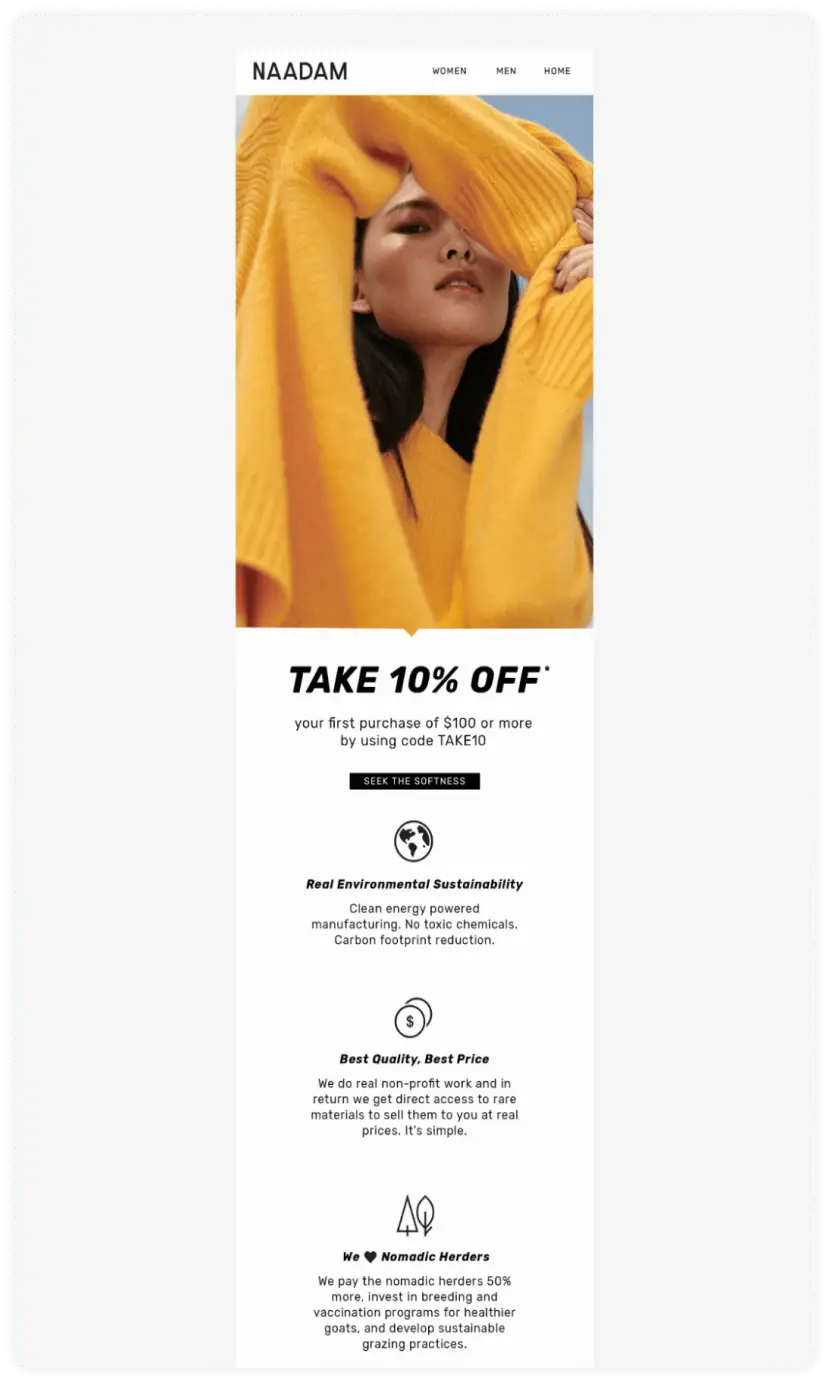 Source: Really Good Emails
Their subject line clarifies that this is a welcome email and mentions what's hidden inside the email. So, it entices users to open up seeing this deal.

The email design gives a minimalistic look with a clear picture of their brand product and features highlighted. They have used a creative and specific CTA, unlike a generic one.
Related guide: How to Create a Email Call to Action to Get More Clicks
2. Promotional email: For active and inactive users
Promotional emails are to get more eyeballs and drive sales, especially during festive or holiday seasons such as Christmas, Halloween, or Diwali. You can also send these emails during your brand's anniversary or when your brand hits a milestone, like X numbers of subscribers.
Just because these are promotional doesn't mean you can send them to everyone at any time. Your segmentation and personalization should be to the point of targeting the right audience.
For instance, if your target audience is in the US, they expect good deals during Christmas or Halloween rather than Diwali.
Goals: To boost purchases.
When to send: During the festive season, anniversary, or milestones. These emails should be sent when users have become familiar with your brand or to re-engage with the inactive user.
A good example is this email by Red Wing Brands of America
Subject line: 20% Off All Footwear & Accessories This Saturday.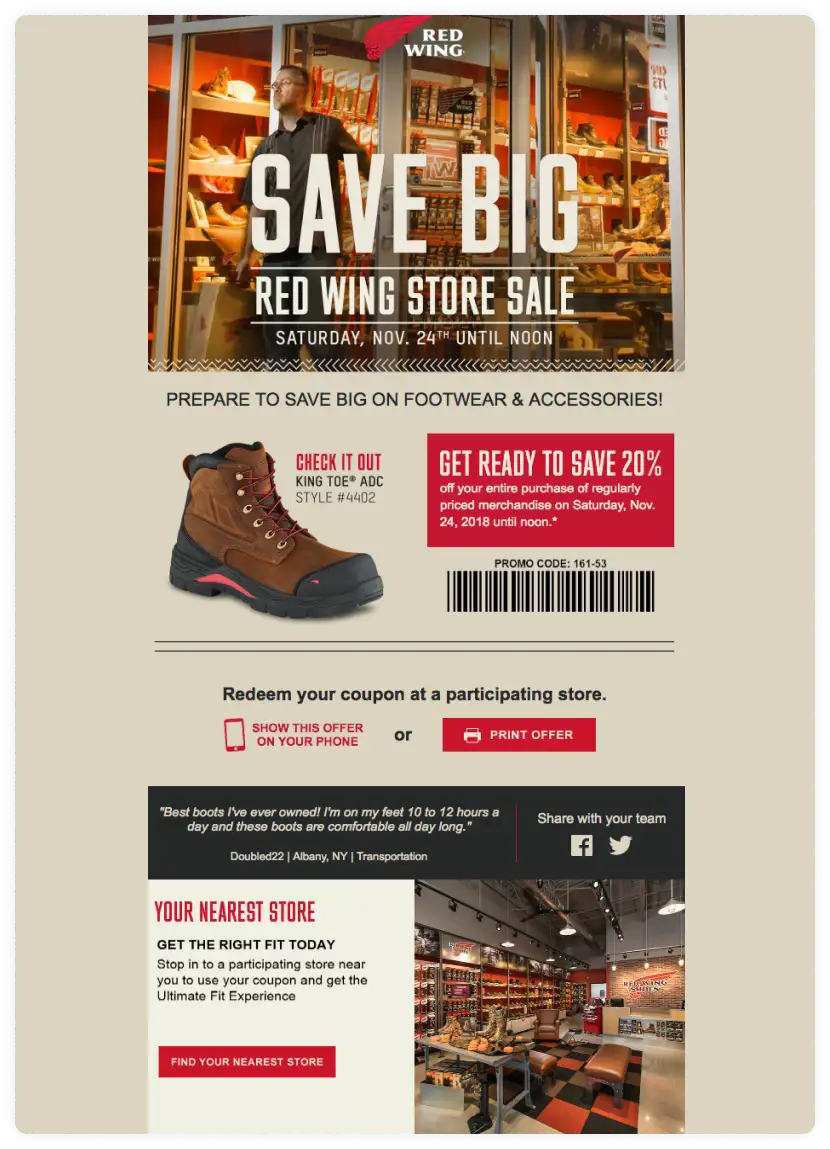 Source: Really Good Emails
The subject line is clear and informs users about the flash sale that's going on in the store.

The email copy signifies the offer with a coupon code and barcode.

Top of the cherry, allowing users to search for the store. Easy-peasy.
3. Abandoned cart email: For active users who abandoned their cart
Being a B2C, you understand the pain of seeing users browse through your products and add items to the cart but leave before closing the deal. Well, abandoned cart emails are here to save you.
Goal: Remind users about the items in their cart and push them to complete the purchase
When to send: Usually, sending cart abandonment emails within an hour is optimal to remind users what they left behind. But the timing will vary depending upon your industry and target audience. So, our advice would be to use different timing and run tests to find out what gets you more clicks.
This email by United by Blue is a good example of abandoned cart emails:
Subject line: Looking for a sign? Free shipping.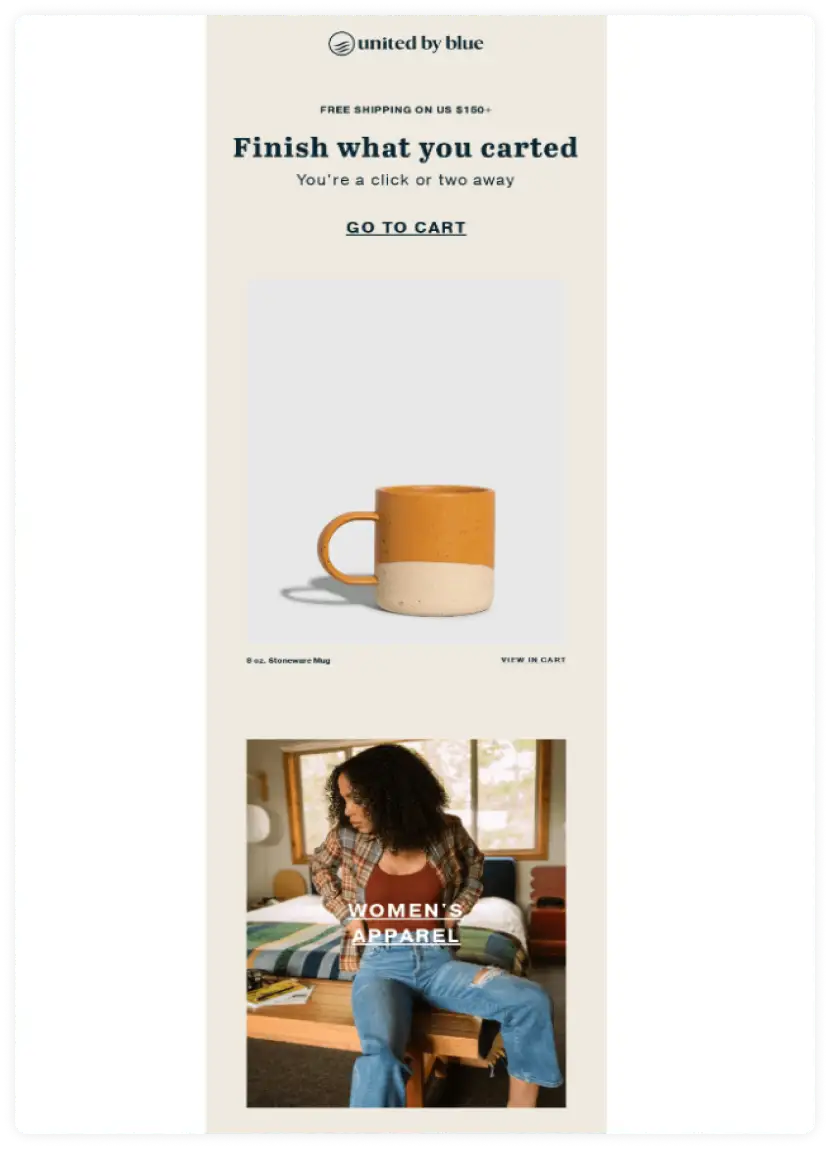 Source: Really Good Emails
The subject line is intriguing and emotion-evoking as it highlights the benefit, i.e., free shipping.

The email copy highlights items in their cart, and the design gives a minimalist look to the whole email.

The call to action above the fold is action-oriented.
4. Product recommendation email: For active users
Product recommendation emails are sent later in the user's life cycle journey when they have purchased from your brand, and you want them to become your loyal customers. These emails help you retain your existing customers.
Goals: Customer retention, boost sales.
When to send: After a user purchases from your brand, nudge them with relevant recommendations after a week. To send the relevant product recommendations, you need to dig up the user's behavioral history - past purchases, the amount spent, etc. AI tools help you recommend products based on the user's past purchase history and then send hyper-personalized emails.
We love this personalized recommendation email by Lyst. They used the recipient's past site interaction data to send highly personalized recommendations.
Subject line: New in from ASOS, Perry Ellis, Ben Sherman, Esprit, and Jack & Jones
Source: Really Good Emails
The subject line clearly defines what's inside the email.

Each section stands out and has its clear call to action.
5. Win-back or re-engagement email: For at-risk customers
Many users will become inactive during their buyer's journey as they stop engaging with your email. These recipients can be interested in your brand, and all they need is a compelling nudge to push them to take action. This is when you need to win them through re-engagement emails.
Goal: Win back unengaged users.
When to send: To find out the optimal timings for this kind of email, you need to specify the condition for when to send these emails. It can be after 10 days, 20 days of disengagement, or maybe more.
Look at this email by Pottery Barn hitting all the right chords.
Subject line: We've Missed You! Here's 15% OFF EVERYTHING – Even Furniture!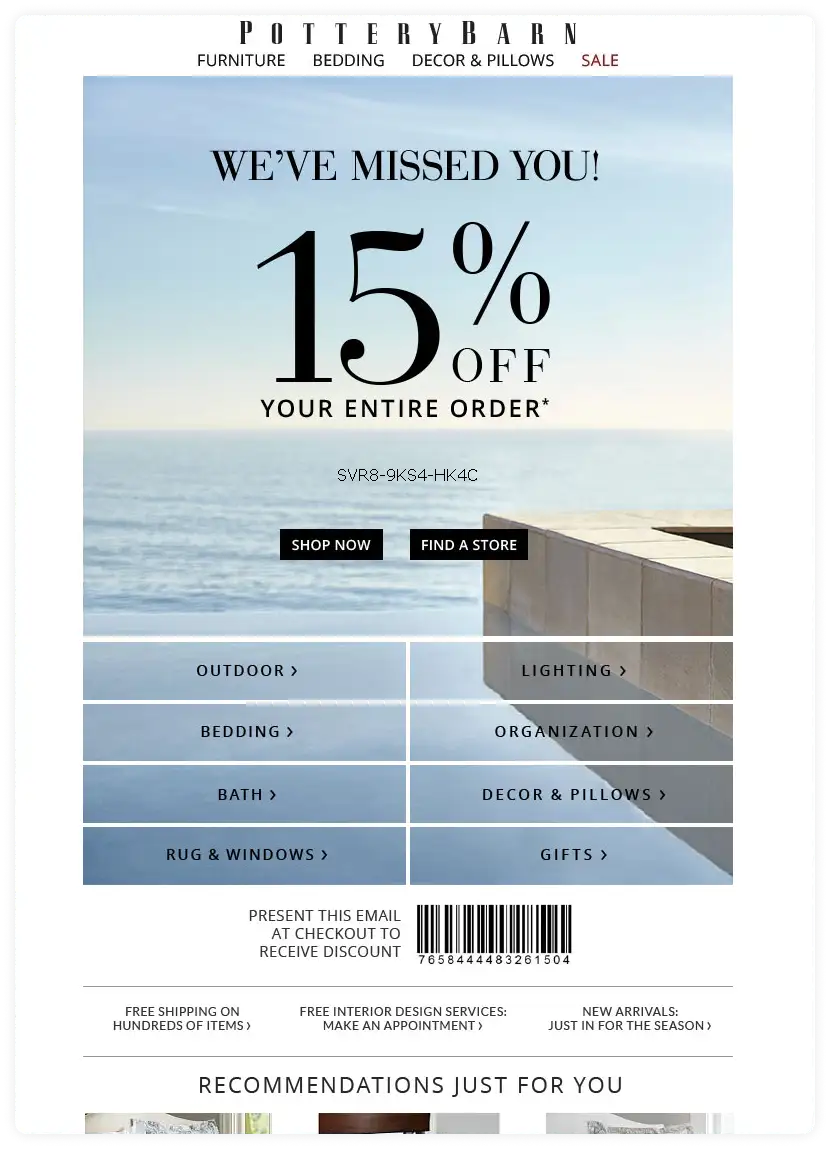 Source: Essence of email
A perfect subject line compelling readers to open the email to get 15% off.

The email headline speaks out the deal and a coupon code they can use.

Email also has recommendations based on the user's preference.
Get a sample AMP email in your inbox
Experience the power of interactivity right now
Best practices for B2C email campaigns
To ensure that your bc2 emails are performing as per your expectation, you need to follow these best practices:
✅ Personalization is key to success.
To do personalization effectively, you need to have the right data, segment subscribers, and send emails that make them feel that you've created it, especially for them. You can personalize the email subject line, email copy, imagery, and even CTA with the right data.
For example, if you have the user's birthday and anniversary, you can send them personalized emails with exclusive deals or benefits. Everyone likes to feel special on these occasions, and when you do this, it helps build trust and credibility.
Read in detail: An Ultimate Guide to Creating Personalized Emails
✅ Make your emails responsive
Your email list consists of users who read and access your email on different devices. Some might read email first on mobile and read it again on the desktop. So, in case your emails are not optimized for mobile, then users won't even care to view them on desktop. So, understand your audience's device usage and create emails responsive to enhance user experience and keep your subscribers happy.
Related guide: How to Create Responsive Email Design For Better User Experience
✅ Leverage trending email designs to grab attention
People engage more with the latest topics, ideas, and trends. Why not leverage it to upscale your email design? Incorporating email design trending in 2022 can make your brand stand out in the user's inbox and put you as a millennial or creative brand in your industry.
For example, these emails below use arches and waves to offer directional cues to the readers and point them towards the email call to action. This trend also breaks down the myth that emails can only be static.
✅ Optimize email send timings and frequency
All your email effort will go in vain if you are not sending emails at the right time to attract the instant open and click. Test out different timings and find the optimal timings to send you emails. Besides, ensure that you respect your audience's preference and send an email at their preferred frequency.
✅ Don't forget to test your emails
You risk your emails to the mail provider's rendering support if you are not testing them before hitting the send button. Testing is crucial to ensure that all your efforts in creating emails pay off. Monitor the test results and fix issues if there are any.
Takeaways
Here are some of the takeaways from this guide:
Understand your user's lifecycle journey and create campaigns for each touchpoint to nurture and convert them.

Segmentation linked with personalized is the strongest tool in your email marketing arsenal. If you use it wisely, it can lead to a loyal customer base and higher ROI.

Automate different email sequences to send the right email at the right time to compel action.
You can also make your emails more dynamic, interactive, and engaging with AMP. Include shopping carts, forms, surveys, and polls directly in the mail, removing the need to waste time navigating to other sites. Check out our one-stop AMP email guide to dive into the world of interactivity today!
What you should do next
Hey there, thanks for reading till the end. Here are 3 ways we can help you grow your business:
Talk to an email expert. Need someone to take your email marketing to the next level? Mailmodo's experts are here for you. Schedule a 30-minute email consultation. Don't worry, it's on the house. Book a meet here.

Send emails that bring higher conversions. Mailmodo is an ESP that helps you to create and send app-like interactive emails with forms, carts, calendars, games, and other widgets for higher conversions. Get started for free.

Get smarter with our email resources. Explore all our knowledge base here and learn about email marketing, marketing strategies, best practices, growth hacks, case studies, templates, and more. Access guides here.