As a marketer, you aim to create engaging campaigns to get people to convert. But the problem arises when you're choosing which platform to market through.
Which one should you choose: email, SMS, Facebook, Tiktok, billboard?
In this article, we'll help you narrow down between two of those options. Here are some SMS vs email statistics that you can read through to find out which one of the two might be the best channel for you.
Table of contents
SMS marketing statistics
To find out what's so great about SMS marketing, let's first look at why other marketers like it.
52% of marketers say that they use SMS marketing because they can reach a large mobile audience.

44.50% of marketers like SMS marketing because it gets good customer engagement, enabling better communication and information exchange.

75% of consumers say they are only open to receiving messages about shipment tracking, order status/confirmation, alerts, etc.

Only 35% of consumers say they like receiving SMS marketing messages.
And, since most consumers only like to receive update messages like shipment or order status, SMS is not the best choice for marketing purposes.
Source: SimpleTexting
Maximize your email performance with our free ebook
Optimize the right email metrics for higher ROI
Email marketing statistics
Email is a fairly old channel for communication, but it remains popular amongst marketers; here's why:
59% of B2B marketers say that email is their preferred channel for revenue generation.

24% of marketers primarily use email marketing to get sales.

16% of marketers use email marketing to build customer relationships and evoke loyalty.

72% of marketers prefer to use emails to communicate with their prospects across different customer journey stages.

And that's great because 76% of consumers said they like to get emails from brands.

60% of consumers prefer to receive promotional content through emails.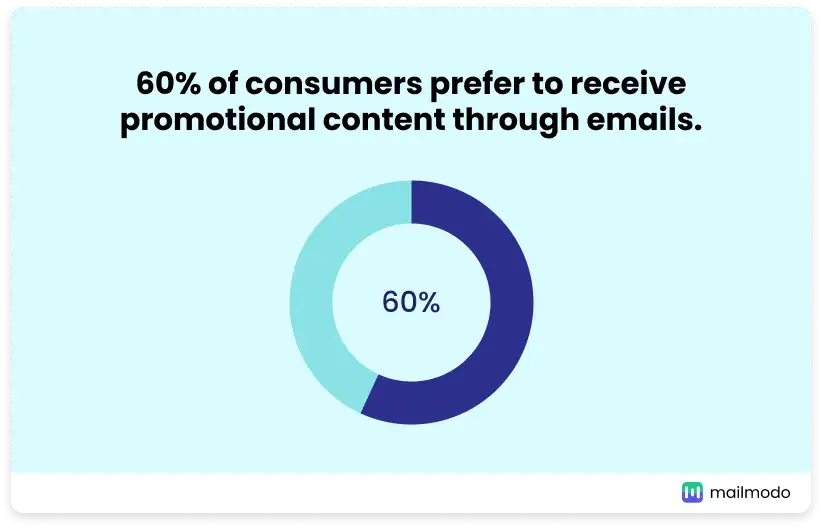 59% said that a marketing email could influence their purchasing decision.

And 50% said they buy something from marketing emails at least once a month.
That's one of the reasons why emails might be a better channel for marketing because most people want to receive marketing content through emails and make purchasing decisions from it.
Check our email marketing statistics guide to know how beneficial email is as a marketing channel.
Sources: DMA 1, Smallbiztrends, OptinMonster, Backlinko, SaleCycle.
SMS vs email statistics
Let's look at both channels' overall performance metrics to assess which platform is better for sending marketing content.
| Performance metric | SMS | Email |
| --- | --- | --- |
| Open rate | 98% | 28% |
| CTR | 10% | 3.8% |
| Conversion rate | 29% | 15.22% |
| Read rate | 42% | 32% |
| ROI (return on investment) | $10 for every $1 spent | $42 for every $1 spent |
The above numbers are an overall average and can vary for each industry, business, and use case.
Source: DMA, Statista 1, MobileSquared, Statista 2, Statista 3, Statista 4, Statista 5, SimpleTexting, MyAreaNetwork.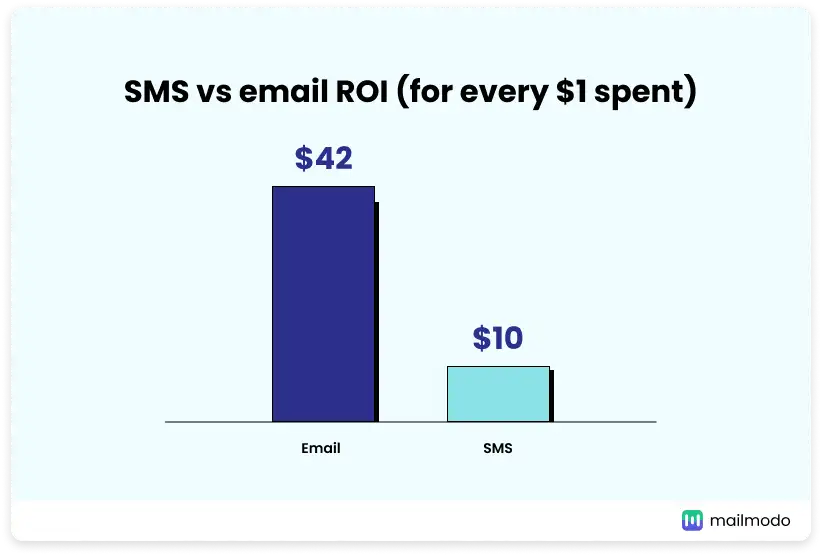 Get a sample AMP email in your inbox
Experience the power of interactivity right now
Conclusion
Now, while the numbers look good for SMS, you need to remember what your audience wants. And as we mentioned previously, not many people like to receive marketing content through SMS. So, find out what your audience likes before making a decision.
What you can also do is use both channels in your marketing strategy. If you want to know more about how you can do it, check out our guide on omnichannel marketing.
What you should do next
Hey there, thanks for reading till the end. Here are 3 ways we can help you grow your business:
Talk to an email expert. Need someone to take your email marketing to the next level? Mailmodo's experts are here for you. Schedule a 30-minute email consultation. Don't worry; it's on the house. Book a meet here.

Send emails that bring higher conversions. Mailmodo is an ESP that helps you to create and send app-like interactive emails with forms, carts, calendars, games, and other widgets for higher conversions. Get started for free.

Get smarter with our email resources. Explore all our knowledge here and learn about email marketing, strategies, best practices, growth hacks, case studies, templates, and more. Access guides here.