The average American adult spends three to six hours on their phone. To capture that audience, you have to reach them directly. And, what better way to do it than SMS marketing?
Messaging is the most logical and fastest way to interact and engage with your users. But how do you leverage the future of marketing? We've outlined key strategies, tips, tools, and examples to ensure your SMS marketing tactics help you win.
Table of contents
What is SMS marketing?
SMS (or short messaging service) marketing is when your organization uses text messages to create leads and interact with customers about campaigns, promotions, news, and updates, among other things.
SMS marketing statistics show that small businesses all around the world use mobile messaging to generate leads and convert them.
Some SMS marketing examples include:
| Use case | Example |
| --- | --- |
| Requesting feedback | We want to hear from you. Could you leave us a review? |
| Greetings to new subscribers, prospects, and customers | We're excited to have you here! |
| Promotional, upsell or cross sell campaigns | Take 60% off on all sporting goods this Wednesday! |
| Following up on abandoned shopping carts | Hey, we noticed you didn't buy the MV crop top. |
| Brand building | Hey, what do you think about this new feature of ours? |
| Order confirmation, shipment or delivery notification | Your order of 416$ is due today, pay now! |
| Appointment reports | Don't forget your appointment with Pam scheduled for 18th May at 4:23 PM. |
| Customer support | We're looking into your concern and will get back to you soon. |
| Customer loyalty programs | We've a special reward for you. Click on the link to find out! |
Types of SMS marketing
When you use SMS, there are two types of messages you can send to your target audience: promotional text messages and transactional text messages.
Promotional text messages
Promotional SMS marketing entails sending messages or texts to your target audience in order to generate sales or raise brand awareness. These can be one-time SMS campaigns or automated SMS campaigns, similar to how campaigns are sent in email marketing.
You may use these messages for the following use cases:
to provide recommendations

to provide a special deal

the release of a new product

to share business updates with their target audience
By working with the No Kid Hungry Campaign, Arby's (a fast food company) converted their SMS marketing campaign into a philanthropist effort. Arby's employed SMS to spread the news about No Kid Hungry's countrywide initiative to prevent childhood hunger in this campaign.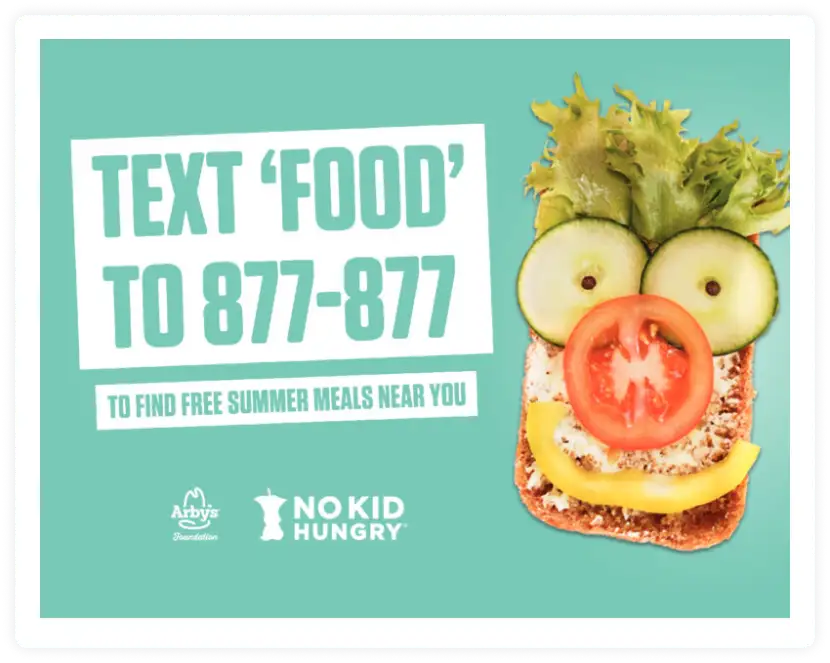 People were encouraged to text the term 'Food' to their short code, 877877. After that, people received an SMS thanking them for texting and encouraging them to share their address to discover a free dinner near them.
Transactional text messages
Transactional SMS marketing consists of messages or texts with information that your clients want. If a consumer purchases anything, texting them delivery updates might be a terrific method to keep them informed and establish brand positioning.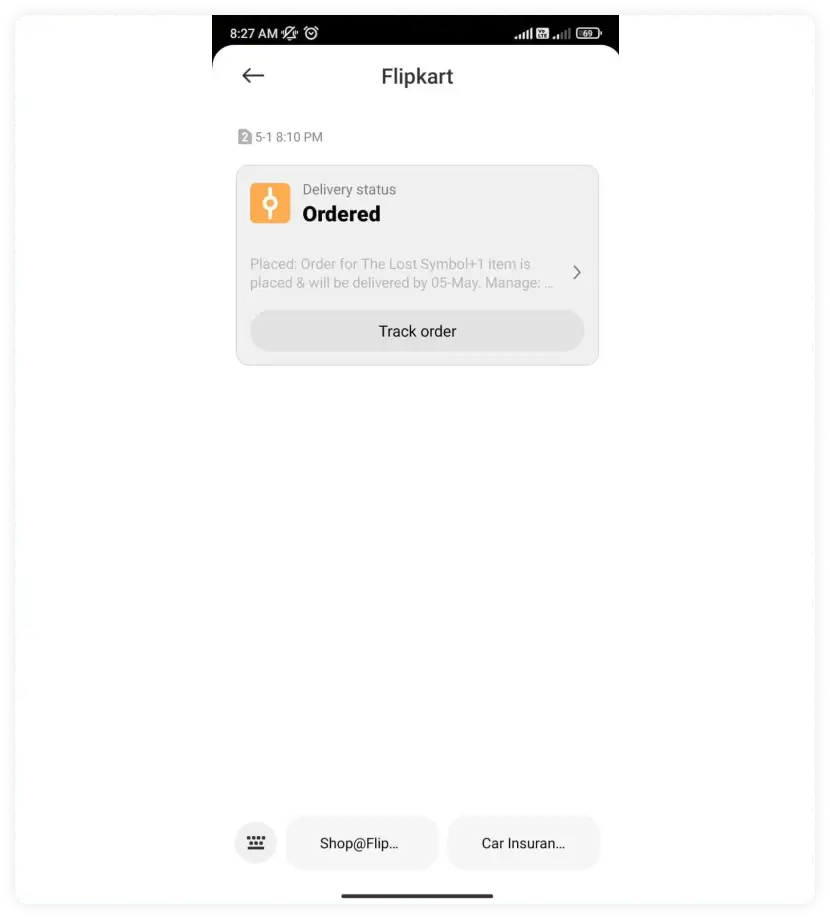 For example, Flipkart, Amazon, Myntra and other eCommerce stores send a text message containing One-Time-Password (OTP) which necessitates the completion of a banking transaction to purchase a product from their app or website.
You use transactional SMS marketing for:
order confirmation

upcoming SIP or pending payment reminders

product delivery updates
What are the benefits of SMS marketing?
SMS marketing can be advantageous for you in the following ways:
SMS reaches your intended audience faster than a Twitter post. When your consumers get an SMS, they are immediately notified on their phone. To view your other kinds of marketing, customers would have to open a social networking app or an email client.

The open rates are nearly flawless. Text is the most effective approach to attract people to open your communications. A text message's average open rate is around 99%, with 97% of messages read within 15 minutes of transmission.

Overall, SMS marketing is cost-effective. You won't have to dump thousands of dollars to drive revenue.

Because SMS has a high open rate, it also has a high response rate. An SMS marketing message often receives a 45% response rate, which means customers are far more likely to click on a link sent by SMS.
Related guide: 17 SMS vs Email Statistics to Know in 2023
How to run an SMS marketing campaign?
Follow these SMS marketing best practices to make your marketing campaign a success.
1. Define your KPIs
Setting key performance indicators (KPIs) helps you optimize SMS campaign performances over time. Some SMS marketing campaign metrics to monitor are:
Click-through Rate (CTR) - The number of times a link in a text is clicked.

Engagement Rate - The number of responses you receive.

Return on Investment (ROI) - Calculating the amount of income generated every text message sent.

Unsubscribes - Keeping track of who opts out of your SMS list.
Related guide: 7 Proven Ways to Increase Your Customer Lifetime Value
2. Target the right persona
Create an ideal customer profile using journey mapping. This will provide you with a baseline for the kind of clients you're trying to reach with SMS marketing. Ask yourself the following questions:
What is their demographic?

What's their age?

What is their financial situation?

What is their socioeconomic standing?

What are their preferences, likes, dislikes, behaviors?
It would give you a basic understanding of who your consumers are and what types of text messages or offers they like from you.
Related guide: How to Create a Successful Customer Acquisition Strategy to Grow Your Business
3. Be mindful of customers' consent
Before you send your first message, consider text messaging etiquette.
Send your SMS during business hours.

Limit the number of times you send text messages and avoid duplicate texting.

End discussions correctly.

Get the proper authorization, and refrain from texting when requested.
Don't forget to take Telephone Consumer Protection Act (TCPA) compliance and permission. Certain phone calls and text messages are prohibited under the law. It also prohibits the use of automated calling systems.
4. Be clear and consistent
Begin with something fascinating to make the most of the 160-character limit. Mark a sale as "5hours only!" or notify SMS subscribers when an offer is about to expire by informing them that it is their "FINAL CALL" to shop.
Avoid using non-standard abbreviations to write text messages. For example, in Ulta's SMS campaign, Instead of "24 piece," the company typed "24 PC." To most people, a PC is just a computer.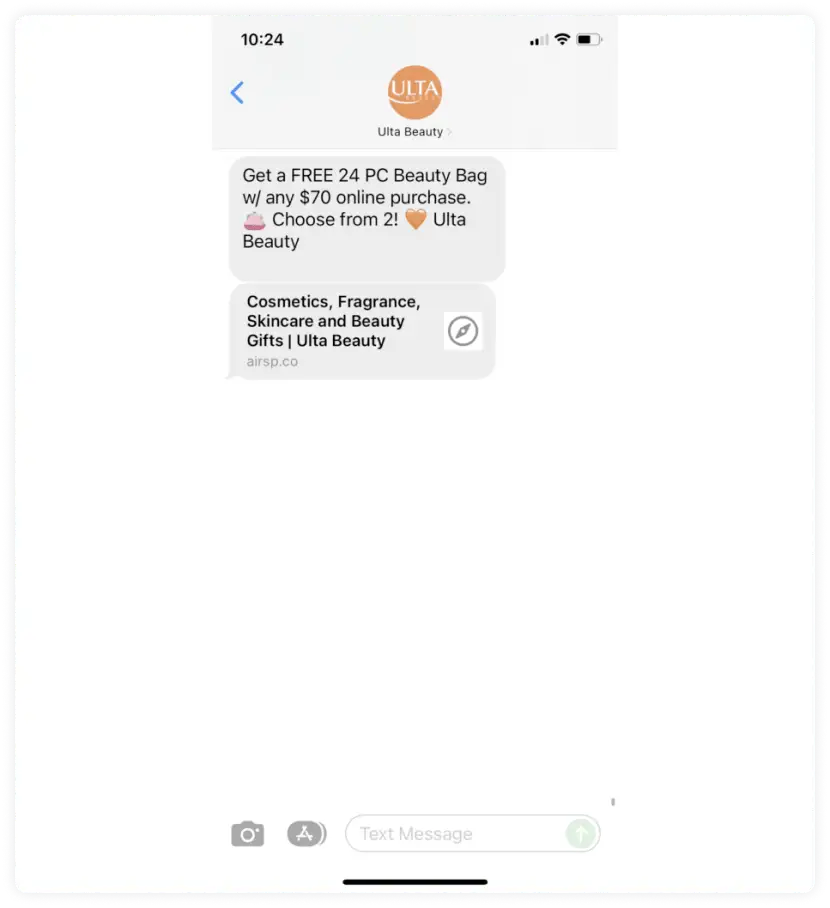 5. Integrate SMS into your omnichannel strategy
Sending the proper message via the right media is key to omnichannel marketing success. You can't rely on SMS as a major way of communication since not everyone will sign up for it. SMS works best when combined with email marketing and other marketing collaterals, given the various restrictions, such as messaging frequency and length.
6 best SMS marketing strategies
Here are the most powerful marketing strategies to get a high open rate on your texts.
1. Add illustrations and GIFs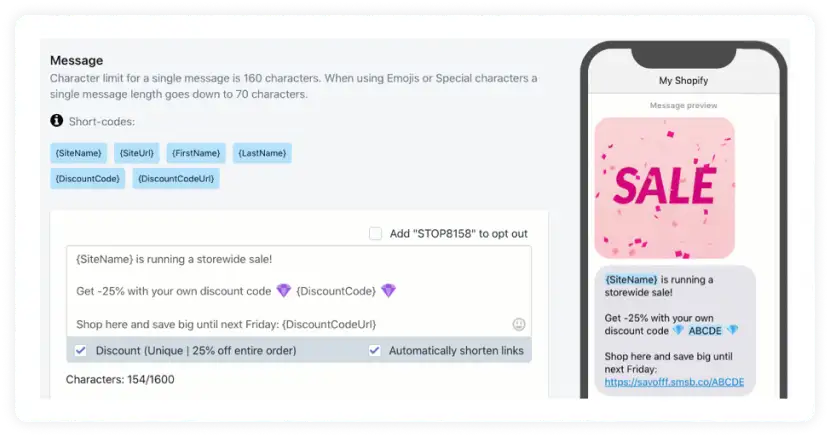 SMS marketing also includes MMS (Multimedia Message Service). You can share photographs, media, and graphics in your MMS messages. This is an excellent method to increase engagement and attention.
2. Draft strong CTAs
A call to action should be included in every text message, prompting recipients to take the next step. You're not moving the receiver down the funnel or through the sales cycle until you use a strong CTA. Here are a few examples of these.
A link in a text message is usually preferable. By including a (shortened) URL in the SMS message, you remove a barrier between you and your target audience. It allows recipients to take the following step immediately from their phones.
3. Personalize your texts
The more segmented your list, the more personalized your communications are for that specific demographic. In general, warm, customized texts that contain the first name of the recipient elicit a positive response from consumers.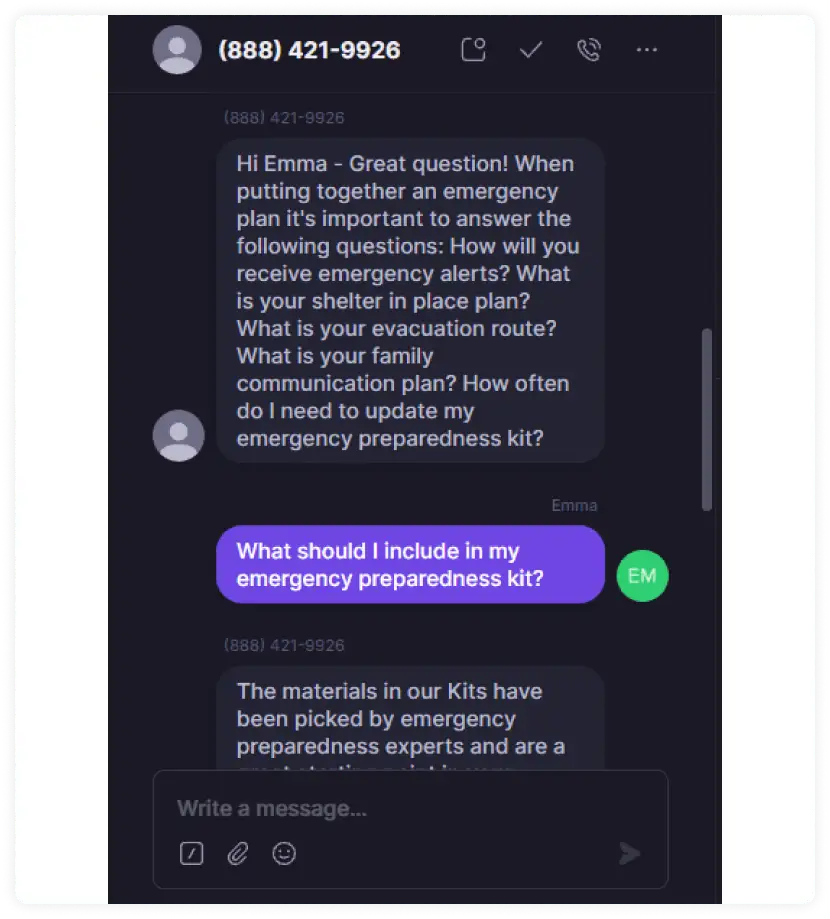 For instance, Judy's promotional SMS chatbot inquires about your disaster planning and informs you how to prepare if you and your family are faced with a real-time adversity.
You should also consider generating various messages for different contact groups based on the life cycle of the consumer and sending time-sensitive offers and deals on special occasions like birthdays and anniversaries.
Related guide: How to Use a Customer Data Platform to Deliver Personalized Experiences
4. Know when to send SMSes
People of different ages check their phones at different times. According to a Forbes article,
Texts are more likely to be opened in the morning by younger audiences. The first thing many millennials do in the morning is check their texts. Because there are so many millennials in the workforce, you may expect unusually high open rates from messages sent early in the morning to them.

Earlier in the day, everyone in the crowd checked their phones. When all age groups are included, the rates of early morning checks decrease slightly, but not significantly.

Sundays often have the lowest engagement, so unless you have a truly compelling, urgent reason to send on a Sunday, it's better to wait.
5. Get signups via exclusive deals
One of the quickest methods to get clients to sign up for your messages is to create and promote discounts.
Contests: A contest is a terrific method to encourage people to sign up for your texts and keep them there. Consumers are more likely to sign up for a contest because of the promise of a reward.

Coupons: The same rationale applies to coupons as it does to contests. Signing up for an SMS campaign is completely free. So, if consumers can get a coupon for a product they desire on their special days or on national holidays, they're more likely to use it.
6. Automate SMS marketing
SMS marketing automation allows you to reply more quickly, personalize more messages, and close more deals. Not only will you save time on lead generation, you'll also enhance customer experience and guide your user quicker through the sales funnel. You can use SimpleTexting, for instance, to automate SMS sending in a few simple steps.
Provide your contact list.

Create personalized and segmented groups.

Create a keyword for your autoresponder.

Encourage contacts and customers to opt-in by texting your keyword.

Create personalization tags for text templates.

Schedule and send automated campaigns.
If you want to send automated SMSes, you'll need to use an SMS API. An SMS API is a piece of code that allows one platform to communicate with another through SMS. SMS marketing tools provide a number of APIs that you can use to interact with and integrate with their services.
5 best SMS marketing softwares
We've shortlisted the top SMS marketing tools and SMS marketing platforms for you to automate your marketing.
| Platform | Features | Pricing |
| --- | --- | --- |
| SimpleTexting | Advanced automation, multiple templates | $29/monthly |
| Attentive | List building, managing audience | Available on request |
| Textedly | Voice service, collecting analytics | $24/monthly |
| SMSBump | Automated workflow, A/B testing, list building | $19/monthly |
| Octane AI | Quizzes, pop ups, advanced automation | $29/monthly |
Wrap up
SMS marketing will continue to improve and has the potential to become a fully shoppable experience. Automated SMS marketing will become the standard, and it's in every brand's best advantage to get started now. Read our guide on marketing automation softwares to understand how to automate all your marketing processes in detail.
What you should do next
Hey there, thanks for reading till the end. Here are 3 ways we can help you grow your business:
Talk to an email expert. Need someone to take your email marketing to the next level? Mailmodo's experts are here for you. Schedule a 30-minute email consultation. Don't worry, it's on the house. Book a meet here.

Send emails that bring higher conversions. Mailmodo is an ESP that helps you to create and send app-like interactive emails with forms, carts, calendars, games, and other widgets for higher conversions. Get started for free.

Get smarter with our email resources. Explore all our knowledge base here and learn about email marketing, marketing strategies, best practices, growth hacks, case studies, templates, and more. Access guides here.