Want to grow your business but are stuck in a rut and not getting any new customers or sales?
Don't stress about it; we know just the thing that'll help you. And that is customer acquisition.
It is the process of reaching out to potential customers and convincing them to buy from you through marketing or sales strategies.
This guide will explain what customer acquisition is, how to do it, and different strategies you can use to acquire customers.
Table of contents
What is customer acquisition?
Customer acquisition is the process comprising of strategies that businesses use to get new customers for their business. These strategies can be for all stages of the customer journey, from creating awareness about a product or service to making a sale.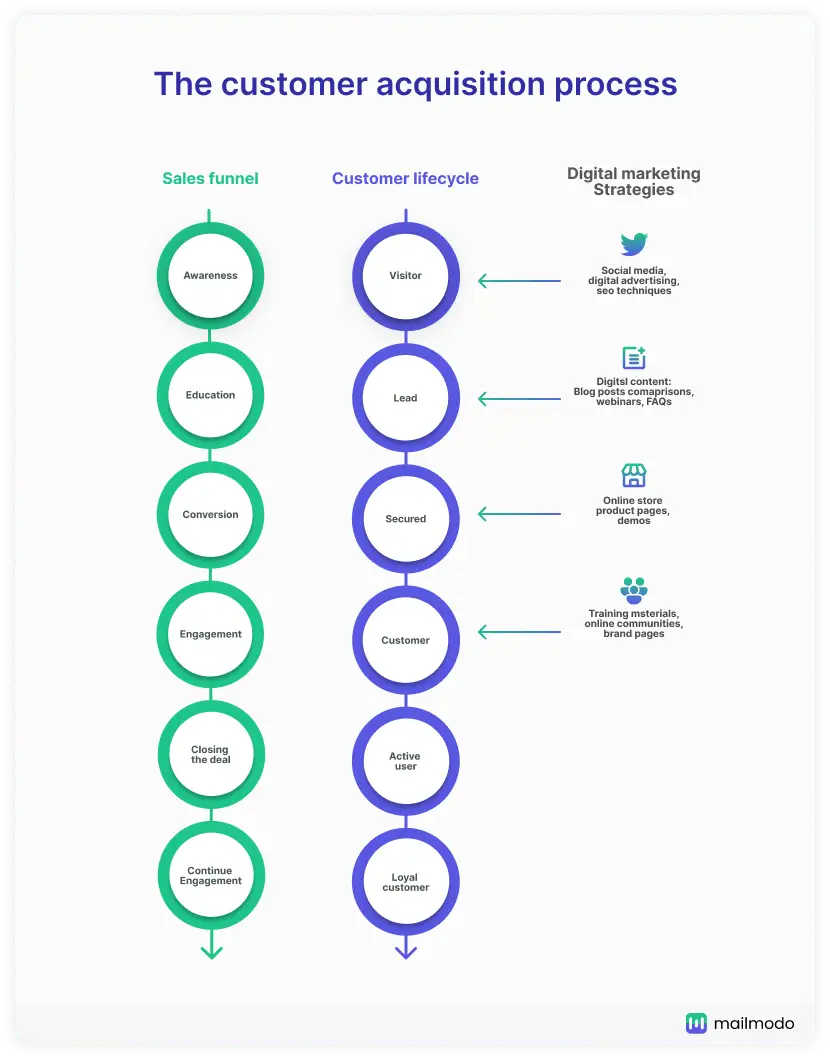 All businesses need to have a good customer acquisition strategy because it helps them gain customers, make money to meet company costs, pay employees, and grow their revenue.
Maximize your email performance with our free ebook
Optimize the right email metrics for higher ROI
Customer acquisition funnel
As mentioned above, customer acquisition encompasses all the stages in the customer journey, from awareness to purchase. These stages all together comprise the customer acquisition funnel: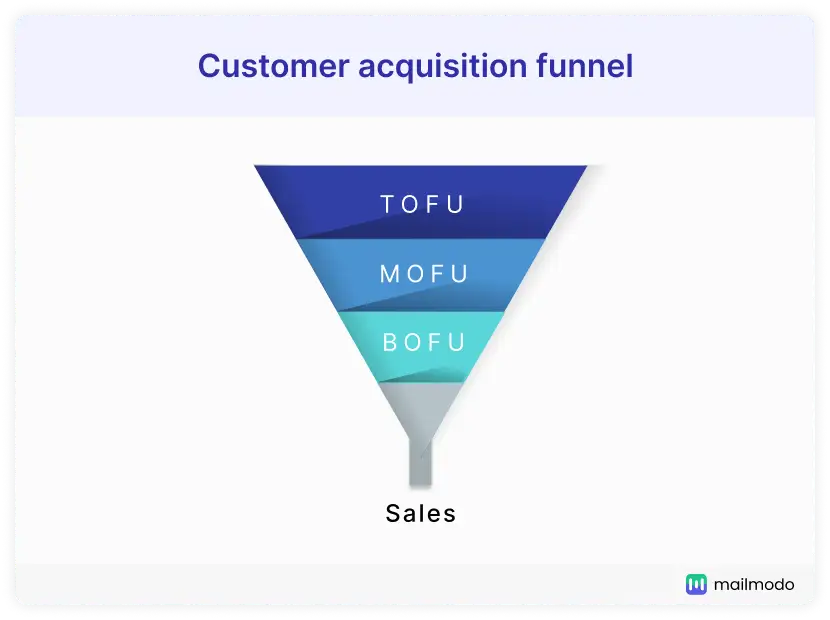 At the top-of-the-funnel (TOFU) for customer acquisition, you aim to create awareness and reach a broad audience. People have to know what you do and who you are if they want them to buy from you.
Also read: How to Attract Leads Using Top of the Funnel Marketing
In the middle-of-the-funnel (MOFU), the leads you brought in through the TOFU are considering if they should buy from you or not. So, to successfully acquire customers, you need to nurture them and try to convince them to buy from you. You can do this using email marketing, where you send newsletters, promotional emails,, etc., to try to convince them to buy from you.
At the bottom-of-the-funnel (BOFU), the prospect is at the final stage of becoming your customer and has shown strong intent to purchase from your brand, like adding something to their cart. At this stage, all you got to do is provide one final push to make them complete the purchase and become a customer. This push can be:
sending abandoned cart emails,

push notifications,

offering time-sensitive discounts to incentivize them to make the purchase.
How to create your customer acquisition strategy?
Let's get down to the details and talk about the steps you need to take to build a customer acquisition strategy for your business.
1. Find out who your target audience is
To target new people and successfully bring in new customers, you first need to know who they are and what your target audience would look like.
Even knowing some basic information (age, location, gender, interests) about your target audience can help you customize your customer acquisition strategy to get better results.
If you have no idea who your target audience is, you can get an idea by answering the following questions.
What is the average age group of your existing customers?

Where is your audience from? Country, city, area, etc.

Why would the person buy your product or service?

What are their pain points?

What websites or social platforms do they use?

What are their hobbies or interests?
These questions will help you understand what type of people are likely to buy from you. And it'll help you tailor your customer acquisition strategy to target them where they are present.
2. Identify the different acquisition channels you can use
Now that you have an idea of your target audience, you can choose different acquisition strategies that will work well for that particular target audience.
For example, if your target audience is Gen Z and millennials, you would have to start targeting them through TikTok or Instagram.
Here are 9 customer acquisition strategies that you can use and information on when to use it.
| Strategy | Stage of the funnel | Channels |
| --- | --- | --- |
| Content marketing | TOFU | Blog, lead magnet, videos, case studies. |
| Traditional advertising | TOFU | Posters, banners, TV, radio, newspaper, etc. |
| Social media marketing | TOFU | Instagram, Facebook, Twitter, TikTok |
| Online ads | TOFU | Google ads, Bind ads, website ads, social media ads, newsletter ads |
| SEO (Search Engine Optimization) | TOFU | Landing pages, product listings, blogs, descriptions, titles |
| Email marketing | MOFU | Newsletters, drip campaigns, triggered campaigns, surveys |
| Referral | TOFU & BOFU | Influencer, existing customer |
| Customer support | MOFU & BOFU | In-house customer support team or chatbots |
| Remarketing | BOFU | Google, Facebook, Linked In |
Pro tip: Have a diverse mix of acquisition strategies to have a greater chance of reaching new audiences and acquiring new customers. If one channel fails, you still have others to attract new customers.
Related guide: How to Create Successful Display Ads
3. Choose a channel and create a plan for it
Now that you know what channels you can use for customer acquisition, choose one or two to start with. Pick the ones that will be better suited to your target audience.
Once you have chosen the strategies, determine which customer acquisition tools you need for that particular strategy.
Here are 5 customer acquisition tools that you can use.
And once you have chosen your customer acquisition tool, determine your key performance indicators (KPIs) to track if your customer acquisition strategy is successful or not.
4. Determine your budget and the customer acquisition cost
Not all the customer acquisition tools mentioned above come for free. So, you need to allocate a budget and determine how much customer acquisition costs (CAC).
It's important to determine the cost because if the CAC is more than how much your customers spend in your shop, you'll lose money even as you get more sales.
So, first, let's find out what your customer acquisition cost is. A simple way to calculate the CAC is to divide your marketing expenditures by the number of customers you have acquired. So, the CAC will be the cost to acquire a single customer.
The formula for customer acquisition cost can look something like this:
CAC = ME / CA
CAC = Customer acquisition cost
ME = Marketing expenses
CA = Number of customers acquired
Marketing expenses are the cumulative cost of what you spend in marketing, like workforce salary, campaign spending, and the price of all resources or tools used to create the campaign.
This is a very basic formula for CAC, but it can get more complicated depending on your needs. For example, if you want to calculate the CAC for a particular period or campaign, the formula must be adjusted accordingly.
5. Create and launch the customer acquisition campaign or strategy
Now that you have figured out all the backend details, it's time to create your customer acquisition strategy or campaign in your desired acquisition channel and launch it.
6. Analyze and optimize the strategy
Once you have launched the strategy or campaign, you need to monitor it and see if it's going on the right track. Upon analyzing, you can find out if a channel works or not and change your strategy accordingly. This process will help you get optimal results from your customer acquisition strategies and avoid wasting money and time.
Get a sample AMP email in your inbox
Experience the power of interactivity right now
Start acquiring
Now that you understand what customer acquisition is and how to do it, let's finish with one tip. Create sustainable customer acquisition strategies that work well for the long run because you can't keep creating new strategies if you want to grow your business.
And apart from customer acquisition, another aspect is key to the growth of a business: customer retention. Customer retention is important as it's too expensive to try to acquire new customers constantly. So, check out our guide on customer retention to find out how to retain customers using email marketing.
What you should do next
Hey there, thanks for reading till the end. Here are 3 ways we can help you grow your business:
Talk to an email expert. Need someone to take your email marketing to the next level? Mailmodo's experts are here for you. Schedule a 30-minute email consultation. Don't worry, it's on the house. Book a meet here.

Send emails that bring higher conversions. Mailmodo is an ESP that helps you to create and send app-like interactive emails with forms, carts, calendars, games, and other widgets for higher conversions. Get started for free.

Get smarter with our email resources. Explore all our knowledge base here and learn about email marketing, marketing strategies, best practices, growth hacks, case studies, templates, and more. Access guides here.