You've nurtured your leads, moved them down the marketing funnel, and acquired new customers. Congratulations! That's good news.
But why stop there?
They've bought your product or service, which indicates they are interested in what you have to offer them. So, why not suggest a few other similar products they might like?
They might realize that they like the other products and buy those from you. This process, in a nutshell, is cross selling.
So, how does it benefit your business? According to McKinsey, cross selling can increase your sales by 20% and profits by 30%.
Those numbers look good, so let's say you want to join the bandwagon. How do you use cross selling to get people to buy more of your products or services? Keep reading this guide to discover how to create a great cross selling strategy for your brand.
Table of contents
What is cross selling?
Cross selling is a sales strategy where brands recommend related products they offer to customers based on what they are interested in or have purchased from the brand.** It makes it easier for customers to buy rather than search for the products on their own, thus improving customer satisfaction.
Apart from customer satisfaction, cross-selling can also increase your Customer Lifetime Value (CLV). CLV is the sum of money a customer is predicted to spend on your brand products or services in their entire relationship with your brand.
So, if you cross-sell to customers, you increase the customer lifetime value as they buy more from you. And the increased CLV ultimately results in generating more revenue for your business.
In e-commerce, brands usually cross-sell on product pages during the checkout process and lifecycle campaigns. Let's look at an example of cross-selling in brick-and-mortar shops.👇
Examples of cross selling
Let's look at how a fast-food company like Taco Bell uses cross-selling to get people to buy more food from them. If a customer orders a taco, cashiers might suggest buying additional products like fries or soft drinks to make it a complete meal.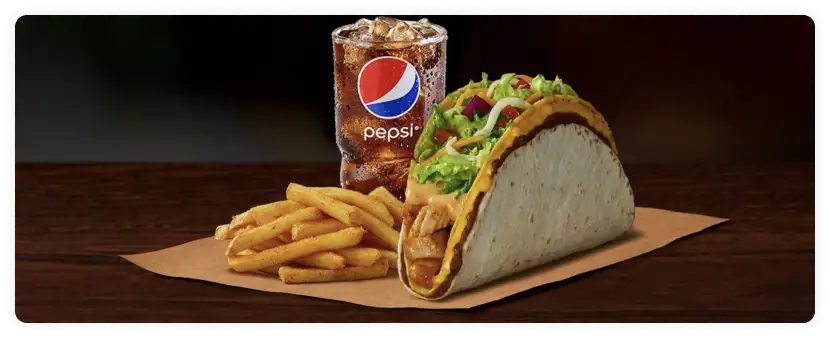 In this case, fries and soft drinks are complementary products that go well with tacos, so people are more likely to buy them. And when people have a good experience with their combo, they feel more satisfied and are likely to return.
Okay, that gave a general perspective of how cross selling works. Now, let's look at another example from the B2B industry that can help you understand how to cross-sell for your business.
Here, Moo cross-sells its rounded-corner business cards to existing customers who might not have considered it before as an option. Moo offers this option specifically to people who have bought other products from them and haven't tried the business cards.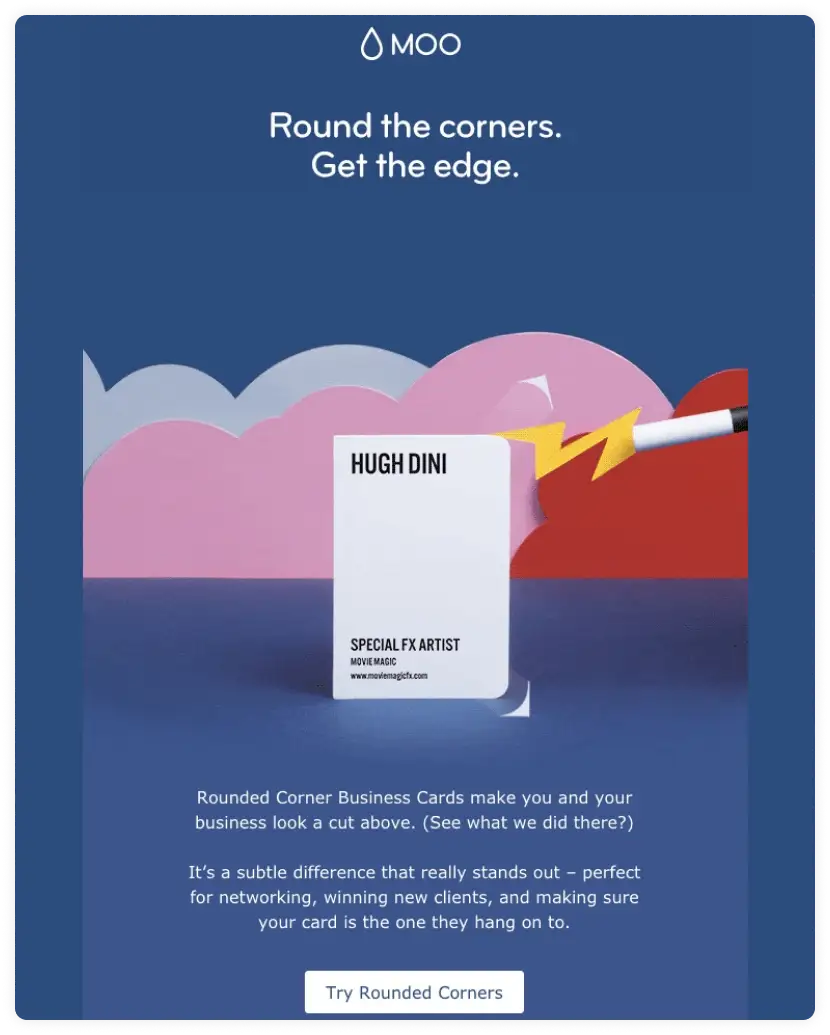 Cross selling vs upselling
People get confused with the two because they increase revenue by getting people to buy more from your brand. But despite them having the same goal, the way they work is different.
As we have seen so far, cross-selling is when a brand suggests a few more products or services that will work well with one the customer has purchased or is about to purchase. Whereas selling is when brands convince their customers to buy a better version of the product they were planning to buy, as shown in the example below.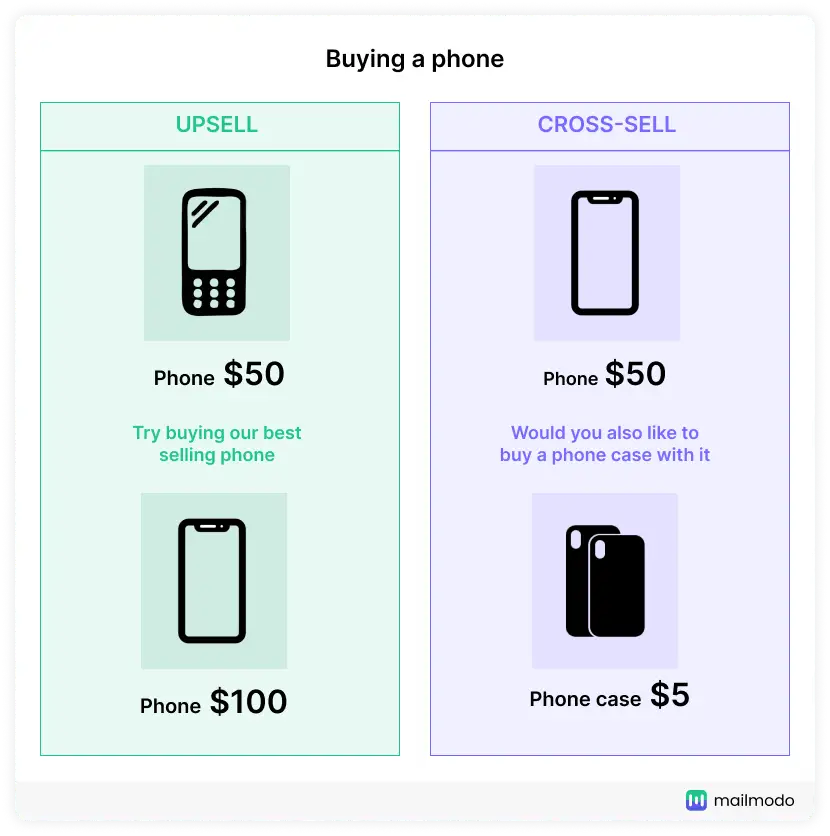 How can you cross-sell to your customers?
Now, any sales strategy can be risky. It can annoy people and even get them to churn if done wrong. And it is no different in cross-selling. If you offer the wrong product, you might annoy them or even sabotage your relationship with your existing customers. So here are ways you can cross-sell properly and effectively:
1. Recommend products based on behavior
Behavior, in this case, can be anything like browsing activity, products they view, favorite items, cart activity, purchase activity, etc.). And, when you send personalized product recommendations to the customers based on their behavior, you are more likely to recommend relevant products they would like. And this way, you can avoid annoying them with irrelevant recommendations.
For example, if someone recently purchased a pan, you can cross-sell pan maintenance tools suitable for that pan.
Use this upselling email automation sequence if you own a SaaS business to increase your revenue.
2. Cross sell items as add ons
Add one can be essential products necessary for the original product to function or non-essential products that are just nice. These add one typic function as a product to improve the customer's experience using the main product.
For example, when someone buys a TV, you can cross sell them a wall mount for the TV and a sound system to provide a home theatre-like experience.
3. Use social strategy to make customers cross sell
The social strategy works for marketing and sales because people are more likely to trust and buy the product or service if they know other people have bought it.
So, if you want to cross sell products, then look at what other customers have bought with that product and recommend it to people. It is a good way to combine products based on the behavior of a wide customer base, as it might even result in a few unusual combos that work.
For example, Amazon has provided a section below a TV listing showing what other customers have bought along with the TV.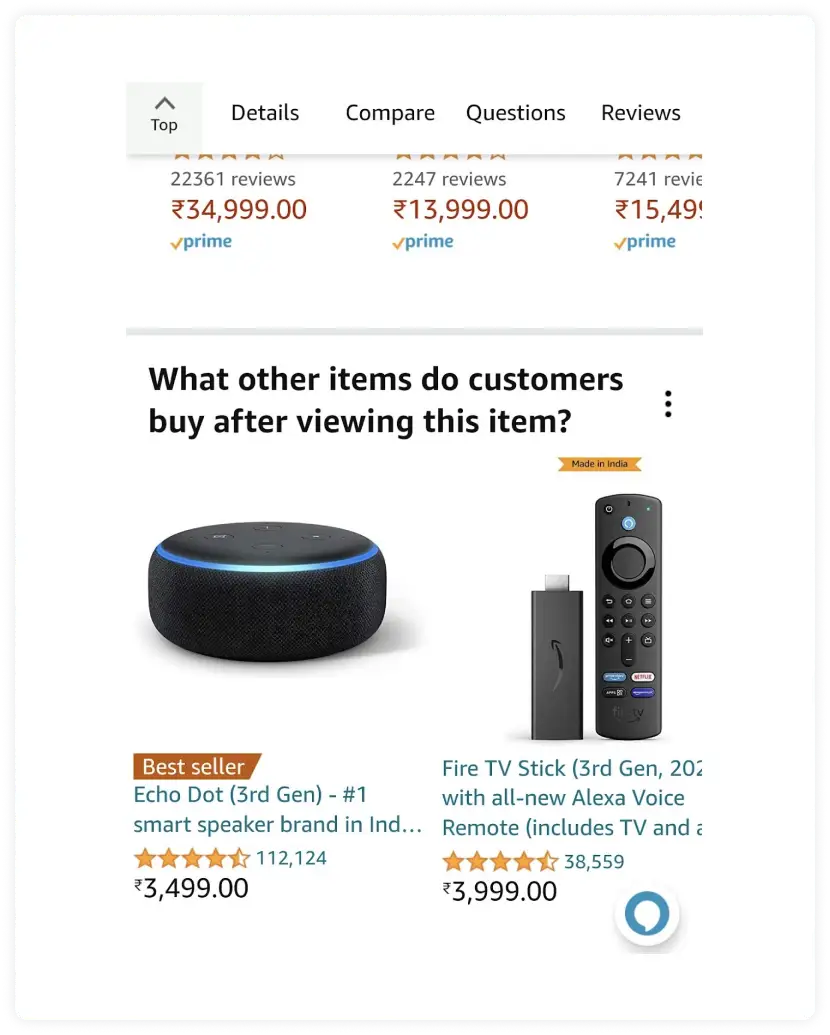 4. Put the cross sell products as a bundle
The bundle of related products is effective because it removes friction where the customer has to search for the relevant components or accessories. You can also offer the bundle at a discounted price to encourage people to purchase it as it saves them money. Or, you can give the customers the freedom to bundle up products they like and give them a discount if their bundle or total order threshold is above a certain amount.
5. Cross sell through email
The ways mentioned above can be done on the store, website, app, and even email. To cross sell through email, you need to personalize the product recommendations and the subject line, CTA, and email, as shown below.
Check out our guide if you wish to learn further about using email nudges to get your customers to cross sell.
6. Cross sell through your sales and customer success teams
Cross-selling can happen at any point in the customer journey. It can happen when they make their first purchase, after or after using it for a while.
To cross sell while the customer makes the first purchase,
you can use the bundle method if you are a B2C company

Or, if you are a B2B company, your sales rep can recommend it when they nurture them from sales-qualified leads to customers.
And the customer success team can interact with customers who have already bought from you to see what their experience was, and they can cross-sell to them when appropriate.
Related guide: How to Build Customer Journey Maps for Your Buyer Personas
Start cross selling today
Now, you understand the potential of cross selling and how easy it is to do it. What are you waiting for? Go on, start cross-selling to your customers.
If you are eager to learn how to cross-sell on different marketing platforms while providing a consistent brand image and tone, check out our guide on integrated marketing. It offers actionable strategies and tips for a cohesive marketing plan to grow your business by leaps and bounds.
What you should do next
Hey there, thanks for reading till the end. Here are 3 ways we can help you grow your business:
Talk to an email expert. Need someone to take your email marketing to the next level? Mailmodo's experts are here for you. Schedule a 30-minute email consultation. Don't worry, it's on the house. Book a meet here.

Send emails that bring higher conversions. Mailmodo is an ESP that helps you to create and send app-like interactive emails with forms, carts, calendars, games, and other widgets for higher conversions. Get started for free.

Get smarter with our email resources. Explore all our knowledge base here and learn about email marketing, marketing strategies, best practices, growth hacks, case studies, templates, and more. Access guides here.